---
Twitter is a microblogging platform that is used to send and receive short posts that are called tweets. These tweets can include links to different resources and websites. Users can retweet the information that is posted by others, known as tweets. Twitter is one of the most famous social media platforms, comprising 300 million active users every month. According to statistics, 350000 tweets are posted by users every minute. Twitter has another advantage in that a person can raise their concerns with government officials, companies, and businessmen. If you want to make your tweets more attractive, you need stylish and fancy fonts. Twitter font generator is one such platform that allows users to create unique and exceptional Twitter bio fonts or Twitter profile name fonts.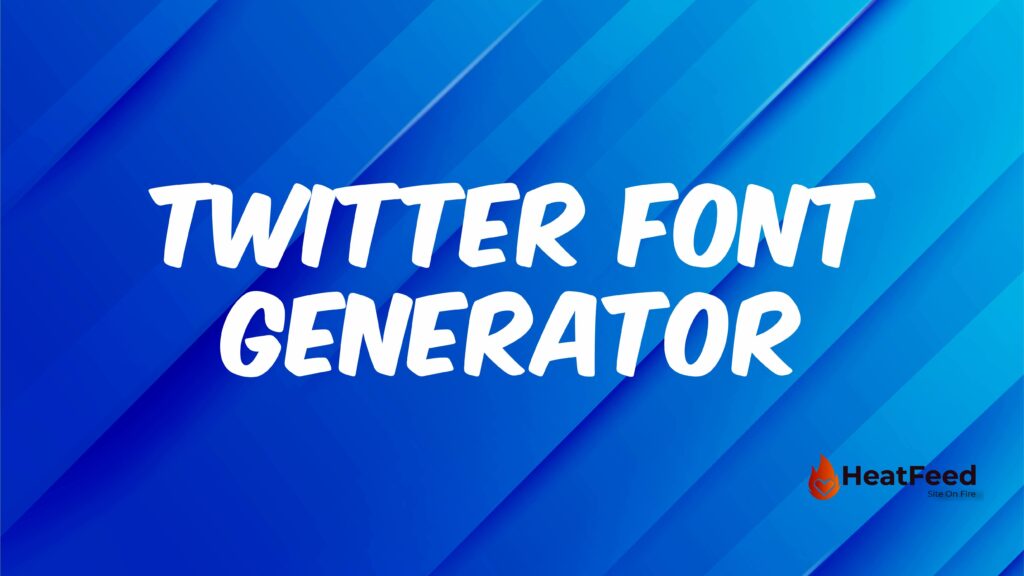 Time needed: 1 minute
How to Use Twitter Font Generator?
It is easy to use, the user-friendly interface makes it easy for the users to generate stylish and fancy Twitter fonts. People would find these fonts more attractive and appealing as they would be different. If you want to change the way your tweets have an impact, you can use different unique and stylish fonts for Twitter to paste into the tweet section. It is not difficult to use these font generator twitter, you just need to understand the way Twitter fonts generator work.  

Open Font Generator and Type Text:

Open this and type in the text in the given box. You can write whatever you want to write.

Copy the Twitter Font:

Twitter text generator creates fancy and stylish Twitter fonts by itself, just copy the twitter font. You can choose from the additional "Load more fonts" option to get more funny and unique fonts. If you don't like a specific font, you can change it according to your choice. 

Paste in the Text Box:

Open Twitter and paste in the text box, now the tweets you write would stand out among others due to the stylish and unique font. You can use Twitter letter font and texts to write the bio and your profile name. 
Features:
It can create hundreds of stylish fonts that you can easily copy without getting so skillful. On Twitter, people share their thoughts and ideas with millions of users worldwide. It's quite hard to get people's attention if you are not a celebrity, politician, or sportsperson. You can make your Twitter profile stand out if you write tweets in fancy and stylish Twitter fonts. Twitter fonts generator different fonts when you will paste these fonts into your tweets. You can interact with people and gain more audience, people love unique and fancy tweets. This also provides a good opportunity for the businesses and brands to reach out to more people and boost their sales.
With Twitter generator font, users can create their own profile, and gain more attention from the audience. It is free to use, this platform is for everyone because it is easy and simple to use. It provides the users with many different options to choose from. You can generate stylish fonts for Twitter by typing in the text in the Twitter fonts generator, selecting the font style according to your choice. Then, paste the unique and fancy font in the tweet section, your tweet would look different from others. 
What is the Unicode Standard of Twitter Font Changer?
Normally, information is stored on the computer in number format. Unicode is the system that is used to create stylish Twitter fonts from Unicode symbols. Unicode gives a specific number to each character and letter, this system works on every device and browser. The text in web pages and documents is encoded using the UTF (Unicode Transformation Format). Unicode is supported by all the devices, two common types UTF-8 and UTF-16 are available.
Also Check
FAQs (Frequently Asked Questions)
Users have many questions in mind about Twitter fonts and text generators. Some do not understand what a Fancy Twitter text converter is and some get confused about how to use a fancy Twitter text generator. To clear the confusion and to enhance understanding about font changer Twitter, here is the list of commonly asked questions.
1. What is Twitter Font Generator?
It is an online platform to generate stylish and fancy fonts. These fonts can be used in Tweets to gain more audience, these fonts can be used on other social media platforms as well. If you want your account to stand out among others, you can take help from a font generator. 
2. Why Use Twitter Font Generator?
You can use this text generator Twitter to create fancy and stylish fonts for yourself. These fonts would describe what you like and don't like. Most people use plain text and fonts that look ordinary. The fancy and aesthetic fonts generated by the Twitter letter generator are unique and would make your Twitter account stand out among other accounts. When you are writing a tweet, these fonts change the entire outlook of your Twitter account.  
3. Is Font Generator for Twitter Free?
Yes, they are free and do not charge anything. You can just open a Twitter font changer and start creating stylish and unique fonts and texts. There are no charges by the Twitter generator to avail of its services. 
4. How does Twitter Font Generator Works?
It is simple and easy to use. The user-friendly interface makes the use of font changer Twitter by everyone. First, type in the text you want to write, it syncs automatically and generates stylish and fancy texts. Click on the "Load more fonts" option to get more versatile and unique texts. Paste the text on the Twitter bio or write tweets with fancy and exceptional Twitter fonts. To enhance the outlook of your profile, you can use fonts and texts generated.
5. How to Make Your Twitter Profile Stand Out?
First, use the Twitter generator to create stylish and fancy Twitter fonts copy and paste. Then paste the text where you want to write anything. Mention your name in fifteen characters that describe you well. Upload a nice picture of yourself, the picture size should be within 2MB. Create a nice cover photo of 1500×500 pixels. Write your name and profession within 70 characters, and describe your career, hobbies, and interest in the Bio section. Mention your location and the link to the website or any other social media account. By following all the steps and writing text with a stylish Twitter font, your Twitter profile would stand out among others. 
6. Is There Any Registration Required For Twitter Font Generator?
Yes, no there are no registration and subscription charges to use the Twitter letter generator. You just need to understand how the Twitter font converter works, then you can create fancy Twitter fonts according to your desire. 
7. Can this Twitter Font Generator Be Used As Twitter Font Changer?
Yes, this tool can be used as a Twitter font changer. You can change your old texts with new stylish and aesthetic text to make your Twitter account more attractive and eye-catching.
8. Can Twitter Support The Twitter Font Editor/Generator?
Yes, you can paste the Twitter fonts created by this generator on the bio, posts, or in the tweet section. You can even use this font generator to create fonts for other social media platforms, these fonts would increase the attention of people to your account.