---
Font changer is an online free tool that is used to change the font for social media platforms. This font style changer is compatible with all the social media websites like Facebook, Instagram, Twitter, WhatsApp, etc. Fonts changer online and Text changer online free tools have almost 80 plus different stylish and cool fonts designs. This social media font changer changes normal text font into different fancy texts and stylish fonts like tattoo fonts, calligraphy fonts, cursive fonts, fonts English, and art fonts. The most popular one is the Instagram font. This text font changer online site will change the profile of your social media account, it will look more attractive and appealing than before. If you want to make your social media account stand out among others, you can take the help of a letter changer and text changer.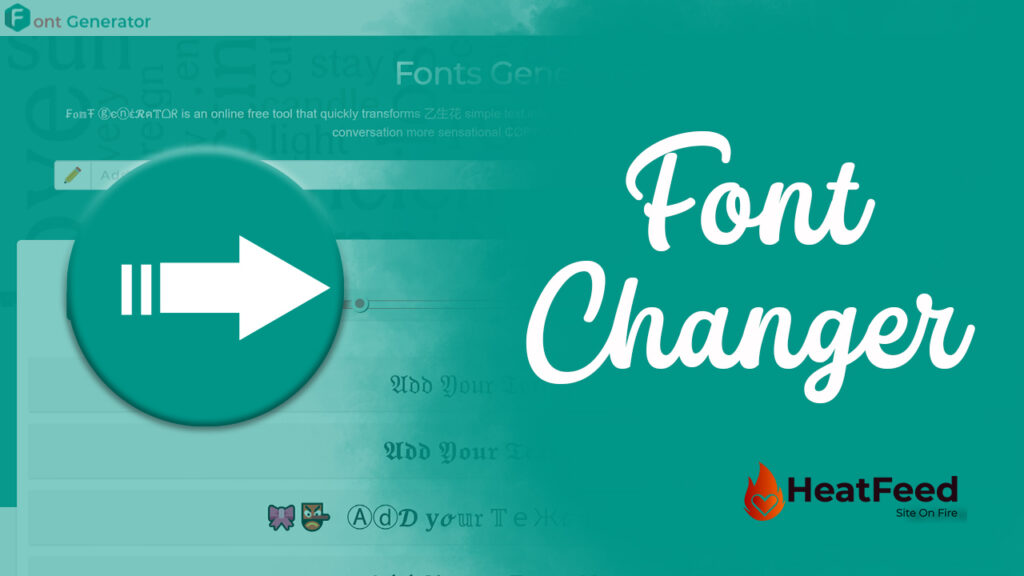 What is Unicode?
Unicode is a widely accepted standard for recognizing the numerous characters that appear on computer screens. Because computers can only identify zeros and ones, each character is assigned a unique binary number (i.e. binary). The capital letter "A" is allocated Unicode character number 65, for example. A lowercase "a" has the Unicode character number 97. Unicode comprises around 137,000 characters, including regular' characters like the text you're reading right now and fancier characters obtained by switching fonts. Before the Unicode Standard was formed, hundreds of different character encodings were used to give numbers to the characters. As you can think, this makes text and data interchange between computers extremely challenging. Unicode has made text and character communication between operating systems, smart devices, search engines, and other applications easier.
How does Font Changer/Text Changer work?
Our font generator converts the text you input into a unique and entertaining typeface font that you can use. The following are the steps to complete the process of change font online:
In the font maker, fill in the blanks with your own words.
Wait for the font generator to present you with a number of options.
Choose your favorite text style.
Copy the code and paste it into Instagram, Facebook, or another social media platform.
The font online changer generates unique cursive, calligraphy, handwritten, and web script fonts, among other text styles. You can also select from a number of different fonts, symbols, and emojis.
Technically, a font generator does not create fonts. Instead, this type of text generator converts the text into Unicode symbols or characters that are related but "fancy."
We have a variety of tools that are ideal for creating cool-looking fonts:
Fonts, Emojis, and Symbols:
So, what happens when you copy and paste fonts from our text font generator? Is it a font or merely a symbol? The text generator types you see aren't actually fonts. They are, in essence, symbols that have been assigned a Unicode value. Our custom font generator searches the Unicode Standard for similar (but 'fancier') glyphs as you type. The font you see is actually a symbol rather than a font. That's why, for example, you can't simply copy and paste Comic Sans information into a Facebook or Instagram bio. Fonts, on the other hand, are a collection of graphics that can be used to customize Unicode characters. The font that is used on a website is determined by the website owner. Emojis are used in the same way as symbols used. They each have a unique Unicode number, allowing you to free fonts copy and paste them to any platform.
What is the purpose of the font changer?
If you want to create typefaces that are unique, exciting, and enjoyable, we're the place to come. Whether it's for your Instagram bio, getting noticed on YouTube, or creating the perfect digital signature, our generator has thousands of typefaces to choose from. It's easy to use, intuitive, and uncomplicated, allowing you to explore endless possibilities! The best part is that our font maker is entirely free! In addition to our font generator, we are a designer-focused website with over 64,000 free fonts to choose from. Unlike many other dishonest online font changer websites, we are completely authentic and all of our writing fonts are officially licensed.
If you have any questions or encounter any difficulties downloading or installing fonts, please contact us. We'd also appreciate hearing from you and answering any questions you may have!
What is the most efficient method of font changing?
Creating a typeface font with our online free online font maker is straightforward. All you have to do now is highlight the newly created font. After that, copy and paste the code into your desired platform. Most computers, processors, and devices will recognize and accept the produced 'font.' However, there are certain exceptions. For example, some Unicode characters may not be supported by all websites. In some circumstances, instead of your fancy typography, you'll see a box sign. This window appears by default when a browser is unable to support a certain character.
Font Changer for Instagram:
This font style changer online free tool is used to change the typeface of a text when using a font generator. Using this excellent font changer online copy and paste tool, you may edit text fonts and turn them into a design that best meets your needs. We've separated the many types of typeface modifications. Examine the various typefaces available for various social media platforms, such as Facebook and Instagram. You might also be interested in checking out our void text generator. Instagram fonts can be used to make your profile's bio symbols stand out. They also help you create uniqueness in your personal profile. However, some typefaces may not be compatible with Instagram. Instagram's filters don't allow certain complex symbols and letters. This is done to prevent people from using specific Unicodes for malicious purposes.
Font Changer for Facebook:
Facebook font changer, like Instagram font changer, lets you apply unique symbols to your Facebook posts. In today's world, Facebook is the most popular social networking platform. Changing the typefaces on the platform allows you to express yourself in a unique way. You can use the change text font online to modify the typefaces on your Facebook page to your preference. Changing the typefaces on your Facebook profile teaches you how to change the text fonts format. Don't forget to check out our Discord font generator.
How do you change the font on an Android phone?
The best advantage of an Android font creator is that it can be customized to the user's preferences. Changing typefaces on an Android smartphone may appear to be a straightforward process, but it isn't. On the other hand, companies like Samsung and LG have made it simple for customers to alter the typeface. Go to the settings panel on your Android device to change the font. Go to font size and style in the display option and tap the font name you want. Your computer does not need to be restarted. The typeface you choose will now be used throughout the interface of your device.
Is it possible to change the iPhone fonts?
One of the features associated with IOS13 and IpadOS 13 for the iPhone and iPad is the ability to change typefaces. However, for the time being, this feature is disabled. We'll show you how to adjust your iPhone's typefaces in additional ways. The software was developed to get around iOS's constraints and deliver custom fonts to the platform. Apple provides support for this software, which works throughout the phone's lifecycle. You may use apps to customize the font on your iPhone 6s/6/5s/5/4s.
However, jailbreaking your iPhone/iPhone font changer online (which requires connecting the phone to a laptop or PC via USB cable) allows you to change the typeface. A program can be used to change the phone's OS and typography. Since the invention of the printing press, businesses and individuals have employed fonts to establish their brands. Each font is intended to convey a distinct message and meaning to the reader. Best of luck in your search for the perfect typeface for your gadget and social media accounts.
Suggestions for where to use the font changer:
The sky's the limit when it comes to typeface font design:
You can stand out and surprise your fans by having a unique Instagram bio.
Send humorous text messages to your friends and family.
It can be used to create a cool nickname for your web-based game.
Use platforms like Discord, Reddit, and Quora to get your name out there.
Make the title or description of your YouTube video intriguing and pleasurable to read.
Make one-of-a-kind wedding invitations.
Use these unique writing fonts in your emails.
You can also use a custom typeface for your wifi network if your router supports it.
There's even more…
Frequently Asked Questions:
We've answered all of your questions about the online font switcher tool.
Q1. What is the best way to alter the font type on Facebook?
To change font style on Facebook, use this custom font maker tool.
Q2. What is a font changer online tool, exactly?
It's an online word changer tool that takes a regular text and transforms it into a variety of trendy and cool texts suitable for a variety of internet sites.
Q3. Is this site accessible from a mobile device?
Yes, this website is mobile-friendly, with the same exquisite wording as the desktop version.
Q4. Is it possible to tweet these beautiful fonts?
Yes, these texts are also meant to be used on Twitter. Using the same methods, change the typefaces on Twitter. It's also appropriate for use on social media sites like Facebook and Instagram.
Q5. Is there a limit to how many font styles the program can generate?
The fancy text generator generates almost 80 different appealing texts. All of these fonts are free to download and use virtually anywhere on the internet.