🎔 Heart with Tip On the Left Emoji
Heart with Tip On the Left Emoji
Emoji Meaning:
Heart with Tip on the Left Emoji 🎔 on digital devices is represented by talking about something related to the heart. This emoji can be seen in different styles on different social media platforms.
Note: The Heart with Tip On the Left Emoji was made a part of Unicode 7.0 in the year 2014.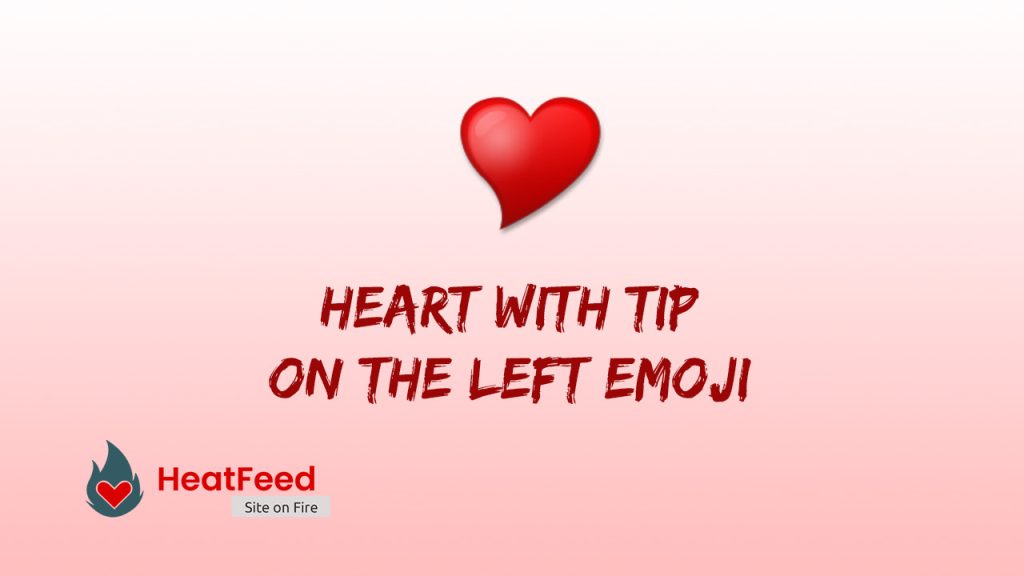 Similar Emojis:
A list of similar emojis for Heart with Tip On the Left Emoji are ❤️ Red Heart, 💓 Beating Heart, 💘 Heart with Arrow, 🔍 Magnifying Glass Tilted Left, ♥️ Heart Suit, 🖍️ Crayon, 🖌️ Paintbrush, 🔛 On! Arrow, 💞 Revolving Hearts, 😻 Smiling Cat with Heart-Eyes, 😍 Smiling Face with Heart-Eyes, 🥰 Smiling Face with Hearts, 💟 Heart Decoration.
How to copy-paste the Heart with Tip on the left emoji?
There are a ton of websites out there that'll give you the option to copy and paste emojis. Our website heatfeed.com makes it extremely easy to do with just one click. Plus, you can copy and paste up to 10,000 emojis without spending a dime!
To start, explore our website.
Then, type or paste the emoji name into the search bar and click on search.
You'll see the "copy" icon next to the emoji. Click on it to copy the emoji to your device.
Now you can paste it anywhere you want!
Who Uses Heart with Tip on the left Emoji?
Most lovers use this heart with a tip on the left emoji used to express their love, affection, and other positive feelings. If a guy or a girl uses this emoji in their conversation, then it means that they are truly in love with you and convey their affection and love feelings by sending this emoji to you. People also use it to show some care for their special one or to make the text more pleasing.
Codepoints
🎔 U+1F394
convert kg to lbs
emoji copy and paste
emoji meaning
heart with tip on the left emoji