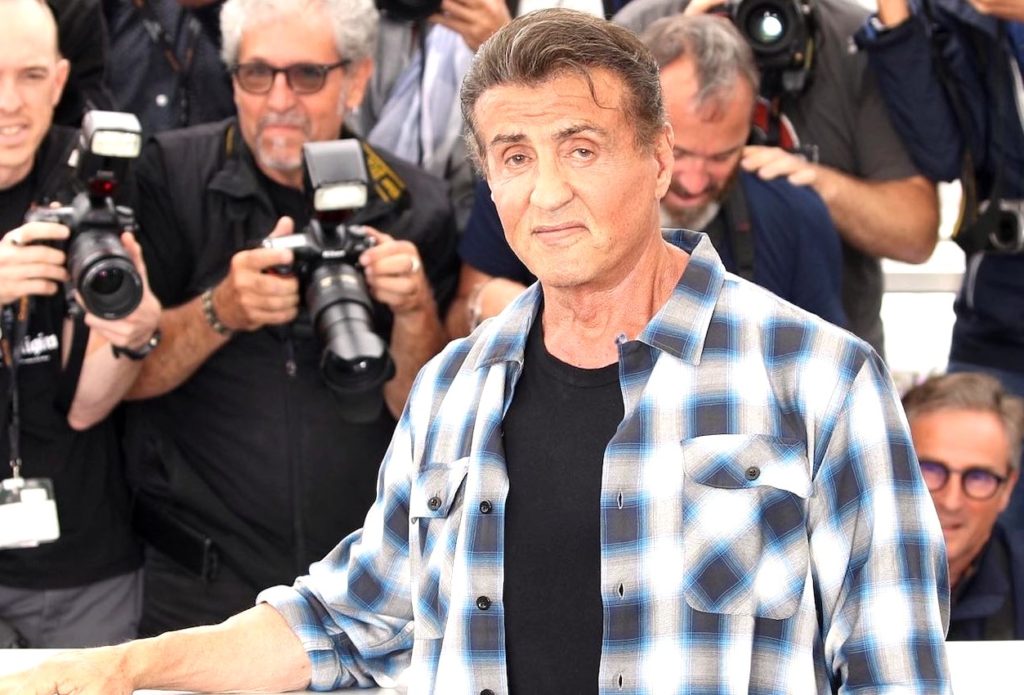 It is really unbelievable that a man who once strived his best to find roles in movies went on to become one of the most legendary and highest-paid actors in the Hollywood film industry. From pleading for small roles to writing his own screenplays, Sylvester Stallone is considered the virile man of Hollywood, who carved a place for himself in the world of showbiz. His most iconic and memorable roles to date are that of 'Rocky Balboa' behind Vietnam War veteran, 'John Rambo'. 
Some of his best and most recent commercial hits are counted his collaboration with the other big names of the industry such as Arnold Schwarzenegger and Jean-Claude Van Damme in the movies, 'The Expendables' and 'The Expendables 2'. As being a multi-talented personality, Stallone is currently an actor, writer, producer, and director and is best known for his trademark lopsided smile and garbled speech patterns. Aside from the 'Rocky' film series, he portrayed a role in a number of other films that earned him critical acclaim. 
The film failed to receive the commercial success that 'Rocky' and 'Rambo' received. To break away from the reserved and categorized 'tough' roles, he renewed the attention of his fans by starring in a number of films in other genres. He starred in the movies such as 'Zookeeper', and 'Paradise Alley', which, however, failed to hit the expected target.
Early Life & Childhood
Michael Sylvester Gardenzio Stallone or only Sylvester Stallone was born on July 6, 1946, in New York City. His father Frank Stallone and Jacqueline Stallone were of Italian-Russian-French-Jewish descent. During his birth, the lower side of his face was paralyzed. It was because the obstetricians tried to use a pair of forceps to pull him out of his mother's womb.
It seriously severed a nerve, which caused permanent deformity in the lower parts of his lip, chin, and tongue. Sylvester was very young when his parents divorced. After the divorce of his parents, he stayed with his mother and studied at the Notre Dame Academy and Lincoln High School in Philadelphia. Before attending the University of Miami, he studied at the Charlotte Hall Military Academy.
Acting Career and Major Film Works
Sylvester played the title role of 'Rocky Balboa' in the 'Rocky' series that is considered one of his most legendary roles. The film series was made from 1975 to 2006 and helped Stallone kick-start his career in Hollywood films. The first 'Rocky' got a blockbuster response and became so popular that it spawned five other 'Rocky' films in the franchise.
The film 'Rocky' earned great credit for receiving 10 Oscar nominations and finally won the award for 'Best Picture'. The movie helped him gain a large cult following and the 'action star' status of the industry. Now his career started grooming on the success track, as he was cast as 'John Rambo' in the Rambo saga. Though only four sequels of Rambo have been made in the franchise, yet the representation of the character got Stallone recognition and extensive acclaim.
The character of 'Rambo' became so famous that it was nominated for the American Film Institute's list of '100 Years…100 Heroes and Villains'. The Rambo franchise also produced a number of comics, Television series, and video games, based on the movie as well.
Some of His Blockbuster Movies, and Great Work
Rocky (1976)
Rocky II (1979)
First Blood (1982)
Rocky III (1982)
Rocky Balboa (2006)
Rambo (2008)
Escape Plan (2013)
Creed (2015)
Awards & Achievements Earned by Sylvester Stallone
He has earned a Golden Globe Award in 2016 for Creed (2015) for his Best Performance as an Actor in a Supporting Role in a Motion Picture. There is also the People's Choice Award on his credit for Favorite Motion Picture Actor in 1986.
Here is a small list of the Awards, he had won in his acting career.
David di Donatello Award for 'Best Foreign Actor' for 'Rocky' in the year 1977.
In the same year, he won the KCFCC Award for 'Best Actor' for the film, 'Rocky'.
He earned the ShoWest Convention Award for 'Star of the Year' in 1979.
In 1984, he got a star on the Hollywood Walk of Fame.
Sylvester was honored with the Stockholm International Film Festival Award for 'Best Actor' for 'Cop Land' in 1997.
In 2004, he achieved the Golden Camera Award for 'Best International Actor'.
At the Zurich Film Festival, he had also been honored with the 'GoldenEye for Lifetime Achievement Award'.
In 2010, he was awarded the 'Lifetime Achievement Award' at the Hollywood Film Festival.
Sylvester Stallone Net Worth, Marital Status, Family & Personal Life
Sylvester Stallone got married three times and has three daughters and two sons. Stallone is having the Net Worth of $ million, and roughly earns $5 million a year.