😚 Kissing Face with Closed Eyes Emoji
Kissing Face with Closed Eyes
Kissing Face with closed eyes Meaning:
Emojis were invented as a way to symbolically represent emotions. Kissing Face with Closed Eyes emoji is a yellow face with pink cheeks, happy eyes, and puckered lips kissing. This smiley is commonly used to express romantic love and affection. It's a lovely emoji that you can use to express gratitude for information, favor, or to wish your closest friends, family, or crush a good night.
NOTE: Kissing Face with Closed Eyes was approved as a part of Unicode 6.0 in 2010 and added to Emoji 1.0 in 2015.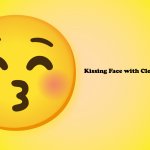 How to copy-paste the kissing with closed eyes emojis?
The kissing with closed eyes emoji copy and paste option can be found on many emoji sites. You can get your emoji copied from heatfeed.com which has 10,000 copy and paste emojis. Follow these steps for easily copying the emoji,
Go to the website www.heatfeed.com
Search your wanted emoji from the search bar of the site.
Copy the emoji from the copy button
And paste it on the social media platform you love the most.
Similar Emojis:
There are some other emojis that look alike 😚 Kissing Face with Closed Eyes emoji, 😗 Kissing Face, 😙 Kissing Face with Smiling Eyes, 😽 Kissing Cat, 🥳 Partying Face. Each emoji shows a distinct message, among many others.
Also Known As
😚 Kiss Face
😚 Kissy Face
😚 Warmth Emoji
😚 Affectionate Face
Apple Name
😚 Kissing Face with Closed Eyes
Apple

Apple

iOS 14.6

iOS 10.2

iOS 10.0

iOS 8.3

iOS 6.0

iOS 5.1

iOS 4.0
iPhone OS 2.2
Google

Google

Android 12.0

Android 11.0

Android 10.0

Android 8.0

Android 7.0

Android 5.0

Android 4.4

Android 4.3
Samsung

Samsung

One UI 2.5

Experience 9.0

TouchWiz 7.1

TouchWiz 7.0

TouchWiz Nature UX 2
Microsoft

Microsoft

Windows 10 May 2019 Update

Windows 10 Anniversary Update

Windows 10

Windows 8.1

Windows 8.0
WhatsApp

WhatsApp

2.21.11.17

2.19.7

2.17
Twitter

Twitter

Twemoji 13.1

Twemoji 1.0
Facebook

Facebook

13.1

3.0

2.0

1.0
Messenger

Messenger

1.0
Codepoints
😚 U+1F61A
Shortcodes
:kissing_closed_eyes: (Github, Slack)
emoji copy and paste
emoji meaning
Emoji Smiley
Kissing Face with Closed Eyes Emoji