🥳 Partying Face Emoji
Party Face Emoji Meaning:
Emojis were designed to symbolically represent emotions. Partying Face emoji is a yellow face smiley that blows a party horn with warm, happy eyes and a scrumpled mouth. It also has a party hat and confetti splashing around the face over the head. This emoji means joy, excitement, cheering, and a good feeling overall. It is often used as a feature reaction to Birthday Wishes or New Year's Eve.
Partying emoji gives you a chance to celebrate with your friends, arrange something for them that would make them happy, and see the magic with this emoji. Get super excited with this emoji and let the party start as soon as possible.
NOTE: Partying Face was approved under the name Face with Party Horn and Party Hat in 2018 as part of the Unicode 11.0 collection and added in 2018 in Emoji 11.0.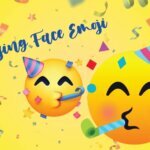 How to copy-paste the partying face emoji?
Do you want to party? Then use the partying face emoji. It is a light-mode, funny and chilling emoji. This emoji is being used by people who love to part with their homes. You can copy-paste the partying face emoji through heatfeed.com. Follow these steps to 10000 emojis copy and paste from the given above site.
1. Go to heatfeed.com
2. Search your favorite emoji there.
3. After that, copy the emoji by the button given below the emoji.
4. Paste it anywhere you like to do so.
Similar Emojis:
In the context of celebration 🎈 Balloon, 🎂 Birthday Cake, 🍾 Bottle with Popping Cork, 🥂 Clinking Glasses, and 🎉 Party Popper emojis are similar to 🥳 Partying Face emoji. Among many others, each emoji conveys a distinct message.
Also Known As
🥳 Yaay!
🥳 Cheer Emoji
🥳 Celebrate Emoji
🥳 Party Emoji
🥳 Celebration Emoji
🥳 Birthday Hat Emoji
Apple Name
🥳 Party Face
Unicode Name
🥳 Face with Party Horn and Party Hat
Apple

Apple

iOS 14.6

iOS 12.1
Google

Google

Android 12.0

Android 11.0

Android 9.0
Samsung

Samsung

One UI 3.1.1

Experience 9.0
Microsoft

Microsoft

Windows 10 May 2019 Update

Windows 10 October 2018 Update
WhatsApp

WhatsApp

2.21.11.17

2.19.379
Twitter

Twitter

Twemoji 13.1

Twemoji 11.0
Codepoints
🥳 U+1F973
Shortcodes
:partying_face: (Github, Slack)
emoji copy and paste
emoji meaning
partying face emoji
Smiley Emoji