😗 Kissing Face Emoji
Kissing Face Emoji Meaning:
Emojis were used to represent feelings symbolically. The kissing Face emoji is a yellow face smiley with simple, wide eyes and kissing puckered lips. It is commonly used to express feelings of love and affection or even to say goodbye. It may indicate such feelings as a surprise, appreciation, scorn, or fake innocence. Because of the design of this emoji, some people believe it's a whistling emoji or a duck face emoji.
Between your friends when it becomes so sensitive that you feel love for them but feel shy to express it then you may use this emoji maybe once or twice and then work with our words. It will be so effective that your friend would listen to you and pay attention to you.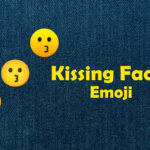 NOTE: In 2012 Kissing Face was approved as a part of Unicode 6.1 and added to Emoji 1.0 in 2015.
How to copy-paste the kissing face emoji?
A kissing face emoji is a cute emoji. The kissing face emoji copy and paste option is introduced by various sites. Heatfeed is an emoji site that has 10,000 copy and paste emojis. There are the steps to copy and paste the emoji,
You need to visit the site www.heatfeed.com.
Search your favorite emoji from the search bar on the website.
Copy it by pressing the copy icon under the emoji
Paste it on social media handlers.
Similar Emojis:
There are some other emojis that look alike 😗 Kissing Face emoji, 😚 Kissing Face with Closed Eyes, 😙 Kissing Face with Smiling Eyes. Each emoji contains a unique message, among many others.
Also Known As
😗 :-*
😗 Duck Face
😗 Kissy Face
😗 Whistling Emoji
😗 Big Kiss Emoji
😗 Open-Eye Kissing
😗 Less Intimate Kissing
Apple Name
😗 Kissing Face
Apple

Apple

iOS 14.6

iOS 10.2

iOS 10.0

iOS 8.3

iOS 6.0
Google

Google

Android 12.0

Android 11.0

Android 8.0

Android 7.0

Android 5.0

Android 4.4
Samsung

Samsung

One UI 2.5

Experience 9.0

TouchWiz 7.1

TouchWiz 7.0

TouchWiz Nature UX 2
Microsoft

Microsoft

Windows 10 May 2019 Update

Windows 10 Anniversary Update

Windows 10

Windows 8.1

Windows 8.0
WhatsApp

WhatsApp

2.21.11.17

2.19.7

2.17
Twitter

Twitter

Twemoji 13.1

Twemoji 1.0
Facebook

Facebook

13.1

3.0

2.0
Messenger

Messenger

1.0
Codepoints
😗 U+1F617
Shortcodes
:kissing: (Github, Slack)
emoji copy and paste
emoji meaning
Kissing Face Emoji
Kissy Face Emoji