😮 Face with Open Mouth Emoji
Face with Open Mouth Emoji
Face with open mouth emoji meaning:
Emojis were designed to represent feelings symbolically. Face with Open Mouth emoji is a yellow face smiley with small, open eyes and a wide round mouth. This wow face emoji suggests various degrees of surprise and emotional shades. Sometimes it refers to the sensations of surprise, astonishment, and amazement. Or sometimes it means unbelief, shock, and little confusion. This smiley is usually more than just an expressive reactive emoji.
NOTE: Face with Open Mouth was approved as a section of Unicode 6.1 standard in 2012 and added to Emoji 1.0 in 2015.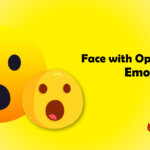 How to copy-paste face with open mouth emoji?
The face with open mouth emoji is being used to express awe and surprised feeling. Young adults love this emoji to a vast extent when they need to portray their inner self. If you need more than 10000 emojis copy and paste the emoji, and get it from heatfeed emoji. By copying your emoji from heatfeed your computer will not get any damage. Follow the given steps.
Go to the site www.heatfeed.com
Search your emoji on the respective site.
Replicate it by pressing the emoji button given under the emoticon.
Now fix it on your page you are attached with like any social media page.
Similar Emojis:
😮 Face with Open Mouth emoji similar to 😯 Hushed Face emoji or 😱 Face Screaming in Fear emoji. Among many others, each emoji transmits a particular message.
Also Known As
😮 Open Mouth Emoji
😮 Wow Face
😮 Surprised Emoji
😮 Wow Emoji
😮 Amazed Emoji
Apple Name
😮 Surprised Face with Open Mouth
Apple

Apple

iOS 14.6

iOS 10.2

iOS 10.0

iOS 8.3

iOS 6.0
Google

Google

Android 12.0

Android 11.0

Android 8.0

Android 7.0

Android 5.0

Android 4.4
Samsung

Samsung

One UI 3.1.1

Experience 9.0

TouchWiz 7.1

TouchWiz 7.0

TouchWiz Nature UX 2
Microsoft

Microsoft

Windows 10 May 2019 Update

Windows 10 April 2018 Update

Windows 10 Anniversary Update

Windows 10

Windows 8.1

Windows 8.0
WhatsApp

WhatsApp

2.21.11.17

2.19.7

2.17
Twitter

Twitter

Twemoji 13.1

Twemoji 1.0
Facebook

Facebook

13.1

3.0

2.0
Codepoints
😮 U+1F62E
Shortcodes
:open_mouth: (Github, Slack)
emoji copy and paste
emoji meaning
Face with Open Mouth Emoji
Smiley Emoji