The battle for social media supremacy is on! YouTube Shorts and Facebook Reels are the two latest platforms to join the ever-evolving world of social media. Both offer quick and easy ways for users to share their creative ideas, but which one will come out on top? In this blog post, we'll be taking a closer look at YouTube Shorts and Facebook Reels, comparing their features and user experience to help you decide which platform to use.
What are YouTube Shorts and Facebook Reels?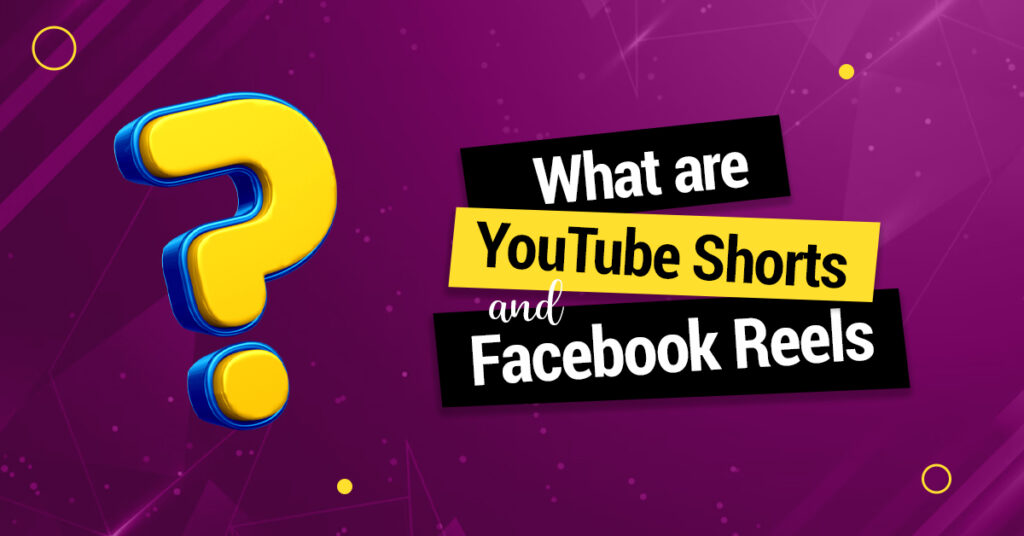 YouTube Shorts and Facebook Reels are two of the most popular short-form video platforms available today. These platforms allow users to create and share bite-sized video content with their audiences, using a variety of tools and features. YouTube Shorts was launched in late 2020 as a direct response to the popularity of TikTok, while Facebook Reels was introduced in 2021 as a rival to both TikTok and Instagram's popular Reels feature. Both platforms allow users to record and edit videos of up to 60 seconds in length, and offer a range of creative tools and features such as music, filters, and effects. However, there are key differences between the two platforms in terms of their user interfaces, reach and engagement, monetization opportunities, creator support, and content discoverability.
Features of YouTube Shorts:
Here are the key features of YouTube Shorts that have contributed to its popularity among creators and users alike:
1. Vertical Video Orientation:
YouTube Shorts are created in vertical format, making them perfect for mobile devices. This orientation makes it easy to create and watch content on the go, which is essential in today's fast-paced digital world.
2. Soundtrack Library:
YouTube Shorts come with an extensive library of licensed music and sound effects that creators can use to enhance their videos. This feature makes it easy for creators to find and use the perfect audio for their content, resulting in higher engagement rates and increased reach.
YouTube Shorts provides users with a variety of creation tools that allow them to add text, captions, filters, and effects to their videos. These tools help creators to create unique and engaging content, making their videos stand out in a sea of digital content.
Features of Facebook Reels:
1. Seamless Video Editing:
Facebook Reels offers users a wide range of creative tools and effects to edit their videos seamlessly. From adding music and filters to adjusting the video speed, Facebook Reels provides a user-friendly editing interface that allows creators to produce visually captivating content.
2. Built-in Music Library:
One of the standout features of Facebook Reels is its extensive music library, which provides a vast selection of popular songs and sound bites for creators to use in their videos. This allows users to enhance their content with the perfect soundtrack, creating a more engaging and immersive viewing experience for their audience.
3. Collaborative Video Creation:
With Facebook Reels, users have the option to collaborate with others on video projects. This feature allows multiple creators to contribute to a single Reel, fostering a sense of community and encouraging collaborative creativity.
User Interface and Accessibility:
Both YouTube Shorts and Facebook Reels offer a user-friendly interface and are designed to be easily accessible to all users. YouTube Shorts provides a dedicated tab on the YouTube app, allowing users to quickly access and explore short-form content. The interface is intuitive and easy to navigate, making it simple for creators to upload and share their Shorts. On the other hand, Facebook Reels is integrated into the main Facebook app, making it convenient for users who are already active on the platform. The user interface is visually appealing and offers a seamless experience for browsing and engaging with Reels. Both platforms prioritize accessibility, ensuring that users with disabilities can fully engage with and enjoy the content. They offer features such as closed captioning and voiceover capabilities, making it easier for all users to access and understand the videos.
Recommendation
With the help of dedicated YouTube Shorts and Facebook Reels downloaders, you can easily save these entertaining and engaging short videos to watch offline whenever and wherever you like.
When it comes to YouTube Shorts, using a reliable heatfeed YouTube Shorts downloader allows you to grab those captivating 15-second videos with just a few clicks. Whether you want to download Youtube Shorts or preserve a video that resonates with you, this downloader ensures you never miss out on the content that matters most to you.
Likewise, Facebook Reels also offer a plethora of delightful short clips, and a dedicated Facebook Reels downloader is the perfect solution to keep those memorable moments within your reach. By utilizing YouTube Shorts downloader, you can build a personalized collection of your favorite Reels, allowing you to revisit the joyous, humorous, or inspiring content shared by users worldwide.
Remember, using a reputable and trustworthy Heatfeed YouTube Shorts downloader and Facebook Reels downloader ensures a seamless and secure download facebook reels and Youtube shorts, free of any worries about violating copyright or terms of service. Embrace the convenience and versatility of these downloaders and enjoy an enriched video-watching experience on your own terms!
Conclusion:
YouTube Shorts and Facebook Reels are two of the most popular short-form video platforms today. If you're looking for a platform with a large and engaged user base, a strong monetization program, and a wide range of features, then YouTube Shorts is a good option. If you're looking for a platform with a large and engaged user base, the ability to reach a wider audience through Facebook's advertising platform, and a strong monetization program for creators in select countries, then Facebook Reels is a good option.