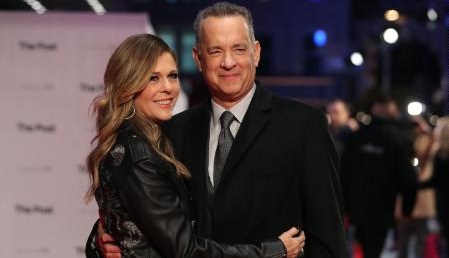 Detailed Biography of Tom Hanks
Concord, California is proud to have the legend Tom Hanks born & living there. Tom was born on the 9th of July 1956 and is famous for being an actor, director, and producer, there in Hollywood. He is mostly known for his best movie 'Saving Private Ryan' which was released in 1998.
In this movie, he was teamed up with Steven Spielberg for the first time and did a challenging role in the movie. The movie was appreciated by his lovers and got him his fourth nomination for the Academy Award for Best Actor. Tom Hanks is one of the most famous, highest-regarded, and highest-paid actors in Hollywood.
As his parents got divorced in 1960, he stayed with his father. According to an interview with New York Magazine in 1986, Hanks revealed that once there was a time when he had to live in ten different houses by the age of ten.
Start of Acting Career by Stage Plays
Hanks started his career as a stage actor by the play 'The Two Gentlemen of Verona' in 1978. The film got him an award for The Best Actor. On stage, he did various great jobs and acted in several summer productions of Shakespeare's plays. 'He Knows, You're Alone' is the movie, Hanks debuted from in 1980.
In the next year, Tom got an opportunity to work in a television sitcom' Bosom Buddies' that got him great critical acclaim. 'Big' by Penny Marshal is the movie that was highly admired in 1988, and also it's the movie that opened the doors of luck and fame on Tom Hanks.
Soon he began to appear in many blockbusters and big-budget hit movies. He appears in notable films such as Sleepless in Seattle, You've Got Mail, Toy Story, Apollo 13, Cast Away, Saving Private Ryan, Angels and Demons, and The Da Vinci Code.
Tom became the second actor in 1993 and 1994, in history to win back-to-back Academy Awards for Best Actor for Philadelphia in 1993. He portrayed the role of an HIV-positive attorney. And in 1994, he won the second Academy Award for Forrest Gump, in which he played the leading role.
Readout some of the best highlights from the career of Tom Hanks:
Big (Movie, 1988)
Forrest Gump (Movie, 1994)
Academy Awards (Best Actor 'Forrest Gump', 1994)
The Green Mile (Movie, 1999)
Catch Me If You Can (Movie, 2002)
The Terminal (Movie, 2004)
The Da Vinci Code (Movie, 2006)
Captain Phillips (Movie, 2013)
Inferno (Movie, 2016)
The Post (Movie, 2017)
Personal Life & Legacy
In 1978, Hanks married Samantha Lewes, who was an actress and producer. They had two children, Colin and Elizabeth, but unfortunately, their marriage ended in 1987 for divorce. Next year, he married Rita Wilson, who was also an actress. He worked with Rita in the film 'Volunteers'. They are having two sons, Chester and Truman.
He has also been credited with great honor. He has an asteroid named after him: the "12818 Tom hanks. The asteroid was discovered on April 13, 1996.
Achievements, Awards, & Nominations Won by Tom Hanks
Here is a small list of some big achievements by Hanks;
Academy Awards (Oscars)
| | | |
| --- | --- | --- |
| 1995 | Best Actor in a Leading Role | Forrest Gump (1994) |
| 1994 | Best Actor in a Leading Role | Philadelphia (1993) |
Golden Globe Awards
| | | |
| --- | --- | --- |
| 2001 | Best Performance by an Actor in a Motion Picture – Drama | Cast Away (2000) |
| 1995 | Best Performance by an Actor in a Motion Picture – Drama | Forrest Gump (1994) |
| 1994 | Best Performance by an Actor in a Motion Picture – Drama | Philadelphia (1993) |
| 1989 | Best Performance by an Actor in a Motion Picture – Comedy & Musical | Big (1988) |
Salary Career Highlights of The Legend Superstar:
'Splash' is considered as one of the best movies by Hanks. The movie gave him not only identity and fame but also an amount of $70,000. In 1988, Tom earned $1.75 million for his blockbuster movie 'Big'. It's the same as around $4 million today. In the same year, he earned $5 million for "Punchline", that is the same as $11 million of today's amount. Tom Hanks is one of the most likable and highly esteem men in Hollywood and also the only actor worthy of a $20 million salary per year, according to Entertainment Weekly magazine.