🤫 Shushing Face Emoji
Shushing Face Emoji Meaning: 
Emojis were used to represent feelings symbolically. Shushing Face emoji is a yellow face smiley that has its index finger on its mouth as if it were making a "shush" sound. This emoji is commonly used to request that others be quiet or keep a secret, but it can also have a sly meaning. 
This emoji gives you a direction that you can ask for or issue a long Shh! or Shush! The shushing emoji is a yellow face that places an index finger over pursed lips. Raised brows can be seen on several platforms. Apple's design makes it appear as if the face is slightly tilted back. Silence, quiet, secrecy, and discretion may be conveyed. An exclusive sneak look or news scoop, for example, can help create a buzz and build anticipation.
NOTE: Shushing Face was approved as part of Unicode 10.0 in 2017 under the name "Face with Finger Covering Closed Lips" and added to emoji 5.0 in 2017.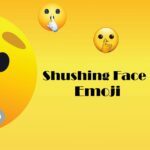 How to copy-paste sushi face emoji?
To copy-paste the sushi face emoji, you need to assume a few simple and nice steps. Make sure that you do sushi face emoji copy and paste carefully. Do it from heatfeed.com which has 10,000 copy and paste options for emojis. Mind the following steps to copy and paste the emoji.
Go to the site called heatfeed.com and search for your emoji.
Navigate your decided emoji by writing its name of it on a search bar.
After that, copy it from the button "click to copy" underneath it.
Paste it on your page like Instagram or Facebook you like the most.
Similar Emojis:
There are some other emojis that are similar to 🤫 Shushing Face emoji 🤗 Hugging Face, 🤔 Thinking Face, 🤭 Face with Hand Over Mouth, 🤐 Zipper Mouth Face. Among many others, each emoji conveys a singular message.
Also Known As
🤫 Hush
🤫 Quiet
🤫 Shh
🤫 Shut up
🤫 Keep Quiet
Apple Name
🤫 Shushing Face
Unicode Name
🤫 Face with Finger Covering Closed Lips
Codepoints
🤫 U+1F92B
Shortcodes
:shushing_face: (Github, Slack)
:face_with_finger_covering_closed_lips: (Slack)
emoji copy and paste
emoji meaning
Emoji Smiley
shushing face emoji