🤐 Zipper-Mouth Face Emoji
🤐 Emoji Meaning: 
Emojis were used to represent emotions symbolically. Zipper-Mouth Face emoji is a yellow face smiley with wide-open eyes and zip in place of a mouth. This emoji meaning is frequently used to convey a secret or the assurance that someone will keep the secret. It can also be used to say that somebody should stop talking as well. 
Zip it! or I'll shut up now are examples of phrases that can be used to tell someone to stop talking. But only in those situations where you think that speaking of someone will be harmful to you. So be careful and be polite while using this emoji otherwise 'zip it'.
NOTE: Zipper-Mouth Face was approved as part of Unicode 8.0 in 2015 and added to Emoji 1.0 in 2015.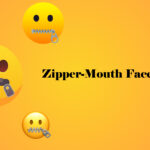 How to copy-paste the zipper-mouth face emoji?
The zipper-mouth emoji is for keeping silent or asking someone to do so. If you intend to use the zipper-mouth face emoji copy and paste option then you need to consider a few steps. 
1. Go to your favorite site www.heatfeed.com
2. Ask the navigation button to search you the best emoji
3. After doing so, copy the emoji by clicking the icon.
4. Now paste it anywhere you like it on social media. 
Similar Emojis:
There are some other emojis that are similar to 🤐 Zipper Mouth Face emoji 🤭 Face with Hand Over Mouth, 🤫 Shushing Face, and 🙊 Speak-No-Evil Monkey. Each emoji transmits a specific message, among many others.
Also Known As
🤐 Lips Sealed
🤐 Sealed Lips
🤐 Zip It
🤐 No Comments Face
🤐 Can't Talk
🤐 Keeping a Secret
🤐 No Talk
🤐 Shut Up
Apple Name
🤐 Face with Zipper Mouth
Codepoints
🤐 U+1F910
Shortcodes
:zipper_mouth_face: (Github, Slack)