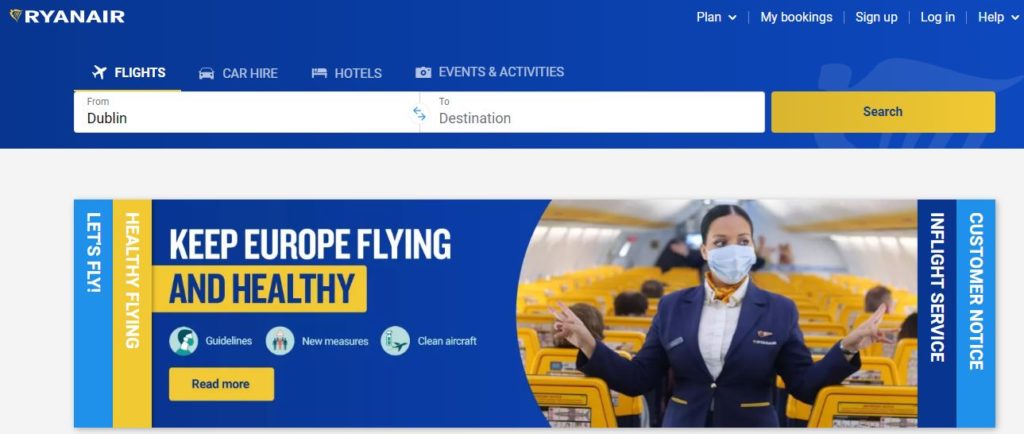 Ryanair is an Irish airline, found in the year 1984. It operates primarily from Dublin and London Stansted, with its headquarters located in Dublin. This is the largest company in Ryan Holdings airlines' family, with Ryanair UK, Buzz, Malta Air, and Lauda being its sister companies. In 2016, Ryan air achieved a landmark in its history, when it carried more international passengers, as compared to any other airline.
Ryanair is one of the safest airlines, as evidenced by the fact that there has not been any fatal accident in their years of service. In fact, in 2018, it was voted as the safest airline.
Ryanair: Fleet And Headquarters
Ryanair's most extensive base is at Stansted, London, which houses 44 of its aircraft. Following Stansted, Dublin is the second-largest destination for the Ryanair fleet. Operates from 84 bases from around the world, connecting over 35 cities.
Its basic policy is to fly to smaller airports around major cities. This is advantageous for a budget airline because it reduces the landing cost and lower waiting times. Many major cities have two airports, one being in close vicinity to the town, while the other being towards the outer region of the city. This makes the Secondary airport more suitable for low-budget airlines like Ryanair. Another major factor in reducing the operating cost is the quick turn-around time in a smaller airport.
Ryan air initially sought to operate mostly direct flights; however, over the years, it has changed the operation method and operates a large number of indirect flights. Although being an Irish airline, Ryanair Vuelos Baratos has significant operations in other countries as well, including bases in Germany, France, Poland, Ryanair UK, and Spain. Italy is the largest hub for Ryan air, with 14 bases in different cities.
Following is a list of aircraft used by the Ryanair Group airlines:
Boeing 737-700: This is used as a training aircraft, and only 1 model graces the Ryanair fleet.
Airbus A320-200: 6 of these aircraft are in operation for Ryanair holdings, and all of them are used by Lauda, a sister company of Ryan air.
Boeing 737-800: Ryanair uses 273 Boeing 737-800 aircraft while its sister companies employ a total of 167 of these aircraft.
Boeing 737 Max 200: Max 200 is the latest generation of the Max series of aircraft from Boeing. Their deliveries are yet to commence. 
Ryanair.com
Ryanair.com is the official website of Ryanair. You can not only book flight tickets but also plan your stay as well as tourism to the destination, all from this website. Here is a detailed review of the Ryanair Vuelos Baratos website. Any new update from the Ryan air website is uploaded on the site.
If you are not sure of a destination to travel to and are browsing to fall upon a destination that might be worth a visit, the Get Inspired option shall help you. This enables you to make an educated decision to visit a particular place. Also, there is a Podcast available, which can be seen to get a better understanding of the site you are visiting.
A Detailed Analysis Of The Website
The first thing you see when you open the website is the flight booking window and the Sign-in option to your top right corner. Click on it and sign in using your existing account, or create an account if it is your first time visiting Ryanair.com.
On the Ryan air homepage, you get four significant options, namely Ryanair Vuelos, Car hire, Hotels, and Events and Activities.
Ryanair Flights
In the Flights option, you can look for flights, using the origin and the destination cities. Once you select the destination, a new bar opens up, asking you to choose the number of passengers, and the date of your journey. Once you provide this information, a list of Ryanair flights on the given date will be displayed. 
Car Hire
In the car hire option, fill in the name of the city of the airport, where you wish to hire a taxi. Now select the date and time of pick-up and drop-off. If you want to drop-off at a different location, you can choose the location likewise.
Hotels
You can opt for booking hotels on the website itself using this option. Simply provide the destination city or a hotel name in particular. Now select the Ryanair check-in and check-out date, and choose the number of guests. Select the room you wish to opt for and book it from the website itself.
Events And Activities
You can use this option to browse for events in the city you are traveling to. This can be done via a separate site, specially organized tours for several historical and other events. 
You can Explore Ryanair, with options like Route Map, Fare Finder, Travel Updates, and Flight Timetable.  
Travel Extras
When you book flights on the Ryanair website, you have some additional options to improve the travel quality. Although budget airlines, Ryan air has taken some severe measures to provide class-leading features. Following is a list of these extras, you can look to opt, to have a hassle-free flight experience:
List of Class-Leading Features 
Allocated Seat Option
You can choose to opt for your favorite seats. Suppose you are in a hurry, the front seat will let you exit quicker than other passengers. Front seats also have slightly extra leg-room. You can select whichever position you wish to travel in from this option.
Ryanair Check-in Bag
This is a part of the 'Always Getting Better' campaign of Ryanair. When you check-in, you can drop off a bag at the check-in desk, which can then be collected at your arrival airport. You do need to pay a specific charge for these bags. A piece of advice: When booking your flight, add a bag before checking out. Bags are cheap at the time of booking. 
Fast Track
This feature allows you to skip the long waiting lines on the airport and move ahead of the rush, using the Priority Lane. You can add this feature at an additional cost of only 4 euros.
Airport Parking
When traveling out of the city, you can park your car at the airport parking. To skip the long waiting hours for a parking spot at the airport, you can book yourself a parking spot for the period you will be out of the city.
Ryan air Gift Voucher
If you are looking to gift something to your loved ones and are not sure what to gift, go for a Ryanair Gift Voucher. These are redeemable across the whole of the Ryan air network. You can even attach a personal message to the gift card before sending it to your loved ones. 
Popular Flights
This is an option available on the website to make it easier for users to book flights. Flights to cities like Malaga, Barcelona, Dublin, Tenerife, Warsaw, and Rome, are available in this menu. This is quite useful for people who tend to take regular flights between these cities.
Ryanair Plans
Ryan air offers a host of plans to help the users get a better experience. This is suitable for individuals who travel regularly. There are exclusive perks available for each of these exclusive plans,
Plus: This is the most basic subscription plan, offering the passengers seat, free check-in, 20kg baggage allowance, and a reserved standard seat. This is equally suitable for solo travelers, as well as groups.
Family Plus: As the name suggests, this plan is better suited to the needs of a family. With features like two items of the baggage of 20kg each, and one luggage of 10kg. These are needed to be dropped off at the check-in counter. Another massive advantage is that you can book free tickets for children alongside an adult seat.
Flexi Plus: More suited towards the Businessmen, who tend to have busy and uncertain schedules. Flexi Plus offers the passengers free rescheduling of tickets one day before or after the original booking. You get priority check-in and permission to carry two bags inside the cabin. Also, you can select seats of your choice in this plan.
Erasmus Discount: This discount is suited to the needs of students; however, there is a catch to this. Students need to book the tickets 28 days before departure, to be applicable for this discount.
Is The Ryan Air Website Safe For Your PC?
Ryanair's website is very safe and does not cause your system any sort of issues regarding safety. There are no advertisements on the site, which means that you never stumble upon a fake link and are not redirected to the advertiser's website. Another fantastic safety feature of the Ryan air website is that any link you are redirected to belongs to Ryan air, which makes it all the more credible. Ryanair Equipaje has to be a benchmark for most other websites in terms of credibility, website safety, and cybersecurity features.
What Makes Ryanair Worth A Visit
Well, Ryan air is one of the cheapest airlines going around, and also one of the safest. They enjoy a large number of passengers from across the world, credit to their prices, and amazing offers and subscription plans. Ryan air is not regarded as the most luxurious of the airlines, but it more than fulfills the purpose.
Ryanair's website is fully equipped for users to book flight tickets, hotels, cabs, and events. Also, there are several other features Ryan air offers, which can all be accessed via. The Ryanair website.
What About My Personal Data
When you visit the website, you are advised to read the terms and conditions carefully, to understand the policies of Ryan air, regarding the usage and safety of your data. Ryanair Equipaje takes all measures to keep your data safe from any kind of cyberattack on the website. On their end, Ryan air does not share your data with any other third-party service or user. Hence you can rest assured that you are using one of the safest services.
Verdict
Ryanair's website is a one-stop destination to plan your next destination. From booking flight tickets to hotels, you can choose everything and reserve well to avoid any hassle in the future. In the safety department, the Ryan air website is as safe for your PC, as is the airlines. Rest assured that your data is in safe hands.