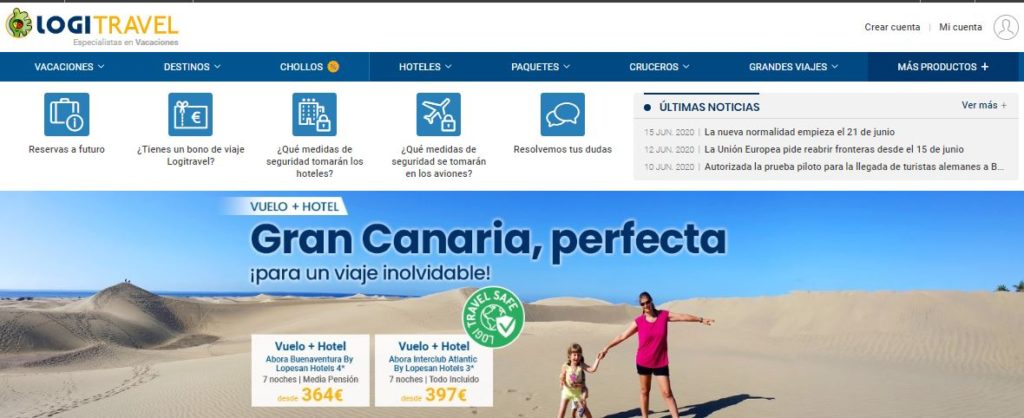 Logitravel is a travel company that offers flights, hotels, cruises, and vacations all at affordable prices, and best in class offers. Operating from Mallorca, Spain, Logitravel was founded in 2004 and has become one of the best travel booking websites around. For the large part, Logitravel is famous for its low prices and offers capable of attracting customers. 
Logitravel.com
The Logitravel website provides a user-experience to counter most of its competitors. The site is quirky and fun to use. Much of the information available on the website is exclusive, and the offers are best in the market. Since there are a very vast number of travel bookings available, such as hotels, cruise, flights, etc. an excellent website interface and maneuverability, is necessary. And Logitravel deserves credit for maintaining a website capable of doing so much.
What Does Logitravel Offer?
Logitravel offers the users with flight, hotel, and all other sorts of travel bookings at comparatively lower prices. If you are looking to travel for a vacation with your family, there are specific plans, offers, and suggestions available. From leisure to business, there are offers for all purposes. Here is a detailed look at everything that Logitravel has on offer.
Holidays
Logitravel's most significant chunk of users is the people looking for offers on flights and other bookings for their holidays. Obviously, during the peak seasons, there is an exponential rise in the number of passengers looking to travel to different destinations looking to make the most of their vacations. Logitravel offers significant discounts and multiple offers for these users.
The holidays' option on the website is divided into three parts,
Featured holidays
In featured holidays, you will find the best holiday deals at the moment, all-inclusive holidays, Family holidays, Weekend breaks, Honeymoon holidays, and Adult exclusive holidays. If you are looking to go for a shorter holiday to a nearby destination, you can click on the Weekend holidays option to get offers regarding the same. Similarly, for other purposes, select the best feature on the list mentioned above to get the offers regarding the particular travel program you wish to employ.
With such a wide range of different options available to satisfy all customers, no doubt Logitravelhas such high visitors.
Holidays In
This option contains the list of months, and offers available during each month are available here. Suppose you are planning to travel in July, you will get offers from around the world that can be availed during this month. Similarly, for other months, you can click on the name of the month and get all offers, including those of hotels and flights. There are some additional offers when you book flights and hotels simultaneously, using the 'Flights+Hotels' option.
Special Holidays
Special holidays are the ones which are specific to particular holidays or weather, such as Christmas holidays and summer vacations. Offers for vacation during these periods are available in this option. A piece of advice: when planning a vacation on special holidays, make your bookings well in advance.
There are three options in the Special Holidays column, namely: Summer holidays, OctoberHalf-term, and Christmas and New Year. You can click on either one of them to make your travel bookings during the respective holidays.
Destination
The travel destination is something that always creates confusion. Things are more straightforward if you are traveling alone; however, along with multiple people involved, the complexity only increases. Logitravel has a solution for such a situation. The destination option has the travel destinations divided into the following:
Canary Island
Usually, when people visit the Canary Islands, they are on a rather long vacation. Canary Island includes the following: Tenerife, Gran Canaria, Lanzarote, and Fuerteventura. There are offers on bookings and information available regarding all of these places individually. So if you do not have enough time to travel all of Canary Island, plan for specific locations using the Logitravel booking offers.
Other Islands
Apart from the Canary Islands, the other significant Islands are Majorca, Ibiza, Greek Islands, Malta, Madeira, Sardinia, and Sicily. Click on the name of the destination, to avail the best of discounts in each of these places.
City Breaks
Well, you don't always go to Islands on your vacation. If there are cities like Paris, Rome, Amsterdam, Prague, Istanbul, and Marrakesh, and offers like those on Logitravel, who would visit any other destination.
Meditteranean
Meditteranean destinations to tour, available on Logitravel include Port Aventura, Costa Dorada, Costa Brava, Turkish Riviera, Costa del Sol, and Algrave.
Other Exotic And Long Vacation Destinations
Tour to the USA, Caribbean, Mexico, Costa Rica, UAE, and Iceland, are suitable for extended vacations, be it with family or friends. You can opt to spend your summer or winter vacations, which are usually long, in any of these places, as many offers are available on Logitravel for these destinations.
Cruises
Cruise is an experience to remember, and for most people, it is something right on top of the bucket list. Logitravel offers several offers on Cruises, varying with time, duration, and amenities. Here are the options at your disposal, when booking a cruise via. Logitravel.
Best Time For Cruise
Cruise is fun no matter when you visit one. However, some of the favorites are Summer school holiday cruise, Winter cruise, May half-term cruise, and Easter cruises. If you wish to travel during some other time, you can look at the schedule of all the cruises going on a voyage this year.
Popular Cruise Types
The most popular cruises are Meditteranean, Summer, Greek Isles, Caribbean, and Asia cruise. All these cruises offer exceptional amenities and stay for all the passengers. Also, a large number of journeys sail from the UK, which can also be booked from the Logi travel website.
Destinations
Although cruise is an experience to enjoy the travel, there are a few major destinations, which are equally breathtaking. Some major cruise destinations are Meditteranean, Greek Islands, Norwegian Fjords, British Isles, Baltic, Caribbean, and Asia. Cruises to all these destinations are available on the Logitravel website.
Popular Cruise Lines
The most popular cruise lines are P&O Cruises, Princess, Cruise and Maritime, Norwegian Cruise Line, MSC Cruise, Cunard Cruise, and Royal Caribbean Cruise.
Holiday Packages
Logitravel offers custom holiday travel packages all around the year, where you can book both flights and hotels, saving your time in booking them both separately. The holiday packages available are:
Packages
Weekly deals, Holiday Packages, All-Inclusive, Adult Only, and Flight & Hotel Inspiration. These are the names of the packages that are offered by Logitravel and can be used when planning a vacation.
Promos
They offer some exciting promos for the following months during the year. These promos are divided into the following: Summer, Easter, May Half Term, April, May, June, and July.
Top Destinations
Top destinations around the world include Meditteranean, Balearic, Caribbean, and the Greek Islands. Some people tend to enjoy going to cities for their holidays, bookings for which can be made on Logi travel.
Top Sellers
The most popular packages among the users of Logi travel are Post Aventura World, Majorca, Benidorm, Amsterdam, and Riviera Maya.
Others
Apart from the packages mentioned above, Logitravel also offers the following:
Long Trips
Long Trips to several parts of the world, including Africa, America, the Middle East, the UK, and Asia, are also available on Logi travel. You can book your tickets for these holidays anytime around the year. There are exclusive deals for Honeymoon couples, and some exceptional discounts during Christmas and other festivals.
Beach Hotels
Beaches are probably the idea of most people when it comes to holidays. From adventure sports to a quiet, relaxed outing, beaches offer everything to satisfy everyone. On Logitravel, there are several beach destinations that can be booked for your next goals. Here are the names of a few of the most popular beach holiday destinations:
Majorca, Ibiza, Lanzarote, Tenerife, Malta, and Sicily ar the most popular Islands. You can book hotels and make other travel arrangements according to your requirements. Apart from these Island destinations like Port Aventura, Benidorm, Antalya, Riviera Maya, and the Maldives are a few of the most popular mainland beach destinations.
Cabs
When you travel to a city, during the peak days, you might have to wait for over an hour waiting for a can or taxi to arrive, and the prices are sky-high. However, on Logi travel, you can book cabs in advance so that when you arrive at the airport, you have a taxi waiting for you. The prices on Logitravel are very competitive and pretty cheap in comparison to the local cab companies.
How To Book A Flight Or Hotel?
Well, its very simple.
Open the official website of Logitravel.
Now select if you are looking to book only flights, or hotels, or cruise or a complete package.
Now choose the dates of your journey and stay.
In the case of flights, a list of the available flights in the particular duration is possible to book from.
Similarly, the packages available during the time of booking are also displayed.
Simply select whichever is suitable for you, and click on it to continue the booking.
You do have to log-in to the website to make any booking. Logging-in to the website enables you to keep track of your booking and also informs you about the new updates regarding the existing packages and the inception of new ones.
Is The Logi travel Website Safe?
Yes. Logitravel has a specific set of features to avoid any cybercrime on or through its website. There are no third-party software or links on the site, which might lead the users to any other website.
Also, there are no advertisements, which means that you do not have to worry about any interference while making a booking or browsing the offers. Payment methods are also safe, and any problem you might face during the process are sorted out by the customer support of the website.
Verdict
When it comes to providing holiday deals, there are a handful of websites which offer features as useful as Logitravel. From booking flight tickets to cabs and hotels, Logi travel ensures that you do not face any issue during your booking. The offers as well are top-notch, and leave very little to be desired.