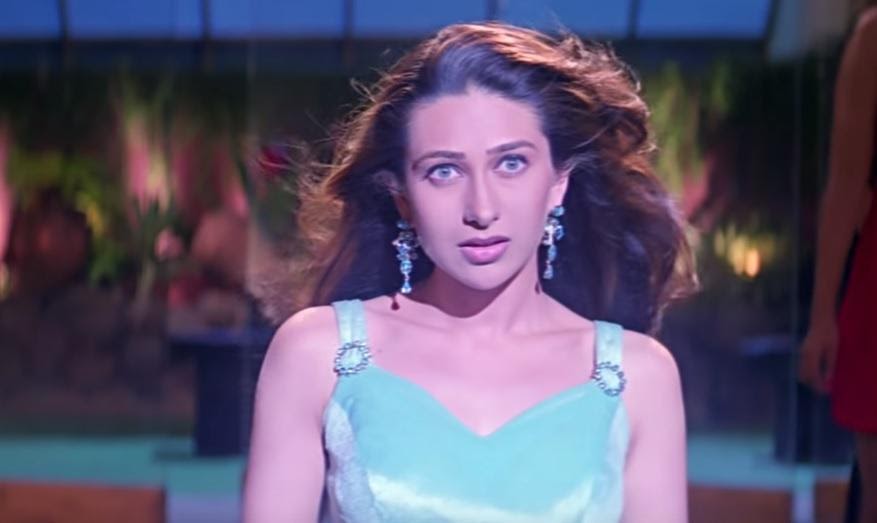 Through her jaw-dropping beauty and exceptional performance, Karisma Kapoor created an unerasable portrait of herself in the drama industry. The popular actress made her entry in 1900 and was granted the special honor of a National Film Award and four Film-fare awards and stole innumerable hearts of people all around the country with her elegance.
Karisma Kapoor Career
With a superstar father who was not in favor of women of the family stepping into the film industry, Miss Kapoor decided to pursue her dream regardless of what people thought. At the age of seventeen, she gave up her studies for supporting her film career financially and started with a leading role in Prem Quaidi (1991), which was considered as a moderately successful movie and received a fair share of criticisms and appreciation both on an equal level.
Movies
Kapoor starred in many box office hits including the dramas, Jigar (1992) and Anari (1993), the movies which filled the room with laughter, Raja Babu (1994) and Coolie no. 1 (1995). We have heard that when there's a success, there's criticism; the inclination of Lolo for male-dominated films was not appreciated by the people as the majority of her film choices back then were contemplated to have a dominant male character.
Good things come to people who deserve it, in 1996 ended her career struggles with her lead role in movie Raja Hindustani, Karisma Kapoor gave her career a turning point and made her way to the Filmfare Awards for Best Actress. After Raja Hindustani, Kapoor played a significant role in many super hit movies like Biwi no. 1 (1999), Dulhan Hum Le Jayenge (2000), and one of the most emotional family drama Hum Saath Saath Hai (1999), and gained popularity among the crowd. After her eminent role in the Bollywood industry, Karisma decided to make a grand entry to comedy- web series Mentalhood (2000)
Apart from being on the set for entertaining people, Karisma also did many advertisements for various products, from beauty to snacks, like Garnier, Olay, California Almonds. The latest advertisement featuring Karisma is McCain, the snack chain.
From handling criticisms well and working on them, Karisma Kapoor embraced her skills and always worked even harder to polish them. Directors claim that when she took a contract, she completely drowned herself in character and give the best. However, good things come with time, and every beauty fades away to give a chance to new talent.
Personal Life And Work, Off-Screen
The beautiful and talented daughter of Randhir Kapoor and Babita Kapoor was born in Mumbai on June 25, 1974, and is the elder sister of Kareena Kapoor. As the name Lolo and Bebo suggests, Karisma Kapoor's father loved funny names for their kids.
Ms. Kapoor was seen with Ajay Devgan until they broke up in 1995. Karisma was expected to tie the eternal knot with Abhishek Bacchan in 2002 after their engagement, which was eventually called off after a week.
On September 9, 2003, she tied her knot with Sanjay Kapoor, the CEO of Sixt, India, and gave birth to a beautiful daughter Samaira in 2005 and a son, Kiaan, in 2010. Rough phases of life made her file a divorce in 2014, which got approved in 2016, turning her into Ms from Mrs.
Karisma's choice of the relationship was a controversy back then, her various relationships and their ending gave people a topic to talk about. However, the single mother raised her 2 kids gracefully and became an example of power among the women setting an example for them.
Karisma Kapoor's Net Worth
Karisma Kapoor has a net worth of 12 million dollars as of the year 2020, which is 90,54,00,000 INR. The Indian Kardashian, Karisma has been from a wealthy background and maintained it gracefully. Not only she has a huge mansion, but she also has a thing or two for luxurious cars.