😮‍💨 Face Exhaling Emoji
Face Exhaling Emoji Meaning: 
Emojis were created as a means of symbolically representing emotions. Face Exhaling emoji is a yellow face smiley with warm, closed eyes and slightly curled, lifted brows, a sigh of relief from an open mouth while blowing a whiff of cloud, which is an animated sign of expelled breath. It evokes a sense of calmness, relief, and peace, as well as a sense of narrowly escaping something or someone.
When you are stressed by something very exhausting and finally have some moments of tranquility then you use this emoji. Finally, you can rest assured that no trouble is alluring your way out. You are finally at peace and enjoying this feeling. Make sure that you express this emoji to people who love you.
NOTE: In 2020, Emoji 13.1 added Face Exhaling. Face Exhaling is a ZWJ sequence created by combining 😮 Face with Open Mouth, Zero Width Joiner, and 💨 Dashing Away. This one appears as a single emoji on supported platforms.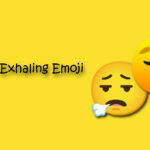 How to copy-paste the face exhaling emoji?
Face exhaling emoji show exhaustion, tiredness, and irritation. When you have done overwork you give this emoji. If Face Exhaling Emoji copy and paste becomes really necessary, then you would get to the emoji copying site. You may need to copy it from the website called heatfeed.com. It is an easy, reliable, and friendly website to copy stuff from. Heatfeed shall give you a chance to 10000 emojis copy and paste your favorite emoji.
Follow the given below rules.
1. Get to the website called heatfeed to copy the best emoji.
2. Search the emoji from the navigation bar.
3. Copy it by clicking the copying button
Similar Emojis:
😮 Face with Open Mouth emoji is similar to the 😮‍💨 Face Exhaling emoji. Among many others, each emoji passes on a specific message.
Also Known As
😮‍💨 Sigh
😮‍💨 Relieved
😮‍💨 Exhaling
😮‍💨 Deep Breaths
😮‍💨 Sigh of Relief
😮‍💨 Phew
😮‍💨 Respite
😮‍💨 Alleviating
😮‍💨 Relaxed
Apple

Apple

iOS 14.6

iOS 14.5
Google

Google

Android 12.0

Android 11.0 December 2020 Feature Drop
Twitter

Twitter

Twemoji 13.1
Facebook

Facebook

13.1
Codepoints
😮‍💨 U+1F62E
U+200D
💨U+1F4A8
Shortcodes
:face_exhaling:
emoji copy and paste
emoji meaning
face exhaling emoji
Smiley Emoji