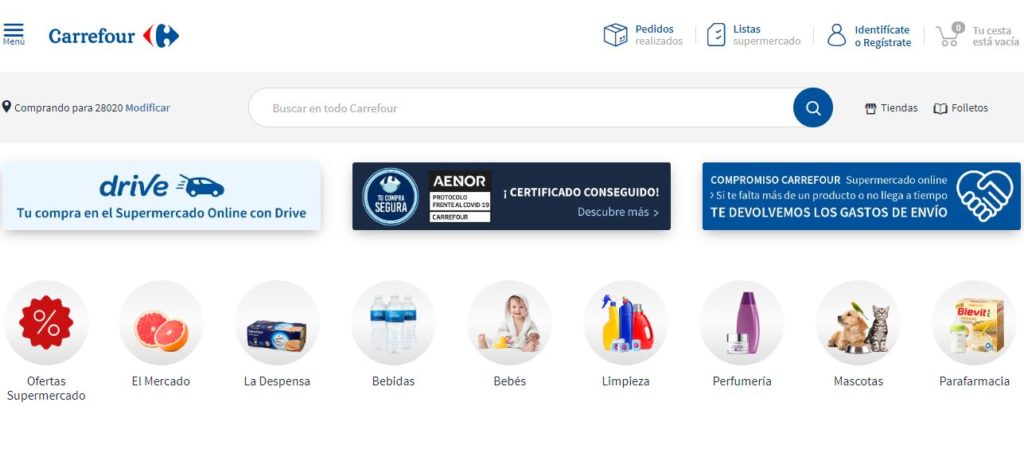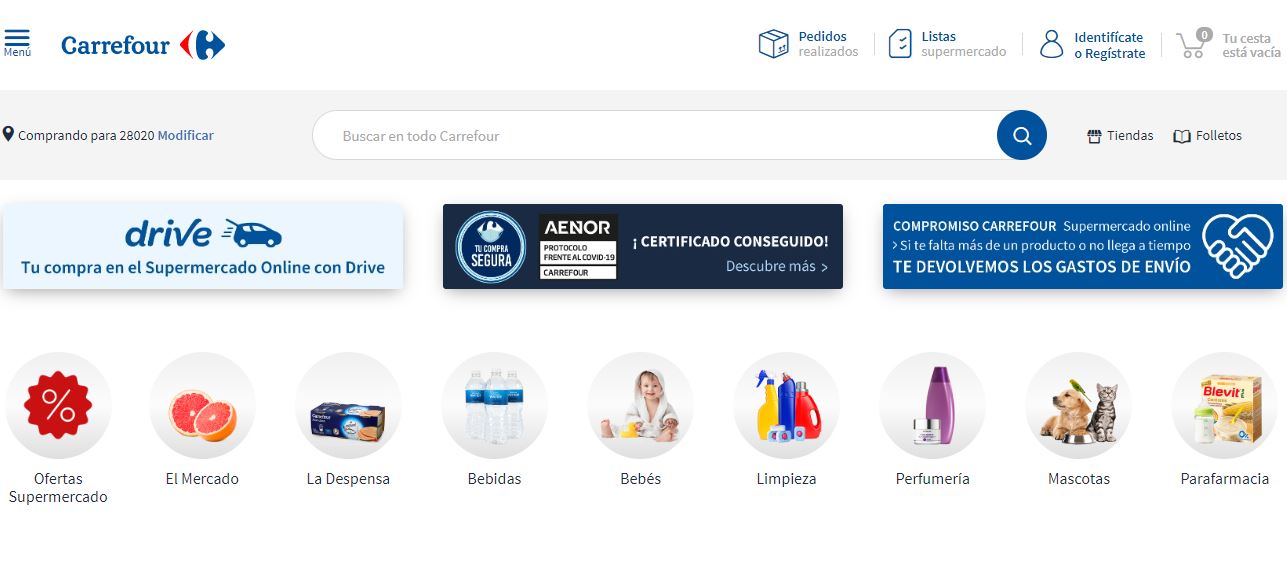 Carrefour is a French retail corporation that has its shops all across the world and is headquartered in Boulogne-Billancourt, France. Around the world, the total employee count of Carrefour is over 321,000, with revenue generated being in access to 74 billion euros.
A Brief History
Carrefour was founded on the 1st of January in 1958, by Marcel Fournier, Dennis Defforey, and JacquesDefforey. Initially, it was just a small shop in Annecy; by 1963, they had experienced exponential growth. In 1963, it became the first company to open a hypermarket, departmental store, and a supermarket, all under the same roof, in Saint-Genevieve-des-Bois, close to Paris.
By the end of the century, Carrefour had its private label, selling over fifty items, including edible oils, and other edible stuff. Also, merged with the Continent, which was its major competitor in several countries.
All went well for Carrefour until 2011 when several other rivals, including international and local retailers, started to challenge them in the French as well as other markets. This rang alarm bells across the board, and they decided to invest $1.5 billion towards introducing and developing the supermarket concept. This turned out to be a masterstroke and experiences immense growth due to this.
Today Carrefour operates over 12,000 stores around the world. France has a total of 247 stores, which is most for any country, followed by China and Spain, with 241, and 237 stores, respectively.
Carrefour.com
Carrefour.com is the official online store. This serves as a means to promote products, making it easier for the customers to but products. The website is more like an extension to the chain of supermarkets in the country. For international markets, Viajes Carrefour has separate sites for individual countries, which have multiple stores. Here is a look at the website, its features, advantages, and everything you might need to know:
What's The Website Like?
When you visit the Viajes Carrefour homepage, the first thing is the request to store cookies and other tracers. This is something that almost every website does. Carrefour pass saves a small amount of data on your system, which can be used when you visit the site the next time. You can accept the cookies if you wish to get them stored in your order.
There are a couple of options on the homepage:
Drive: This option is suitable for people who wish to order whatever they want to buy, and then go to the nearest supermarket or hypermarket to pick up the ordered items. Drive option reduces the time customers take to choose things, and also drastically reduces the in-line waiting time.
Delivery: Customers who tend to avoid going to the supermarket, too, but groceries or other items prefer using the Delivery service. You can simply choose the required things from the website and place an order using the address you wish to get it delivered to.
On the top right corner, you get three options:
Account: This option allows the users to create an account, which helps them keep track of their purchases. Having an account enables the customers to avail discounts, festive offers, and other goodies.
Lists: This is an option suitable for individuals who tend to add items for future purposes. If you find something that suits your needs but is not willing to buy it, add it to this list. This option can only be used if you have logged-in to the website.
Basket: Basket is used to add the items you wish to buy and select their quantities at the moment. During checkout, you have to pay for all the things that are in your basket. You can add or remove any of these items, as well as change their quantities. You can also see your frequent purchases.
All the above three mentioned options are available for users who have logged in to the website.
Menu
The menu is on the top left corner of the screen, next to the logo. This menu consists of all the products on the website.
Promotion And Catalogue, Bio And Ecosystem, Fruits And Vegetables, Meat And Fish, & Bread And Pastries
Promotion And Catalogo Carrefour
This is the first option in the menu, offering the Folleto Carrefour users information about the promotional items, and catalogs of the various products on the website. Also, offers on garden furniture, and tech items are available in this column. Customers can view monthly discounts as well.
This column includes products like fresh vegetables, drinks, milk products, beauty products, child care, household, and animal food and care products. This column provides a list of biodegradable products, and are made keeping the Ecosystem in mind.
Customers can browse around this column to look for fresh fruits, vegetables, snacks, dry fruits, and other edibles. You can also get ready-to-eat products like salads, etc. Flowers and other plants can also be bought from this column.
In this section, there are three other subsections, namely Butcher's shop, fish shop, and Poultry and Rotisserie. As titles suggest, Butcher's shop offers meat, sausages, pork, beef, etc. Poultry and Rotisserie offer chicken, eggs, turkeys, and other poultry products. The Fish shop offers different kinds of fish and other seafood.
All the items you wish to see in a bakery are all available here. Ranging from cakes, pastries, toasts, slices of bread, burger buns, cookies, and other delicacies, every bakery product is available here.
Creamery, Cheese And Cold Meats, Catering, Frozen, Groceries, Drinks, Hygiene And Beauty
This is a collection of milk and egg products, which are carefully segregated into the following: Butters and Margarines, creams, eggs, different types of milk, cheese, yogurts, and vegetable specialties.
This column consists of cut cheese, traditional charcuterie, Delicatessen, Poultry cold cuts, and cheese for preparation.
This column provides prepared products such as salads, starters, sandwiches, pies, doughs, and other ready products. This is useful for people who are unable to cook or prefer takeouts.
Frozen products like pizzas, meat, fish, fries, shellfish, ice creams, and sorbets are available in this column.
Salty and sweet groceries are all available in this column, including oils, spices, starch, cookies, vinegar, and chocolates.
Drinks like waters, sodas, colas, iced teas, and concentrated syrups. Fresh fruit juices are also available here.
Hygiene and beauty products for men, women, and kids are available here. You can opt for skin, hair, hygiene, body, and health care essentials from this column.
Above mentioned are the columns in the menu. However, these are not all;
There are several more such categories of products to help you choose any product you might need.
Baby's world,
Care And Cleaning,
Animals,
Home, Leisure, Textiles,
Garden And Outdoor,
Home And Interior,
Cooking And Tableware,
Home Appliances,
DIY And Auto,
Beauty, Maintainance, And Cleanliness,
Luggage, Sport, And Leisure,
Telephony And Connected Objects
Picture And Sound,
IT And Office,
Culture And Video Games,
Games And Toys,
Drug Store.
With such a wide variety of products on offer, you do not need to search for anything elsewhere. Everything from the smallest ones to the larger ones is available on Carrefour, all you need to do is log in and search for whatever you need to buy.
Loyalty Benefits
When you visit Carrefour regularly, you can choose to get a Loyalty Card. Show this card at the billing counter when you visit the store to get additional benefits to apply only to loyal customers. When shopping online; you can use the loyalty card details to get the same benefits you get when you visit the store. 
Carrefour Services
Carrefour offers numerous services to the customers, and these are all mentioned on the website itself. These services include the following:
Home Delivery,
Pedestrian Drive,
Express Delivery,
Carrefour Online Caterer,
Loyalty Card,
Carrefour Pass Card.
These services are mostly for the customers who go the store to but products, while many of them are applicable for Carrefour online users as well.
What About The Website Security?
It is a safe website, and you can go shopping without worrying about the safety of your system. Carrefour rates the customer experience and support very highly, and provide ample safety features on the website. You can read the terms and conditions and the privacy policy on the site to know more about these.
There are no advertisements on the website, which is a rare thing for a website. With the lack of ads, you can freely maneuver around the site without worrying about clicking on some random ad.
To improve the website's safety features, there is a proper guideline available on the home page informing users about the various illegal operations that might happen. This is done to notify the users and alert them of the potential forgery, and other odes of cybercrime.
Personal Data
Carrefour does not ask you for any of your personal information, other than the login details. If you are a new customer, you have to sign-up to the website. During sign-up, you provide specific information like your name, contact number, and email address.
It also asks the users to accept the cookies. Allowing cookies will simply download a file onto your system, which can be used for keeping track of the webpages you visit on the website.
How Is The Carrefour Customer Service?
Carrefour is exceptionally loyal towards its customers and provides them with quick and satisfactory service. The service agents are also polite and gentle people, who listen to the customer's issue carefully and then suggests the most suitable options.
How Do I Find A Store?
On the website, you can find the nearest store with the help of the 'Find A Store' option, using your current location.
Verdict
Carrefour is a fantastic website, which has a wide range of products on offer. They have considered all sorts of individuals while designing the website. Veg or non-veg, employee or businessmen, men or women, kids or elder, Carrefour makes sure that all their needs are fulfilled.