⚓ Anchor Emoji
Anchor Emoji Meaning 
Anchor ⚓ emoji meaning is one of the pictures of heavy devices that are used to fix different types of ships used for travel in one place where they sail, by dropping on the bottom of the water It can also be used in various water transport-related emojis for example sailboat emoji. This is just like a Mountain anchor-shaped. It is black grey color in appearance. When it is parked on the shore the ships have to be anchored not far away. This emoji is just like a tattoo shape so young people engrave this emoji on his shoulder to show their strength. It can be added to the emoji category i.e. 🚢Transport-water" and Travel and Places 🚌.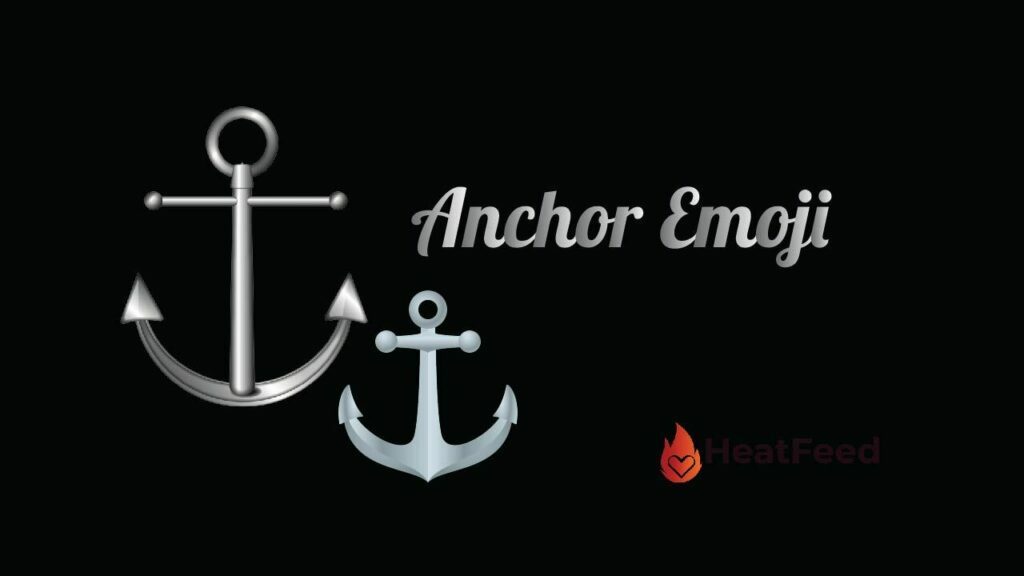 This emoji is a navigational symbol for a harbor, shipyard, and marina. This Tattoo is mostly found in sailors. One of the cartoon characters Popeye the Sailor Man had this tattoo on his upper arm. Black anchor emoticon can also be used to express that someone is anchored or dedicated in relation to something e.g.; in a relationship, gaming, college. It has appearance in different colors like on Facebook, Google and Instagram.
Note: In 2005 anchor emoji was added as part of Unicode 4.1 and in 2015 this was added to Emoji 1.0.
How to copy paste Anchor Emoji
If you want to copy-paste then visit headfeed.com and enjoy anchor emoji copy and paste feature. Here are some steps as follows:
Go to our website Heatfeed.com and search for the emoji that you want to copy.
Click the emoji icon, it will be copied automatically.
Paste this emoji where you want to copy like Instagram, Facebook, or Twitter.
Similar Emoji
🤿 Diving Mask, 🪝 Hook, 🫵 Index Pointing at the Viewer, 🪢 Knot, 🔗 Link, 🇦 Regional Indicator System Letter A, 🚢 Ship, 🧌 Troll, 🥽 Goggles, 🐟 Fish, 🩲 Briefs, 🐡 Blowfish, 👙 Bikini, 🐠 Tropical Fish
Also Known As
⚓ Admiralty Pattern Anchor
⚓ Fisherman
Apple Name
⚓ Anchor
| | |
| --- | --- |
| Apple | |
| iOS 14.6 | |
| iOS 10.2 | |
| iOS 8.3 | |
| iOS 6.0 | |
| iOS 5.1 | |
| | |
| --- | --- |
| Google | |
| Android 12.0 | |
| Android 11.0 | |
| Android 8.0 | |
| Android 7.0 | |
| Android 5.0 | |
| Android 4.4 | |
| Android 4.3 | |
| | |
| --- | --- |
| Samsung | |
| One UI 3.1.1 | |
| One UI 1.0 | |
| Experience 9.0 | |
| TouchWiz 7.1 | |
| TouchWiz 7.0 | |
| TouchWiz Nature UX 2 | |
| | |
| --- | --- |
| Microsoft | |
| Windows 11 | |
| Windows 10 Anniversary Update | |
| Windows 10 | |
| Windows 8.1 | |
| Windows 8.0 | |
| | |
| --- | --- |
| Twitter | |
| Twemoji 13.1 | |
| Twemoji 1.0 | |
| | |
| --- | --- |
| Messenger | |
| 1.0 | |
Codepoints
⚓ U+2693
Shortcodes
:anchor: (Github, Slack)
Anchor emoji
copy & paste emoji
emoji