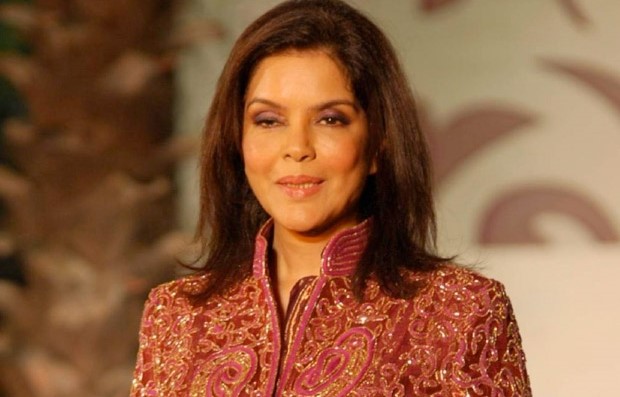 Zeenat Khan, widely known as Zeenat Aman, is a very influential actress in the Indian entertainment industry. She was seen as a variational, artful, and well ahead of her time as an actress in the Seventies. Zeenat has been a revolutionary personality in the Hindi film industry; her confident and unorthodox ways changed the standing of heroines. She didn't just possess a sensational figure, but rather a sensational personality. It was her charismatic ways in which she brought the reality of Indian women on the big screen. This dynamic temperament aided her in achieving numerous awards. 
Career 
Just like her dynamic personality, Zeenat had a zestful career in the Indian industry. Zeenat started modeling when referred by a friend. She did some well-known campaigns, the one which outstood the most was her Pond's 7 Days to a better complexion. She was the third runner up in the Miss India contest and the first Indian woman to win the title of Miss Asia.
She started her career in the Hindi entertainment industry with her debut in Hulchul with Kabir Bedi, which was a huge flop at the box-office. Zeenat's career was looking bleak, but actor and filmmaker Dev Anand saw potential in her work and offered her a role in "Hare Rama Hare Krishna" (1971). This role that she was offered was a very unconventional role for those times. Zeenat was to play the role of a Junkie, but little did anyone know that this role will make her an A list celebrity. She won her first Filmfare Award for Best Supporting Role. This was the first time that the role of such rebellious nature got the recognition. 
Zeenat Aman Movies
This newfound appreciation helped Zeenat in turning the pre-notions around Indian heroines. She pursued infamous career choices and refused to follow the old norms. She was rarely seen wearing saris but could carry revealing clothes in a classy way. She played roles like 'abortion to pursue career' and 'female leaving a poor lover for a rich man". She liked bringing out the 'less pure' characters of Indian women. She was the first female actress to kiss the male actor on screen in independent India. She even played the role of revenge-seeking female and fought alongside Amitabh Bachchan.
This helped her in getting nominated for and winning many Filmfare awards. She even brought the concept of Justice for rape victims when she acted in "Insaaf Ka Tarazu" (1980). She was a well-connected actress and was supported for her brilliant work. She became such an iconic actress that she started a trend of helping male actors start their careers. This in itself was such a powerful event as no other female actress could do that before. Her contribution towards the Indian cinema and women representation is a legacy for the current actors and actresses. 
Personal Life
Zeenat was born in Bombay on 19 November 1951 to a Hindu Maharashtrian mother, Scinda Vardhini Karvaste, and her father was Muslim, Amanullah Khan, who was of Afghan descent. Her father was a well-known writer who wrote scripts for films like Mughal-e-Azam and Pakeezah under the pen name "Aman." Later on, she adopted the name Aman, replacing the last name 'Khan.' At a very early age, she saw her parents getting divorced, and later, her mother married a German man. She lost her father at the age of 13.
Zeenat completed her schooling in Panchgani and later went to study at the University of Southern California in Los Angeles with a scholarship. She couldn't complete her graduation and started her first job as a Journalist at Femina magazine.
She has been married two times. Her first husband was Sanjay Khan, and the marriage lasted for a year. Her second husband was Mazhar Khan, and they were married from 1985 till his death. She was married for 13 years with Mazhar and had two children. She has two sons, Zahaan Khan and Azaan Khan.
Controversies 
This beautiful and seductive actress has been a very headstrong female. Her life choices have made her an exceptional character and a role model to many, but that didn't change easy.
In the year 1980, Aman was attacked by her ex-husband, Sanjay Khan. She received a call from Sanjay, wanting to talk about a film. When she reached the hotel for the meeting, she found herself in a private party. There she was beaten aggressively by her Ex-husband, and his current wife cheered for the aggression to continue. This injured Zeenat gravely and left her with a lazy eye.
In February2018, Aman had to report another gruesome incident that occurred in her life. She filed her case against businessman Aman Khanna, also known as Sarfaraz. He was said to have stalked, harassed, robbed, and raped Zeenat for a long duration between the years 2011-2016. He was confined to the allegations made against him.
Zeenat Aman Net Worth 
Zeenat Aman was one of the highest-paid Hindi actresses in 1976-80. She has done many films and has been paid greatly for them. Currently, in 2019 her net worth is estimated to be around $1 Million – $5 Million. In 2018, her net worth was estimated to be around $100,000 – $1 Million.