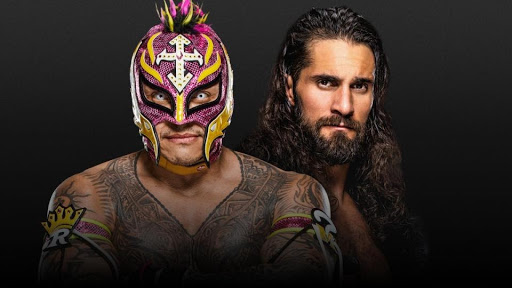 Rey Mysterio loses to Seth Rollins amidst uncertain contract status
WWE in fact came up with its "Horror Show" tagline a moment after Seth Rollins defeated Rey Mysterio in the weird and first-ever eye for an Eye match. 
A lordly personality Mysterio "lost an eye" in a better-than-expected strike, between the two ideal in-ring performers in all of the pro wrestling but the result of the match isn't as important as what it implies on Mysterio's future. 
History-Mystery of Rey's Uncertain Contract:
It was reported about Mysterio a couple of weeks ago that he was still working for WWE. He continued to work with WWE without a contract even after the expiry of his deal several months ago. In late 2018, Mysterio signed a special type of contract with WWE. This contract let him to drop out at the 18-month mark which he would have been capable to do some time around WrestleMania 36. 
Mysterio requested an uplift in his next contract, while the previous one was expiring. But his request was rejected by Vince McMahon. Vince McMahon mentioned the recent budget cuts as a major reason for his decision, not upraising Mysterio's pay.
Rey's Son "Dominik" A hotshot to the main roster:
Mysterio has been a focal point of the biggest storylines of WWE despite of the contract dispute between Mysterio and WWE. It was due to a long-running dispute between Mysterio with Rollins and his disciple Murphy. The most fascinating aspect in this matter may be the involvement of Mysterio's son, Dominik who is training to be a wrestler. Dominik has been a major edge in this storyline that has authorized all the stars willing to shine constantly for a long time on the red brand. 
According to Dave Meltzer, a profound wrestling observer, Rey's contract situation is one of the leading causes putting Dominik on the front in the storylines. Dave Meltzer stated "They (WWE) don't want him (Rey) leaving I can tell you that. You know they have got the Dominik storyline that they are actually working on. It is one of the reasons they are all doing this. They are working on a deal." 
Dominik is in such a situation that a few pro wrestlers pass by usually. He is in the early 20s of his age and has been a maestro to the main list, in which he is captivating the WWE's biggest storylines. It was reported last year that Dominik could be on track for a WrestleMania36 match and although that actually didn't happen. 
Rey's view about his son as a pro wrestler!
Rey is found to be very open about wrestling along with his son before he retires. Rey has just declared that he doesn't think Dominik will be ready to wrestle a real match until early next year. 
At the Horror Show, there had been no sign of Dominik, a sign that is decided by WWE to give to Rey the loss due to his uncertain contract status. For a time being, Rey is an independent agent who can join or appear in any company or pro wrestling promotion as a hot commodity or a huge star other than WWE. 
However, Rey's loss at the extreme rules submitted that WWE is moving ahead with a huge push for Rollins as Rey has been set to a free agent.