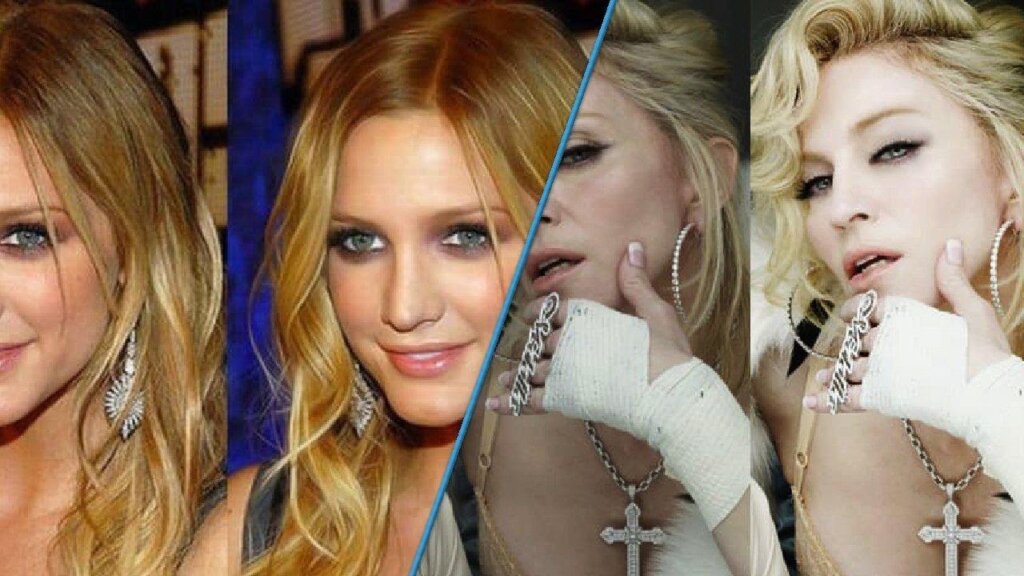 Magazines have always altered the appearances of celebrities, be it singers, actors, actresses, or other famous personalities. Even before the trick of Photoshop existed, the magazine and media industry has collaborated with multiple celebrities to carefully present such photo-shopped images that shape the consciousness of the viewers. But sadly, the public eye could not miss the differences.
Today, due to modern technology, anyone can change their appearance in photographs with the help of just one click. However, for many people, this thing has become a great issue as they think that this act is promoting those unrealistic beauty standards that are nearly impossible to achieve- especially for young women.
While posting pictures on their social media accounts, celebrities tend to photo-shop a large portion of the picture and such altered images are becoming very popular in the advertising market as well. Sometimes, such uncanny manipulation is quite obvious and celebrities themselves harshly react to this sometimes. The Photo-shop feature can literally vanish any lump or bump a person may have on their body, can enhance every sparkle and twinkle, and this has left many young people feeling insecure. We need to remember that pictures can be deceiving and these celebrities are human beings as well, with the same 'flaws and imperfections as us. 
Check out these worst celebrity "Photoshop fails" of all time and let us know your favorite one!
Jennifer Lawrence: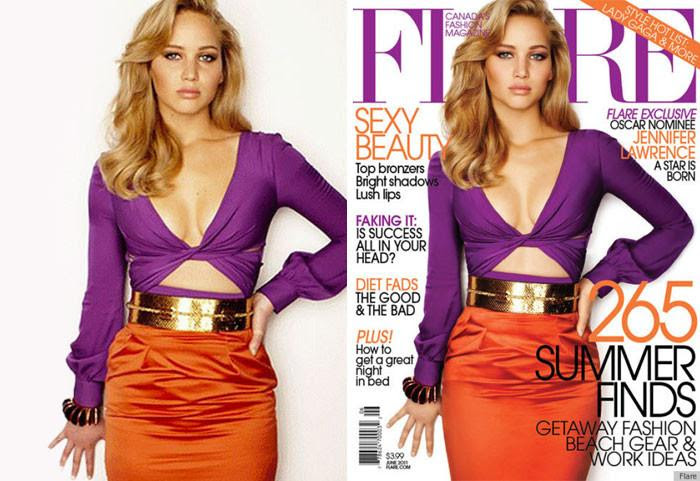 Growing up, we all had a massive crush on this Hollywood beauty, and why wouldn't we? She's absolutely gorgeous! But not everyone thinks so, as Hollywood always has other plans when it comes to portraying unrealistic beauty standards. Jennifer Lawrence has been quite vocal about spreading body positivity in the past and confessed again and again that she doesn't want to be photo-shopped.
Keira Knightley: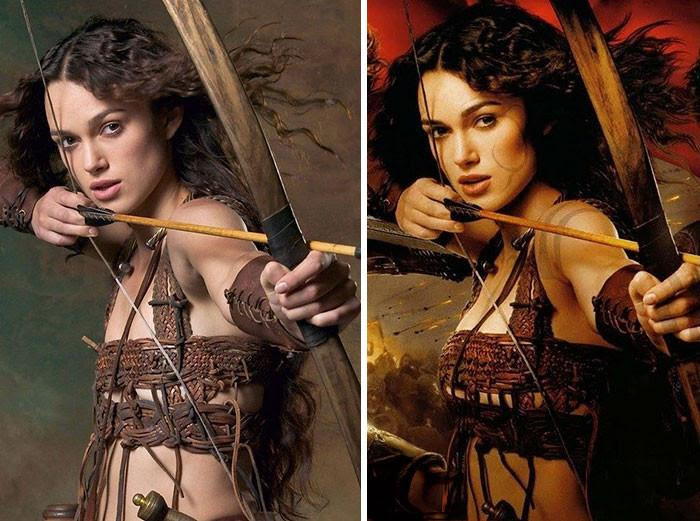 When Keira Knightley got the role in King Arther, she trained aggressively to lose those extra pounds to transform her body for her role in the movie. She shed a prominent amount of weight, her neck got lengthened, and her bust almost disappeared. However, in the promotional posters of the film, Hollywood enhanced her bust to match our society's standards.
Ferge: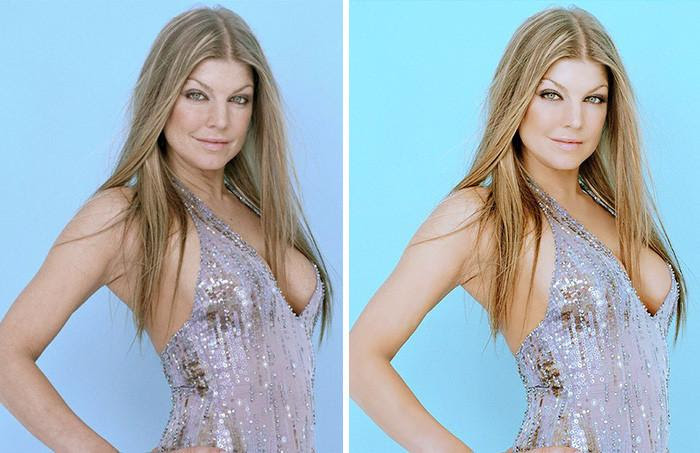 The 43-year-old icon has been in the entertainment industry for as long as she can remember and she revealed that trying to fit in the industry at such a small age led her to a crystal methamphetamine addiction growing up. Considering all the hardships this queen had to go through, she still looks absolutely stunning, even without Photoshop.
Faith Hill: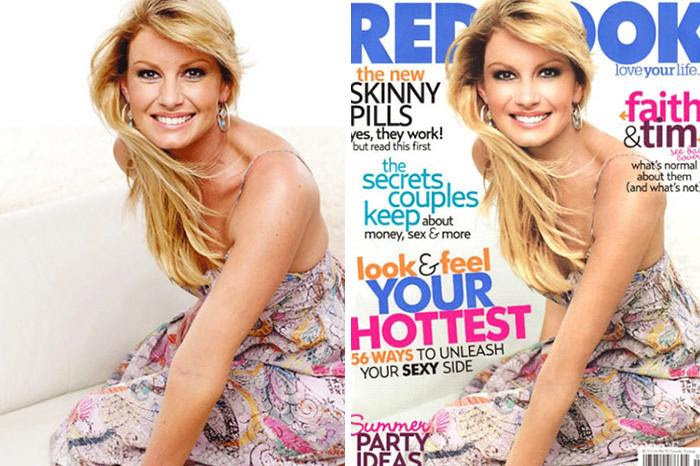 In these before and after images, you can clearly see that they have Photoshopped Faith Hill's reasonable wrinkles, fine lines, elongated her face, and even fixed her earlobe. The main thing is that the un-touched image is utterly stunning and very realistic for women her age.
Lindsay Lohan: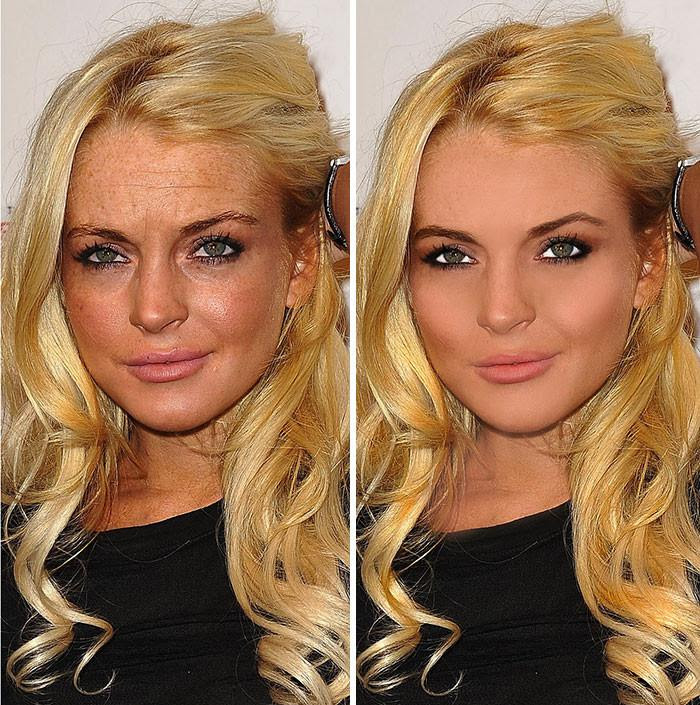 This one wasn't the fault of any magazine or advertising company, Lindsay Lohan posted these pictures herself. She uploaded these poorly photoshopped images and anyone who owns a pair of eyes can tell that the after image is fake. Substance abuse has taken a massive toll on this Hollywood star and it's a good lesson for all those vulnerable teens to stay away from drugs.
Miley Cyrus: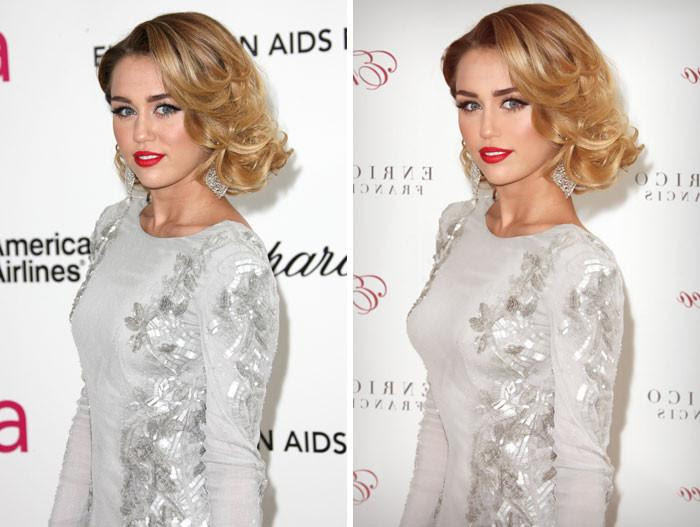 Singer/Songwriter Miley Cyrus has been in the limelight for quite some time now and is no stranger to controversies, and being exposed. Without a doubt, Miley is a gorgeous actress, singer, and model, but even such beauty can't stop Photoshop.
Miranda Kerr: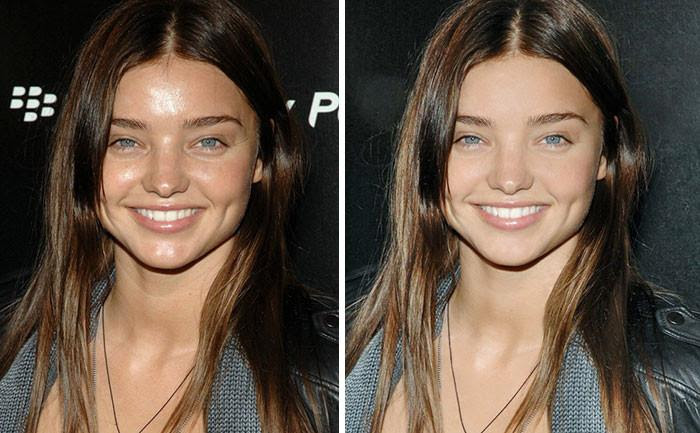 Miranda Kerr might be one of the most beautiful Victoria's Secret Models out there but that didn't stop someone from airbrushing those minor to none flaws on her face. This supermodel is only 35-years-old and clearly needs no Photoshop.
Kristen Stewart: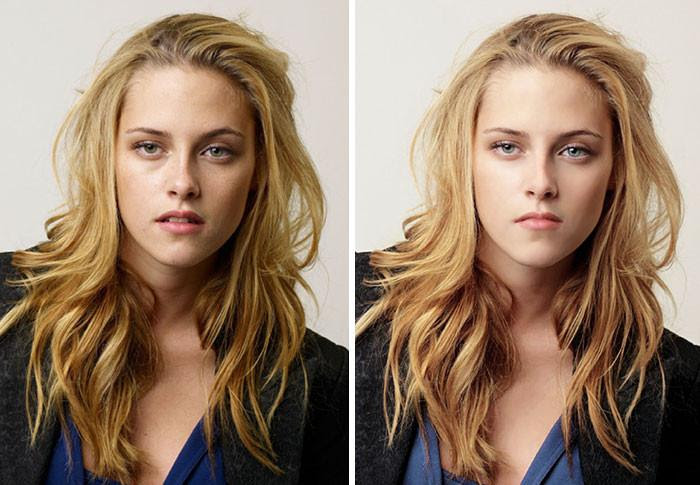 You know how some people are scared to show their teeth in pictures, worrying what others might think of them. Well, a smile is a sacred thing and should be cherished. However, our entertainment industry has different plans for Kristen Steward who apparently can't even show her teeth freely in photographs.
Avril Lavigne: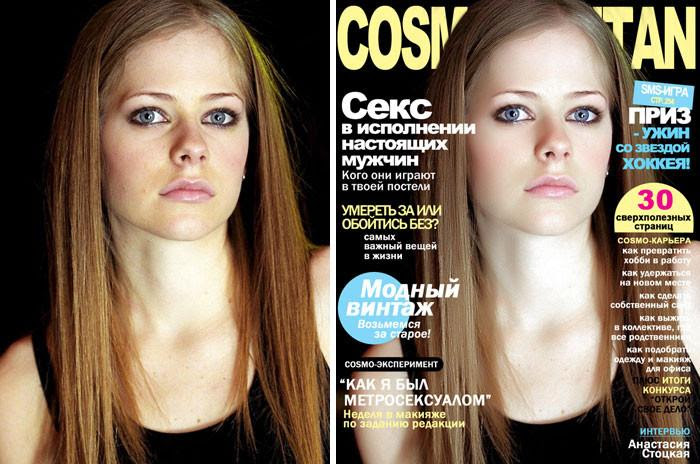 Let it be known that no matter how famous you are, you are not safe from being digitally altered at any time. Avril Lavigne is quite famous for her punk rock and bad girl appearance in the pop scene, but her gorgeous hair wasn't straight enough or her skin wasn't smooth enough to be featured in this cover photo apparently.
Sharon Stone: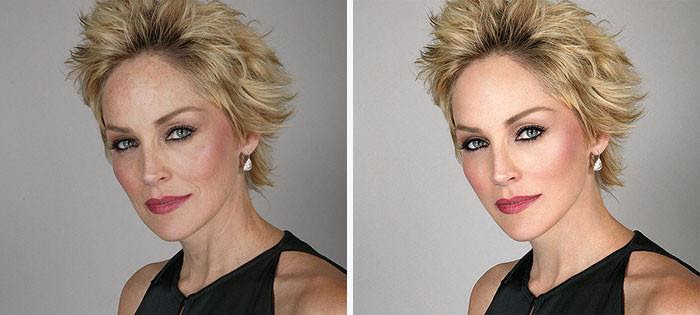 The 'Basic Instinct' sex icon is now 60-years-old and it is safe to say that she is still so effortlessly beautiful than ever. This might not actually be the 'worst' celebrity Photoshop fail because these before and after images depict how the realistic version of a person can be 100 times better than the edited one.
Kim Kardashian: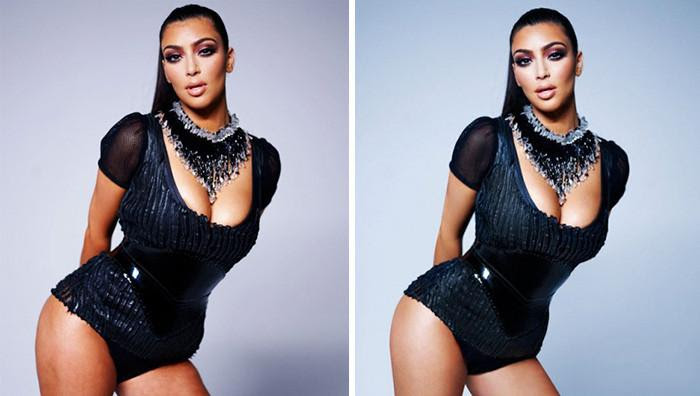 The famous Kardashian girl, Kim has been very brutally vocal about digital photoshopping of images in the past, and thus, people had a lot to say when these re-touched photographs were released by Complex Magazine a few years back. Kim Kardashian posted the unedited version and said that she doesn't care if she has a little cellulite, because quite frankly, what curvy girl doesn't?