🥴 Woozy Face Emoji
Woozy Face Emoji Meaning:
Emojis were used as a way to symbolically address emotions. Woozy Face emoji is a yellow face smiley with blushed cheeks and disproportionate eyes; one has a faint line and a pushed-down brow, while the other has a regular eye and brow. The drunk emoji could also indicate that the person is exhausted, overly emotional, or simply befuddled. It's the expression men make when they're trying to look sexy in a photo.
NOTE: This woozy emoji 2018 was added to Emoji 11.0 and approved as a component of Unicode 11.0 in 2018 under the name "Face with Uneven Eyes and Wavy Mouth".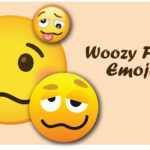 How to copy and paste the woozy face emoji?
The drunk face is an interesting emoji. You can cherish the woozy face emoji copy and paste the icon from any emoji site. Heatfeed.com has 10,000 emojis copy and paste options. Here's the process to copy the emoji,
Get to the website www.heatfeed,com to copy the emoji
Navigate the emoji there by going to the search bar.
Copy your chosen emoji by clicking the copy option
Similar Emojis:
🥴 Woozy Face emoji and 🤔 Thinking Face emoji look similar in appearance. Every emoji conveys an exceptional message, among many others.
Also Known As
🥴 Drunk Emoji
🥴 Woozy Emoji
🥴 Weird Emoji
🥴 Distorted Emoji
🥴 Weird Face Emoji
🥴 Swooning Emoji
Apple Name
🥴 Woozy Face
Apple

Apple

iOS 14.6

iOS 12.1
Google

Google

Android 12.0

Android 11.0

Android 9.0
Samsung

Samsung

One UI 3.1.1

Experience 9.5
Microsoft

Microsoft

Windows 10 May 2019 Update

Windows 10 October 2018 Update
WhatsApp

WhatsApp

2.21.11.17

2.18.379
Twitter

Twitter

Twemoji 13.1

Twemoji 11.0
Unicode Name
🥴 Face with Uneven Eyes and Wavy Mouth
Codepoints
🥴 U+1F974
Shortcodes
:woozy_face: (Github, Slack)
emoji copy and paste
emoji meaning
Smiley Emoji
woozy face emoji