Nothing makes women happy as much as a makeover. But it can be hard to get a perfect make-over. Especially when it comes to hair but there is a superhero duo, who can give the makeover of your lives.  Oksana Trunova and Olga Tarasova are based in Moscow.
Together, they make a marvelous duo that brings smiles to women's faces. Oksana is a makeup artist. She can transform anyone with her magical powers. Olga is a hairstylist. She knows how important hair is for women.
These women started working only 5 years ago. Both of them work effortlessly to create looks for women who just can't decide what make-up and hairstyle they want. The client asks them to go creative and they have a surprise for every client. 
Surprises related to transformations are always amazing and emotional. Because makeup is an art , using this art these three women have magic to make clients happy. 
#1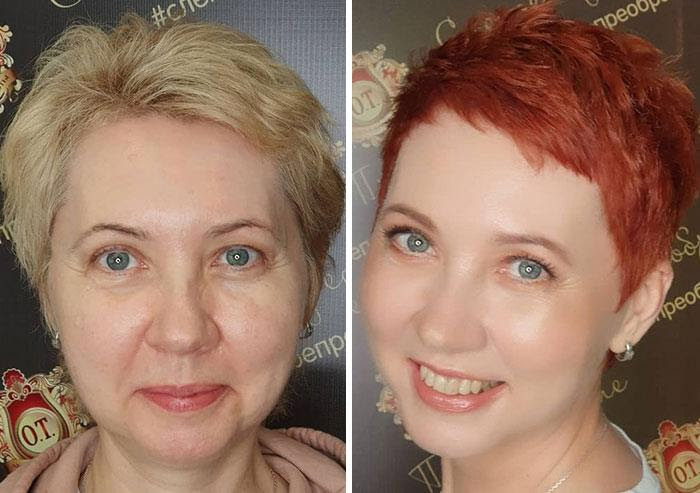 Natural-looking lipstick, subtle blush and highlighter, and good brows make this woman look youthful and fresh. The red and short hair looks incredible on the bone structure of this client. The cute button-nose contour is pure magic. In this picture, the hairstylist gives the red color to her light hairs according to her skin undertone.
Which makes her look 10 years younger. Using serum or moisturizer her skin is looking plump. Perfect contouring of the face and nose makes the client's face smaller and defined as before it was looking flat and wide.
#2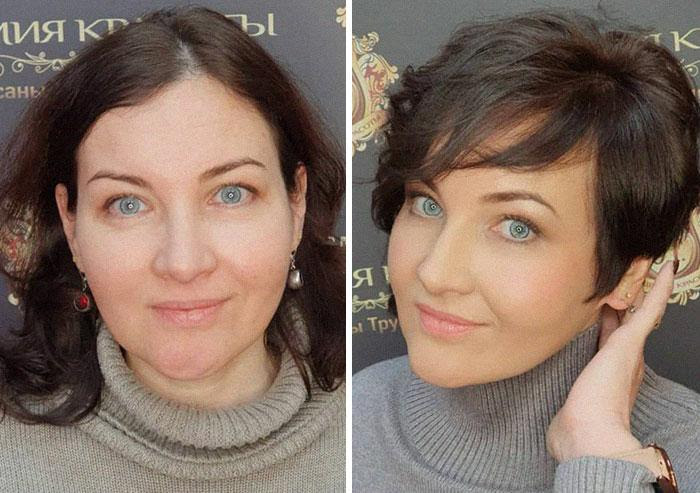 We love how the haircut makes this woman's eyes pop beautifully. You might think that short hair doesn't look good on a woman but you are wrong. This is majestic and attractive. Haircut works as magic on this lady. Wide forehead has hidden and the face looks sharp. Cut crease eye makeup makes hooded eyes look more prominent.
#3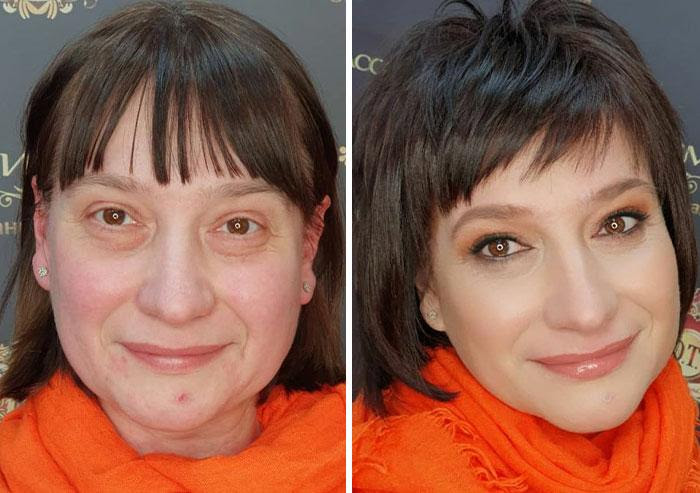 You will be shocked to know that Oksana and Olga freestyle these makeovers. This is one Hollywood-level makeover. The makeup suits the client's features.
The foundation is smooth and error-free. That nose contour is on point. Hairstyles with glossy lips stand out and the flawless face makes the look complete. All the imperfections are gone with the magic of these three women. 
#4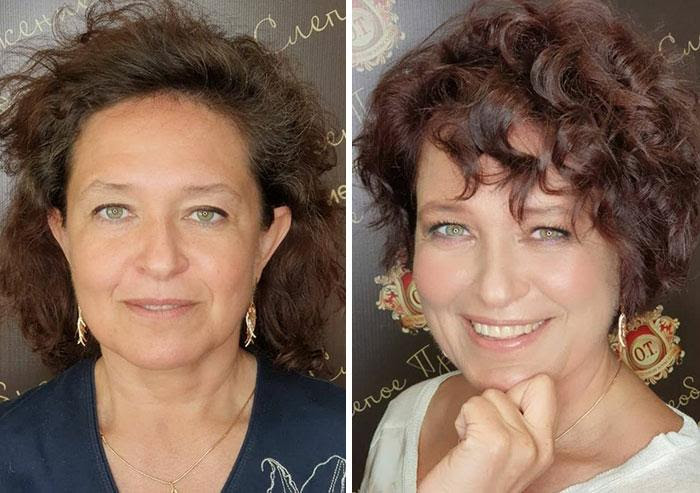 This before and after photo is unbelievable. The no-make-up makeup loo, soft curls, and defines brows are attractive and chic. No makeup with makeup is just outstanding. Skin is looking so fresh and juicy. Soft curls cover a large forehead.
#5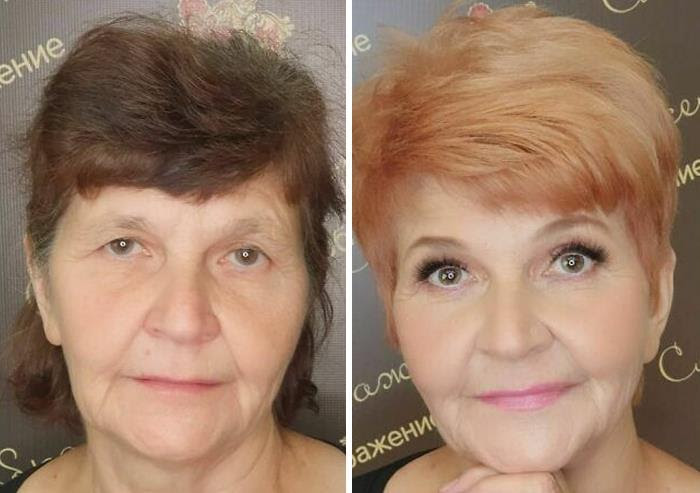 Who knew just a little change of hair color and sheer lipstick can do wonders? The natural eyelashes are a showstopper. We are blown away.
Hairs are 50% of beauty hair colors and are always game-winners. Sheer lipstick can do wonders and changes the whole look. Natural beautiful eyelashes are looking beautiful.
#6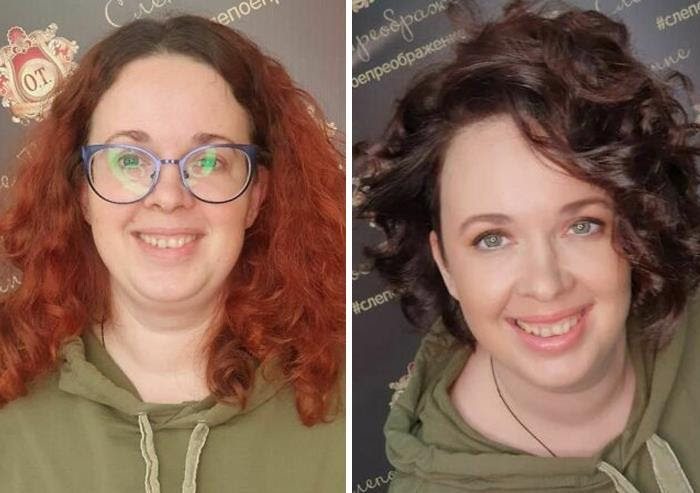 We are sure that the clients of Oksana and Olga always leave happy and satisfied. It isn't easy to make every woman look this good and attractive.  This woman has raven hair with curls and a warm bronzed makeup look.
I am sure Olga and Oksana's clients will get emotional at the end. Transformation makes women happy and confident. The bronze makeup look stands out with raven hair with curls.
#7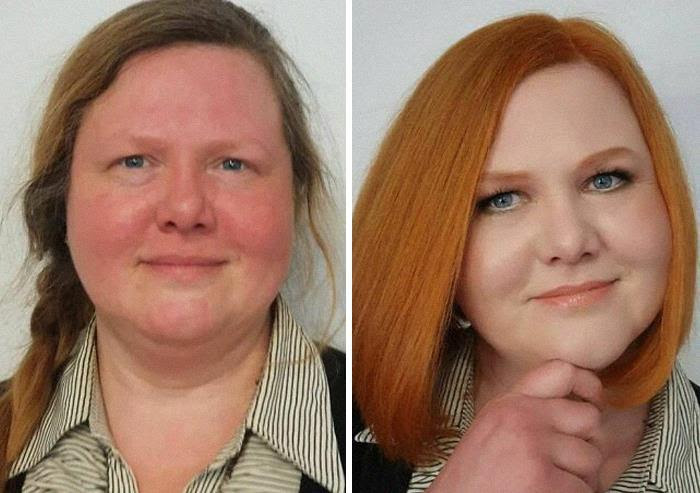 Wow! The bob cut with a change in hair color makes her look like a boss lady. We want to know what make-up products Oksana uses because we need them too. White eyeliner in lower lashes and the sheer lips is beautiful. The haircut does contouring of the chubby face. The full coverage foundation has covered all the redness. Perfect contouring and white pencil in the eyes makes eyes more open and large.
#8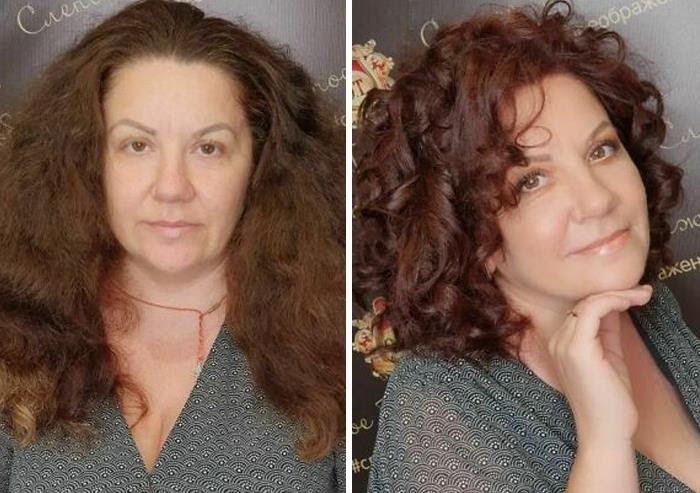 Soft curls that define her face shape, bright eyes, and good eyebrows make this woman look striking and gorgeous. She looks like she has a rebirth now. The deeper shade of chocolate on her hair also looks superb.
Rough and frizzy hair is making her beauty less prominent. Treated hairs with soft curls are looking like bombs on her. Bright eye makeup with chocolate hair colors makes it perfect.
#9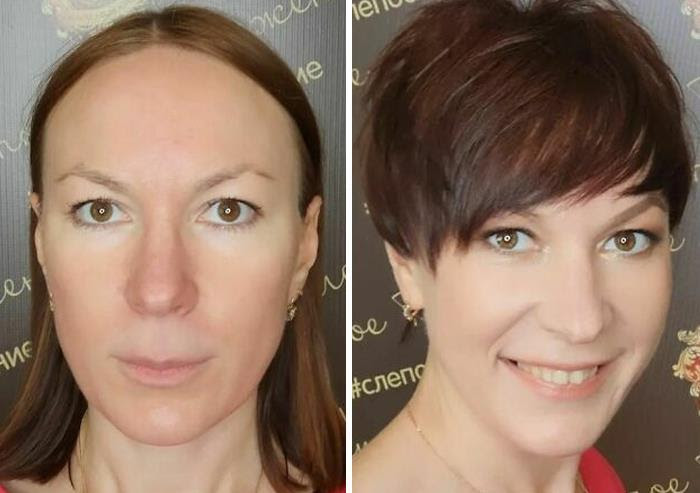 Apart from doing their makeup, Oksana also teaches these clients how to do their own make up afterwards. So that they can keep up their beautiful and amazing looks. These women aren't only making over experts but they also teach tricks to other women.
A classic and amazing example of women lifting other women. Oval face shapes with large foreheads are beautified with short hairs. No makeup make up looks makes skin looks like skin but better. All the imperfections and redness are covered perfectly.
We love this woman's new look. The pixie cut hides her big forehead and the nose contour is so good that it is almost deceiving.
#10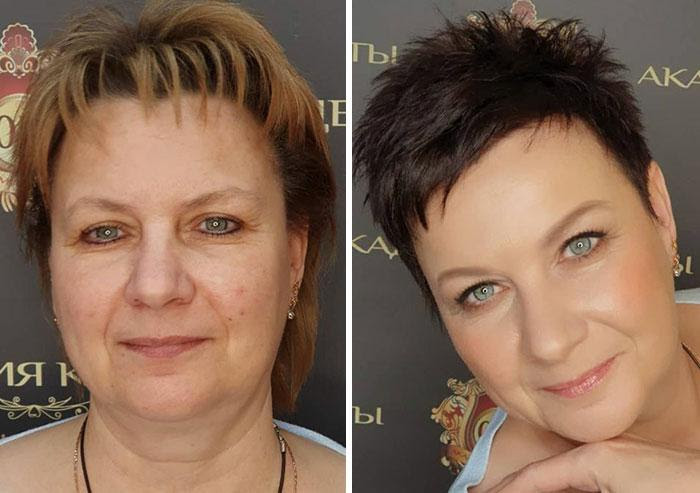 This woman has a fresh and attractive new look with short hair and good make-up. The detailing in the eyes is all that matters. The woman's eyes look bigger and brighter now. Her subtle blush and seamless cheek bronzer are very chic. This is a youthful and modern look.
The makeup artist also corrects makeup mistakes that are destroying their looks. Like eyeliner under the eyes makes eyes look small and dark circles are looking more prominent. So the artist gives bright under eyes and glossy lips that look amazing on her.
#11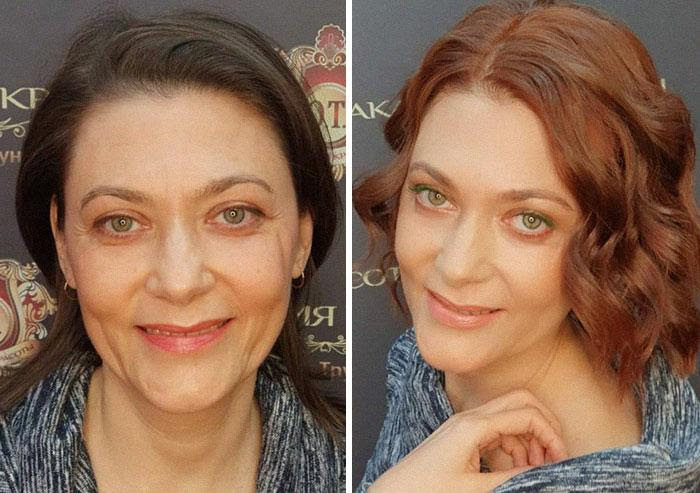 Now this woman is naturally very pretty with green eyes and high cheekbones. They just changes her hair color to red which matched her skin tone and kept her makeup natural. The perfect hair color according to skin tones makes your makeup looks naturally beautiful.
#12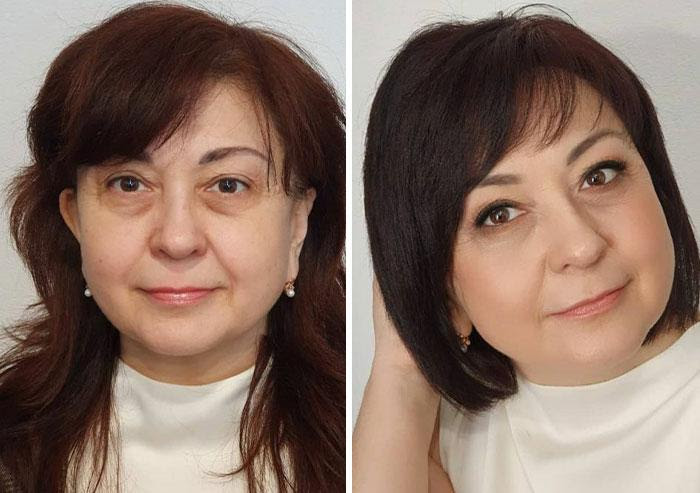 If you ever want to look younger, cut your hair shorter. Get a bob cut that accentuates your jawline and makes you look sharp and edgy. This woman looks sophisticated and elegant. Her make-up is natural but her features are striking. Contour with haircut makes features more beautiful and sharp. 
#13
Not everyone can pull platinum purple hair. But this lady surely can. Her ocean blue eyes look spectacular with her purple hair. This is your sign to dye your hair purple now. Hair color according to eye color makes her look younger and more attractive. White liner in the water line makes eyes more open.
#14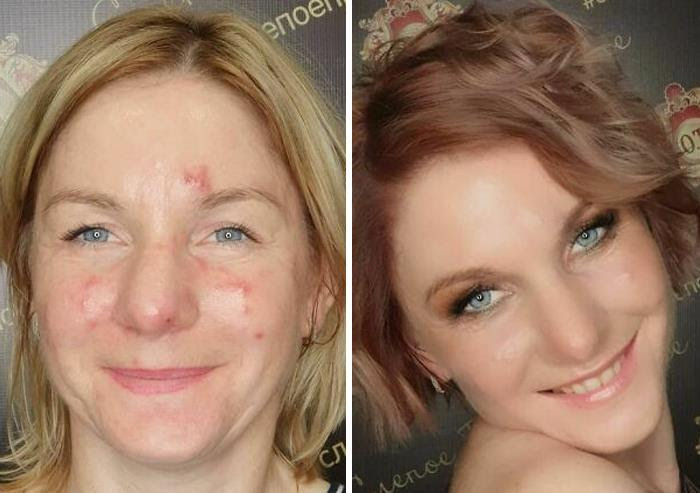 Now this is what we call an excellent transformation. You can't even tell that the person on the right and left are the same. Reddish hair with amazing makeup is going to steal all the looks on the street we are sure of that.
The perfect transformation with amazing hair color makes a huge difference in her appearance. Acne-prone skin looks healthy.
#15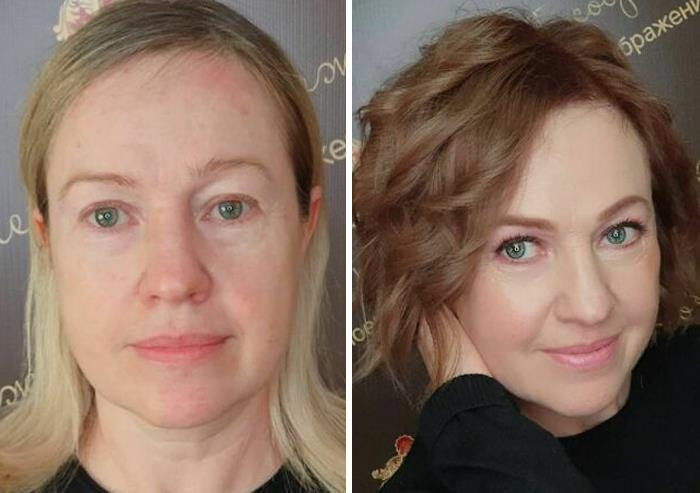 This woman looks younger and better with just a little change. Her hair now accentuates her cheekbones and makes her appear younger. The eye makeup makes her look brighter and kinder.  We are in love with the amazing blush. Dark hair color looks stunning on her. She is slaying with a pink blush.
#16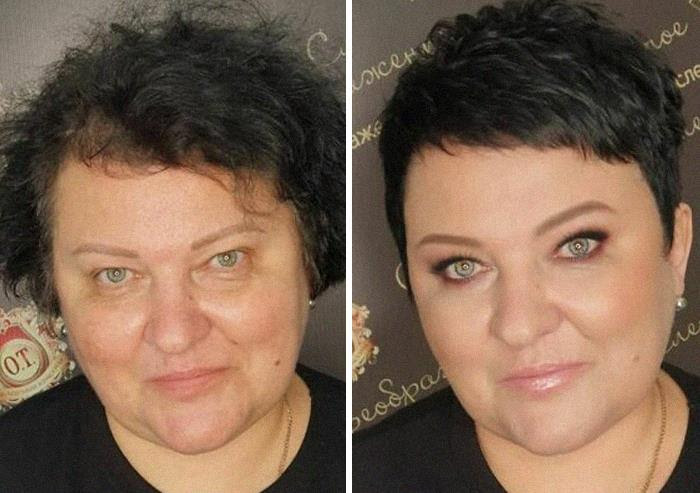 Short hair isn't for everyone but this woman has proved us wrong. The short really lifts up her face and make her look much better than before. We are here for thick false lashes and clear lip gloss. The haircut lifts her face and flawless foundation covers all the imperfections.
#17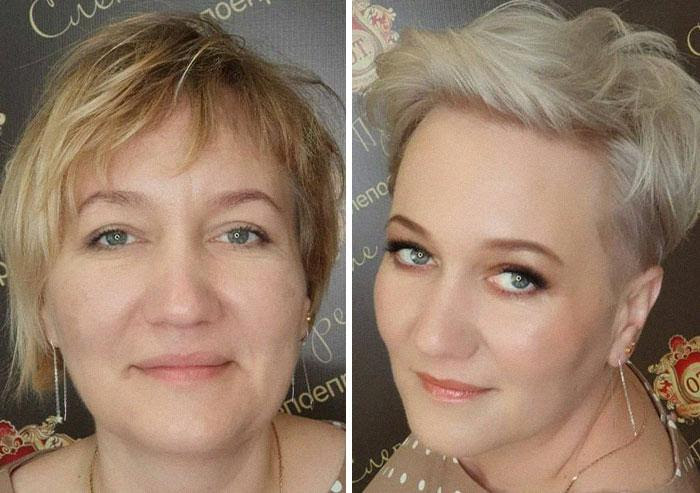 She looks like a Hollywood star after the makeover. Platinum hair, big green eyes that can mesmerize anyone and natural makeup. Amazing hair color has lifted her hair. Beautiful big eyes looking amazing.
#18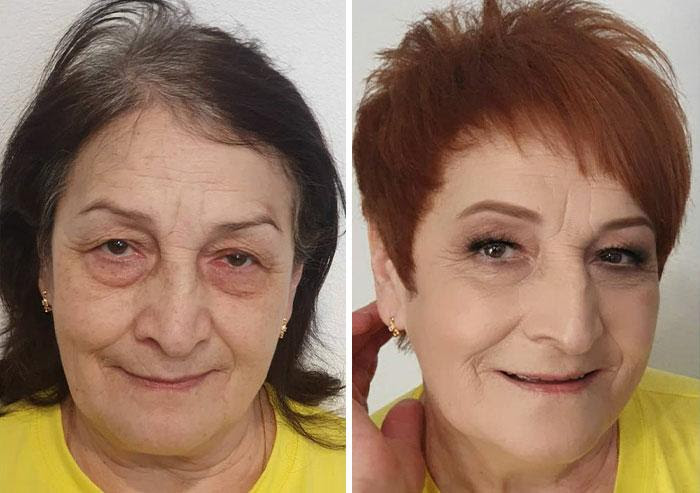 From grandma to the girl next door. These women can never do makeovers on mature women. Isn't this amazing? The brown eyeshadow complements the dark brown hair. Beautiful hair color matches perfectly with brown eyes. 
#19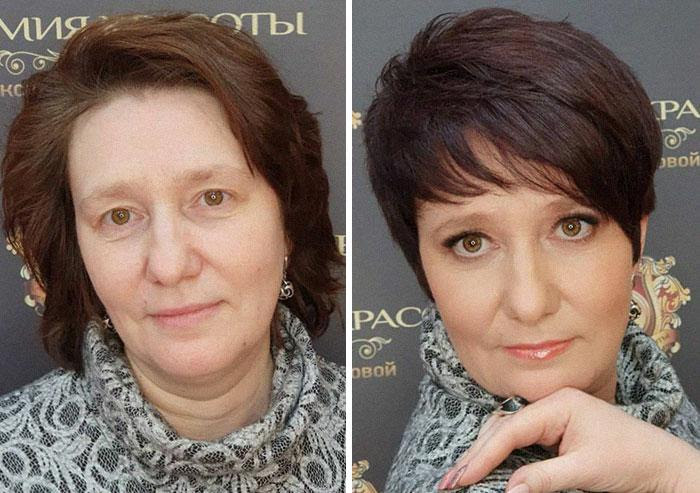 The modeling of this woman is amazing. Her hair looks healthy and shiny. The eyelashes and natural soap eyebrows are very gorgeous and astonishing.  Without faking eyebrows still, she is looking beautiful and her hair are looking healthy.
#20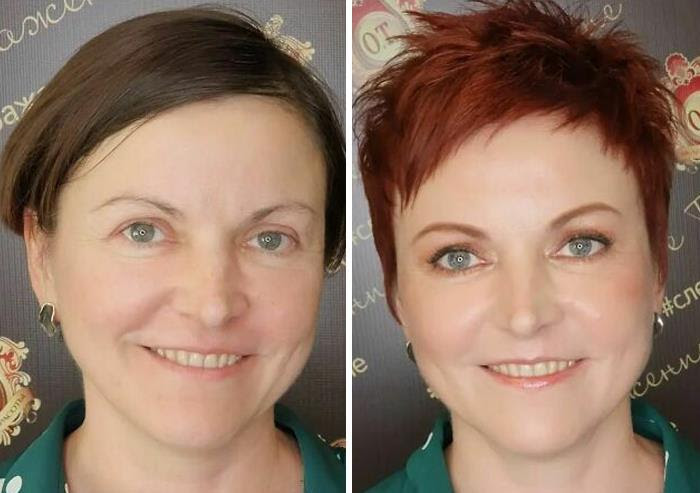 This hair can remind you of the 2006 era but we not complaining. The woman is beautiful with no makeup makeup look and good hair. The nose contouring is on point and skin is looking like glass and the bronzer is on the peak.
#21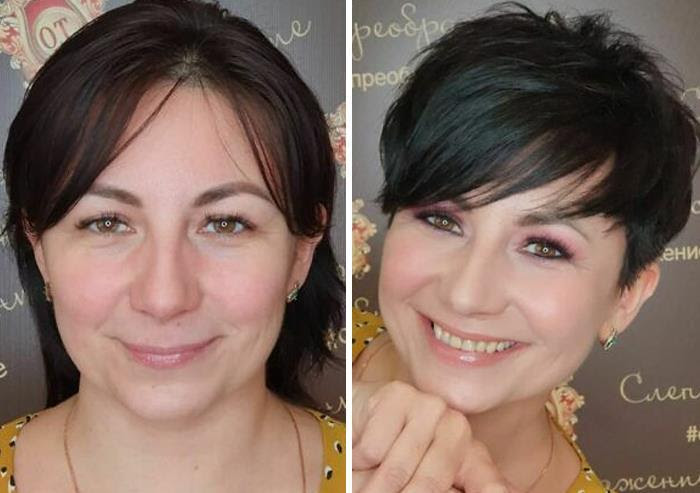 Just the tinge of hair is changed with careful contouring of the face and voila! The lady is transformed into a better version of herself. Beautiful contouring and haircut added magic to her beauty. She is looking beautiful with glossy lips.
#22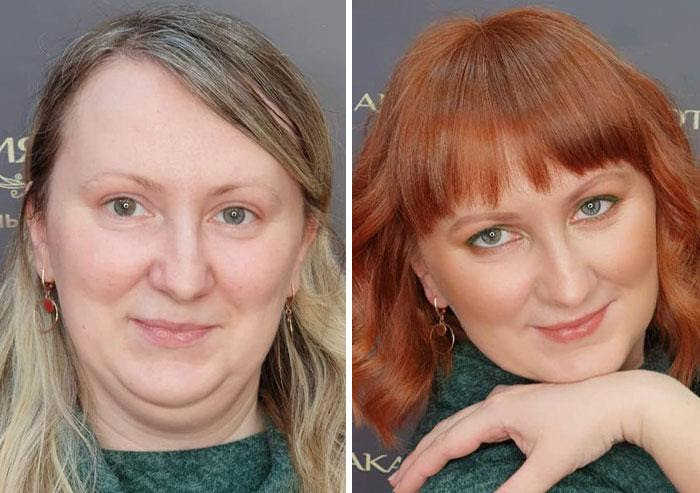 That hair can strike a fire for sure. Dark red and heavy bronzing really suit her. We like her jewelry as well. The eyes are elongated with eyeliner and mascara which is remarkable. With bronzer and a haircut, her beauty is set on fire. These artists are also educating clients on the best angle for taking pictures.
#23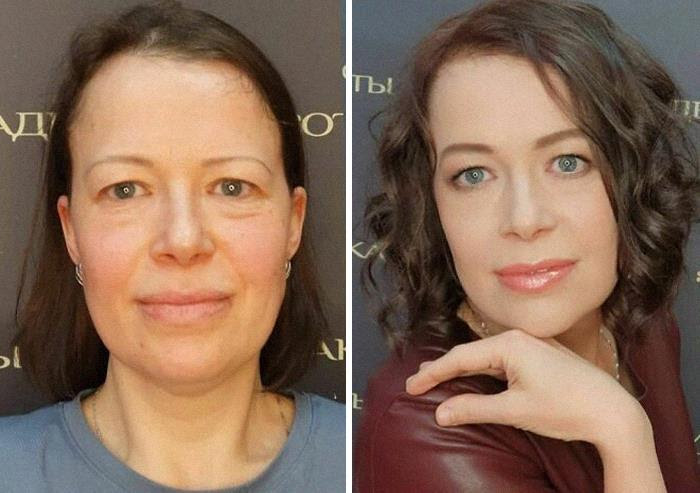 Those soft curls are to die for. The sheer lipstick and well-balanced makeup are very attractive. The soft curls are adding volume to hollow temples. Brighten eyes are giving punch to her beauty.
#24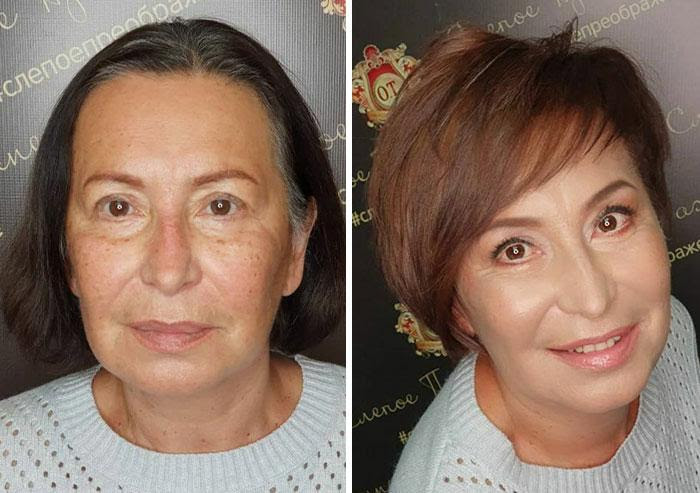 If you were looking for a sign to change your hair color, this is it. This woman looks amazing with chocolate hair. Her smile is an indicator that she loves the makeover.  This woman is beautiful with freckles. Chocolate hair are looking amazing with freckles and gives her a stunning look also without makeup.
#25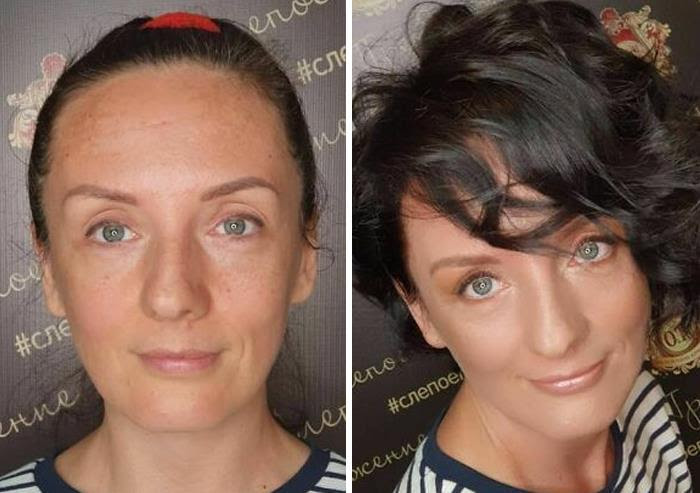 The copper lipstick is very early 2000's but we are here for it. The copper and bronze makeup look is cute and chic. A pixie cut with bouncy curls is an excellent combination. Old copper lipstick in the modern era looks classy and goes well with a pixie cut.
#26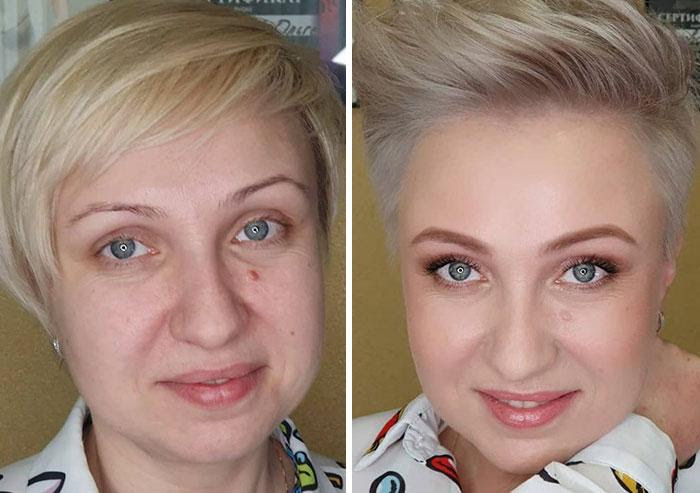 The beauty spot is gorgeous. No makeup make-up look is all the rage and this platinum hair is so chic and modern. Short platinum hair looks beautiful on her face and the contouring technique makes her face more prominent.
#27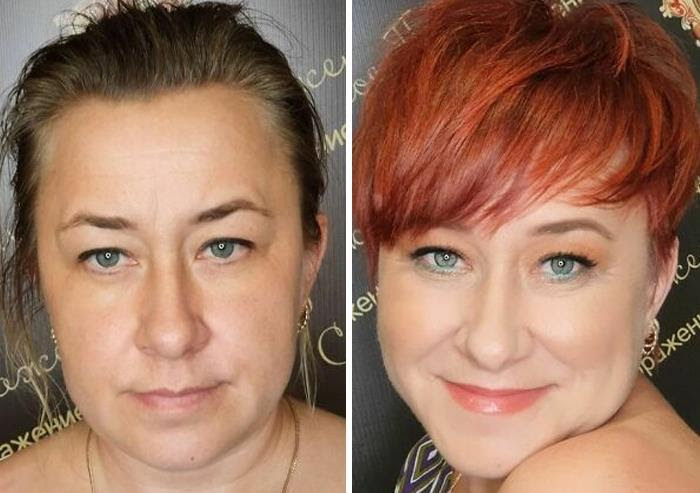 Red hair and minimal makeup seem to be the specialty of this duo. Red hair on the forehead is slaying with beautiful glossy makeup.
#28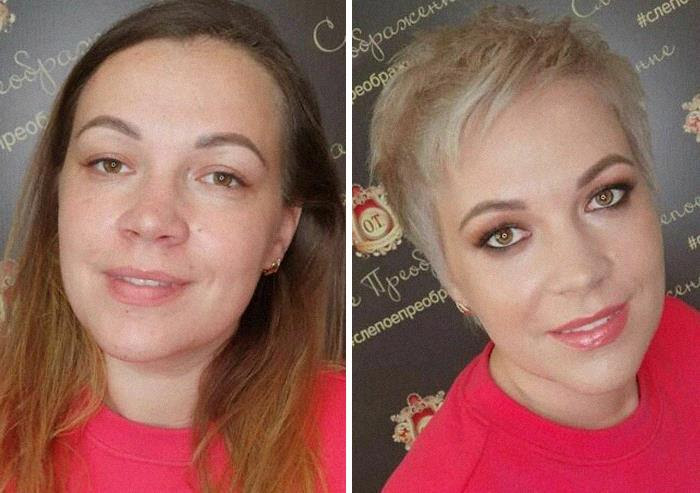 The bright pink lipstick is elegant and classy. We stan the black kohl eyes and pink top of this lady. Strong brows and a pointed chin are beautiful features. Beautiful short hair are giving a definition to her face. Glossy lipstick on fuller lips looks amazing. The smooth foundation is covering all imperfections.
#29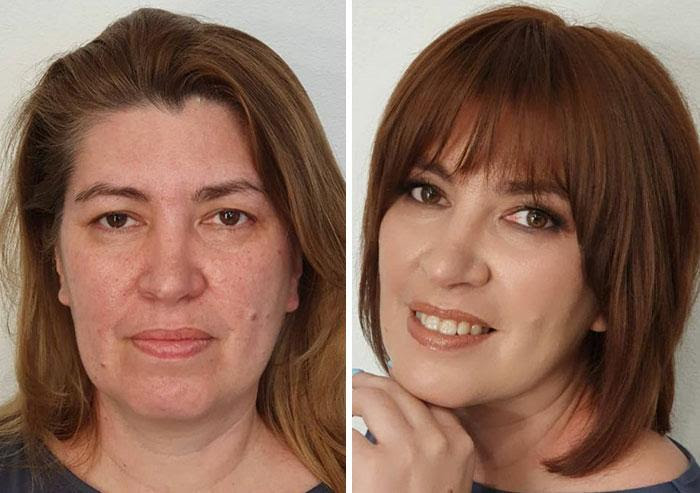 This woman went from looking like a sleep-deprived human to looking like an owner of a successful business and we are here for it. The brown lipstick suits the brown hair. The haircut is made for this lady, it makes her features pop out and make her look young and stunning. The haircut gives her a bossy look. The haircut lifted her saggy face.
#30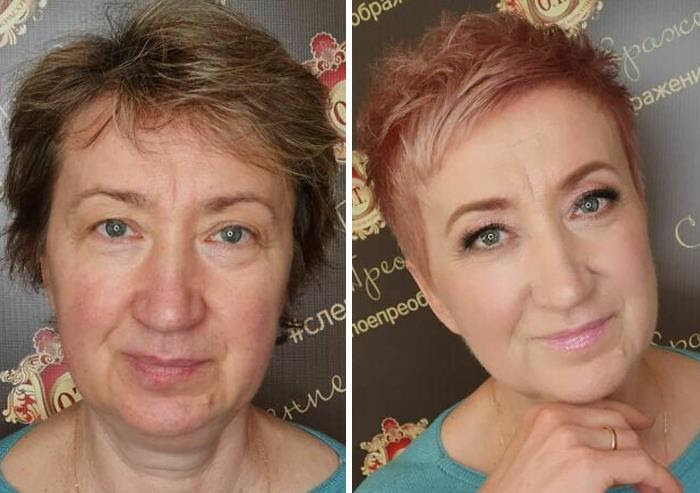 Pinkish blonde hair is chic and spectacular. The pink gloss is so girly and cute. A pinkish look makes her look younger.