It is a very popular and common saying that 'Beauty is in the eye of the beholder.' Is it true though? The standards of beauty and good looks have changed over the years. Now we are more attracted by how one looks, prioritize their figures over their personality, and if they are wearing clothes according to the current fashion. These are the main factors that people keep in mind before approving a girl to be attractive.
According to her research, the famous fitness guru/blogger, Cassey Ho has observed that people's idea of the 'perfect or ideal' body for women has been changing with every year in history. We have always seen fashion changing very rapidly which is confusing for women to know what to wear and what is best for which occasion, putting them in doubt about their fashion sense and whether their body is perfect for it or not.
Moreover, all the body curves they have made according to the requirements of our culture and fashion, go to waste because of the rapidly changing fashion and body shaped. Cassy Ho shows through these pictures how fashion and body shapes for women have been changing historically.
CASSEY HO- FITNESS TRAINER:
Cassey Ho is a very competent and well-respected fitness trainer who decided to explain the changing beauty standards of people through her pictures according to history.
She states, "if I had an ideal body shape according to the requirements of each time in history, this is how I would have looked".
YEARWISE REPRESENTATION OF PERFECT BODY SHAPE BY CASSEY HO:
Here's how the fitness trainer Cassey Ho is representing the changes in the perfect body shape for women every year.
1. THE "IDEAL" BODY SHAPE IN 2018 – TINY WAIST, BIG BUTTOCKS!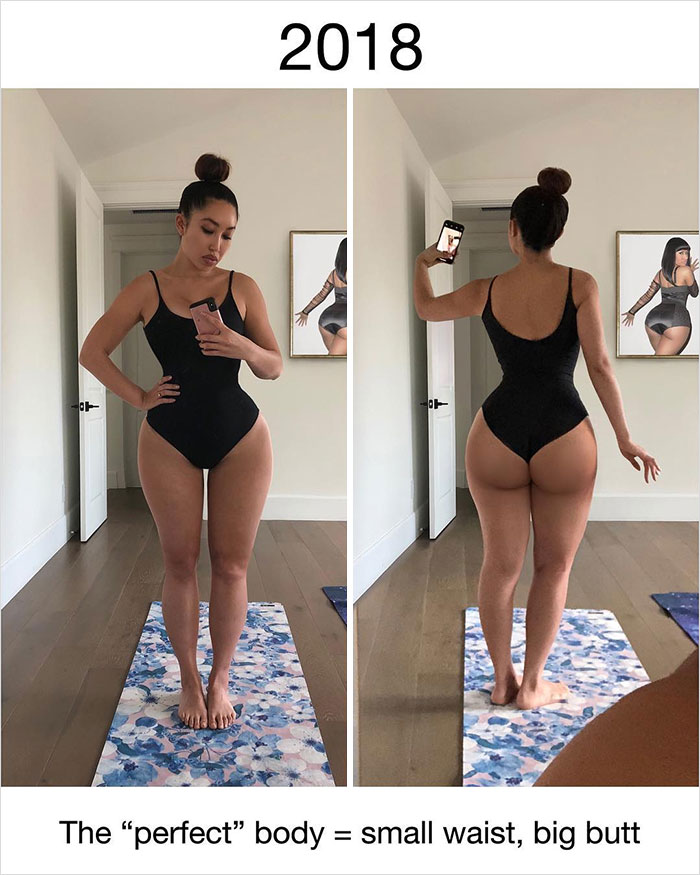 Big butts and tiny waists with pouty big lips were the trends between 2010-2018 and this encouraged the women to get these things done artificially by idealizing different models on IG or other social media platforms. After this trend, butt implants, and cosmetic surgery utilization rose by 58% because every other girl went for these techniques to get the perfect body shape.
2. THE "IDEAL" BODY SHAPE IN THE MID 90s-2000s – FLAT STOMACHS, LONG LEGS!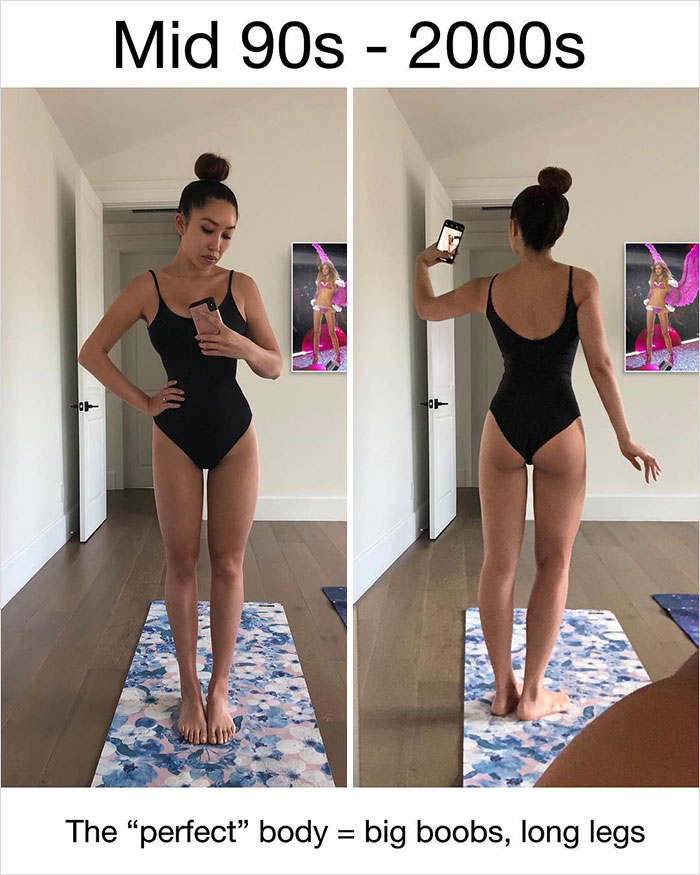 In the mid-90s to 2000s, flat stomachs, big breasts, longs legs with perfect thigh gaps were considered to be the ideal body shape for women. For that reason only, the breast augmentation technique became the most popular and used form of cosmetic surgery among women. In the era of Victoria's Secret Angel, who has the perfect body type, all women wanted to be that way.
3. THE "IDEAL" BODY SHAPE IN THE EARLY 90s – SUPER SKINNY BODY!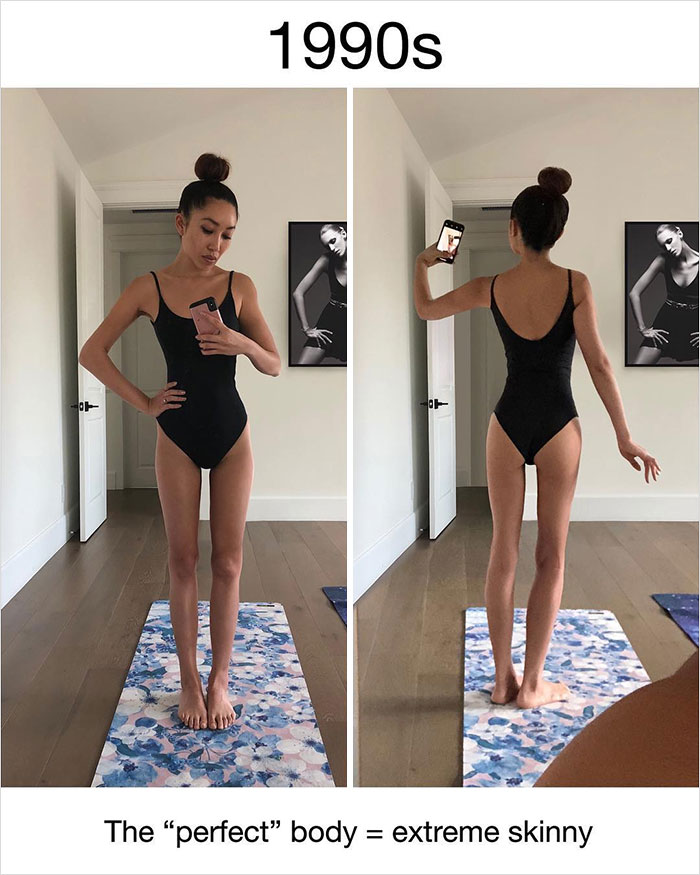 In the early 90s, being extremely skinny was a thing. If you had prominent bone structure, malnourished body appearances, and a skinny body, you would be considered perfect to be on the cover page of a magazine. This body shape was even given the name of "heroin chic".
4. THE "IDEAL" BODY SHAPE IN THE 1950s – HOURGLASS SHAPE!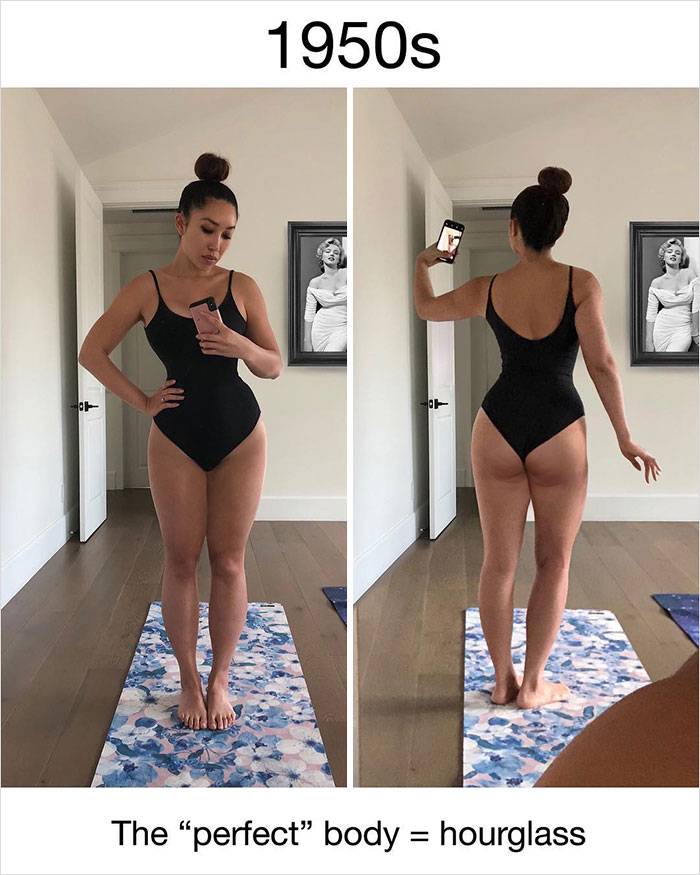 According to the 1950s, the ideal body shape for women was the hourglass shape. The best measurement of this shape was Elizabeth Taylor's 36-21-36 and after that Marilyn Monroe's lustrous body. This is the era when barbie and playboy were introduced.
5. THE "IDEAL" BODY SHAPE IN THE 1920s – BOYISH!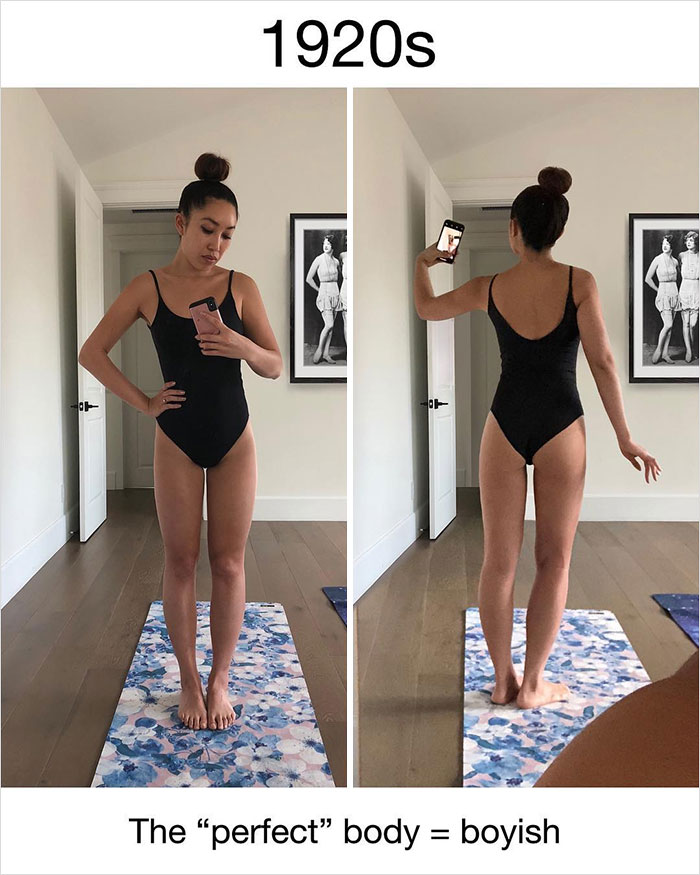 In the 1920s, having a boyish figure was a thing. The requirement of this figure was a straight figure with small breasts, no curves. Women hid their curves during this era by wearing striped clothing for the sole purpose of following the fashion.
6. THE "IDEAL" BODY SHAPE IN 1400-1700 – FULL, CURVY!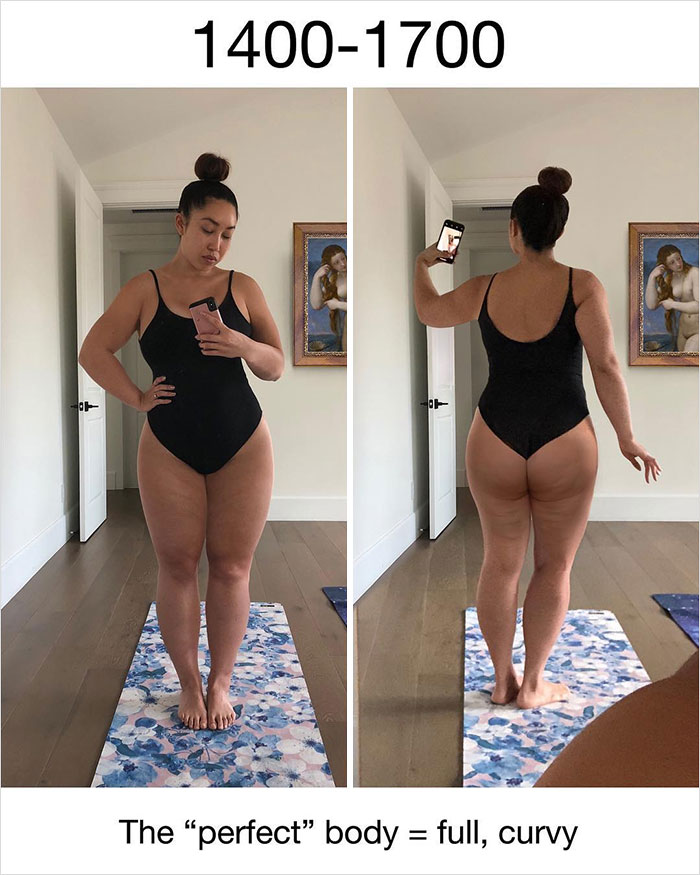 In the era of 1400-1700 (the Italian Renaissance), the full-body was considered to be a sign of wealth and being well fed. So having a round stomach, big hips, and breasts were a thing back then.
STOP TREATING YOUR BODIES LIKE OBJECTS!
The concerning question nowadays is that "why do we treat our bodies like objects or the way we treat fashion? We should understand the fact that our bodies are very delicate and it is extremely harmful to manufacture them the way we manufacture clothes"!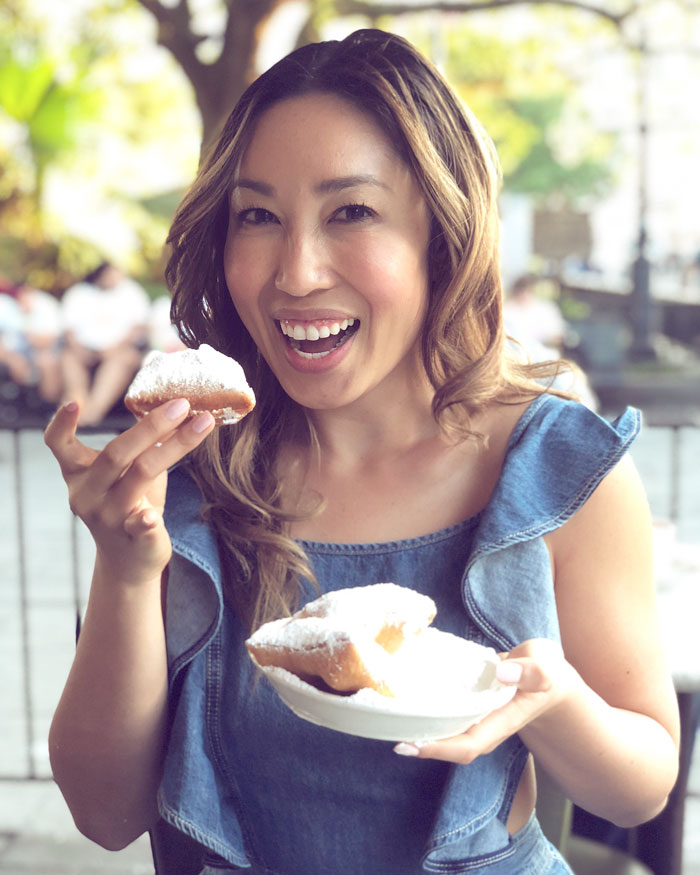 BE COMFORTABLE IN YOUR SKIN!
Another note to yourself is "treat your body with utmost love and respect and stop trying to change it according to the fashion. The only way to do that is by being comfortable in your skin, by accepting and loving your body, and by ignoring the beauty standards created by people and love what you have"!