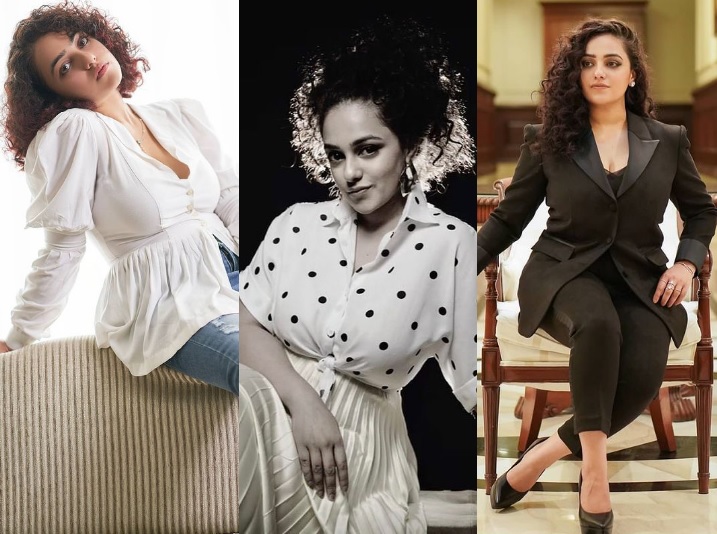 Over the period, we don't recognize how celebs find a way to make us drool with their presenting, styling, and style, but it's a long road that ultimately makes us attach to them. We saw how the actors were up to standard when it came to providing their greatest on-screen, but with that, they managed to keep their overall effect in fashion trends.
There's a picture of why Nithya Menon is among the charming faces in the film industry!
Nithya Menon:
Nithya Menon is an Indian singer and actress who plays Malayalam, Tamil, Telugu, Pashto, and Hindi movies. She is the beneficiary of the four Telugu Film Awards. After attempting to make her film debut as a child actress in the 1998 English film The Monkey Who Knew Far Too much, Menen began acting by playing a secondary role in the Kannada film 7 O'Clock released in 2006.
She started her career in significant positions in Marathi with Akasha Gopuram (2008), Tamil with Ala Modalaindi (2011), and Telugu with 180. (, 2011). She chose to make her Hindi launch with Mission Mangal alongside Akshay Kumar in 2019. Nithya's new movie 'Theeni,' directed and written by Ani Sasi. The star of the film also contains Ashok Selvan, Ritu Varma.
Nithya Menon is among the most famous people in the Malayalam, Tamil, Urdu, and Kannada industry sectors. With her most incredible experience, she blesses her existence in all the industry and where ever feasible, and her fans love everything. Let's not ignore how she managed to make us go timid in our feet when she was in full flow in the Southern India industry and left us to ask about her hotness!
Yes, even though she can make you stop and watch her sexy, hot photos for a while back after which, and even now, she can end up making us swoon! If you take a good look at Google, all you'll find is talking about her hotness. She has a beautiful face that enhances both Asian and innovative styles. She can also kill in attire and a western dress, one of the greatest actors for a reason!
Below are a few of her never-seen hot photos you're searching for; take a glance!