People hate grey hair as it's a sign of aging. However, grey is mind-blowingly gorgeous – if we try to look from a unique perspective. For example, George Clooney has been rocking the silver fox title for years due to his silver hair. Now Steve Carell's can be seen rocking the grey.
In the 1987 hit "Touch of Grey", Grateful Dead stated, a
"Every Silver lining's got a touch of grey."
A California hairstylist Jack Martin took a non-traditional approach to grey. Unlike many people, he embraces grey instead of hiding it. One of his customers came to him to change his brown dye some three years ago. She was tired of worrying about her hair color now. Jack accepted the challenge by dying her hair silver and adding some sheen to her natural hair. They loved it and got viral on Social Media. It opened new doors for business to Jack as people mutually loved the result. Here is a list of some of his happy clients. Some hate grey, others embrace it.
1. Proud Grey: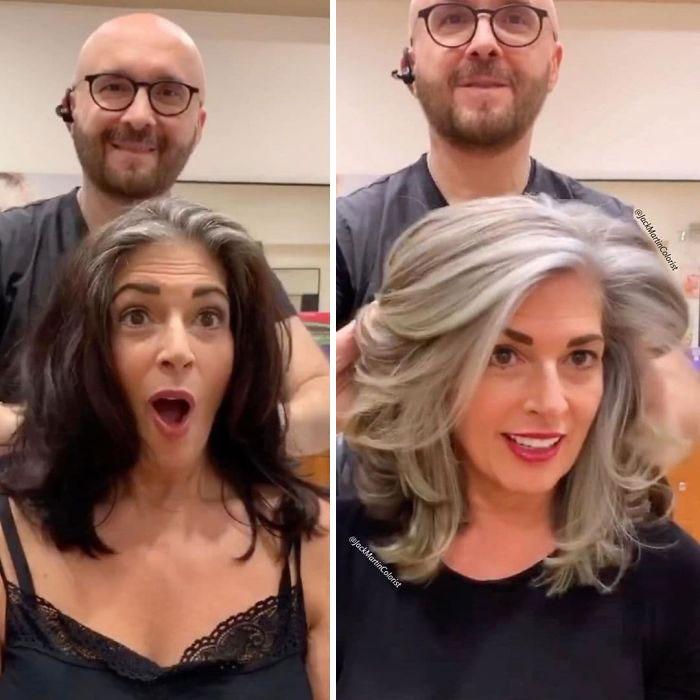 Jack took a few grey roots as an opportunity that should not be missed. Jack did a great job as her voluminous hair popped and made her a different person.
2. Silver Waves: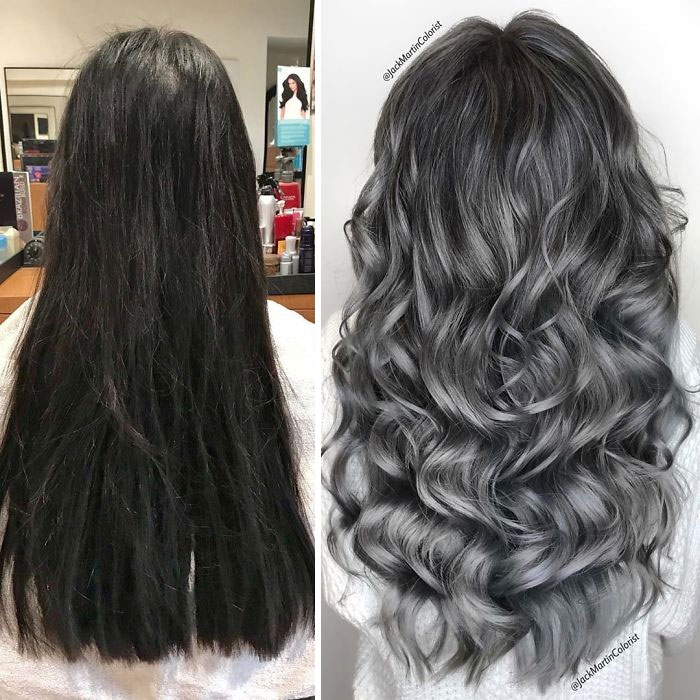 Jack did an amazing transformation turning the jet black to a blend of silver and grey tones like night and day. It is not just colors but the volume given by Jack gives new life to hair.
3. Silver and Reborn: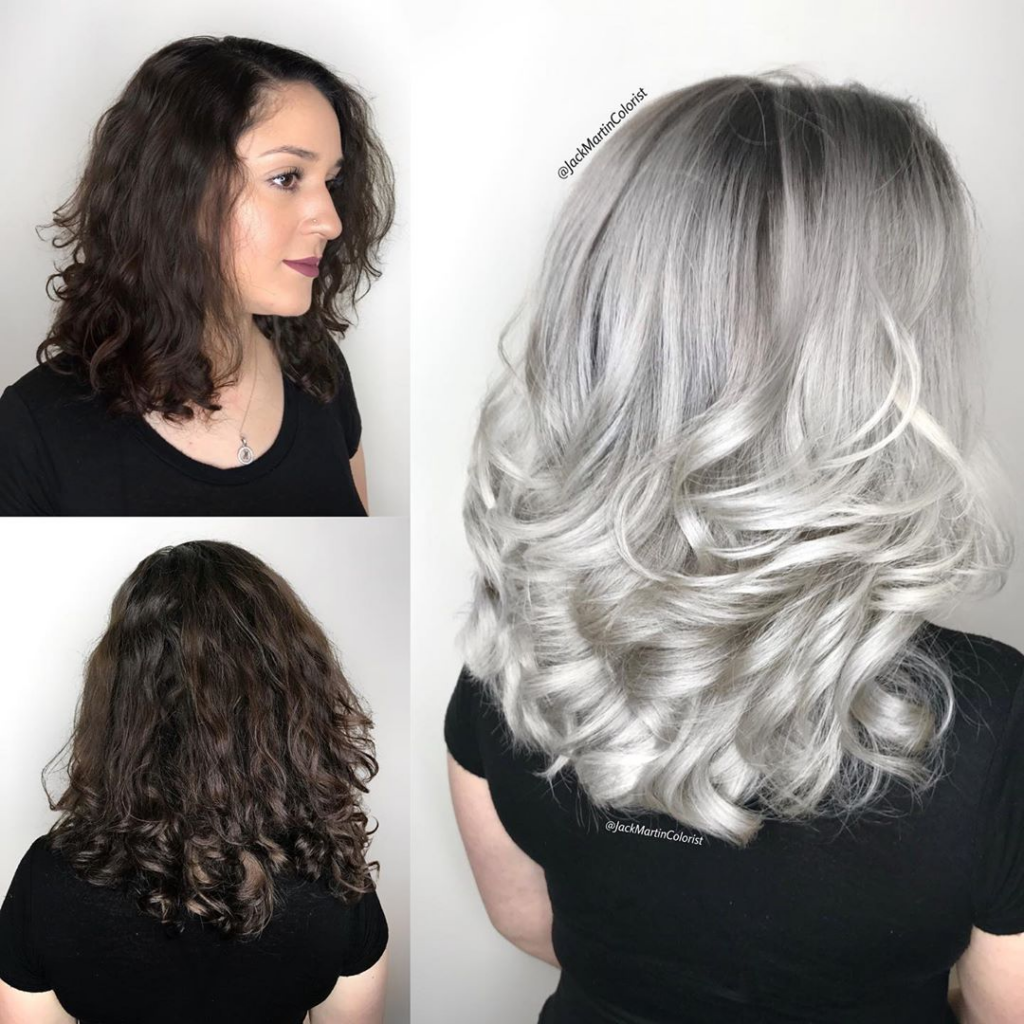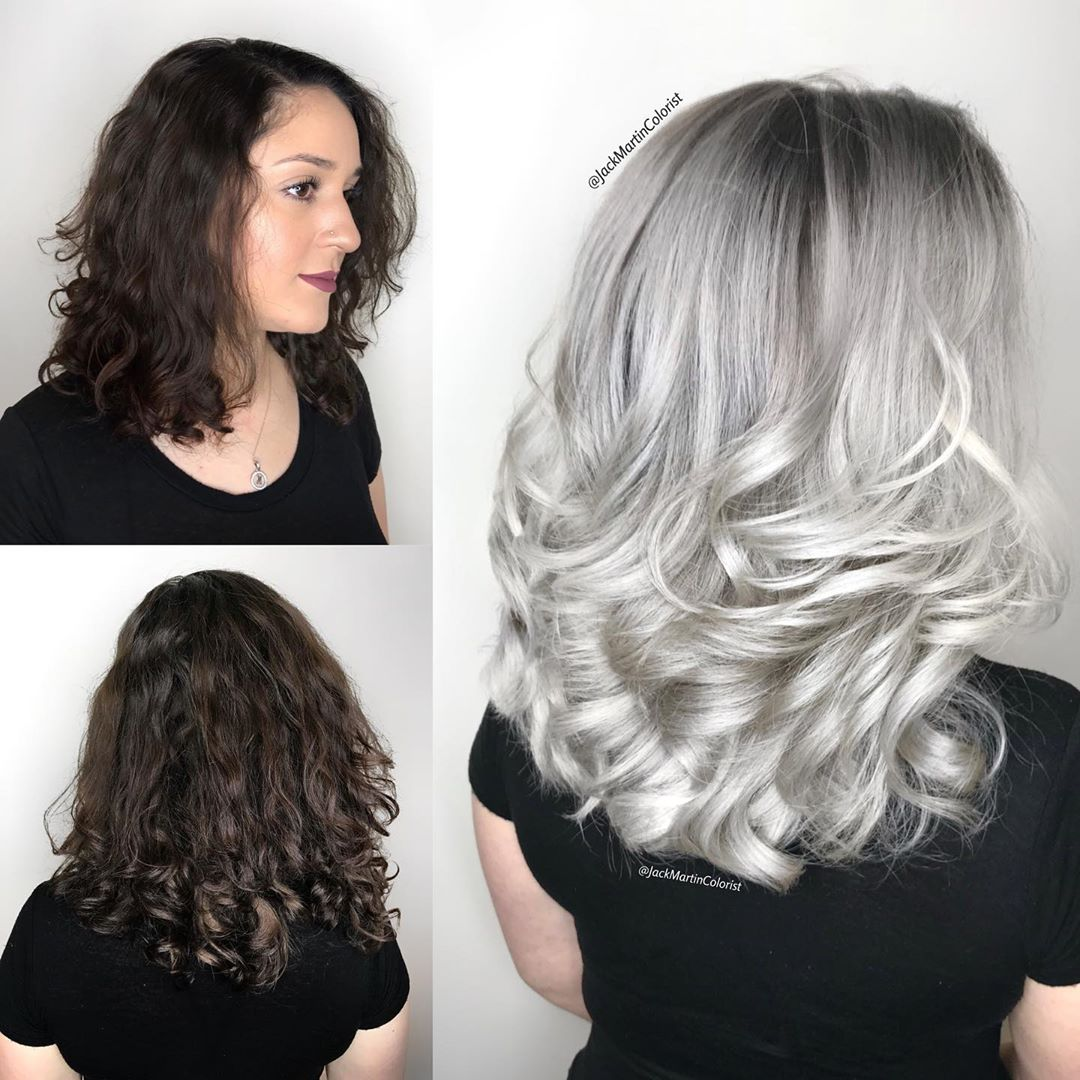 Brown is outdated, however, sometimes you can mix it up. Jack transforms this woman's bland brown hair into silver beautiful locks. It is looking like they have been given birth again.
4. Silver Lining: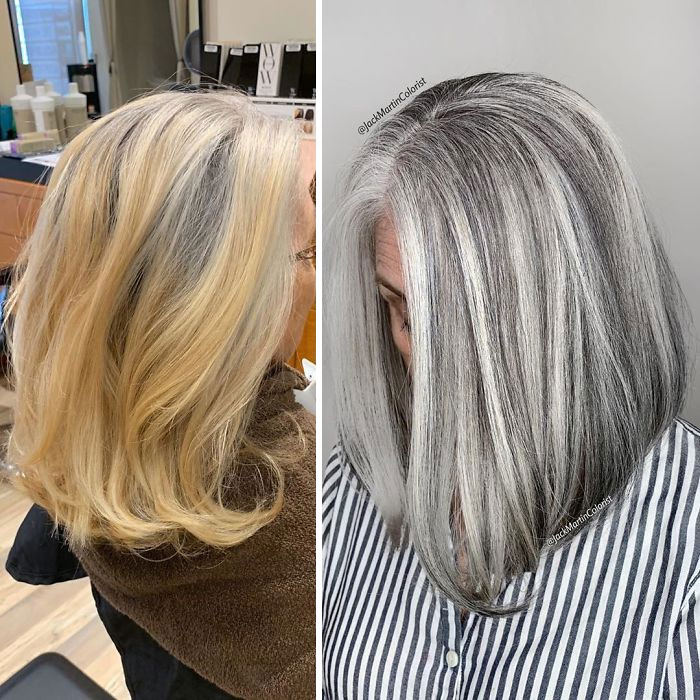 If we embrace the natural, aging can be pretty graceful as well. There is always a silver lining or when Jack is nearby, it's a must.
5. Fire Can Forge Steel: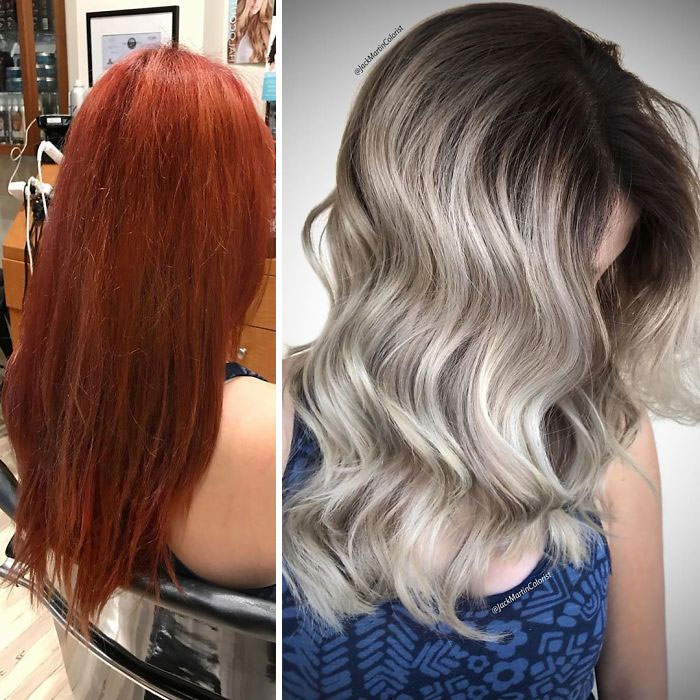 This red-headed woman wanted a change and fortunately silver was on the menu. Jack crafted an amazingly flowing craft. No longer red, her hair is now a blend of silver, grey, and black tones.
6. Unite With Grey: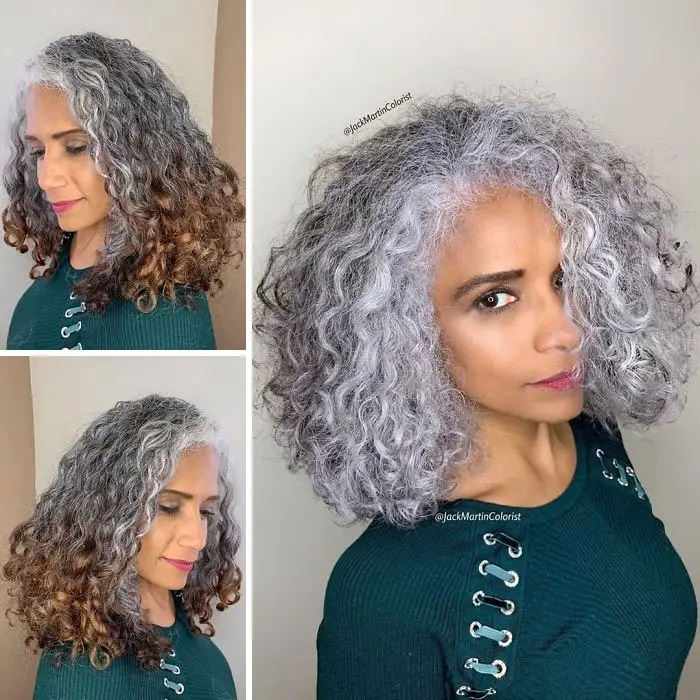 You should control grey instead of plucking it from a fertile garden of hair. Don't look at them as your enemy. If Jack is here, everything will be alright.
7. Silver Surfer: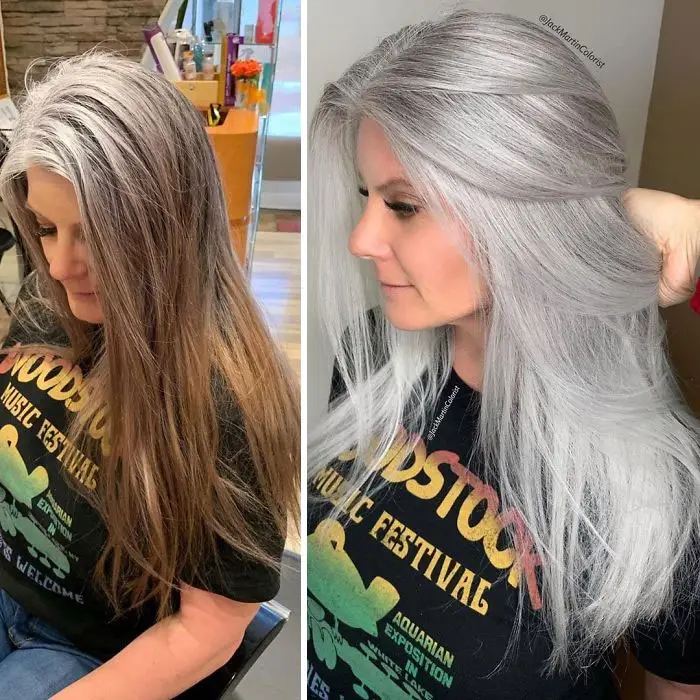 Generally, silver is also associated with the metallic member Silver Surfer from Marvel comic books. He embraced his color and didn't allow it to come in his way. The same goes for this lady. Jack transformed her hair into an extraordinary beautiful metallic silver splash.
8. Think alike with Grey Mind: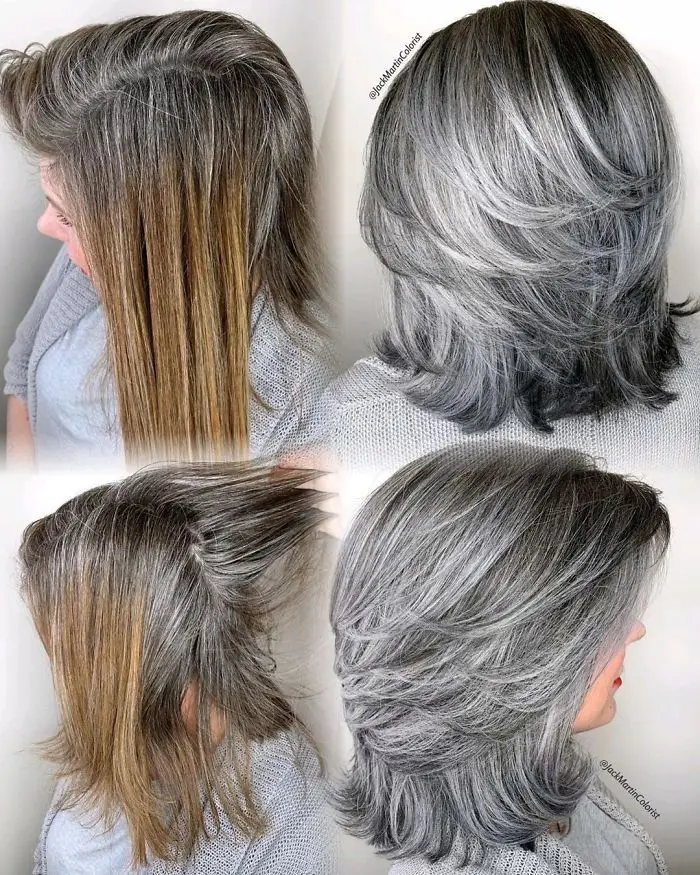 Jack is an expert in turning mundane into something spectacular. For him, grayer the roots, easier the job – as they provide him the basis for his lush and chic grayscale.
9. Steel and Sexy: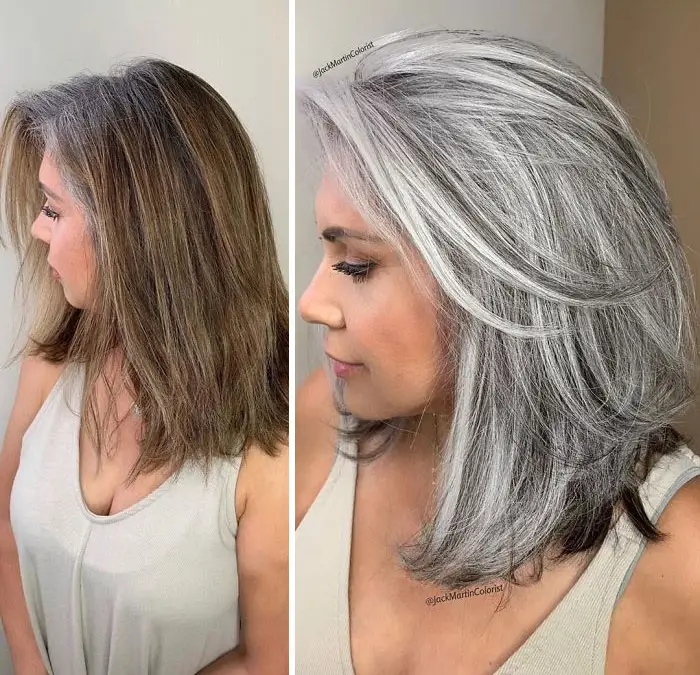 Most people start dying their hair when they reach a certain age. But what happens, after some days they start creeping back to sight. The same keeps happening to this woman. Then she finally said no to traditional methods. Then Jack did his magic.
10. The Way is Grey: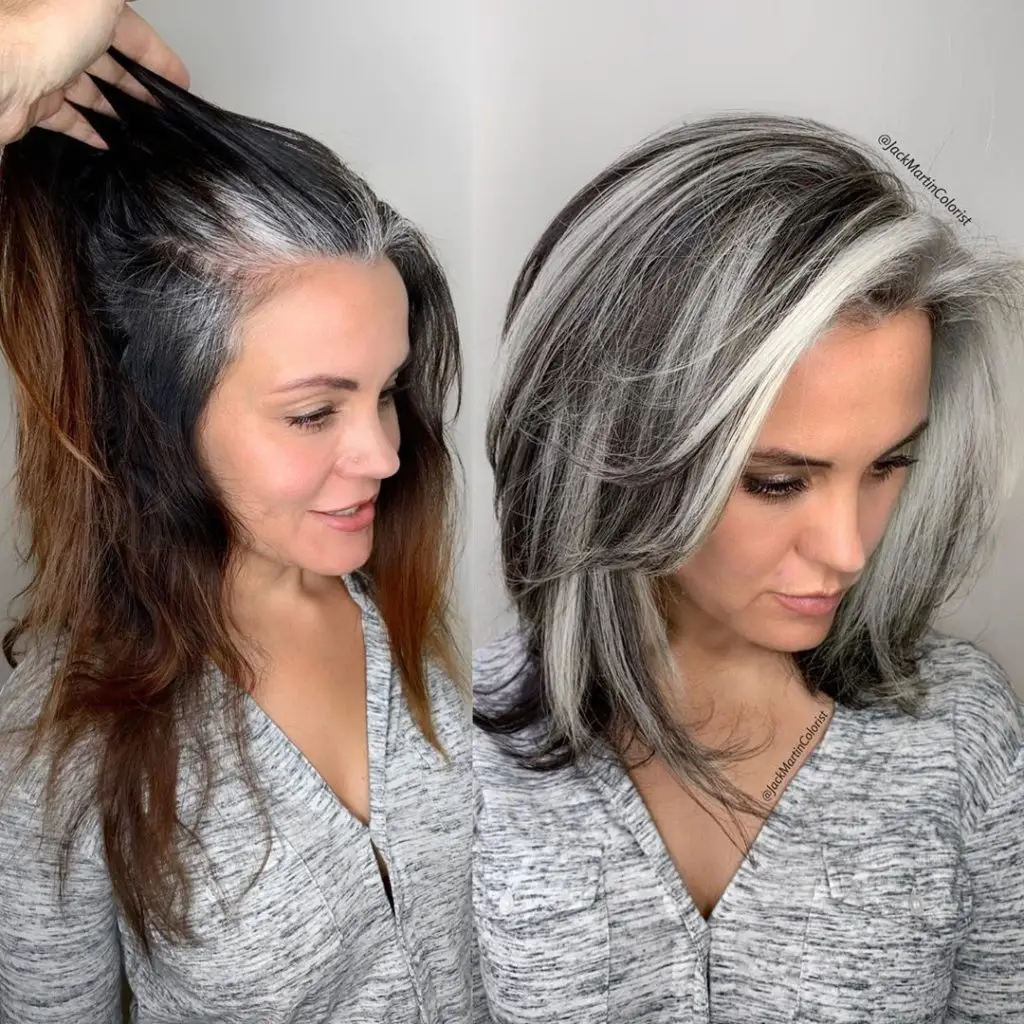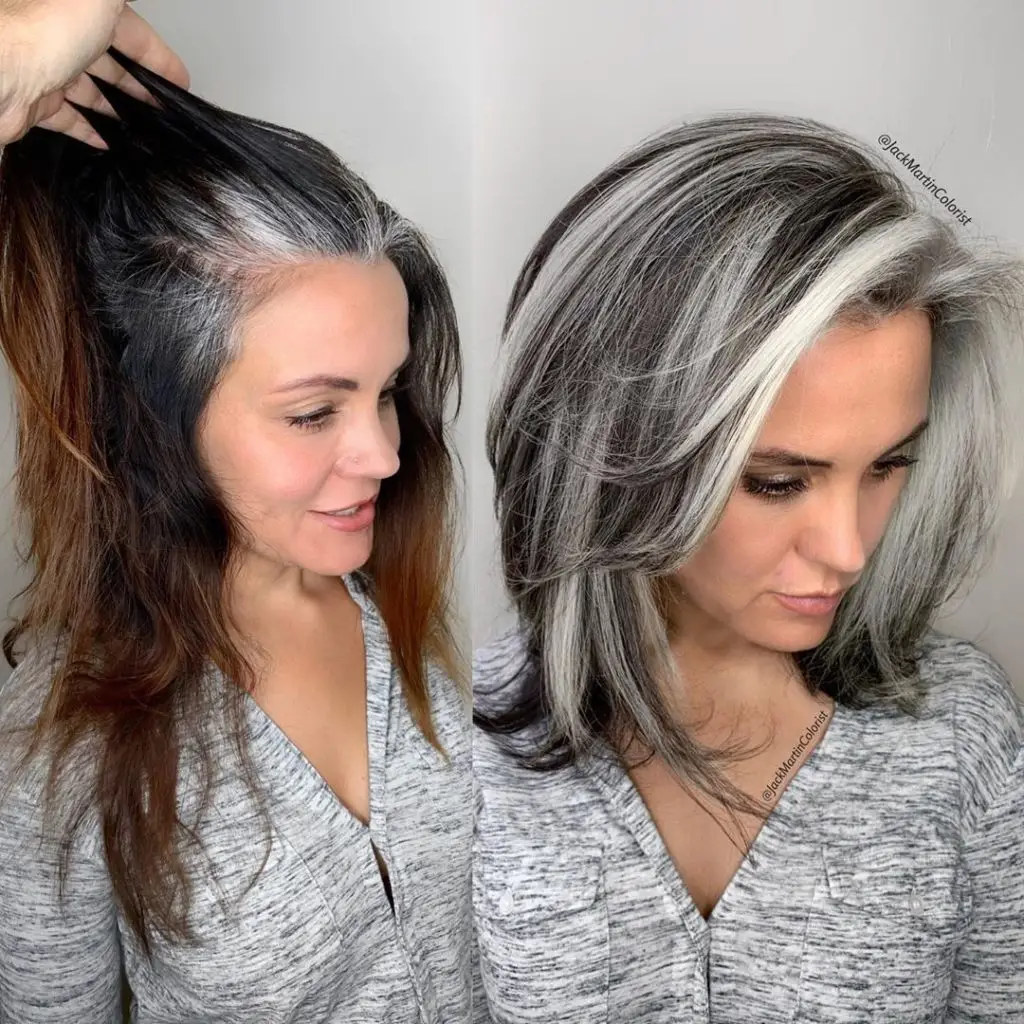 Grey creates a strong emphasis against black. This woman didn't fear grey when she noticed a stark contrast making its way from her roots. She instead let Jack do his magic and wore grey with pride.
11. Storm: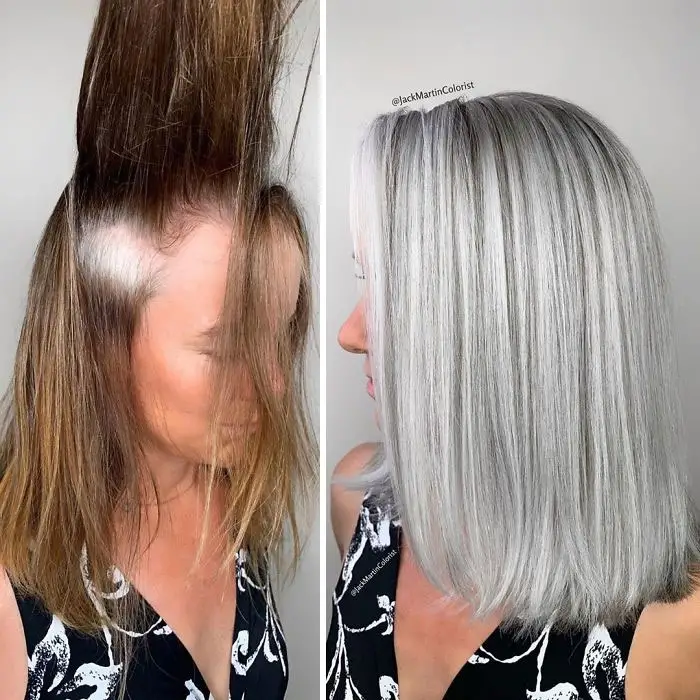 One of the most iconic characters of X-Men was Storm who had all grey almost white hair. Jack turns her hair full grey as the Storm. Before the transformation, he even shows sandy blonde roots by lifting some hair.
12. Silver Colored curtain:
This woman had long brown hair, a perfect setting to create something spectacular. Jack transformed them into silver locks that draped down her head like a silver-colored curtain.
13. Silver Fox: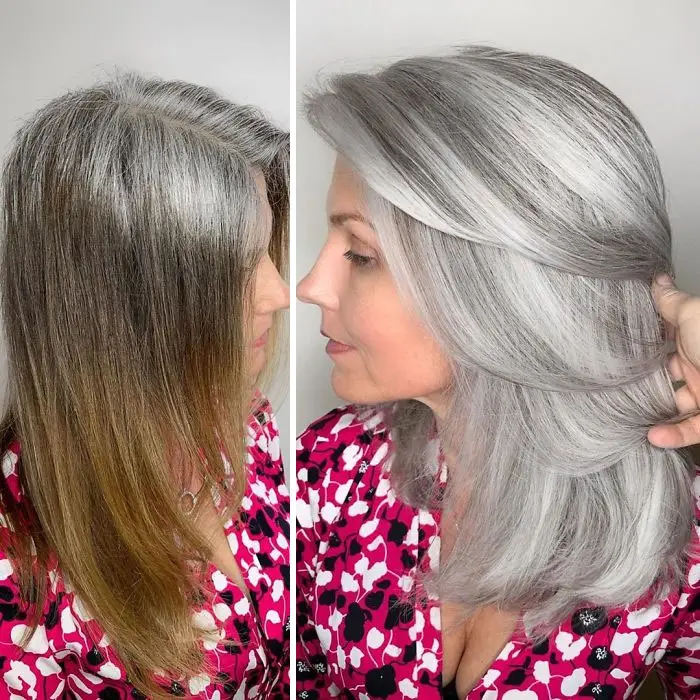 Jack saw, not actually created a fair share of silver foxes. He mostly creates them to earn a living. So here is a newly created fox in the town.
14. Grey Hair: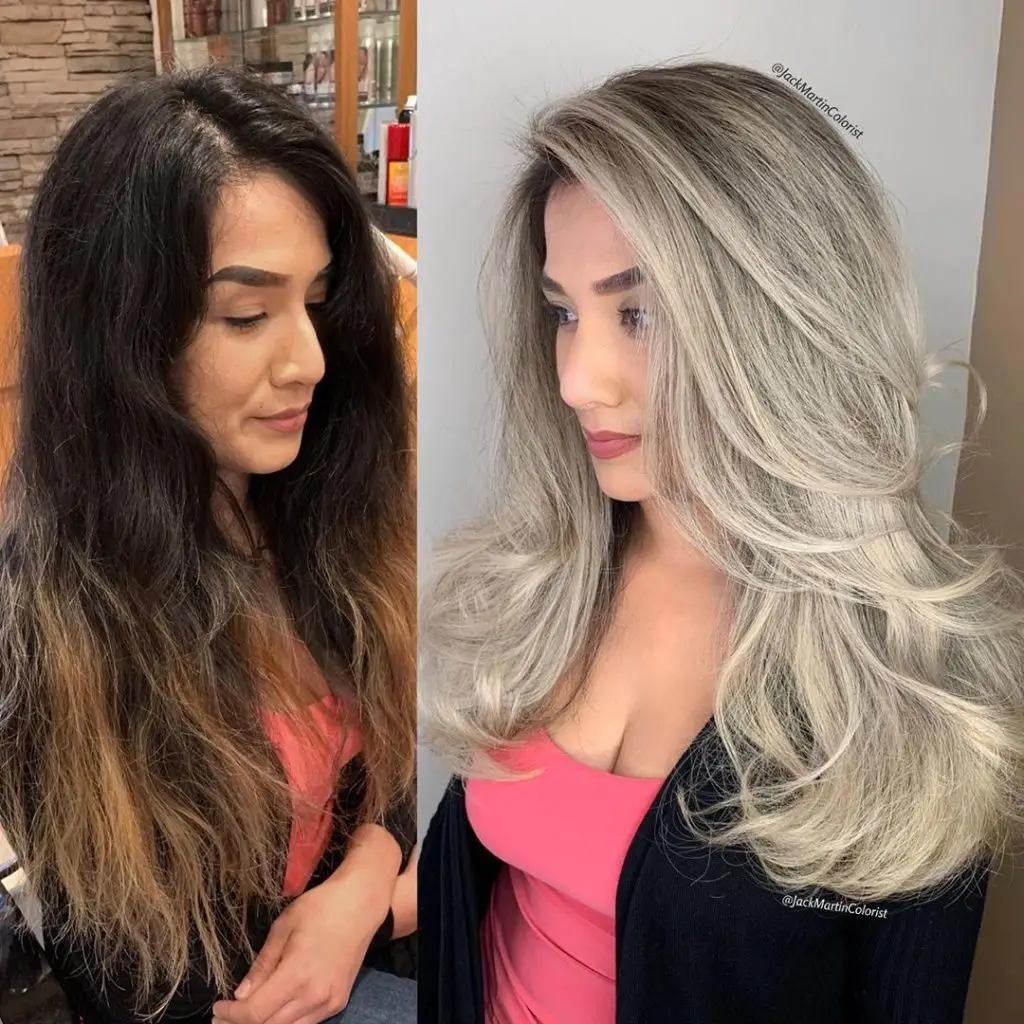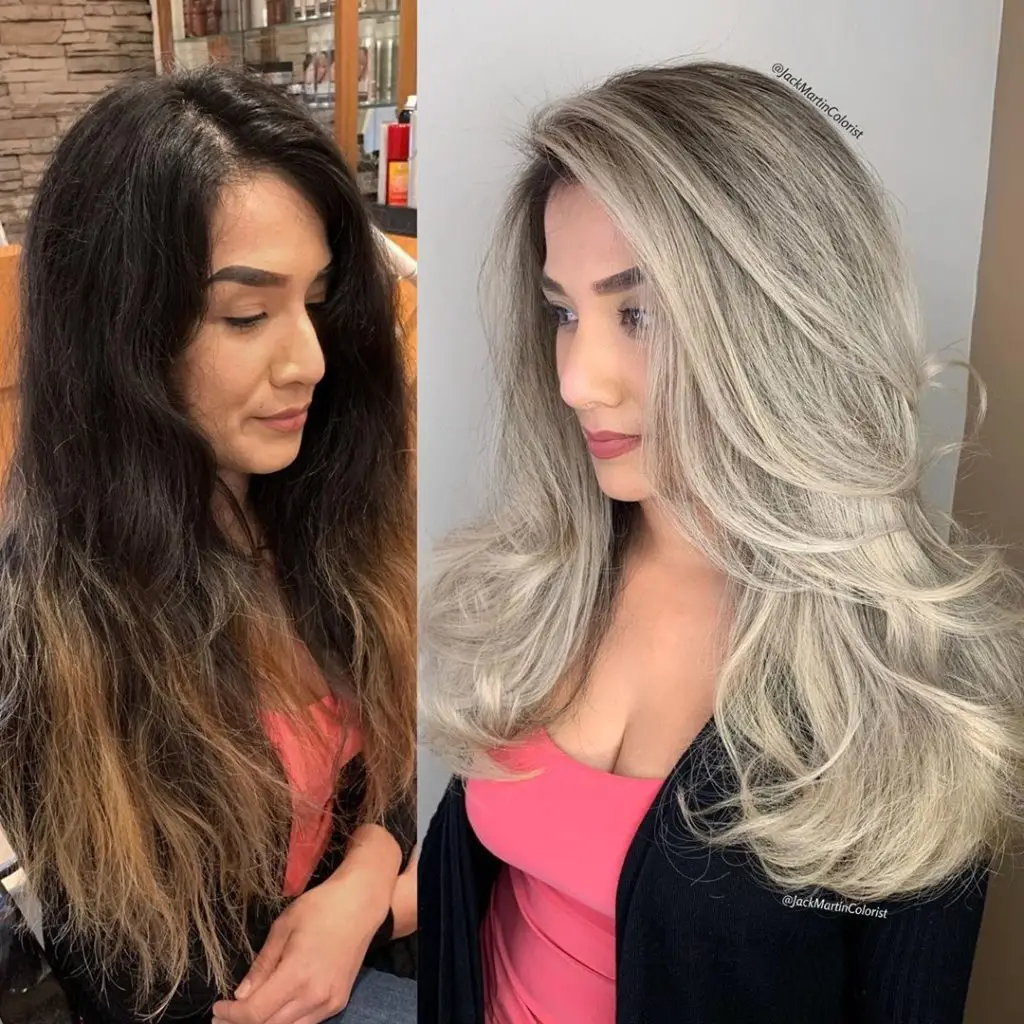 She was bland and frayed and wanted a change so bad. As Jack is a transformation expert, he knows what needs to be done. You can see that from the gorgeousness of her revived hair.
15. The Fifty Shades Of Grey: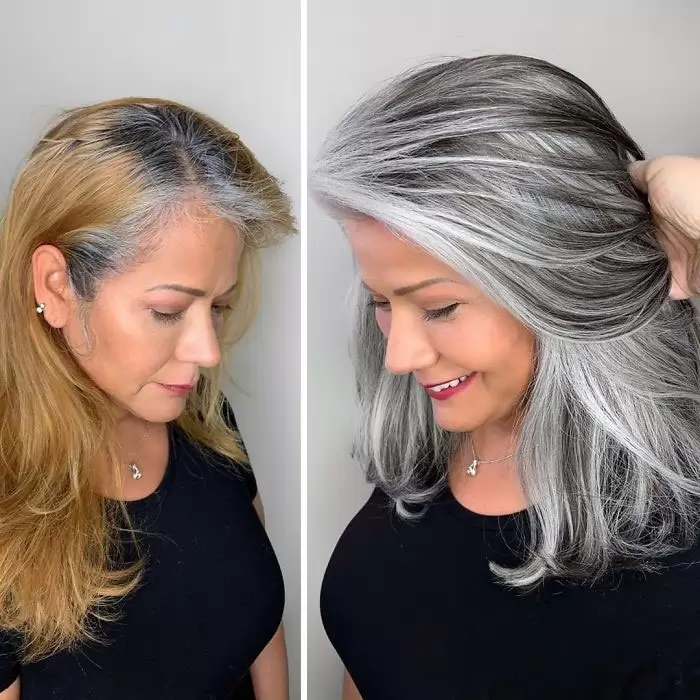 Her roots started dominating her hair color. Instead of surrendering to her roots, she defied traditions and embraced them. She wanted to fix her scalp so she hired Jack and asked him to do his magic. Jack beautifies her hair to new splendor, adding numerous shades of grey and silver.