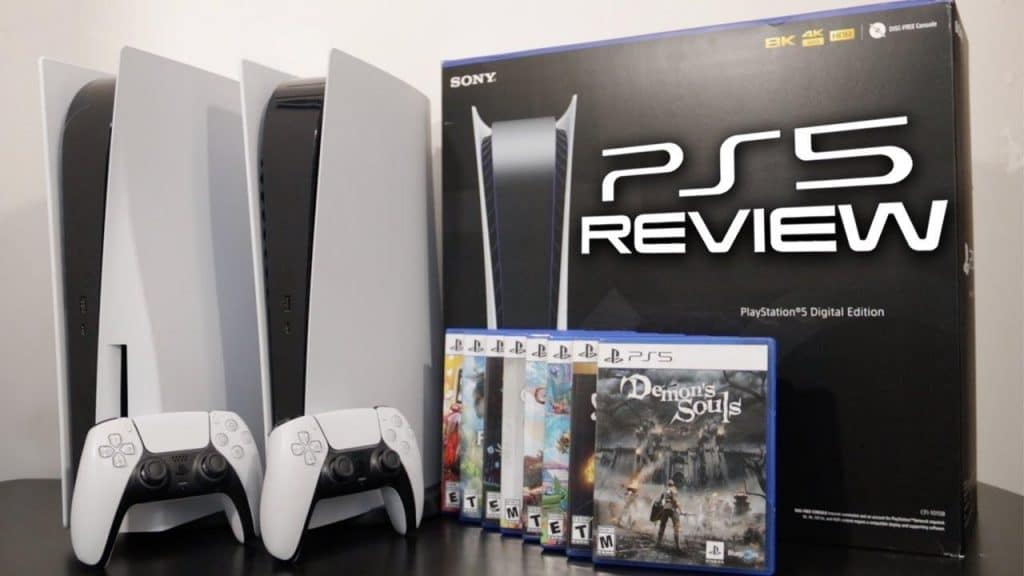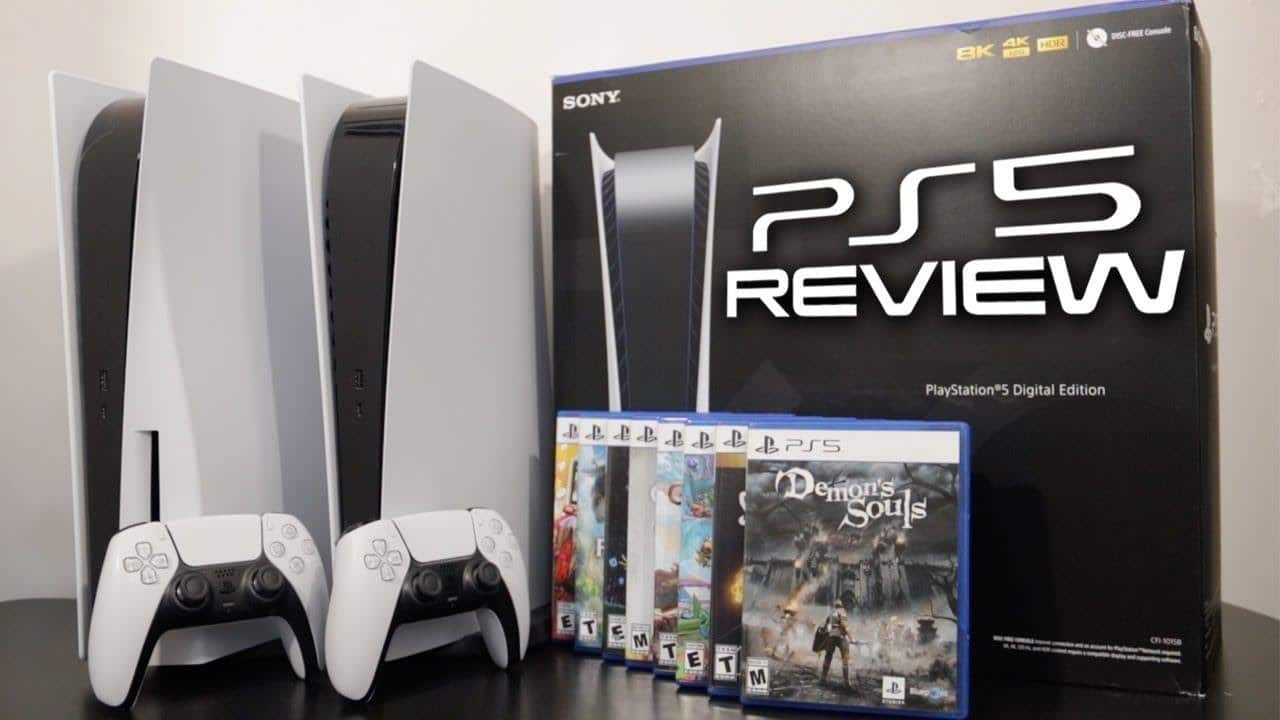 The new PS5 is surely a generational leap, which offers incredibly fast load times and a modern controller that can change the way the games felt in the first place.
PS5 is finally here and it is truly a game-changer in terms of console gaming. It comes with gorgeous 4K visuals, powerful graphic tech, and a widely innovative controller that is DualSense. Sony's new console allows such a level of immersion that wasn't possible on the previous consoles. The lightning-fast SSD of the system is no doubt a game-changer, allowing it to load the games in mere seconds- and in some cases, enabling gamers with new ways to interact with them.
However, as we discovered in our comprehensive review of the newest edition of the PlayStation, Sony PlayStation speedy next-level system does come with some drawbacks as well. The system has a huge and massive chassis that has been proving to be a pain for all those gamers who have limited space.
Thanks to the robust backward compatibility of PS5, incredible load times, and the snappy interface, the new PlayStation5 already feels like the future of console gaming. The interface of PlayStation 5 is a literal beauty and is super-fast, but feels little barebones at times too. As many of the key games on PS5 are also available on the PS4, the verdict is still out that whether it is necessary or not to upgrade to the next-gen right away.
User Experience:
Sony has re-imagined some of the key parts of the user experience by giving a simpler setup and a well-thought-out interface. PS5 comes with a revolutionary controller that has caught the eye of millions, and there are bonuses for all the PS Plus members to enjoy right away. The set has had a compelling lineup of the latest games to play on day one, which is exclusive to only Sony PlayStation machine.
However, it would have been great to see more first-party games at the launch (there were only 4 games if we include the pack-in game Astro's Playroom). Indeed we'd love to have seen further support for the previous generations of the PlayStation titles and not just the PS4 games. Nevertheless, the PS5 feels like a solid investment and we're confident that the PlayStation5 experience is going to improve only with age.
The new PlayStation5 caters to all those gamers who are ready to jump into the new generation of video games, and also those PS4 owners that don't want to leave their old collection of games behind. The latest console seamlessly bridges the gap between the last generation and the next one.
From massive upgrades like the fast NVMe SSD and the powerful GPU that allows a higher frame rate, and ray tracing, to some subtle touches on the controller (like the built-in microphone), the PlayStation 5 already feels like it was built for pure power as well as for the ease of use.
We have also rounded up some of the best future deals and bundles if you are someone who is looking forward to buying the new PlayStation 5. This way, you won't miss a great deal!
PlayStation 5 Review: Next Gen Gaming!
PS5 DESIGN:
RELATIVELY BIG FOR A MODERN GAMING CONSOLE.
THE SPACE-AGE AESTHETIC IS POLARIZING.
THE HUGE SIZE MEANS MORE SPACE FOR AIR VENTILATION AND A BIGGER FAN.
If all the gaming consoles had weight classes, the PlayStation 5 would have been in the heavyweight division. It is measured to be around 39 x 10.4 x 26cm (H x W x D) – through the curved surface of the console makes getting exact measurements a difficult task. It weighs in at 4.5 kilograms, which means it is not light at all and will give a noticeable heft when you try to pick it up.
Keeping those massive measurements in mind, it is safe to say that the Sony PlayStation ps5 console is possibly the largest console Sony has ever manufactured, and it teeters on the brink simply too huge for a device that is supposed to sit under your television. Many of you would have to rethink your current setups or might have to upgrade your entertainment centers if you want to accommodate this newly launched machine.
As for the shape and the colors of the console, they can be kind of polarizing as well. Some of us love the new ps5 design while others hate it. There's no denying that, though the massive size and the two-toned color scheme of the console demand attention in any household.
One element which is highly appreciated by everyone and gives a delightful touch is the system's subtle lightening effect that provides a soothing hue when the console is in rest mode or either in operation.
PS5 Specs:
The light-strip of PS5 specs adds to the space-age feel and look while giving a nice representation of the previous PS4. Just like Sony's PS4, the console's light turns to orange color when it is in rest mode, and when it is turned on, the light changes from blue to white.
Something that we are a bit bemused by is the glossy plastic down the center spine of the PS5 console as that's the area where the front USB ports are located. We can confirm that after 6 months of constant use, the plastic can become scratched over time, even though most of us are extremely careful when plugging any device into the front of the console.
It is kind of surprising that Sony didn't contemplate this issue during the development of the PS5 console. The glossy finish is a speck of big dust and a fingerprint magnet that chooses by putting a glossy finish all the more bewildering.
Due to the curvy and tall stature of PS5, it is not just a case of placing it down and start playing. Once you pull it out of the box, you'll have to wrap your head around its attachable stand first and that is not exactly the most user-friendly experience if we are being honest.
The stand, when it's functional, will feel slightly cheap in the hand too. We can't put the PS5 console horizontally without its stand, and we'll have to risk impeding the airflow if we don't use it when the PS5 is standing vertically. Many people are still hoping that Sony will make an inevitable 'slimmer' version of the console in a couple of years as this one is a bit of a faff.
In terms of ports on the PS5, the front of the PlayStation 5 comes with a USB-A and a USB-C port, while its back supports two USB-A ports, an HDMI 2.1 port, a power port, and an Ethernet port. You will not find any proprietary ports on the console, which is considered a bonus if you need to replace the old cable.
PS5 PERFORMANCE:
COMPATIBLE WITH 4K/120FPS GAMEPLAY AS WELL AS SUPPORTS 8K/60.
THANKS TO THE NEW SSD, IT COMES WITH A FASTER LOADING TIME.
THE SYSTEM WILL COME COOL AND QUIET ALL THE TIME.
TEMPEST 3D AUDIO TECH, JUST LIKE ATMOS-LITE.
Coming to the PS5 specs, it is a technically impressive piece of hardware. It comprises the new custom RDNA 2 GPU that can push 4K Resolution at 120 frames per sec. The octa-core AMD Zen 2-based CPU comes with a 3.5GHz clock speed, and throws in the impressive 16GB of GDDR6 memory and an 825GB NVMe SSD, the new PlayStation 5 is a machine with some seriously incredible specs.
The only reservation the buyers have with the PS5 specs sheet is the amount of storage that is available on it. It's only using an 825GB SSD instead of using, say 1 TB or 2TB SSD. The decision of keeping the short storage was made to cut down on the cost of the console price, however, this way gamers can run out of storage very quickly if they are not being judicious about the type of games they keep installed.
It has been made possible to upgrade the storage with the PlayStation-certified NVMe SSD, but the issue here is that this option was locked by Sony at the launch. If Sony, down the lane, unlocks this expansion port, then you'll need to pop off the PlayStation 5's plastic faceplates. This way, it will reveal the empty SSD bay, and you'll also need a screwdriver to secure the new M.2 drive in place.
Good News For Players:
The good news is that you can easily use the external hard drives and the SSDs by plugging them into the USB ports. You won't experience the exact lightning-fast load times as compared to the ones you'll get from the built-in SSD, but if you use the external SSD, you can see the massive boost to load time performance over the usual mechanical hard drives.
After the recent update in the PlayStation 5 system, you can now store the PS5 games or even save some data to external storage, but you'll have to transfer the games back onto the internal drive whenever you wish to play them.
A small slice of PlayStation 5 Launch library supported 120fps, and also included Call of Duty: Black Ops Cold War, Dirt 5, The Devil May Cry V: Special Edition, Rainbow Six Siege, and the WRC 9. However, you'll need an HDMI 2.1 complaint TV if you want the display of 120HZ refresh rate, higher than 1080p resolution.
What should I expect if I buy a PS5 today?
At least for now, most of the games will be capable of delivering 4 K resolutions at 60fps or just 30fps when you're using the game's Performance Mode. Many gamers also like to utilize 4K image assets for a crisper texture, while the HDR support helps to provide better contrast and colors. If you combine that with ray tracing and some improved particle effects (which are now easily possible with the suite of development tools), the current games look leaps and bounds better than they did almost a decade ago.
If you are someone who doesn't want the extra frames at the expense of the resolution or prefer not to use the Performance Mode, then we recommend that you just opt for the Resolution Mode that prioritizes better and higher resolutions, superior rending techniques like more detailed graphics and ray tracing, etc.
What buyers can expect from this new generation of gaming offered by the new PS5 is faster load times, better frame rates in the Performance Mode, and higher target resolutions. They can just simply choose whichever option they prefer using.
IS THE PS5'S 3D TEMPEST AUDIO ANY GOOD?
The 3D Tempest Audio of the new PS5 is Sony's take on Dolby Atmos or spatial audio in general. They work with any headset you might own, with support for TV speakers coming set to arrive anytime now (however, Sony hasn't officially announced the exact date yet).
After the console was released, we tested various spatial audio solutions, ranging from the Windows Sonic to the Dolby Atmos and we have found out that the PS5's 3D Audio is overall a comparable experience, but it surely isn't the revelation we all hoped for.
When it comes to immersion, the PS5 3D audio can be quite a powerful tool according to the Returnal. It can also be very beneficial in fast-paced games where the audio cues are just as necessary as what the gamers see on the screen. In fact, in our opinion, it's the best implementation of the new technology, and we truly hope that Sony continues to support it.
You can expect to experience the PS5 Tempest 3D audio in all five of the following first-party titles:
Astro's Playroom
Marvel's Spider-Man: Miles Morales
Demon's Souls
Sack-boy: A big Adventure
Destruction All-Stars and Returnal
WHAT ABOUT THE NOISE AND HEAT?
The monstrous footprint of the new PlayStation 5 gives it a significant advantage over the precious launches that is the console is silent and the heat production is also quite minimal. After testing the console, we have noticed a bit of coil whine in some of the units, which is where the console emits a slight faint electrical noise when we played certain games, but as compared to the predecessor, it's a monumental improvement.
While testing the unit, we held our hand near the system during a long plays session and even though the PS5 was outputting some hot air (as it is designed to do), it was emitting very little than what the PS4 would push out.
PS5 VS PS4 LOAD TIMES
| | | |
| --- | --- | --- |
| | PS5 | PS4 (2013 MODEL) |
| Spider-Man: Miles Morales (menu to gameplay) | 2 seconds | 20 seconds |
| Spider-Man Miles Morales (startup) | 12 seconds  | 12 seconds |
| The Last of Us 2 (startup) | 15 seconds  | 33 seconds |
| The Last of Us 2 (menu to gameplay) | 1 minute  | I minute, 28 seconds |
| Mortal Kombat 11 (Startup) | 8 seconds  | 11 seconds |
| Mortal Kombat 11 (menu to gameplay) | 10 seconds  | 18 seconds |
| Star Wars Battlefront II (startup) | 33 seconds  | 1 minute, 5 seconds |
| Star Wars Battlefront II (menu to gameplay) | 12 seconds  | 22 seconds |
| Bot time | 22 seconds  | 30 seconds |
PS5 vs PS4: EARLY Graphics Comparison [4K]
God Of War PS5 vs PS4 Pro – Loading Times & Gameplay Comparison
PS5 RELEASE DATE AND PRICE ANALYSIS:
PS5 PRICE: $499.99/ AU $749.95
DIGITAL EDITION PS5 PRICE: $399.99/ AU $599.95
PS5 RELEASE DATE: OUT NOW (released on November 12/19, 2020) 
PlayStation 5 was released in Australia, South Korea, North America, Japan, and New Zealand on the 12th of November, 2020. This was just two days after the releases of the new Microsoft's next-gen consoles, the X-Box Series X and X-Box Series S. For the rest of the world, PS5 became available one week after on November 19th.
The PS5 cost is $499.99/ AU $749.95, for the standard version that comes with a 4K Blue-ray disc drive. However, if this price is more than what you originally wanted to spend then there is also a Digital Edition of PlayStation5 which is the same, except it removes the disc drive completely. It is priced at $399.99/ AU $599.95, which will approximately save your $100/ AU $150 over the standard PlayStation5 model.
PS5 is relatively more expensive than the launch price of PS4 and PS4 Pro, both of which came in at $399.99, however, they both arrived 7 and 4 years ago respectively. With the new PS5, you will be getting a generational leap of hardware for $100 more. Its price is still quite expensive but the big jump in price range does feel warranted for what you're getting.
Sony PlayStation ps5 console is not the only console maker that is offering new hardware on the block right now, though you can also consider the newly launched Xbox Series X and Xbox Series S, both of which are considered the closest competitors to Sony PlayStation ps5.
PS5 Features:
THE PARTY CHAT ALLOWS GAMERS TO SCREEN SHARE.
PLAYSTATION BUTTON COMES WITH ALL NEW FEATURES.
A REDESIGNED USER INTERFACE WITH A STUNNING SPLASH SCREEN FOR EVERY GAME.
SPOTIFY MUSIC INTEGRATION AVAILABLE.
The design of a console is one thing but what can elevate it to the next level is its features- and thankfully the PlayStation 5 delivers in here.
This new generation console innovates on what Sony PlayStation ps5 console have done in the past, however, it might take you a minute or two to get a hold of some of the new controls, pressings and holding the PS5 button on the DualSense controller as it no longer brings up the quick menu instead now it brings up the new Control Center.
This one operates in almost the same way as the precious Quick menu did, lets you view the various sub-menus such as the downloads in progress, the Friends list, your notifications, and if you have an account linked to Spotify.
Console Features:
One of the most prominent features of the new console is the PS5's Card, with the impactful being the Activity Cards. These cards have various functions such as allowing you to track trophy progress, jumping into specific parts of the game like the next challenge or the multiplayer mode, or check how far along you are on the game level, or simply view the news from the developer.
Overall, we found the Activity Cards to be a quite useful addition, but horizontally scrolling through each one of them can feel a little cumbersome at times.
Now, speaking of the social features, if you are tired of typing out the messages using a D-pad or the analog stick, then you'll be glad to know that the PS5 supports voice dictation for messaging, thanks to its DualSense controller's built-in microphone.
One thing that we also liked about the new features is that gamers can choose system-wide settings for certain aspects such as your preferred game level or whether you want to invert the x or y-axis on your controller during game s. You can also choose the graphical mode which you might prefer games to automatically select: performance or resolution.
PS5 GAME LIBRARY:
EVERY PLAYSTATION 5 COMES WITH THE ASTRO'S PLAYROOM INSTALLED.
THE EARLY STAND-OUT TITLES ARE DEMON'S SOUL AND THE SPIDER-MAN: MILES MORALES
PLAYSTATION PLUS COLLECTION IS A GREAT INTRODUCTION FOR THE NEW PLAYERS.
LIMITED BACKWARDS COMPATIBILITY WITH THE PS2, PS3, AND THE PSONE GAMES.
Most PS5 console don't launch with the full library of games right away, so the bar was also very low for the new PS5. With that being said, what buyers make of the PS5's current game library largely depends on how they finished the masterpieces of the previous PS4 era- games like
Uncharted 4
A Thief's End
Marvel's Spider-Man
God of War
The last of Us Part II
If you haven't finished them already, or haven't played any of them at all then you could have dozens of excellent games to play the second you turn on your PS5 via backward compatibility, several of which have been well-improved due to the 60fps update, like Ghost of Tsushima and Days Gone.
List of PS5 Games:
Every PS5 comes with a pre-installed version of Astro's Playroom and it's an exciting showcase for what the system can deliver. Buyers will also have access to 20 defining games from the last generation which you can easily download on day one.
You can find the PlayStation VR Aim Controller hidden somewhere in the snowbank on one level, for example, another level may contain a PlayStation Portable for gamers to discover.
A list of noteworthy PS5 games is growing and it includes some heavy masterpieces like:
Spider-Man
Miles Morales,
Sackboy
A Big Adventure
Destruction AllStars
Demon's Souls
Returnal
all of these are from the first-party studios from Sony.
You can also pick up some great third-party games like:
Resident Evil Village
Watchdogs
Legion
Call of Duty
Black Ops Cold War.
Many independent games are worth giving a shout-out, for example, the indie charmer Bugsnax (the one with a very catchy theme tune), which was available as the console's first PlayStation Plus downloadable game. We're quite confident that the games will only get better in the upcoming months and we'll continue to keep our eye out for the best PlayStation 5 games as the console matures.
PS5 RESTOCK UPDATE: CHECK PS5 RESTOCKS NOW!
We're here to help you secure the PlayStation 5 restocks when the inventory finally returns, by tracking the rumored restocks spread by Twitter and also by keeping an eye out for any surprise PS5 drops from major US retailers. We have pulled together a list of all the top U.S retailers like Target, Walmart, Amazon, and GameStop that sell the PS5 and its Digital Edition.
LATEST NEWS AND RUMOURS- PS5 RESTOCK:
Last week was kind of huge if we talk about the PS5 restocks. BEST BUY restocked the console on May 24th, Amazon and GameStop both then restocked on May 26th, followed by Target on 27th May. It was considered a great week for any buyer who had been searching for the next-gen console.
However, we were not expecting this week to be as hectic. Nonetheless, there are some retailers we are still hoping to hold a PS5 restock soon.
Sony Direct is expected to do a restock in the upcoming weeks and then Walmart could join in on the action shortly as well, but to be honest the retailer's last restock was a complete disaster. Hopefully, the mega-retailers through, through the through, next drop will be a lot smoother than the last time.
Many buyers are currently asking if there is going to be a restock on Memorial Day? We don't have a definite answer to this question right now, but we are surely keeping a high alert just in case a big retailer announces to restock the PS5 console to mark the occasion. But to be clear, the chances are slim, however worth staying vigilant over the next coming hours.
Unfortunately, Sony has confirmed that the PS5 console supply isn't going to be any better this year as well, which means restock shortages continuing into the year 2022.
1, PS5 restock- Prime Day: 
Prime Day is just around the corner, but don't get your hopes up too high because chances are that there won't be any discount deals or Prime Day Deals on the PS5. The console has such high demand that Amazon doesn't plan on having any discount on the next-generation consoles. That being said, it could offer the buyers a surprise PS5 drop in the days leading up to its Prime Day, so we recommend that you should keep an eye on Amazon for the next few weeks.
2, Best Buy Restock Date for PS5: 
Best buy is known for offering PS5 restocks on Friday afternoons, but the retailer also restocks on Thursdays and even on Mondays. One thing that you should keep in mind is that Best Buy's drops always occur around afternoons (between 12 pm ET and 3 pm ET), and they offer the PS5 consoles at a list price: $499 for the PS5 and $399 for the PS5 Digital Edition.
3, Amazon PS5 restocks date: 
No one knows when Amazon will release the PS5 console for sale or if it even will anymore. This is because it has been quite some time since their last restock of PS5 console. Another thing that you should keep in mind is that Amazon restocks tend to sell out in less than minutes.
4, Target PS5 restocks date: 
Target restocks dates for the PS5 console have been quite hard to nail down because the retailer tends to drop them in certain regions. For example, people in Chicago could see the PS5 inventory at their local store, whereas the people in New York might not be able to see any inventory whatsoever. In addition to this, Target tends to do its PS5 restocks only in early mornings that occur around 8 am, E.T. Target's last PS5 restock was sold out in minutes.
One of the best ways to track any new PS5 restocks or when it hits an online retailer is by following the 'Sony Twitter Account'. We also recommend viewers follow Twitter accounts like @PS5StockAlerts @mattswider @PS5drops @GYXdeals and @Wario64, which are often very quick to update the PS5 buyers with any latest news on availability.
How to buy PS5: Essential Tips for the buyers!
Multiple online sources have reported that there is an Amazon trick that improves your chances of getting your hands on the next-gen PS5. We tested this trick a couple of times and each time we have succeeded in getting the PlayStation 5 console into our carts.
The PS5 retailer tips to follow are:
Get Prepared: Make sure that you have the two-factor authentication and the right payment card details to hand when you find your PS5 ready to buy. Units go very fast if you'll fiddle around trying to find your credit card. Chances are you'll miss your opportunity to secure a PS5 order this way.
Select the Retailer: As we have mentioned in our list above, there are plenty of reliable retailers to choose your order from, which could make the whole process of buying a console a bit complicated. We would recommend you to keep an eye on major retailers like Walmart and Amazon to see when they restock their PS5 sales.
Sign up for the restock alerts: Many retailers offer the buyers to alert them when they are having a PS5 restock. We suggest that you sign up to those online services and Twitter accounts to update you when there is a restock happening.
Keep refreshing and don't give up so easily: It might get a bit frustrating trying to find out a PS5 restock when everything just seems to be sold out. However, if you regularly refresh the product pages to see what will pop up next, you might get lucky!
Should I buy the PS5?
BUY IT IF:
You are planning on getting the next-gen game console in the next 6 months: Because PlayStation is truly a great next-gen gaming console, and we will be recommending it to our friends and family for the next 6 months, at least. The new DualSense controller is seriously so revolutionary, and the whole experience feels renewed, fast, and satisfying to use.
You are tired of loading the screens and are ready for higher frame rates: The advanced features of the PS5 are its SSD, which reduces the time a game used to take to start up initially, and its cutting edge GPU, which allows ray-traced graphics and resolutions up to 4K at 120fps- and we're expecting it to possibly go up to 8K/60 fps soon.
You want a taste of next-generation without having to lose your PS4: In our opinion, it is one of the best things about PS5 that creates a great bridge between generations. Your entire library of PS4 games will be included from the moment you log into your PSN account. Any other games that you missed will likely be a part of the PlayStation Plus Collection.
DON'T BUY IF:
You wish to play loads of genuine PS5 games: Because the PlayStation 5 game catalog is not very big and we have also counted less than a dozen Ps5 games on PlayStation Store which aren't available on Ps4. However, this does not mean that things will not improve because they most certainly will but with that being said, don't expect to be overwhelmed with a variety of options.
You are looking for great Dolby Atmos and Vision Blu-ray Player: If you are a home media enthusiast who has a wide range of 4K Dolby Vision Blue-rays at their home and a Dolby Atmos system, then there are chances that you won't quite love the next-gen PS5. We are not saying that you won't enjoy or be able to play 4K Blu-ray discs, but as it does not support Dolby Atmos and Dolby Vision's cutting-edge formats, we do not recommend it to the audiovisual community.
Your entertainment system is already cramped: This might not be an issue for some buyers but it is worth calling attention to how massive the PlayStation5 is one last time. If you have short space and you physically can't manage to dig up a separate room for a humongous console or if your entertainment system is cramped already, then you would want to wait for a smaller version of the PlayStation5 that will inevitably be released soon.