Histories of Pride Month in the United States
Police raided Stonewall Inn, a gay club in Greenwich Village, on June 28, 1969. Bar patrons, staff, and neighborhood residents rioted onto Christopher Street outside. In addition to the many rioters, Marsha P. Johnson, a black, transgender, bisexual woman, led the protests and fights that lasted for six days. To make their point, protesters demanded that LGBT+ people have safe spaces where they can be open about their sexuality without fear of being arrested. Brenda Howard, a bisexual activist, is often credited with initiating Pride Month. A year after Stonewall Riots, Brenda organized the Christopher Street Liberation Day Parade and Gay Pride Week. New York City's Pride March was born from this, and it has inspired copycat marches all around the world since its inception. It was gay politician Harvey Milk who commissioned a great designer buddy, Gilbert Baker, to design an all-encompassing symbol for the 1978 San Francisco Pride March. Harvey Milk and Mayor George Moscone were slain in San Francisco City Hall on November 23, 1978, by Dan White, a disgruntled former supervisor who was enraged with Milk for pushing against his reappointment to the Board of Supervisors.
After President Bill Clinton formally recognized Pride Month in 1999 and 2000, a number of other presidents followed. And from 2009 to 2016, Barack Obama declared June to be "Legally Transgender Pride Month". Although opponents have emphasized that actions speak louder than words, Donald Trump honored Pride Month in May 2019 with a tweet declaring his administration's global drive to legalize homosexuality. More than 2 million people are expected to attend this year's march, which is one of the largest and most well-known parades.
Trending topics on Twitter
However, it began as a method to memorialize the Stonewall Riots of June 1969 and has evolved into a wide range of events in 2021. It's now a celebration of LGBTQ+ activism and a way to honor it. The LGBTQ+ community has been through a lot, and each year is a win and a success worth celebrating for the LGBTQ+ community as a whole. Additionally, this year's Pride Month celebration and honoring of the LGBTQ+ community has flooded the internet with hysterical tweets. In this collection, we've selected some of the best LGBTQ+ tweets that demonstrate the community's strength and humor, as well as its resiliency. These had me on the edge of my sea.
We are in the midst of Pride Month. It's unlawful to be straight in June, in case you didn't know. Please accept my apologies, but that's the way it is. Coronavirus has (mostly) put an end to Pride month for the second year in a row, preventing large-scale parades and protests in support of queer rights around the world. Nevertheless, Ms. Rona can't keep us down for good! We thought we'd pick up some of the funniest tweets to get you in the spirit for Pride Month, which begins today.
Celebrating Pride Months
To celebrate, everyone should embrace who they are and tell the world — in style! It's no coincidence that the rainbow symbolizes the month-long celebration's bright activities and cuisines. Participants from all around the world attend events such as enormous rallies and pride parades as well as parties, workshops, and performances. To make sure they sparkle for the world, the Pride community goes to great lengths to dress up in lavish costumes and make-up for the festivities.
Members of the community who have died as a result of hate crimes and HIV/AIDS are also remembered and memorialized. These campaigns strive to promote and maintain the lesbian, gay, bisexual, and transgender community history and well-being through holding rallies and organizing public events.
In June, the LGBT community celebrates Pride Month.
Gay pride month (LGBT Pride Month) is observed yearly in June to commemorate the Stonewall riots of 1969 and to promote equal justice and equal opportunity for lesbians, gays, bisexuals, transgender (LGBTQ), and questioning Americans. Customers and friends of the Stonewall Inn in New York City took to the streets in June 1969 to protest the police harassment and persecution that LGBT Americans were routinely subjected to at the time. In the wake of this rebellion, a campaign to ban discriminatory laws and behaviors against LGBT Americans has begun to take shape. These days, the LGBT Pride Month festivities draw millions of people around the world and include events such as gay pride parades; picnics; parties; workshops; symposia; and concerts. During this month, memorials are organized for people who have died as a result of hate crimes or HIV/AIDS. LGBTQ History Month is a time to celebrate the contributions of LGBT people in local, national, and international history. Queer youth are becoming more prominent in federal and municipal laws and practices, and a number of national advocacy groups and other organizations are also paying more attention to LGBTQ youth in their work. Greater acceptance and support for all youth, including those who identify as LGBTQ or are thought to be LGBTQ, will make communities and schools safer and more welcoming for all youth.
Please enjoy, and have a wonderful Pride Month!
1. Just mad right now!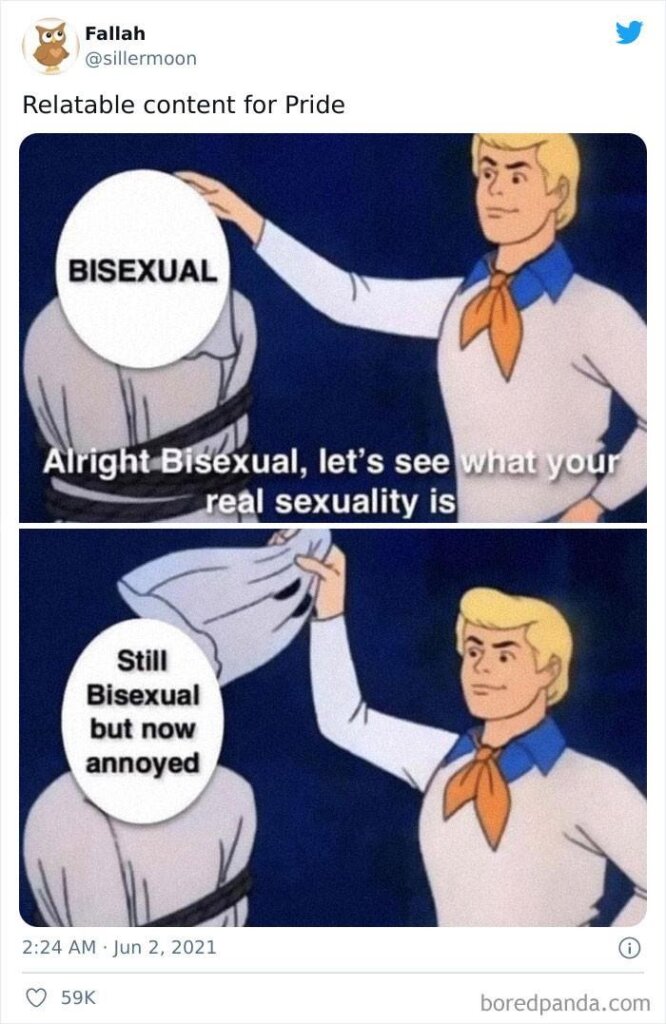 2. "Glad you have a best time!"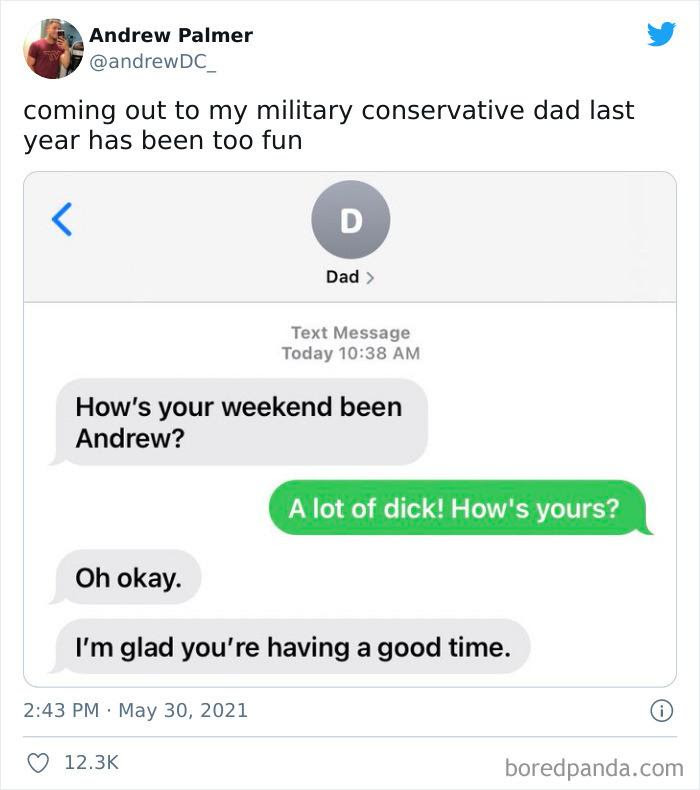 3. Illegal!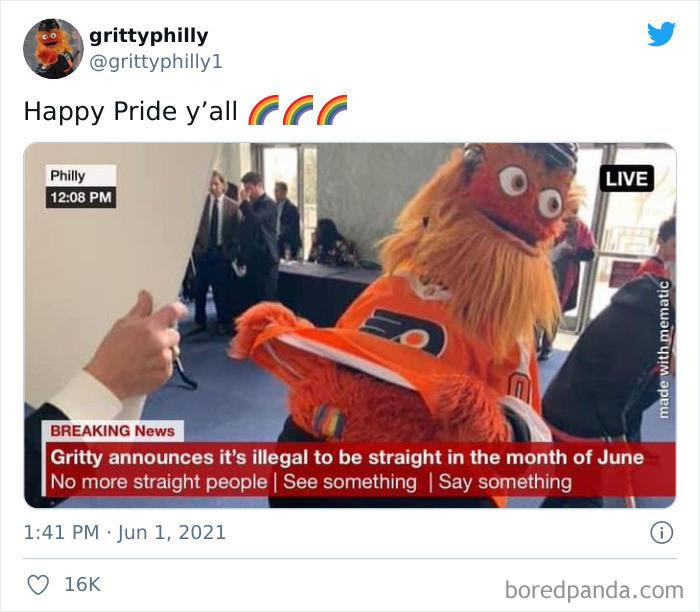 4. Is it for us?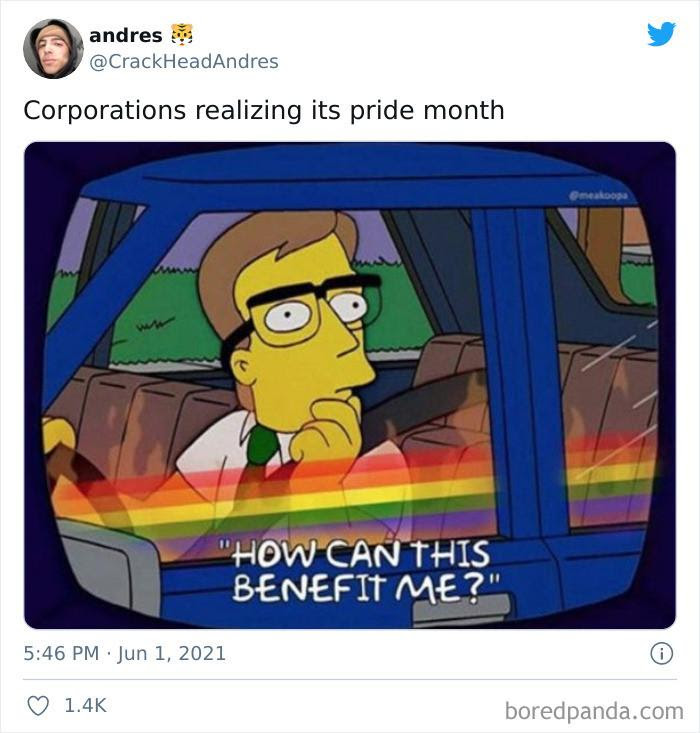 5. Consider this for next year.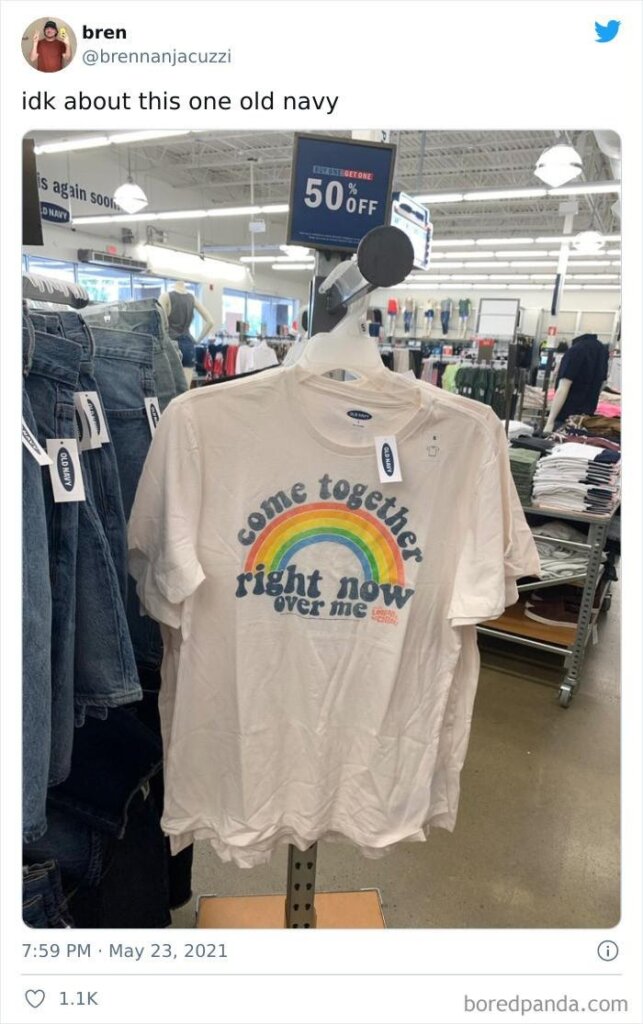 6. Banished forever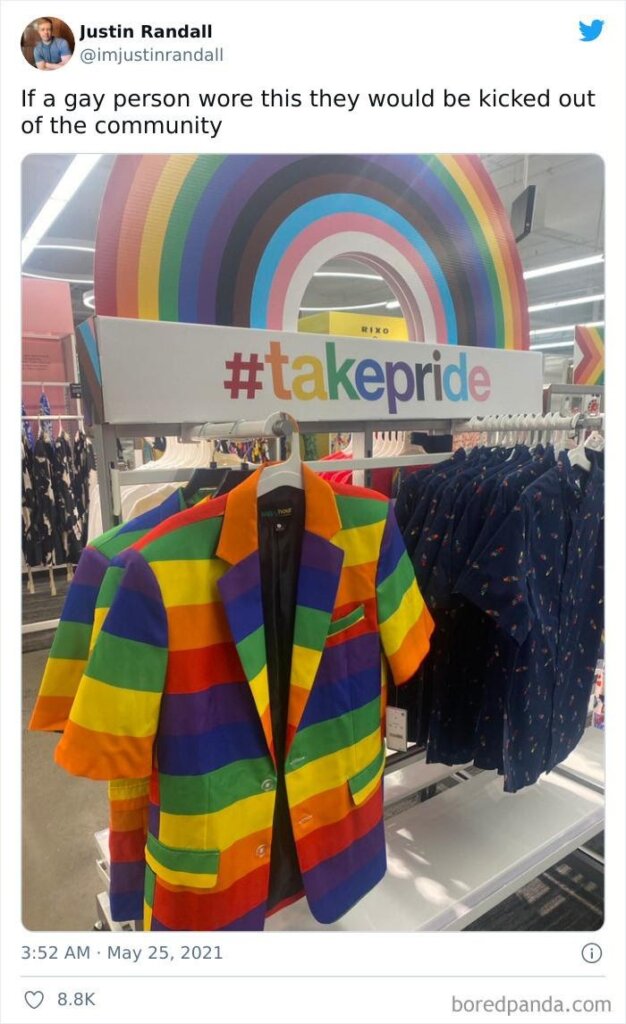 7. 'Get over it'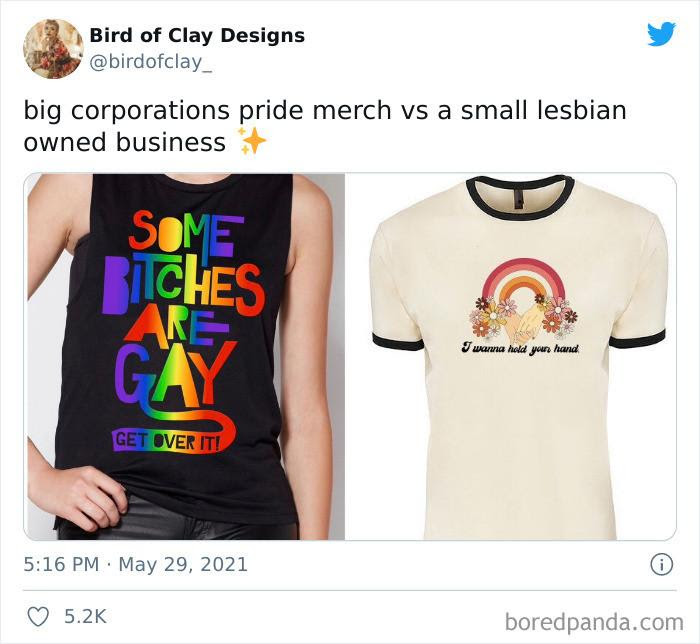 8. Gay comin' through!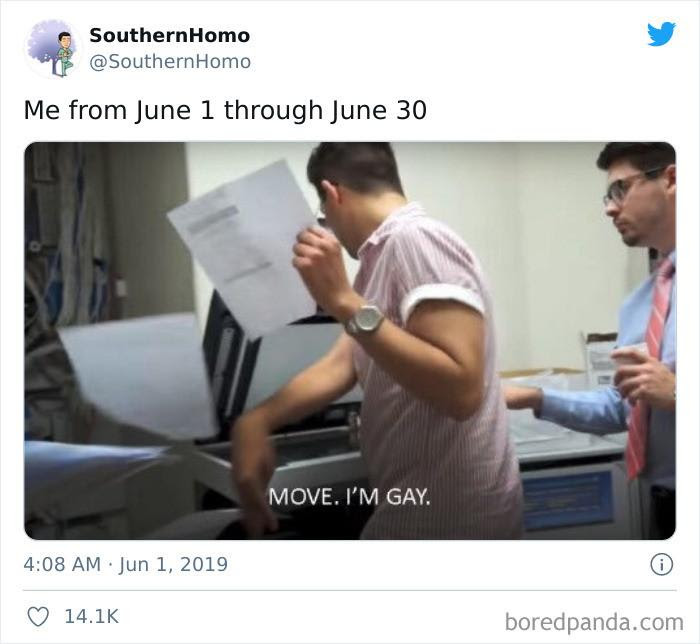 9. Write them a payment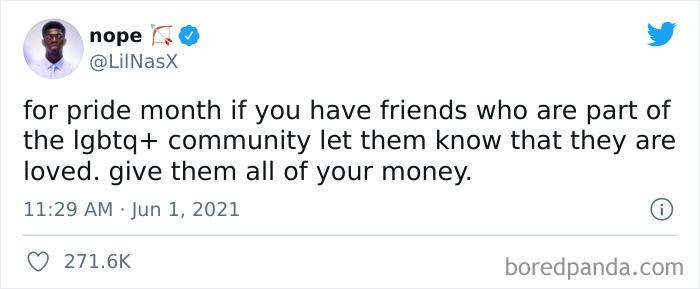 10. Well, it's happy!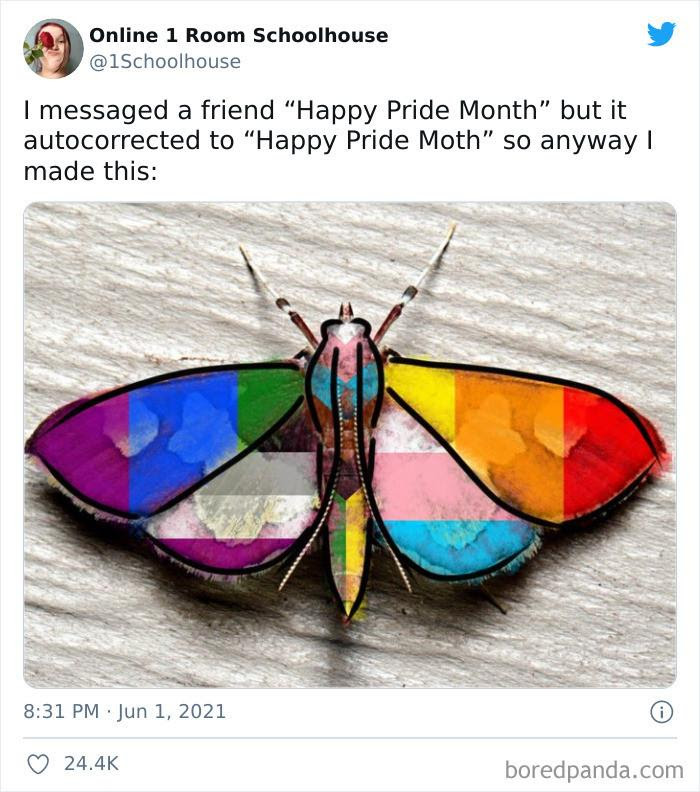 11. Not for me, happy!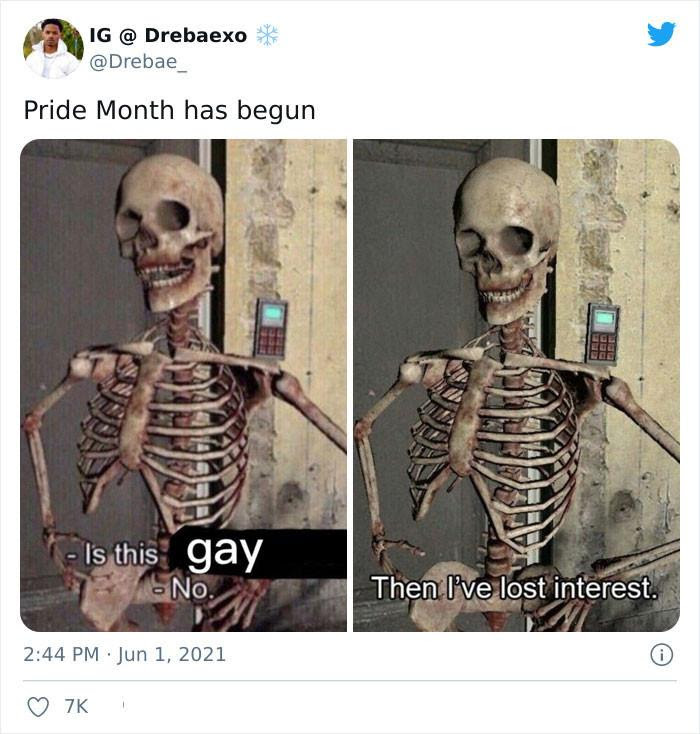 12. months a year!

13. Indeed!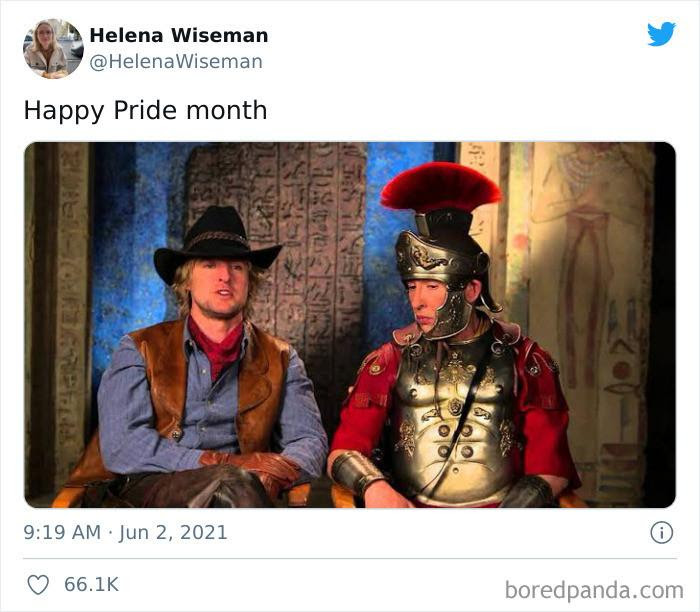 14. Meryl Streep honey, where you at?

15. Gay for everyone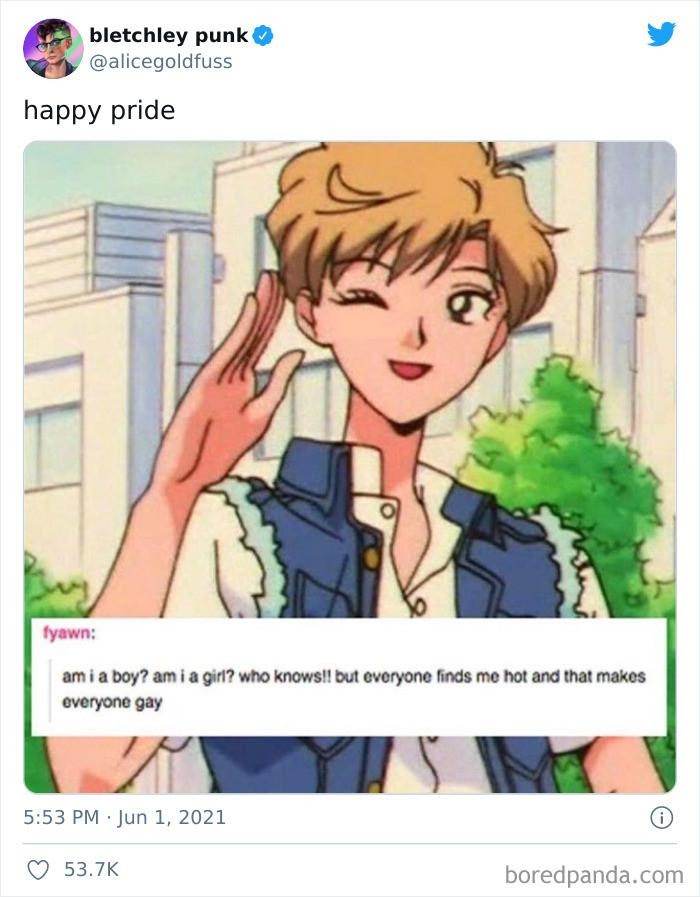 16. Who's in?

17. We're at a buffet!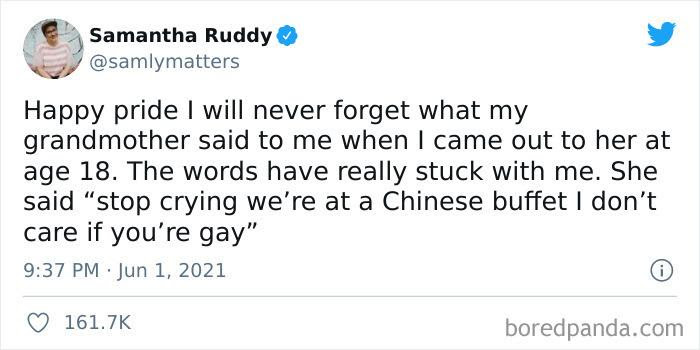 18. Gals out for Pride!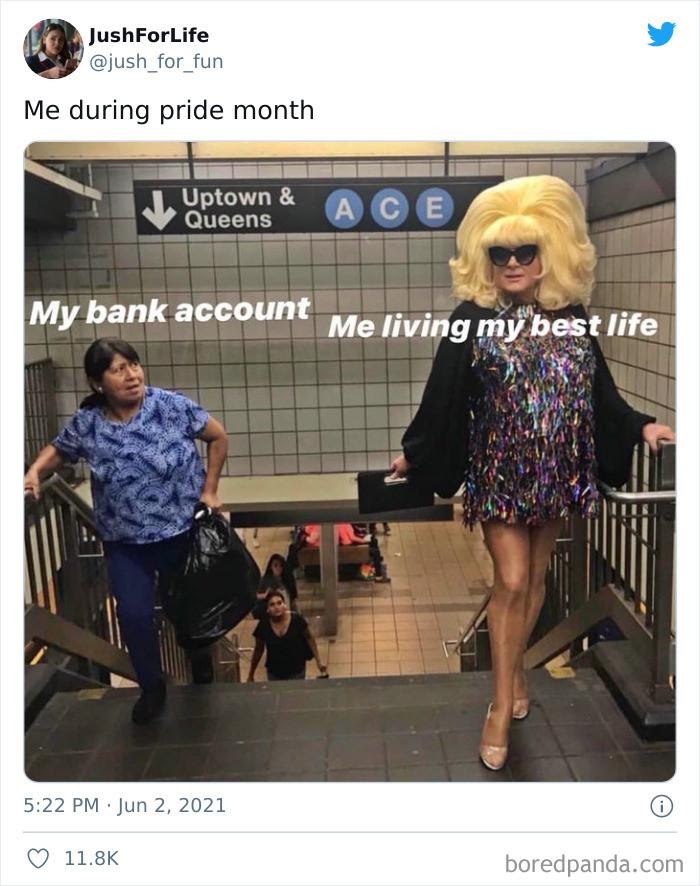 19. Both ways, baby!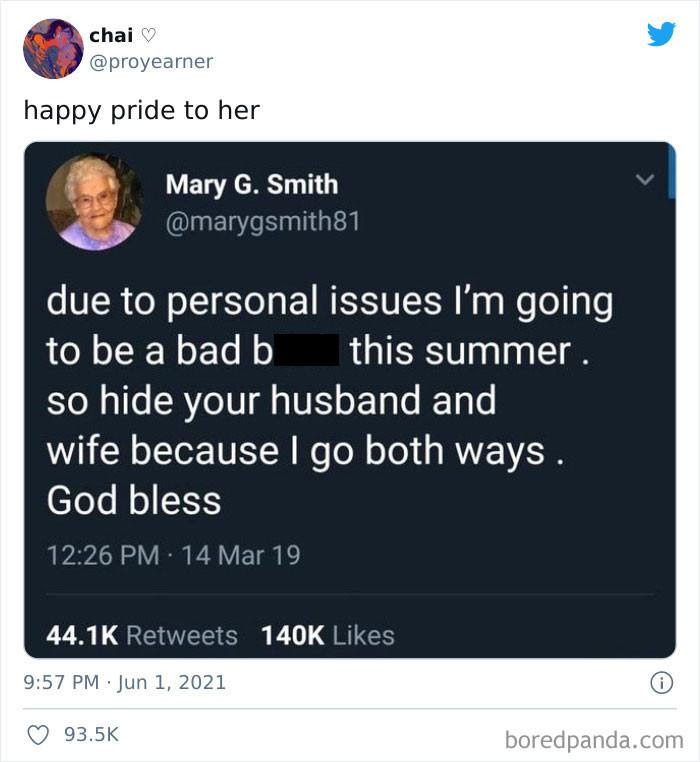 20. Even gayer

21. If you're reading this, you're gay.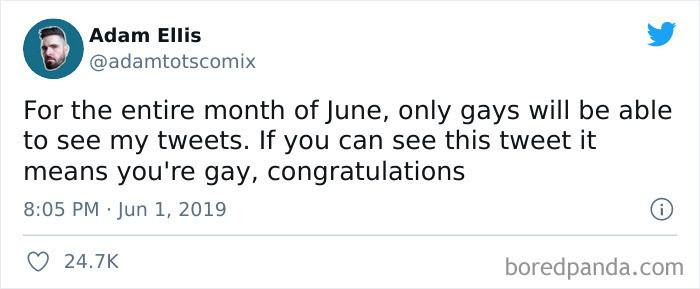 22. Exactly…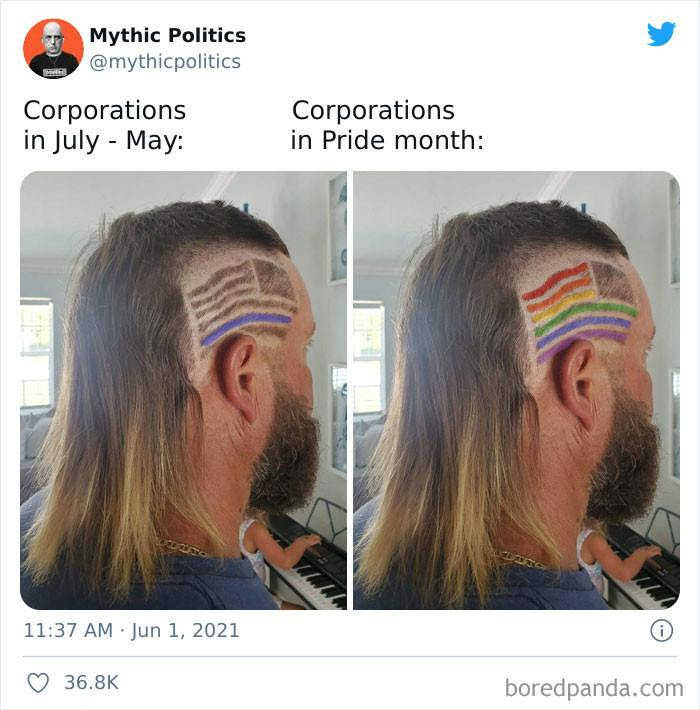 23. Shake shake shake

24. Gay, duh!

25. Happy Pride!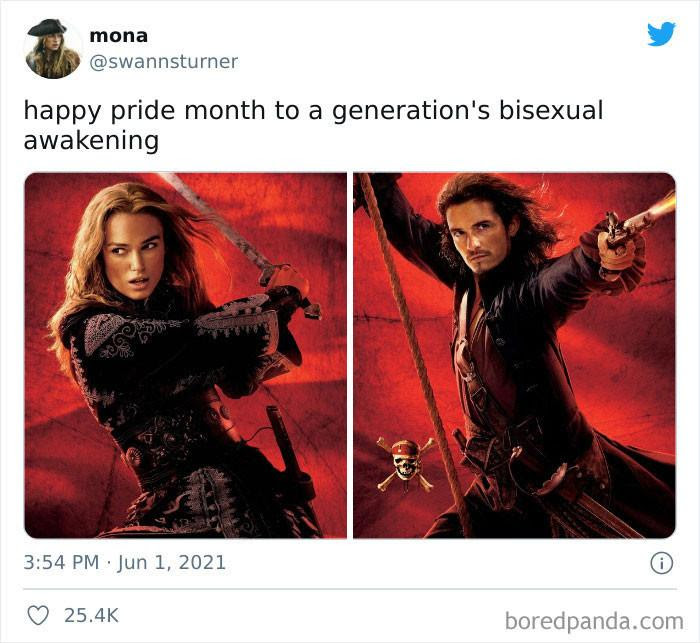 26. Welcome to the inner circle!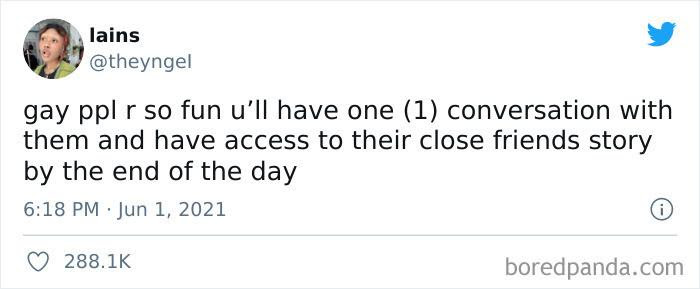 27. Gays are too stylish for that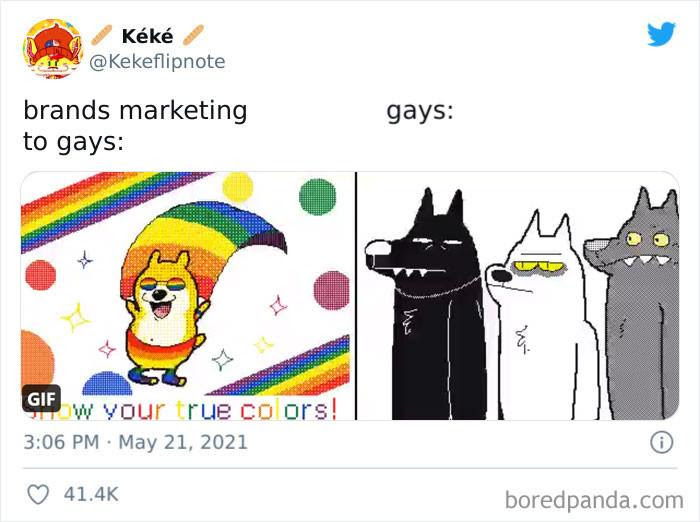 28. Major shareholder right here!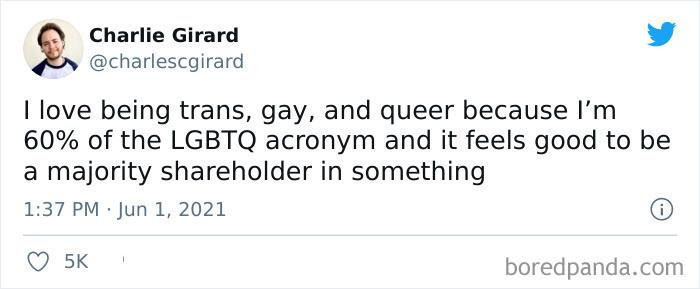 29. Interesting…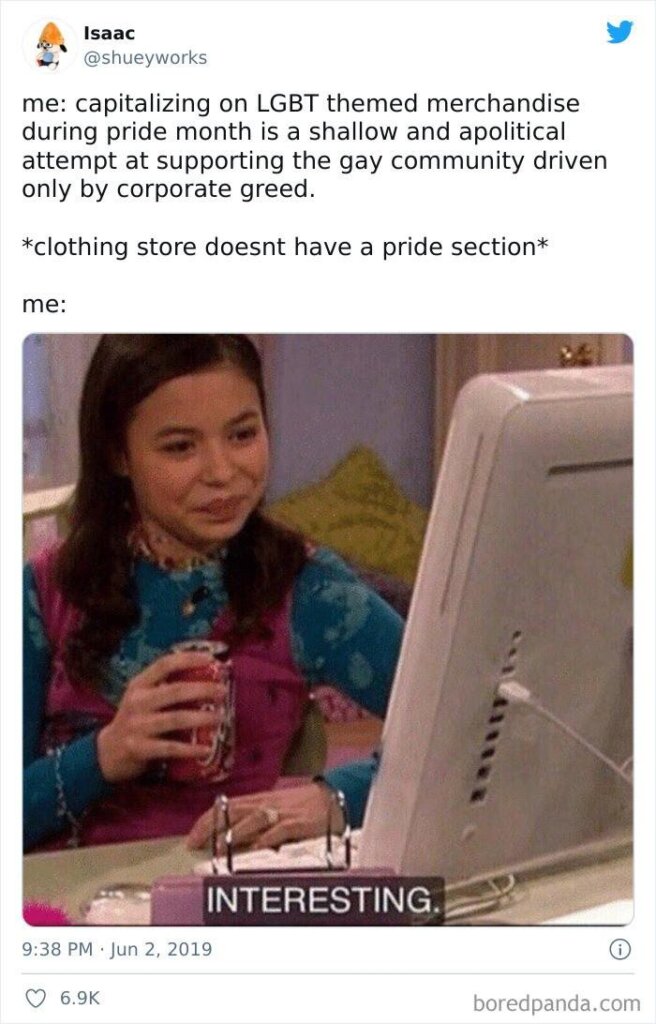 30. Happy Toyotathon!