Watercolors are quite a tricky medium for painting. As clear from the name, watercolor is a water-based medium that means you don't need oils to use them. You can apply them using water. Moreover, if you mastered the skill of applying them. You can create wonders with it. From nature to the imagination and whatever comes in between You can paint it with watercolors.
Here is a list of some watercolor paintings, you can see to have a better idea.
1. Spooky Ravens:
This painting titled Spooky Ravens is a monotone paint. The setting of the painting depicts birds sitting on the branches of trees and flying from trees.
The visual of the painting feels like a smoky night. Moreover. The Artist's use of light and dark tones gives almost two grounds (Foreground and Background) to the painting.
2. I feed my Kitty with a bottle. Now she thinks that I am her mother:
This painting's title gives a sense of attachment build among humans and their pets over time. However. The visual shows a blue-eyed cat lying on the carpet in a home setting. Her posture depicts the comfort and familiarity she is enjoying as a pet. Moreover, the cat seems like looking directly at the viewer as asking for interaction.
3. Gymnastics: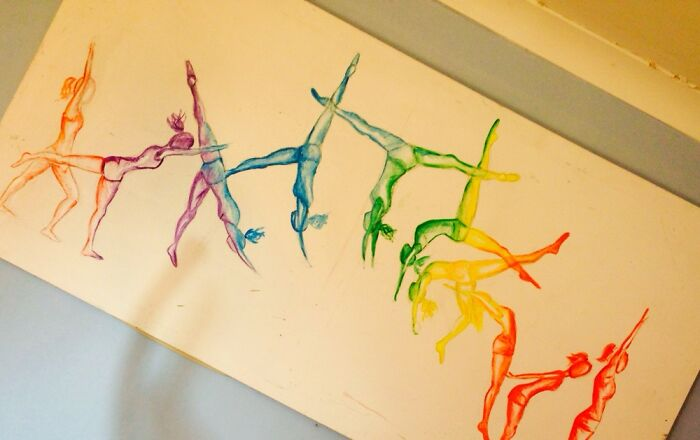 Gymnastics is a multi-colored illustration on a plain white background. The illustration depicts step by step transformation of a figure in one move of gymnastics. The use of color is quite rhythmic. It gives a feeling as each figure is transforming energy to the other as the color change with each transformation.
4. My garden's flower:
This painting is made by using ink and watercolor. The painting shows floral imagery. The composition is arranged in such a way that flowers of magenta and white color are overlapped over circles of different colors. The whole composition is bounded by a black borderline over a white background. Artist picks flowers from his garden and preserves them forever in his unique way.
5. The Rush:
The Rush is a landscape painting that shows water flowing down freely over and through rocks. This covers almost three-quarters of the painting. A small portion of the sky is sneaking through the greenery depicted in the rest of the painting. The overall appeal of the painting is quite soothing and makes one want to go inside it.
6. My Baby Dragon:
As clear from the title, the painting shows a baby dragon sleeping at the bottom of the painting. The greenish-grey dragon sleeping calmly at a tonal pink pastel background ultimately gives a feeling of comfort and calmness.
7. Elegant Shoes:
This painting shows a girl's feet adoring red elegant shoes. The upper and middle part of the painting depicts a grey knee-down skirt and a girl's naked legs. The shiny red shoes (at the bottom) create an elegant contrast against the muted palette of the painting.
8. Blossom:
Composed edge to edge at the center of the painting, Blossom depicts a tree partially covered with red flowers over a light blue stroked surface. The artist paints this visual in quite an expressive way.
9. Getting there:
Getting there depicts a silhouette of two Autumn trees against a brightly colored background. Both trees are standing at the right and left sides of the painting. However, their branches are reaching towards each other in a way as they are trying to shake hands.
10. Joanna:
Joanna depicts a girl holding flowers. She is a bright-complexioned girl against a dark background. Her face depicts a passive expression with her eyes closed as trying to escape from the present.
11. Branch Out:
This painting shows a silhouette of a number of trees standing tall against the background painted with primary colors. The Autumn trees are creating quite a bold contrast against such bright background.
12. Rural Life:
 As clear from the title, this painting depicts a scene from a rural landscape. Houses surrounded by green trees in an open blue sky are giving a sense of a pollution-free environment.