Have you ever looked directly in a camera as your picture is being taken by someone and you just completely FREEZE? Your face won't give that beautiful smile you have, your hands get stiff, and your legs won't move from that awkward position? If yes, then let me tell you that we have all been there at some point.
Knowing how to pose for a casual or a professional photo shoot may be easy for some people but it can be way more difficult than we expect for others. If you aren't a skilled influencer or model on Instagram, then you'd probably know the struggle behind asking a friend to click some pictures of you in your new outfit, only to dislike every single one of them.
You don't need to be a full-on model to take fantastic clicks, nor do you need to be thinner, or have clear skin, as beauty always comes from within, and by learning a couple of "Posing Secrets", you can definitely take your everyday photographs to the next level.
Get ready to whip out your favorite cameras and feel your very best while taking pictures because we have collected some of the top posing tips and tricks, which are meant to serve as ways to find your inner beauty and confidence to make ordinary everyday snaps, extraordinary!
Waist Transformation by doing just one change:
Taking Instagram photos in a bathing suit can be quite intimidating for some. Many times we don't even feel confident enough to pose, being scared of how the pictures would turn out to be. Changing your posture can make a huge difference no doubt.
Elongate your body: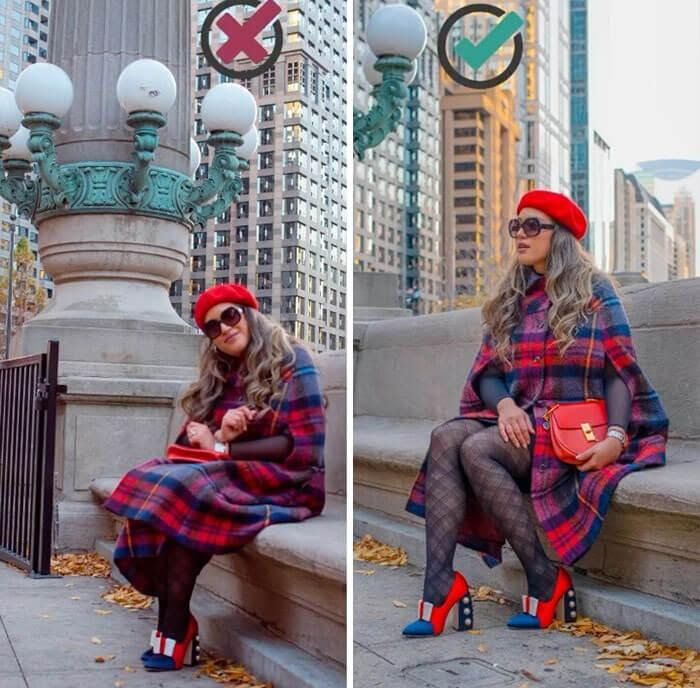 If you are sitting on a bench or a sofa while getting your pictures clicked, make sure that you don't slouch as this can make your outfit look super awkward. Try putting your leg forward to show your outfit more clearly, and you'll see how your picture changes.
Squatting never looks good in pictures: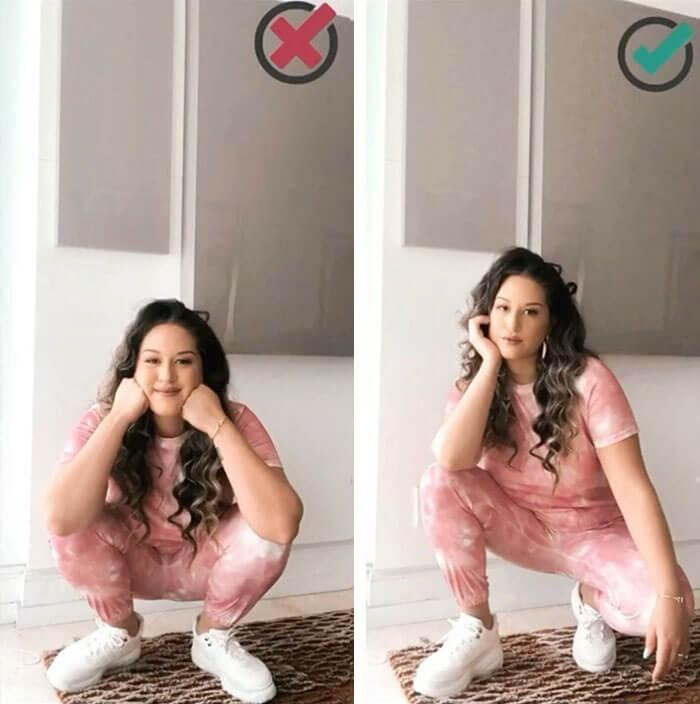 Want to take a picture in the sitting position? Well, you should know that there are many ways to make it look flattering. Instead of squatting towards your camera, lean on one knee to make your posture look more casual, and it's the best way to flex a new pair of shoes like hers.
Feel confident while showing off that swimsuit:
When women buy a new swimsuit that makes them feel beautiful and confident, they want to show it off by taking pictures and posting them on their Instagram. You can see that when she is sitting straight on the beach, it isn't doing justice to her figure. Try sitting on your knees to show off more of your gorgeous curves.
Get Comfortable with your lover: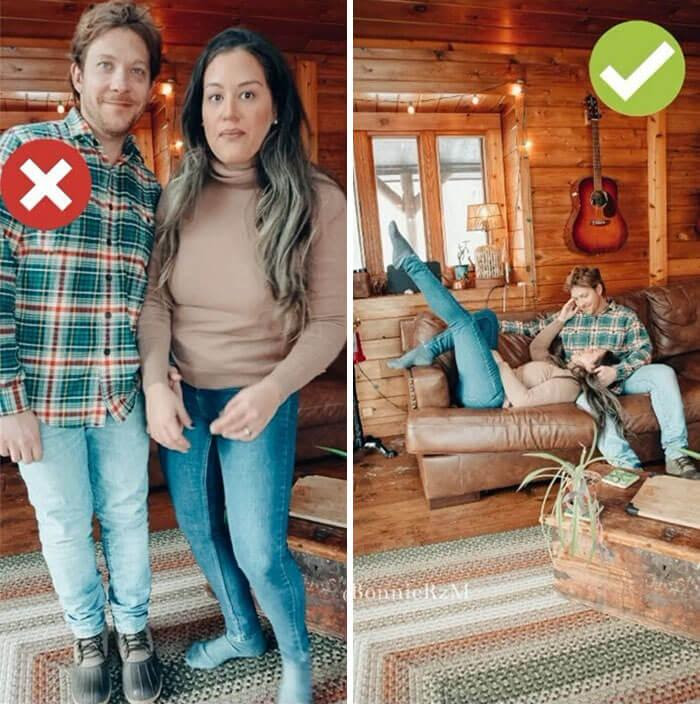 Have you ever seen those cute couple photo-shoots that just make you believe in love all over again? If you want that with your partner then follow these posing hacks to get those perfect couple shots together.
Show off those curves: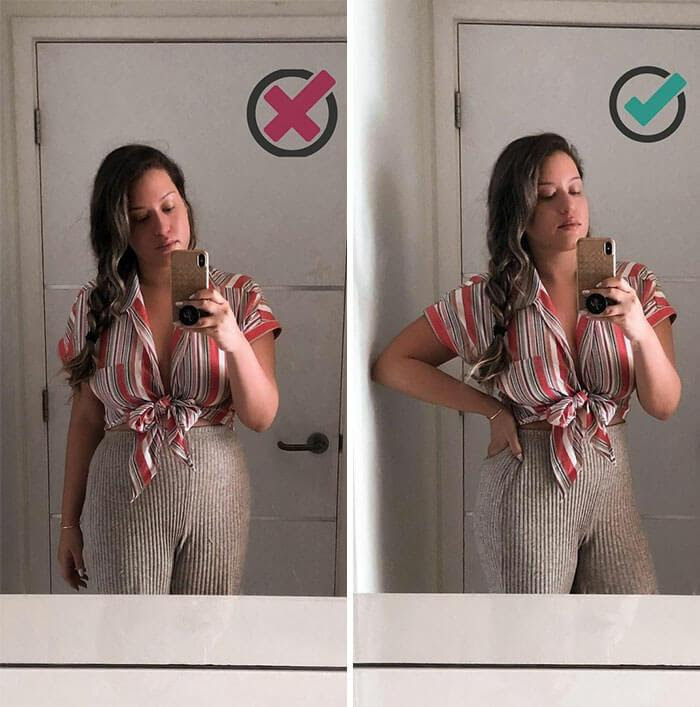 Some feel rather comfortable posing for mirror selfies, while others don't feel like they do anything for their shape. If you want to spice up your mirror selfie game, then stand straight towards your mirror and turn about 45 degrees. Now, place your hand on your hip side to create an effective illusion of curves.
Show off that waist by putting your hand on your hip: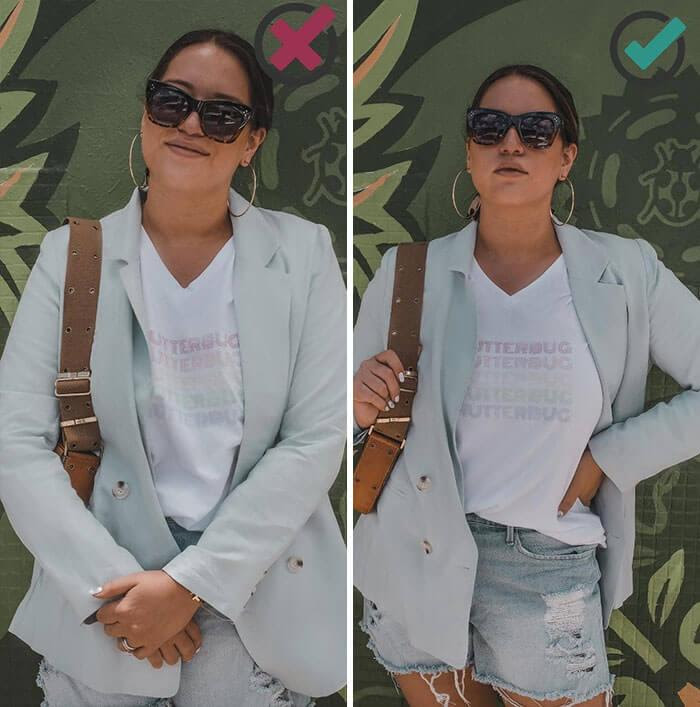 Oversized coats and blazers were a great trend last season, and in my opinion, they look super fashionable. However, if not photographed right, they can look like they are swallowing us up. Just follow this easy hack to take pictures in your oversized blazers without losing your curvaceous shape.
Put one leg forward to give your body more shape: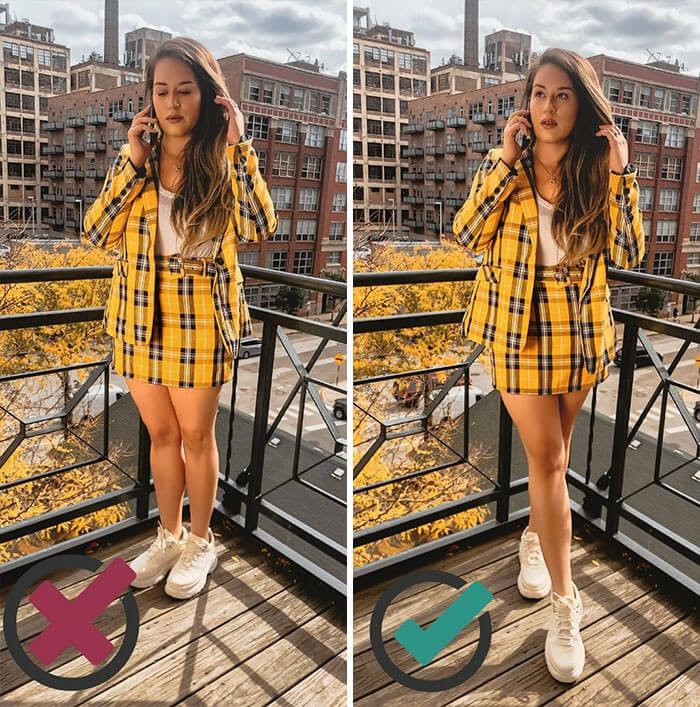 Can you see how flattering the outfit looks in the second picture? The dress, place, and lighting are the same, then how did it look better in the latter photograph? Instead of standing straight with your leg locked, try putting your leg in front of the other leg to get that beautiful tall illusion. This will elongate your posture and make you look more slender in the photograph.