This article is for those who need to run a website for their startup or they need a server to run their applications or projects. To do this, you will need to choose a VPS & RDP provider for your project. In this article, we will explain the OperaVPS provider services and products.
In the early stages of running a startup, you should try to make the best decisions possible so that there are no problems in the future. Choosing the best RDP Server & VPS service can be one of the main criteria to be successful in running your startup.
What Is A RDP Server?
The RDP Server is a Windows VPS with Remote Desktop Protocol. This service is suitable for surfing the web. But as OperaVPS provides admin-access services, if you install the Windows Server operating system on RDP, you can also do any configurations you need inside it.
What Is A VPS Server?
A VPS server is a service that is created inside the main server using virtualization systems like VMware. A VPS can have different operating systems and resources. Operating systems like Windows, Linux, MikroTik.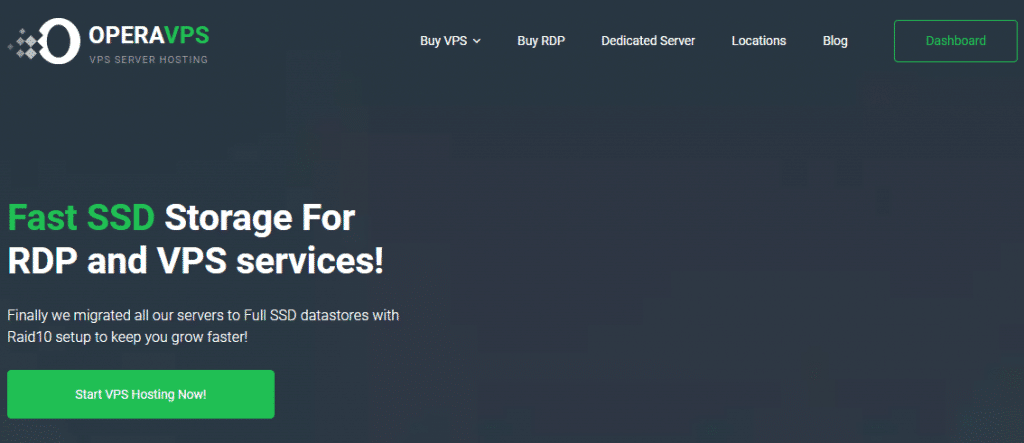 What Are The OperaVPS Products?
OperaVPS provides different services according to your startup requirements. Each of these services has its own usages which we will review in this section.
RDP Server
This service is divided into admin-access RDP Server and RDP accounts. As you can guess, on the admin-access RDP, you will have dedicated resources and you will be an administrator and on the RDP account, you will just get an account.
On the RDP account, you won't have dedicated resources. Also, you won't have permissions to install or remove applications and to do any configurations
Linux VPS
This service is a VPS with Linux operating system installed on it. On Linux VPS, it is possible to install any distribution of Linux. because of its features, Linux is used to host most of the websites in the world.
Most of the famous control panels and web servers like cPanel, Direct Admin, Apache, Litespeed, and Nginx are run on Linux. Linux servers are used as backup servers, hosting servers, FTP servers, game servers, etc.
Using OperaVPS services, you can use any distributions on your Linux VPS like Debian, CentOS, Ubuntu, FreeBSD.
Linux VPS order page: https://operavps.com/linux-vps/
Windows VPS
This service is a VPS server with Windows operating system on it. It is possible to install different distributions of Windows on a VPS. Windows has 2 major distributions called client and server. An example for the client version is Windows 10 and the example for the server is Windows Server 2019.
The second famous hosting control panel is the Plesk that you can run on Windows Server distributions of Windows. Also, Windows Server uses a powerful web server called IIS. Using Plesk and IIS, Windows is competing with Linux in the hosting industry.
OperaVPS accepts to install both client and server distributions on VPS servers as maybe some users need the Windows VPS just for surfing, in which, maybe the Windows 10 is better.
cPanel VPS
cPanel VPS is Linux with CentOS distributions and cPanel installed on it. cPanel is the most famous control panel for hosting websites. OperaVPS installs this control panel for you and also transfers your website to the new server for free.
CPanel VPS is the best option if you want to manage your site privately and have high speed.
MikroTik VPS
MikroTik VPS is a VPS with MikroTik operating system. MikroTik router OS allows users to configure different packages on the virtual router like running PPTP, L2TP, OpenVPN, SSTP, Load balancer, firewall.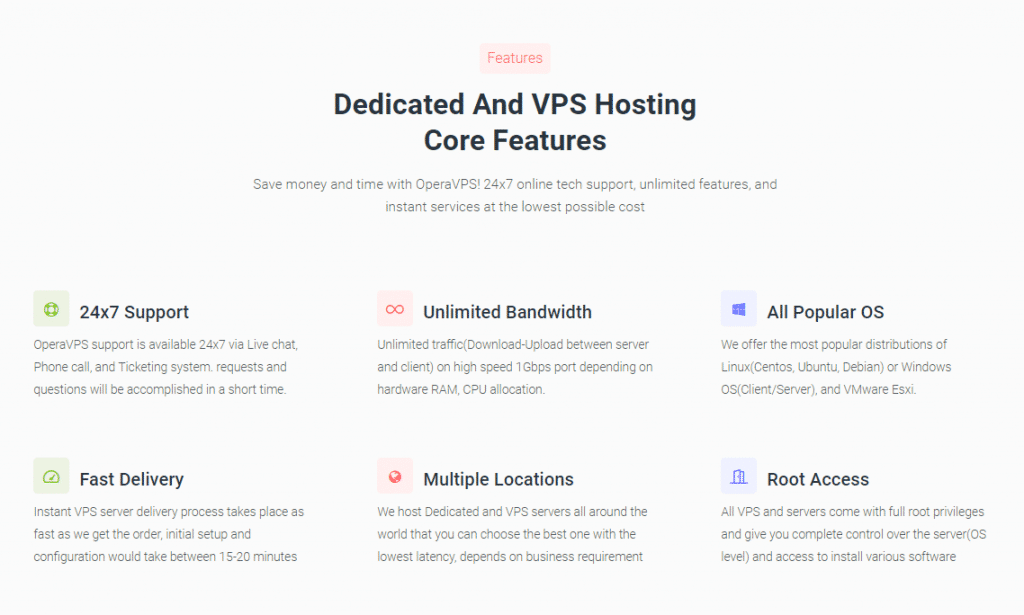 What Are The OperaVPS Products Features?
There are some features that distinguish OperaVPS services from other providers. Let's check these criteria one by one.
High-Speed Storage
The storage is important when you work with huge data inside your server and you need fast-speed hardware or if your job is sensitive to be done in time and you are not able to wait for anything. OperaVPS offers all its servers on fast SSD Servers.
Fast And High-Quality Support Services
You may need to contact the provider and ask for support because of different reasons. The important criteria in receiving good support are fast response, different channels to contact, and high-quality support.
Dedicated Resources
By having dedicated resources, you won't face any slowness and disruption in your service. Having dedicated resources means your service is isolated and it increases the safety of your service.
Scalable Hardware
When your business grows, you will need to have more resources and you should be able to upgrade your service. Now the important thing is that you are able to upgrade without losing your data.
Different Operating Systems
Choosing your specific operating system is an important option. There are different packages and applications and each works correctly on different OSs. For example, cPanel is just possible to be run on CentOS distribution of Linux.
Different Payment Methods And Periods
In online businesses, we use different payment methods and wallets. Now it is important that the provider should accept most of the common payment methods like credit cards, PayPal, cryptocurrencies, and perfect money.
Also, choosing the best period for your service is important. Most of us don't like to remember to pay for something every month, because we don't have time for this. Also, to resolve this, you can subscribe to pay monthly for the service automatically.
Summary
OperaVPS offers the RDP & VPS Services with all requirements and features you need to have a good and reliable service. In this review, we checked some of these features that you see, which features can speed up running your startup in choosing an RDP & VPS service.