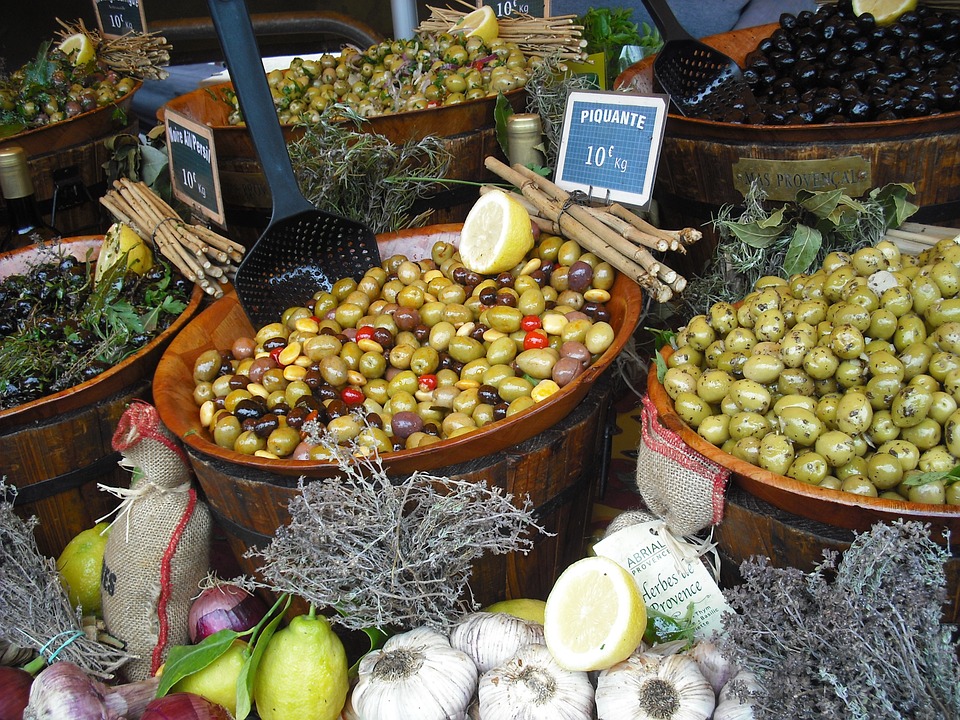 This article provides you everything you need to know about olives, a variety of olives, applications, health benefits, and nutrition facts.
Olives grow on trees called Olea Europea in the scientific term. They are small fruits having a high level of vitamin E and other powerful antioxidants. The olive trees are spread West throughout the Mediterranean area and into Spain, Greece, Italy, France, and Portugal. Olea Europea is native from South Africa and spread through India, Pakistan, the Middle East to China.
We extract olive oil which is full of healthy fats and considered key components of the incredibly healthy Mediterranean diet. The average weight of olives is about 3-5 grams. These are often used in fast food and salad. They look green at the start of their growth and become black when they ripen known as green or black olives. But some of them remain green even when fully ripe. 90% of olives are used to make olive oil in the Mediterranean region.
Olives are good for You?
Yes, olives are good for health having a salty taste. They act as antioxidants and have low calories; one olive has about 7 calories. It helps to improve your memory by reducing oxidative stress chemicals. They improve your skin's beauty. It helps in appetite control, pain reduction and acts as an anti-cancer. It is a great source of vitamin E and full of dietary fibers.
Are Olives are fruit?
Yes, olives are small fruits that grow on olive trees. These are fruits because they come from the flowers of the olive tree. Fruit always comes from a mature ovary and the ovary is found inside the flowers. Olives are included in stone fruits like dates, peaches, mangoes, etc.
Can we use olives for cooking purposes?
Yes, these are used for cooking purposes. They are important components in salads, dips, stews, sauces, pasta dishes, whole grain, and baked goods. While using olive oil, reduces oxidative stress, boosts heart health, improves brain and mental health, prevents inflammation, and is beneficial for liver and gut health.
Applications
It can be used for health, nutrition, and many other purposes. There are following applications are given below:
Yeast infection, Ringworm, Jock itch: Research shows that applying a mixture of honey, olive oil, and beeswax can reduce yeast infections and effective treatment for ringworm and Jock itch.
Ovarian Cancer: Early research suggests that the women who used more olive oil in their diet have a low risk of ovarian cancer.
Rheumatoid arthritis: Early research shows that people who used more olive oil in their daily routine can have a lower risk of rheumatoid arthritis.
Diabetes: It is effective for diabetes patients as compared to polyunsaturated oils like sunflower oil. It may reduce the risk of arteries hardening.
Breast cancer and heart disease: People who replace the saturated fats in the diet with olive oil can reduce the factors for breast cancer and heart diseases.
26 Types of olives
Usually, we are familiar with two types
Here are some other types of olives are given below:
| | | |
| --- | --- | --- |
| 1. Agrinion | 2. Verdial | 3. Amfissa |
| 4. Arbequina | 5. Nicoise | 6. Castelvtrano |
| 7. Cobrancosa | 8. Lugano | 9. Gaeta |
| 10. Gemlik | 11. Gordal | 12. Kalamata |
| 13. Ligurian | 14. Cordovil | 15. Lucques |
| 16. Mission | 17. Beldi | 18. Nyon |
| 19. Picual | 20. Alfonso | 21. Arauco |
| 22. Cerignola | 23. Galega | 24. Leccino |
| 25. Manzanilla | 26. Picholine | |
Nutrition Facts of Olives
They contain 115 to 145 calories/100 grams or 3.5 ounces. About 59 calories/10 olives. Ripe one contains 3.5 ounces or 100 grams.
| | |
| --- | --- |
| Calories | 115 |
| Water | 80% |
| Protein | 0.8 grams |
| Carbs | 6.3 grams |
| Sugar | 0 grams |
| Fiber | 3.2 grams |
| Fat | 10.7 grams |
| Saturated | 1.42 grams |
| Monounsaturated | 7.89 grams |
| Polyunsaturated | 0.91 grams |
Vitamins and Minerals
They are a rich source of many vitamins and minerals including:
Vitamin E: They contain high fat and also used as a high amount of powerful antioxidant.
Copper: These fruits lack copper which may increase the risk of heart diseases.
Iron: These are rich sources of iron that are essential for red blood cells to transport oxygen.
Sodium: Mostly they contain a high amount of sodium.
1. Fat
They contain 11 to 15% fat of which 74% is oleic acid. Oleic acid is a monounsaturated fatty acid and the main component of olive oil. This main component reduces the risk of heart diseases and helps to fight cancer.
2. Carbs and Fiber
They are low-carb fruit having 4-6% carbs. Most of these carbs are fiber and fiber makes up 52-86% of the total carb content. They provide very low net digestible carbs. Even 10 olives just provide about 1.5 grams of fiber.
Health benefits of olives
They have many health benefits including heart health and provide help to prevent cancer.
1. Cancer Prevention
They contain high antioxidant and oleic aid contents. Research shows that these components disrupt the life cycle of cancer cells in the breast, stomach, and colon. They are mostly used in the Mediterranean region where the rate of chronic diseases and cancer are lower than in other Western countries.
2. Improve bone health
Bone growth is a necessary part of our body. Lack of bone mass and bone quality is known as Osteoporosis which can increase the risk of fractures. The osteoporosis rate is lower in Mediterranean countries than in the rest of Europe.
3. Antioxidant properties
They are a rich source of antioxidants and also reduce the risk of chronic illnesses like cancer and heart diseases. They help to fight inflammation and reduce microorganism growth.
If we eat the pulpy residue of olives, significantly blood levels of glutathione increases that is one of the most powerful antioxidants in your body.
4. Improve Heart Health
Oleic acid is the main fatty acid that reduces high blood cholesterol and blood pressure which are the two main factors of heart diseases.
10 Benefits of Olive oil
Here are 10 health benefits of olive oil that are supported by scientific research.
It is rich in healthy Monounsaturated fats.
It contains a large number of antioxidants
Has strong anti-inflammatory properties.
It may help to prevent strokes.
It is protective against heart disease.
Fight Alzheimer's disease- neurodegenerative condition.
It may reduce Type 2 Diabetes Risk.
Has anti-cancer properties.
It has antibacterial properties.
It helps to treat Rheumatoid Arthritis
Summary
Olives are small fruits rich in monounsaturated fats, vitamin E, and K. They are rich in antioxidants that provide a variety of benefits like blood pressure, lower cholesterol, reduce the risk of cancer and bone loss. But still, more research is necessary.