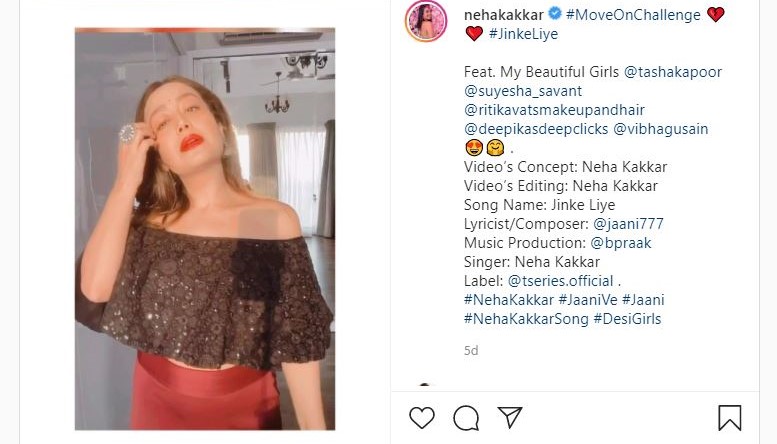 An amazing singer, heartthrob of millions, and a social media queen, Neha Kakkar is very popular amongst her fans because of the dynamic voice she is gifted with. Being an entertainer, Neha has a dynamic presence on social media. Flaunting her acting skills, the lady with a Golden voice is seen making various Instagram videos for her netizens. The exceptional quality of the singer is that she is very well equipped with the new challenges and accepts them wholeheartedly that are garnering the social media platforms. 
The Pillow Challenge:
Very recently, the Goa Beach singer has completed the Pillow Challenge, where she is seen portraying all the happy colors and posing in more than one look. The video of the challenge is liked by her many followers.
Move-On Challenge:
Well, the new challenge accepted by the vocalist is the Move-on challenge where Neha is seen with other ladies as well who are initially shedding tears in the sorrow of heartbreak but then after a while they all appear in their bubbly and happy faces letting go of their sorrows and moving ahead in their lives.
It Is Not Just A Stunt:
The singer-actor has also suffered a heartbreak in the past with her then alleged boyfriend Himansh Kohli but parted ways with him foreseeing some compatibility issues. It seems that learning from her own experience, and she is giving these lessons to the young ladies that if love happens organically, so heartbreak should also be taken in a stronger way. Rather than shedding tears, we should foresee the amazing bounties that life has in store for us. So one should move on and unleash the opportunities that life offers at every stage and at every step.
Many a time Neha is seen supporting the social causes and spreading awareness in the society. Let this be one of such deliberate moves.