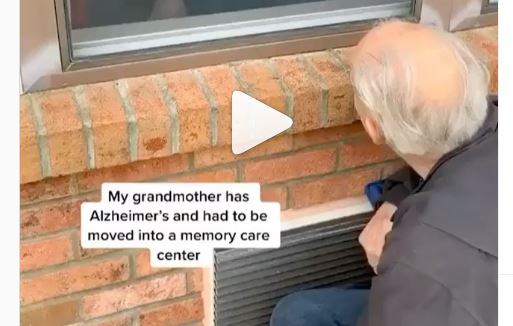 The Corona Virus outbreak has caused a worldwide red alert. Many countries have imposed a lockdown on their citizens to avoid the virus from spreading. People have been separated from their near and dear ones. All gathering, small and big has been canceled or postponed in order to maintain social distancing.
While this has given working people a small break from their hectic schedule, old age homes are the worst hit. The virus affects old people dangerously. Hence old age homes are especially under lockdown. No visitors are being entertained, no matter what the situation might be. 
The Couple Are Truly #Goals
This has resulted in multiple videos of separated old couples are being shared on the internet. If you watch these videos, you will understand the plight of those affected families. Recently, a video of an old man talking to his wife through a glass window has been doing rounds on social media platforms. It has been found out that the wife was quarantined at a nursing center as she was suffering from Alzheimer's disease. The heart-wrenching video was originally shared on TikTok by the couple's granddaughter. The video is so heartbreaking that it can make you cry. 
Their Relationship Will Reinforce Your Faith In Love
In the clip, the grandmother can be heard saying, "I need to be with you." To this, the grandfather replies, "I'd like to be with you too, but because of the illness, we can't do it." He further explains to her about the "new virus" that has been going around. "This is the best we can do for now," he tells her, as seen in the video.
The granddaughter says that visitors are not allowed, but he still goes to visit his wife every single day. As per the granddaughter, they used to have dinner together, and he tucked her into bed every day. The couple has been receiving love from all over the world since. It reminds us all that we all need to do our part to fight the deadly virus.