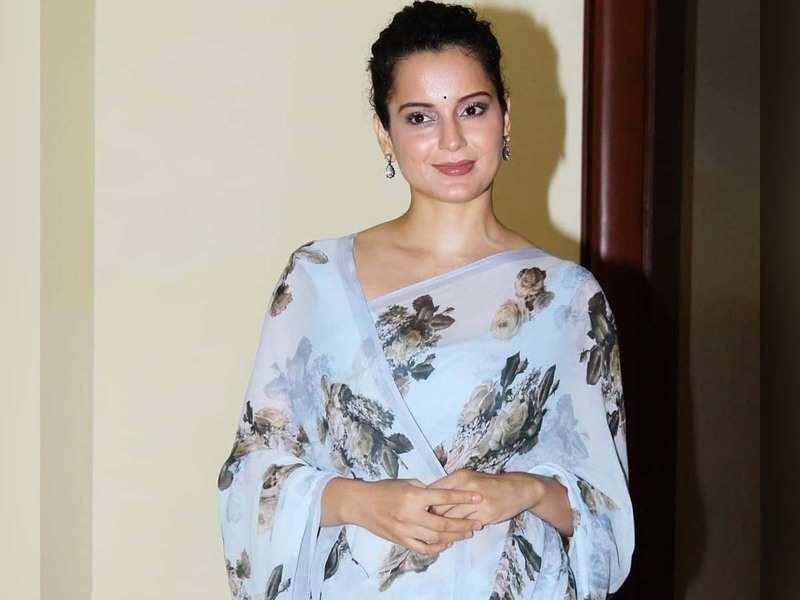 Kangana Ranaut, a voguish Indian actress, and filmmaker acknowledged best for her tremendous performance and versatile role with her debut film "Gangster," then "Fashion," "Tanu Weds Manu," "queen," "Manikarnika" and so forth, endorsed to be a looming star. Her Personality in Bollywood outshined as one prominent solo actress without a male hit actor in her 14-year carrier in films and stood controversial for her unambiguous and free-spoken thesis in media. With every ebb-and-flow, she grew and years by she grossed three National Film Awards and four Filmfare Awards counting in the Padma Shree Award by the Government of India in 2020. 
With her soar popularity and fashion rage vogue, Ranaut was apt with honor as the most fashionable celebrity who launched her own clothing line for the brand named "Vero Moda."
Kangana Ranaut Personal Life
Kangana was born in an upper-middle-class Rajput family in "Bhambla," Himachal Pradesh, where she spent her entire childhood and youth with her parents (father-Amardeep Ranaut Mother- Asha Ranaut) and two siblings (elder sister- Rangoli Ranaut and younger brother- Akshit Ranaut). Her great grand-father (Sarju Singh Ranaut) was a member of the Legislative Assembly, and her Grand-father( was an IAS officer (Indian Administrative Service).
She grew with a dream of becoming a doctor, which she later turned down to not opt for and moved to Delhi at the age of 16 and became a model. It was in 2006 when she got her first break and made her feature film debut in the thriller-based film- "Gangster" opposite Shiney Ahuja and Emraan Hashmi. She was appreciated by the jury member and got an immensely positive response via the audience and payed-off winning the Filmfare Award for the best female debut that year.
Ranaut featured in innumerable films more than 30, including her hits viz: "Queen"- the story of a middle-class girl, devastated when her finance leaves just before the wedding and decides to go to her honeymoon all alone, to discover herself out of comfort. Another remarkable gig was seen in "Manikarnika: the queen of Jhansi"- The rebellious war against the East India Company when tried to seize the Kingdom of Jhansi. These two films of her carrier were a provocation to women's rights and power, which gave her immense fame thereafter. She played a mutant role in the Science Fiction Film "Krrish 3", which is one of the highest-ranking Indian Films, "Once upon a time in Mumbai," Tanu weds Manu and Tanu Weds Manu Returns are one of her hits till date.
Career
Kangana Ranaut commenced her career primarily from the theatre in Delhi named "Asmita theatre group" under Arvind Gaur's drilling where she carried out her first play named "Taledanda," and it was there when she got recognized as an emerging actor and decided to join "Asha Chandra Scores" for a better amelioration training in 2004 to step foot in Bollywood.
Right after finalizing her cascade, she then moved to Mumbai, trying her luck in movies. In 2004, producer Ramesh Sharma offered Renaut a debut film proposal with Deepak Shindasani directed "I love you, boss." Right after in Mahesh Bhatt's office, she there met in a meeting with director Anurag Basu and auditioned for the lead role in "Gangster" where she got finalized and was cast as the lead role for the character named Simran, an alcoholic woman caught in a love triangle between a fabled gangster and sympathetic friend. She was honored Filmfare award for best debut female as "Simran." The Indian Express noted that Ranaut has become stereotyped in toles that required her to be hysterical, adding that she needed a radical change of image where she was hooking into projects with less emotional exhaustion.
Kangana achieved success later in 2013 for her portrayal of "Kaya" in Krish3, shape-shifting mutant. In 2014 Kangana established herself in Hindi cinema when she featured alongside Rajkumar Rao and Lisa Haydon in the coming of age dramedy "Queen" by playing in an aggressive politician in the black comedy "Revolver Rani" and medical intern in the political drama "Ungli."
In 2019 Ranaut starred in "Manikarnika-The queen of Jhansi" biopic of Indian freedom fighter Rani of Jhansi, putting the story across better than the script can. Kangana will be playing in the biopic of Jayalalitha (Politician) Thalaini in her next project.
Controversy Surrounding Her
Although being a public eye even so often is itself controversial fitfully. But Ranaut has been perennial by media spawn of her Bold forthright personality and thoughts even since. One of her famous disputes which put her in the climax was In 2016. Her co-star from Krrish 3, Hrithik Roshan, filed a lawsuit against Ranaut accusing her of cyberstalking and bullying.
She also had a controversy with Karan Johar -a famous Bollywood film director and was trolled for the same. Despite doing some excellent movies in Bollywood and for that, she has been applauded repeatedly. But aside from these, she is even a queen of controversies. There are a number of arguments during which her name has been roped in.
Net Worth of Kangana Ranaut:
Kangana Ranaut's net worth is estimated to be $13 Million Dollars, i.e., 130 Crores, and her yearly income is estimated to be 6.4 Crores. Most of Kangna's income is from brand endorsements, and she charges 1-1.5 crore per endorsement. Kangna is one of the highest-paid actresses of Bollywood charging 11 Crore per film. Kangna owns luxury cars, including BMW 730ld, Mercedes GLE 350d, and Audi Q3.