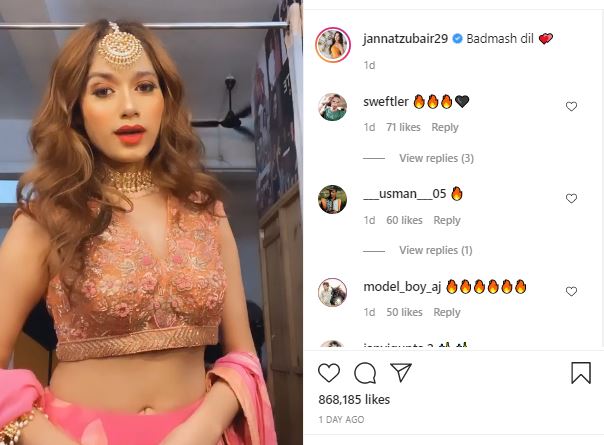 Social media sensation and Tiktok famed star Jannat Zubair Rehmani's singing video gets all over the internet world. Many of her fans raise questions, Jannat gets romantic, For whom lucky one she is singing for?
Jannat Zubair Rehmani is among the most popular and gorgeous actresses of the tv industry. Jannat has played a number of amazing characters in different shows. She appears in Maharana Pratap Bharat serial, as a child star for the first time. She has gained popularity from her role in Tu Aashiqui.
She is very active on her social media. Most famous among those platforms is Instagram. She shared her videos and pictures almost daily on Instagram. Along with her good acting skills, she has an amazing fashion sense and styling ideas. She manages to look unique and attractive at the same time with her minimal but decent and chic styling stunning looks.
Other than acting she is very popular for her singing abilities. She is blessed with a beautiful and melodious voice. She often shared videos on her Instagram in which she is singing her favorite songs. She recently shared a video in which Jannat was singing the song 'Badmash Dil'. It is still hidden for whom she is singing?