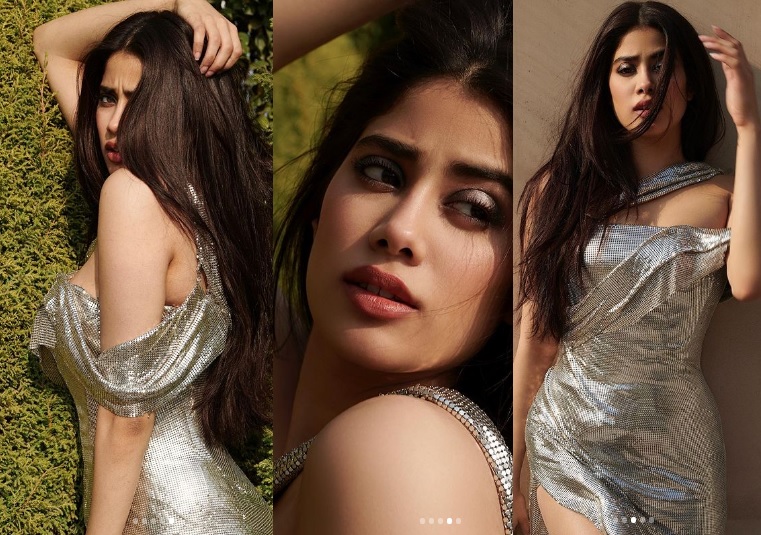 Jhanvi Kapoor is the definition of gorgeous. With her stunning looks and sexy looks, she has taken her fans by storm. Her sense of style reflects beauty with elegance. Jhanvi surely knows how to impress her fans, and we are here for her bold looks.
The star kid's journey into Bollywood
Jhanvi is a multi-talented star born into a famous family. Her mother, Sridevi, was a heartthrob actress in the '80s and '90s. She stole hearts with her brilliant acting skills and the unmatched charisma in her personality. Now you know where Jhanvi gets her good looks from. The fame Sridevi was blessed with is one of its kind. From her lavish lifestyle to her personal life, every single detail of the star's life was scrutinized in the media. Sridevi tied the knot with her husband Boney Kapoor in 1996. There were no surprises when Jhanvi made her way into Bollywood.
Along with a famous set of parents, Jhanvi also actor Anil Kapoor as her uncle. She is a half-sister to the popular actor Arjun Kapoor. Acting is embedded deep into her genes. Due to her strong background and influence, it wasn't tricky for Jhanvi to debut into the fame industry.
Jhanvi Kapoor's debut film
Jhanvi made her debut in the industry in 2018 with the film "Dhadak." She co-starred with Ishaan Khatter, who is a star kid as well. Both of them performed excellently in the movie, and the movie was a commercial success. The plot revolved around a romantic theme and was liked by the fans. Jhanvi's acting skills in the film were great. However, she has a long way ahead of her. Everyone loved the on-screen chemistry of the duo. Jhanvi also received the award for best female debut in the Zee awards.
Jhanvi Kapoor in Ghost stories: A horror Netflix movie
Fans saw her again in the movie "Ghost Stories" released on Netflix in 2020. Jhanvi gave an exceptional performance in the horror movie with excellent dialogue delivery and realistic expressions. The film had four parts, which were presented like four different stories. Jhanvi appeared in the Zoya Akhtar segment and acted fabulously. She has received many accolades for her performance.
Her acting skills are often compared to that of her mother's, but the critics are apt to keep in mind that Jhanvi is still a newbie and has a lot to learn.
The style and fashion icon Jhanvi Kapoor
Jhanvi Kapoor is a style and fashion icon as well. Millions of her fans follow her religiously on social media sites such as Instagram. Jhanvi has over 9 million followers on Instagram. The actress has some bold looks and eye-catching features to impress the masses. Apart from her sizzling sexy personality, she emits a certain kind of radiance, which immediately attracts the audience.
Be it any award function, a regular stroll on the beach, a family vacation, she is bound to dress like a diva for her fans worldwide. Apart from her fans, she has a massive following from her mother's fans as well. Though some people think that she does not carry the same enchanting aura as her mother, there are still many people who are die-hard fans of Jhanvi Kapoor and would not hear anything against her.
Recently, she wore a silver body con dress that hugged her curves perfectly. With a sexy hairdo and smoky eye makeup, Jhanvi looks breathtaking in the dress. Her fans are going crazy for her sexy and bold outfit. The lipstick is kept neutral to complement the look, and Jhanvi indeed looks gorgeous.