Finding the best way to celebrate your loved ones or best friends' birthday is very challenging. But the most difficult part is finding the best birthday captions for Instagram posts. This young generation is very obsessed with social media platforms and they post everything on their social media accounts.
So, it is obvious that to post Birthday pictures of either your own or your best friend's, a birthday caption is one of the best things that show your true feelings to them. That's why people search for Birthday captions. Our website heatfeed.com has compiled a list of different trendy birthday Instagram captions.
Our collection of happy birthday captions for Instagram will surely help to make them special and happy. Whether you are celebrating or hosting a birthday party for someone special, these best birthday captions will make them feel like an Instagram Celebrity.
Check out our collection of Instagram birthday captions, we bet you will choose more than one birthday caption from our collection because we collected them according to the preferences of our users.
You can easily find birthday captions for yourself or for your best friends or special ones. We have made different categories, so you can easily find the perfect birthday captions for Instagram without facing any difficulty. Make this big one special day without special captions and make your Instagram Birthday Posts more fascinating.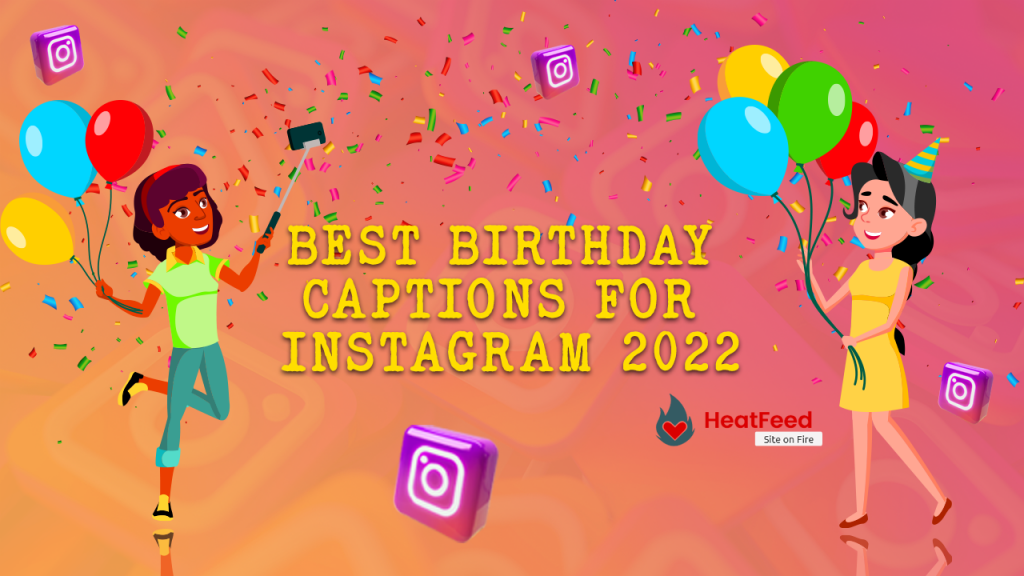 Instagram Birthday Captions For Yourself
Thank you, Mom, for giving birth to this wonderful child.
Blessed to see another year <3
Keep calm and celebrate.
Life's too short to not celebrate every chance you get! Happy Birthday to me!
Surround yourself with people who are more excited about your birthday than you are.
It's not the years that count, it's the memories you make over these years.
Birthdays are incomplete without the ones who love and care for you.
Live your life and forget your age.
Hold on to your inner child as you grow older.
Hugs, kisses, and lots of birthday wishes!
Today is a great day cause it's my birthday!
Making my years count instead of counting the years.
I hope the birthday cake is as sweet as mine.
On this day, a queen was born.
Gonna party like it's my birthday…'cause it is.
Eating my cake and wearing it, too.
Found my birthday crown.
"We age not by years, but by stories." — Maza-Dohta
"Count your age by friends, not years. Count your life by smiles, not tears." — John Lennon
"Today's my birthday. I always make bad decisions on my birthday." — Doctor Martha Livingston, Agnes of God
"The more you praise and celebrate your life, the more there is in life to celebrate." — Oprah Winfrey
"Oh, everyone, it's my birthday! Time to pay attention to me!" — Michael, Party Monster
"Birthdays are nature's way of telling you to eat more cake." — Jo Brand
"Today you are you, that is truer than true. There is no one alive who is you-er than you." — Dr. Seuss
"You're never too old to be young." – Snow White
"Growing old is mandatory, but growing up is optional." — Walt Disney
"Today is the oldest you've ever been and the youngest you'll ever be again." — Eleanor Roosevelt
Funny Birthday Captions For Instagram
"Today is my birthday but I'll take gifts whenever."
"A star was born today. Where's *my* movie?"
"You're looking at the best party favor."
"Sassy since birth."
"I don't get older, I level up."
"Today, the world received a gift. It's me and you're welcome."
"Don't grow up, it's a trap."
"Age is just a hashtag."
"I can't help being cute, I was born this way."
"May the fork be with you. Let's eat cake."
"I'm not getting older. I'm getting better."
"Facebook has some exciting news today."
"Birthdays are good for me. The more I have, the longer I live."
"When the candles cost more than the cake, it's time to realize you're getting old."
"Another year older, another year wiser? I guess we'll see!"
"Well, at least I am not as old as I will be next year!"
"Of course, I don't know how to act my age. I've never been this age before!"
"The only things getting LIT today are the candles on my cake!"
"I'm too young to be this old."
"New year, same me… because I'm already awesome."
"Age is merely the number of years the world has been enjoying me."
"I'm just here for the birthday cake."
"I can't keep calm, it's my birthday."
"Here's my obligatory birthday selfie!"
"It's my favorite holiday…my birthday!"
"I have a craving for cake…It must be my birthday week."
" Just went on my annual birthday shopping spree!"
"Act my age? No thanks!"
"Birthdays are good for you. Statistics show that the more you have the longer you live."
"On this day a star was born."
"Birthdays are the universe's way of telling us to eat more cake."
"Let me be the first one to wish myself a happy birthday!"
Birthday Captions For Best Friend
Happiest of birthdays to the most special person in the room!
Congrats on another trip around the sun! I hope this day is full of cake, memories, and fun.
To the sweetest berry in the bunch, a very happy birthday!
I hope you know how much you're loved today, best friend!
I can't wait to spend the night celebrating my favorite person! I adore you to bits!
Thank GOODNESS my bestie entered the world today!
Wishing you the happiest of birthdays, and another amazing year around the sun by your side!
You are so loved today and every day. Happy Birthday!
I hope your birthday is as special as you are, friend.
I can't wait to celebrate with you all day long!
I'm so grateful to celebrate another birthday with you my best friend.
Here's to the birthday queen/king today!
Ready to hit the town and let the world know it's my best friend's birthday!
HBD to my BFF for life, I don't know what I'd do without you!
The world got a little bit better on this day because my best friend was born!
Happy Birthday to a best friend who is like no other.
I hope you're enjoying your special day doing whatever it is you want!
Today I'm shouting from the rooftops that it's my best friend's birthday, hooray!
Here's to another year of friendship, laughter, and getting up to no good together! Happy Birthday!
Sending you so much love on your birthday, BFF!
Birthday Post Captions
Dream big!
May all your wishes come true.
On this day, a queen was born.
You glow, birthday girl!
You don't look a day over fabulous!
Friends are the family we choose for ourselves. Happy birthday!
Keep calm and party on!
Candles aren't the only thing getting lit tonight.
Another trip around the sun!
I'm so happy to be getting old with you.
I love you more than I love cake.
It may be your birthday, but you're my greatest gift.
Hugs, kisses, and birthday wishes!
You're not aging — you're leveling up!
You're another year older… and I'd fall in love with you all over again today. Happy birthday!
You're aging like a fine wine.