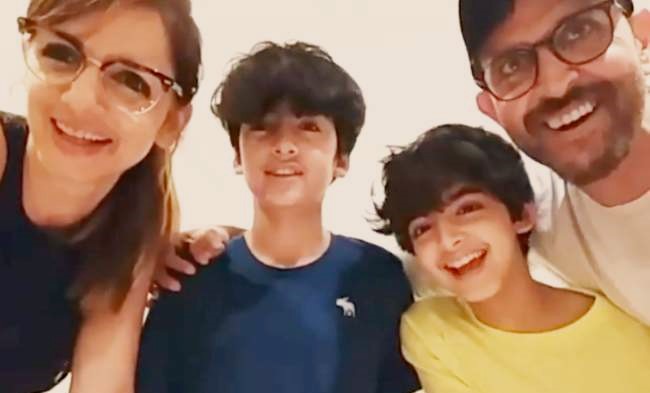 The birthday celebration of Hridaan this year, with his parents, amid this lockdown was immemorable.
Amid the pandemic of Coronavirus where all the things are going upside down, some pleasing incidents are also there. A long time divorced couple – Hrithik and Sussanne are again mutually in concert. They have not only quarantined themselves together but also celebrated their son's 12th birthday bash full of zeel.
Modern Family Goals Of Hrithik Roshan And Sussanne
This couple is a real ensign of contemporaneous family goals. Instead of being separated the duo always prefers being with each other both in good and bad times. Either it's the birthday celebrations, vacations and amid every miserable situation, Hrithik and Sussanne stand by each other's side, firmly.
Also, they never even feel shy to share these moments with their fans.
Up And Up
This time during the lock-down, when Hrithik Roshan and Sussanne, have decided to move together until this coronavirus pandemic will be at ease, for co-parenting their children. This former couple celebrated their son Hridaan's birthday happily together & Sussanne shared the family video of this birthday bash.
This video has flavored background music of Coldplay's famous track 'Up & up'.
Family Get Together
In addition to this, an Instagram post seeks Sussanne, Hrithik, both their sons along with other family members as Hrithik's sister, Rakesh Roshan and his mom who were on the video call, opposite side. All and all Sussanne often share the pictures of their family get- together on social media, which reflects that- even the legal separation of Hrithik and Sussanne will not prove adverse for their children, at all.