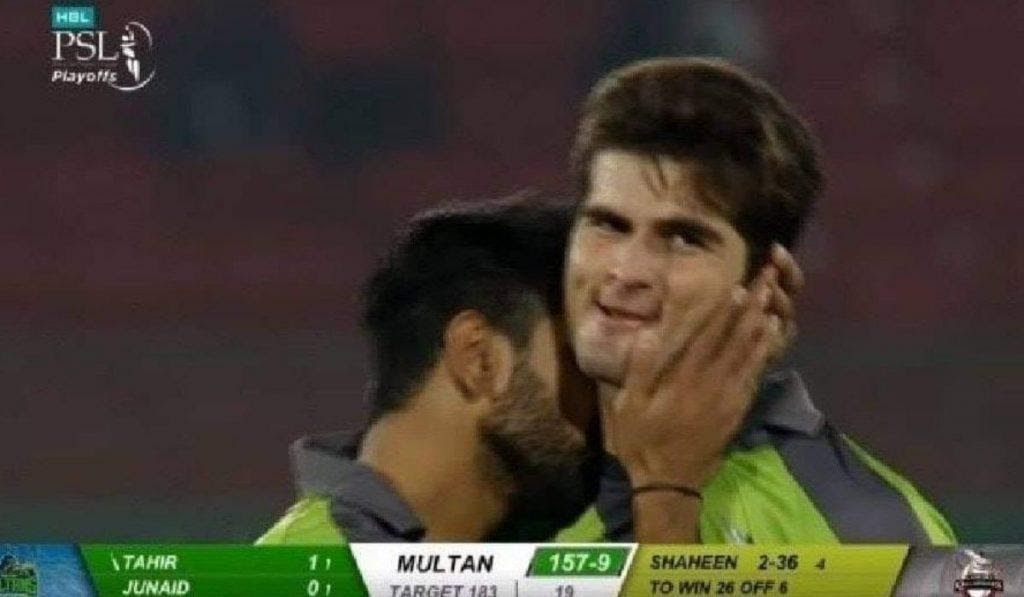 Haris Rauf and Shaheen Afridi show their innocent affection in a match, this is a meme now
Yesterday night, after giving a tough match, Team Lahore Qalandars succeeded in securing their position in the final match of the Pakistan Super League 2020.
Till now the team has normally been the victim of so many jokes because they are the worst teams in terms of performance in the entire history of the Pakistan Super League. But as the year 2020 was an unexpected year, Lahore Qalandars' presence in the final has proved this.
Both the star of the match that took Qalandars to the place of historic win are two talented individuals i.e. Haris Rauf and Shaheen Afridi
While Afridi has proved as the best player, Haris became an active performer who has taken out Legend Afridi with an amazing Yorker. Harris celebrated this by a made an apology to Shahid and making him a good place among cricket fans around the world.
This fantastic show of sportsmanship brings the Lahore Qalandars to victory over the team Multan Sultans. It leads them to the final with the Karachi Kings team.
You now just see the sparkle and happiness on the face of Rana Fawad, the owner of Lahore Qalandars
This man had a lot of wait for that pleasant moment.
While celebrating, Haris Rauf and Shaheen Afridi had a cute moment of intimacy that was captured by the cameras
Naturally, Pakistanis found this moment very meme-worthy
And just like that, Haris Rauf and Shaheen Afridi have become part of the meme canon of the Pakistani internet
People just couldn't stop making savage jokes about the moment and so we've scoured the lengths and breadths of Twitter to curate the best ones just for you
Enjoy 😉
There were also crossover jokes about another viral "intimate" moment from last night
And of course, there were Shaadi jokes
The sense of humor of Pakistanis is undeniable, They have strong killer humor and it clearly depicts in their meme skills. By getting an idea through the number of adversities that life throws in our way, Pakistanis know very well how to utilize humor as a coping mechanism.
This hilarious incident makes all of us much more excited for the show to happen on the 17th of November. It is one of the most historic shows in the entire history of PSL.
The final teams included Lahore Qalandars and Karachi Kings. Some people have termed Lahore and Karachi match, as the main reason behind the de e of the whole PSL and to be honest, the way the year 2020 has concerned, this match is the symbol of the beautiful and bright future ahead. 
To whom you are supporting, team Lahore or team Karachi? Comment below