Whenever we meet a celebrity or our favorite personality we must try to take at least one picture with them. Or when we witness something worth watching we do the exact same thing, taking pictures of that moment.
This is the human psyche. We always try to capture such special moments to show off or to keep them safe for the rest of life.
Only a few people are lucky enough to get such chances to meet their favorite celebs. And what will the rest do? Wait for that moment to click a picture. That never gonna come in their life.
Why wait for so long only to see yourself in a picture with your favorite celebrity when you can do it today. You can create that special moment for yourself.
Huy Xuân Mai, a Vietnamese photoshop artist is taking pictures with his favorite celebrities. Hanging out with them. Visiting their movie sets and making fun with them. He is really enjoying his life, by creating funny and silly edits and place him in movies scenes and celebrity random pictures.
#1
He usually wears flower short pants and has flip-flopped on his shoulder and takes a shirtless picture when he adjusts himself somewhere between the famous celebrities. He looks super funny and becomes the center of attraction. Even people forget to focus on the celebrity in his edited picture.
#2
#3
His edits have the power to change the whole situation. Or he can easily turn any situation into a "try not to laugh" type of situation.
He is so perfect in his editing, that at first sight, no one can ever guess he edited a picture. Only people who have seen those posters or movies before can find them.
#4
#5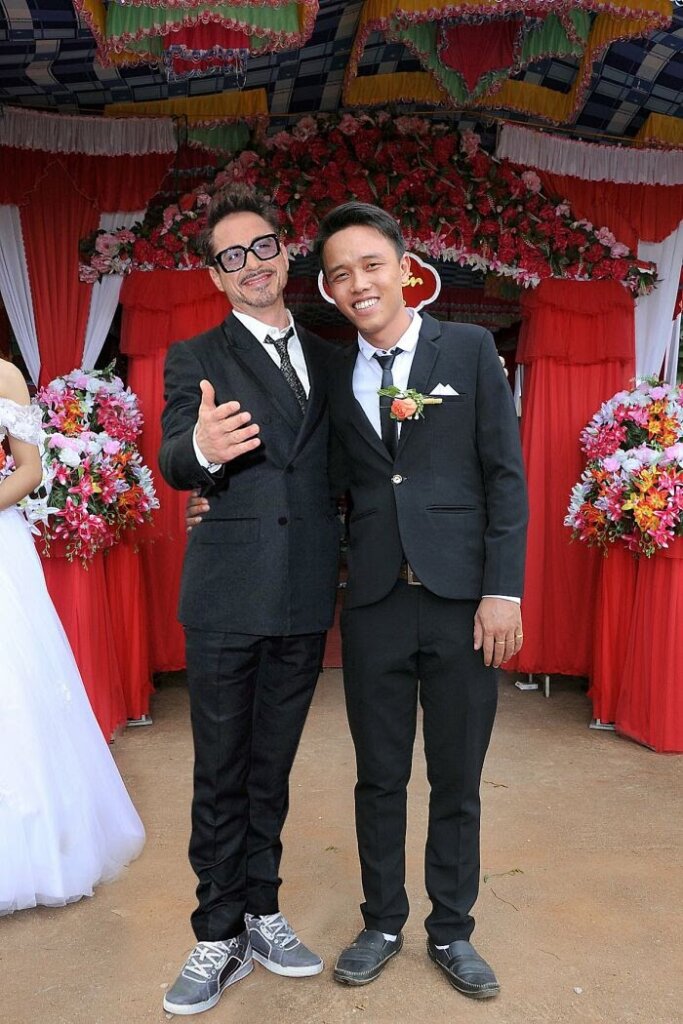 #6
#7
#8
#9
#10
#11
#12
Huy adjusts himself so professionally for seamless editing. It looks like he did magic and went back to the movie to take pictures.
The best thing he does while editing is he pays close attention to the light source. Where's the light come from? And from where it started fading out.
His observation is so good about where the shadows started, and the shades of darkness in shadow.
#13
#14
His adjustment observation is excellent. He can put himself anywhere behind an object and looks perfect from all perspectives.
The skill of adjusting himself through cut or paste deserves more appreciation than all the above-mentioned skills. Because it is the most difficult task, cutting yourself and pasting it as per desire and then blend it into the original picture.
#15
#16
#17
#18
#19
#20
#21
Some of his edits are so hilarious, that you can't hold back your laugh for a while. Like the way, he adjusted himself between the K-pop girls band "Black Pink" in his official outfit of flower shorts and flip-flops. Furthermore, coming for a fight with "Hobbs & Shaw". His facial expression was so funny in this edit. Like he is actually going on a fight with someone. 
#22
#23
#24
#25
#26
#27
#28
#29
#30
#31
#32
#33
#34
#35
#36
#37
#38
#39
#40
#41
#42
His amusing skill might be God-gifted. His edits can put a smile on someone's face so quickly. Or if it can not, it surely is their worst nightmare to see someone with their favorite celebs like this.
#43
#44
#45
#46
#47
#48
#49
#50
#51
#52
Huy sometimes merges himself in pictures like he becomes almost invisible or really hard to find.
#53
#54
#55
#56
#57
#58
Our master of photoshop also has the talent to change gender as well. In some of his edits, he converts himself into a female so nicely. Not to mention, he has a really good sense of humor.
#59
#60
Having a good sense of humor is on the other side but Huy also has a kind heart too. Some media resources reported that one of his fans paid him some money to take a picture with him. He accepted but later he donated that money to her parents so they can afford a nanny for a whole day. And her parents said that was one of the best days of their life.
#61
#62
#63
#64
#65
#66
#67
#68
#69
#70
#71
#72
#73
#74
#75
#76
#77
#78
Final Thoughts:
Making someone laugh through the non-varble way of communication is really a hard task and Huy is a master when we talk about such things. Additionally, he gave a way out to all people who were waiting for that moment when they met their favorite celebrity and took a picture with him/her.
Now everyone can enjoy this trick to be a part of their favorite movie or can hang out with their favorite celebrities.