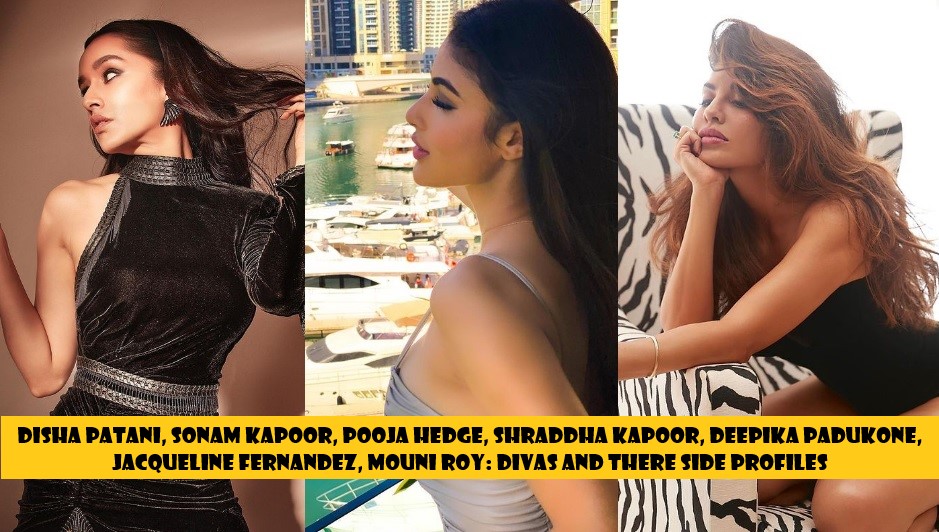 PATH FOR BEING FAMOUS:
People will not start recognizing you if you don't do good work. This is also what happens with the Bollywood actresses if they have done a good movie people will start to appreciate their work, but there is one more thing the actress does and people start loving them is their pictures.
so how can they make their pictures worth loving only depends on them and their photographers because these are the only option which will make the actress loved by the audience?
The Fashion Diva Sonam Kapoor:
Sonam Kapoor has been an inspiration to people because of her best fashion sense. Sonam Kapoor, daughter of very famous actor Anil Kapoor has always been in a limelight because of her unique fashion sense and her posing for the pictures. She knows how to make her fans go crazy for her by posing for a picture with perfection. she has given her both right side profile and left side profile making her look perfect pose for the picture.
Disha Patani:
Disha Patani the girlfriend of famous actor Tiger shroff has always been in the spotlight because of her strong aura and her, bold pictures. The actress has been grabbing attention by working with a megastar Salman khan for their upcoming movie. This star has always been caught by paparazzi in her gym wear looking all sweaty and sexy. Disha has posted some of her gym wear pictures looking cool in her gym wear with all the side profile posing.
Here are some pictures I am sharing with you all. Look at the pictures she is looking so fresh and beautiful it shows how the workout is giving a glow to her face and giving her a toned body. She has always made sure to make her picture look more natural just like In the picture I have posted you can see the way the sun shining on her face and her flexing her muscles for the picture if all look so natural and perfect.
Pooja Hedge:
Apart from her the actress Pooja Hedge who has done many films but still didn't get the fame for her acting but her picture gets all the attention from her fan and the people who don't like her. She has worn all types of clothes whether it's western or eastern she has snatched all the spotlight just like any other actress. Her bold western dresses, her elegant makeups, and her beautiful hairdos are making people love her images. She has given her side profile looks so sexy that the person who witnesses freezes at the sight of her beauty.
In the picture I have shared you can see that not being much popular because of her acting but her photoshoots and her pictures had always collected a huge amount of audience and followers on her social media just to see her pictures and show the love and support to them.
Deepika Padukone, Pride Of Bollywood:
Deepika Padukone has always been famous for her acting skills and her dressing. she has always pulled the attention towards herself not just nationally but also internationally she is the only actor who is loved internationally because of her work in India. Her transformation from being a sophisticated actress to being a wild and sexy actress has left everyone in shock.
Deepika dressing sense has always left the audience dumbstruck. she has the audacity to carry all kinds of dresses in her style and the ways she does the photoshoot make people wait to see what's next coming on their way. Her side profile pictures have always have been famous whether it's in the airport or at the party's she has always got the maximum amount of love from people that is why she is the most expensive actress in Bollywood.
Jacqueline Fernandez The Bollywood Hottie:
When we think about the hottie of Bollywood only one name came to our mind that's Jacqueline Fernandez has done movies with most of the actors some famous while others were struggling to get their name In the industry. She has done all sorts of work whether it's doing the bold kissing scene in movies or doing a great movie with the megastar like Salman khan. The Srilankan actress has always taken the attention because of her unique yoga poses in her photoshoot whether her sitting cross leg in the pole or lifting her thigh in the air for the shoot.
Jacqueline has stolen the hearts of many with her high thigh look and her sexy long leg in the picture has made the people's heart beat faster.
Her sexy bedroom photoshoot in the silk camisole has gotten every guy's dreams wild and crazy. Her pictures are for the reason loved my most of the young generation because it has all the spicy flavors to enjoy.
Mouni Roy, The Prettiest Nagin:
Television fame actor Mouni Roy has done many television serials and now is an actress in Bollywood movies. She hasn't done much of the works in movies but still has a huge amount of fan following. Her pictures have always got millions of likes from people. Mouni's picture has always left the people mesmerized by her beauty and elegance. Her black off-shoulder top and her messy hair look are to drool over.
Other than that, Mouni Roy has always been known for herPerfecon she is one of the most spectacular actresses who has been wooing us with her hot quotient. Take a look at her hot side profiles which make her look even hotter.
Shraddha Kapoor Multitalented actress:
The actress has taken the name of Kapoor's to the high sky with her presence in Bollywood. Shraddha Kapoor is an Indian actress and singer who works in Indian movies. she has been featured as the most popular and highest-paid actress in India and one of the most followed Indian actresses on social media. We always keep searching for a gem, but Shraddha was all the time in front of us shining like a star with her hot side profiles.
Shraddha's innocent face and desi look have made her side profile picture looks so pretty with her elegant accessories, beautiful makeup, and her prettiest lehenga. she is looking undoubtedly the prettiest.