A lot of people tend to mistake elevator shoes for platform shoes and vice versa. Both shoes are not the same and have very observable differences. One typical example of elevator shoes is guidomaggi.com shoes.
Elevator shoes aim to provide height for the wearer. Elevator shoes help to do that effortlessly, both in luxury and style, specially designed by hand; every elevator shoe also aims to provide comfort for the users.
Elevator shoes
For men who desire an increase in height, elevator shoes are just the perfect fit. They aim to enhance the height of the wearer in a manner that is not conspicuous. They are designed by inserting the hardware into the insole and the heel.
Regular shoes have their heels and insoles built underneath their soles, making them look very evident. Elevator shoes create height for users just like any proper shoes but more stylishly and comfortably.
Wearing an elevator shoe for the first time may seem a bit off. However, as time goes on, users begin to feel more relaxed and comfortable in it. Elevator shoes are craftily designed to make the user's feet to be positioned in a certain way.
For this reason, first-time users are advised to go for 2-inch elevator shoes to enable them to get used to wearing elevator shoes. Once they are comfortable in 2-inch shoes, they can then progress to wearing other higher inches of elevator shoes.
Platform shoes
Platform shoes are shoes that have very obvious thick soles that are as high as 4 inches. The soles of platform shoes are made from rubber, plastic, or cork. The design is made in such a way that the heel is raised relatively higher than the ball of the foot.
Platform shoes can elevate your look, giving you an extra inch of height. Platform shoes were a huge hit in the past, still worn today.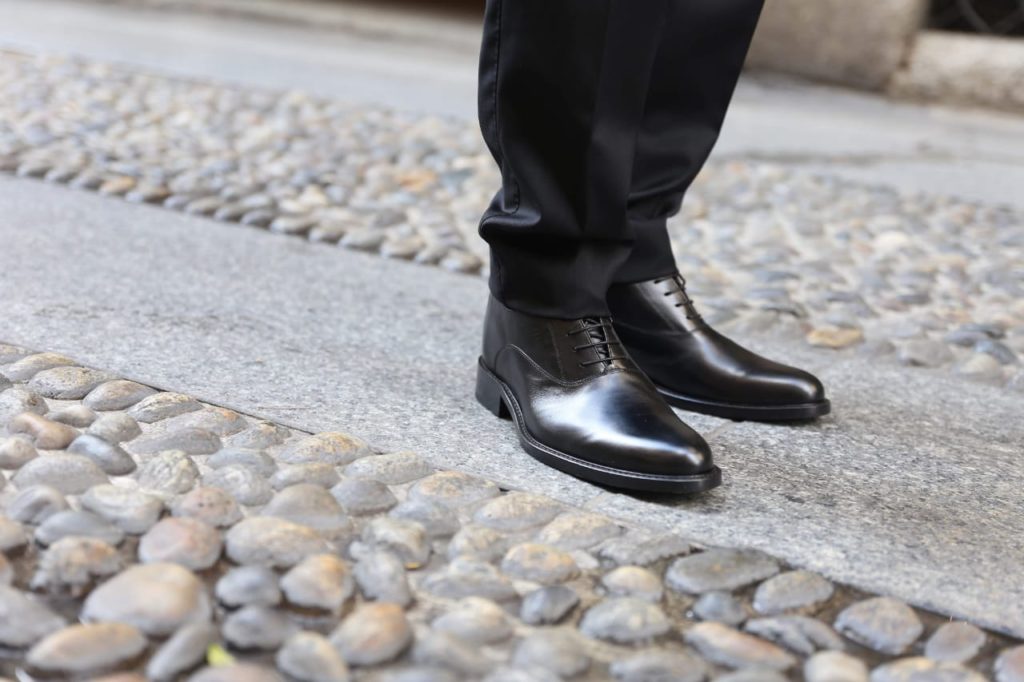 Comparing Elevation shoes with Platform shoes
Elevator shoes are considered a modern and less bulky way to increase height. They are fashionable and very comfortable. On the other hand, platform shoes are entirely flat and lifted, and usually very bulky.
Platform shoes are not as trendy as they used to be, but some women still wear them today. While elevator shoes discreetly add extra inches of height to a wearer, platform shoes have very dense, openly visible soles that help to increase the height of the user.
Elevator shoes affect posture and require users a bit of getting used to. The confidence of some men is tainted by the fact that they are seen to be wearing high-heeled shoes. However, elevator shoes are produced to conceal this fact, thereby creating confidence in the user.
Elevator shoes come with inbuilt soles, hidden beneath the exterior of the shoe, meant to add extra inches of height from within.
For users who desire an elevator shoe with style and comfort, then GuidoMaggi easily comes to mind. GuidoMaggi Scarpe con rialzo uomo is a brand that does not compromise the quality and durability of its shoes.
Why do some men prefer elevator shoes? 
Elevator shoes have moved beyond a trend for just women, to an appealing sensation for men also. Aside from enhancing height, elevator shoes can offer other advantages to the user. The following are some reasons why some men prefer elevator shoes.
Convenience
Be it clothes, shoes, or jewelry convenience is a crucial factor people take into consideration before buying a product. One major myth that had prevailed in the shoe market is that elevator shoes do not provide comfort for users.
Such erroneous beliefs may have come from people who may have used inferior elevator shoes in the past. Elevator shoes are comfortable to use, especially when it is from a trusted brand.
Fashionable
Fashion is an evolving trend. People tend to go with fashion trends and prevailing styles. Some people believe elevator shoes, and out of the pattern, however, elevator shoes are still a considerable interest to many shoe enthusiasts out there.
Design
Shoes generally should provide comfort, but also beautiful designs and style. A lot of elevator shoes today, come in different designs that suit the needs of individual wearers.
Conclusion
Elevator shoes and platform shoes are known to provide extra inches of height for users. While elevator shoes do this discreetly with less bulk, platform shoes do it more openly with massive mass.
Elevator shoes are gaining more popularity among the public, which cannot be said for platform shoes whose sales are severely waning.