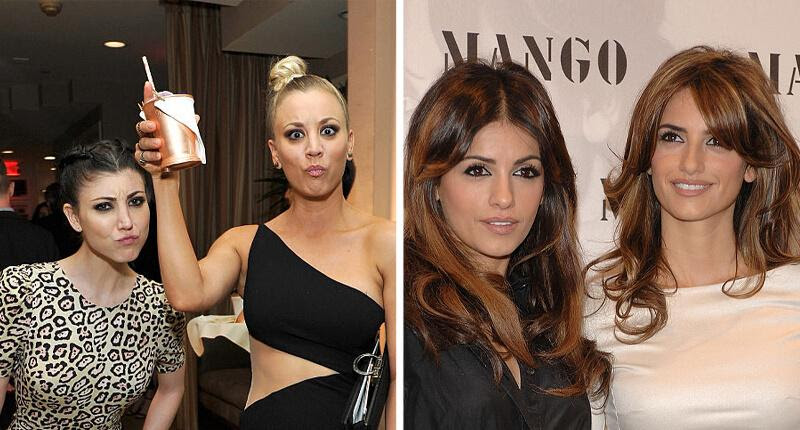 Ever happened that your distant relatives find a hard time differentiating between you and your siblings when you all get together after a long time? If yes, then you probably know what it must be like to get confused between lookalike celebrity siblings. Some of these star sets of siblings are not only quite similar to one another; both of them are working in the public eye. Both might be doing their own things in the industry, we simply can't ignore the uncanny resemblance between the two.
From Selena Gomez to Bella Hadid, you will be very surprised to see the similarities between these celebrity siblings. They look alike to such a point that we believe one of them can easily be a stand-in while the other passes through a crowd of strangers. Don't be too hard on yourself once you find out they are not actually twins!
We have compiled a list of the 8 sets of Celebrity Siblings whose uncanny resemblance would leave anyone entirely speechless:
1. Taylor and Austin Swift: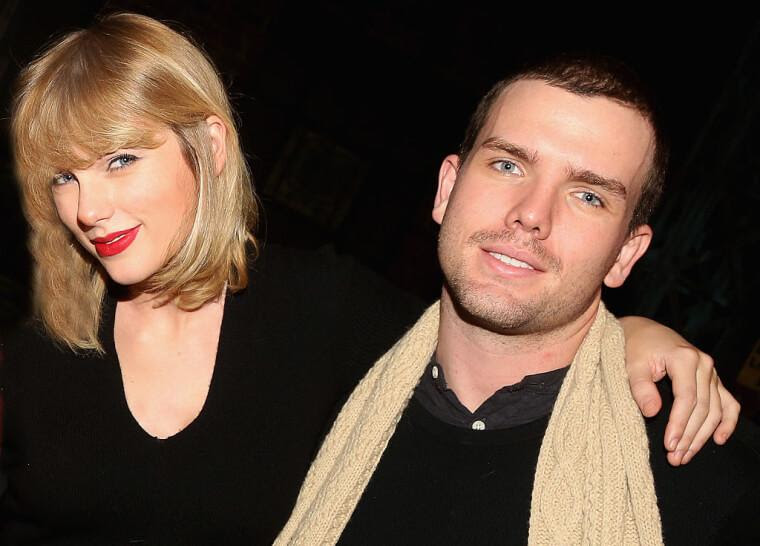 Throw on a dress, wig, and a red lip on Austin and you certainly won't be able to spot the difference between this celebrity pair. The resemblance between the American singer-songwriter and her brother is very much there, however, we won't really call them identical. Austin has walked the grand red carpet with his sister a few times in the past, and people can see that they are related to each other and not dating.
Taylor Swift's younger brother, Austin Swift, is a well-known country singer-songwriter. The media went crazy over him after he attended the Golden Globes and People's Choice Awards with his sister. People assumed he was following in his sister's footsteps, but he had other ambitions. Austin was a student at the University of Notre Dame at the time, and he also worked as a freelance photographer for 'Getty Images.'
However, he made his acting debut in Ben Affleck's crime drama 'Live By Night' in 2016. He has a sizable fan base on his 'Instagram account, with over 620,000 people following this photographer's interest. He also has over 227,000 followers on his Twitter account. Austin moved to Nashville with his sister during Taylor Swift's early career. He did, however, relocate with his sister for his education. While Taylor rose to stardom and made her family happy, Austin encouraged his sister's endeavors and studied hard in school. He moved on to apply to the 'University of Notre Dame.' He transferred to Vanderbilt University in his first year but returned to Notre Dame in his junior year.
During his college years, he freelanced as a photographer for 'Getty Images,' and he also photographed his sister for 'People Magazine.' He also appeared in a number of plays, including 'Six Characters in Search of an Author' and 'Dead Man's Cell Phone.' Theatre changed his career path and introduced him to the world of entertainment. As a result, he was cast as Mayweather in Ben Affleck's 'Life By Night' in 2016. The same year, he appeared as 'Lance' alongside Pierce Brosnan in the film ' In 2017, he will be seen in the mystery thriller 'Cover Versions' as the lead role of a band member.
Austin is not just attractive but also hardworking.
He worked in three films two years after graduating from university, with the third being a lead role. His love of photography has propelled his 'Instagram account to new heights. He clearly has the ability to capture a million ideas and emotions in a single frame. As a result, his talent in both acting and photography is equally placed, and he appears to prioritize both of his loves equally. It's incredible that he managed to stay out of the spotlight and focus on his education while his sister was voted the number one country performer of her era. But Austin remained humble and rose to fame on his own merits.
2. Nikki and Nathan Reed: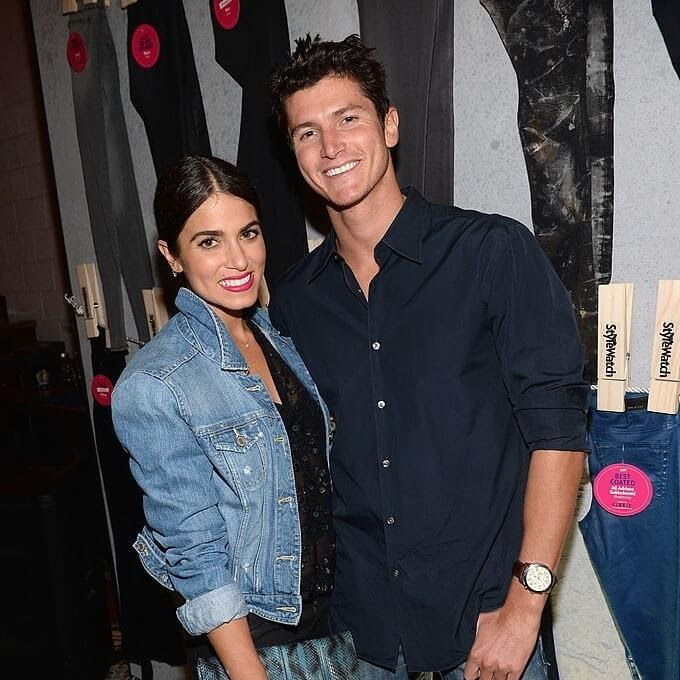 You probably know Nikki Reed because of her leading role in the "Twilight Saga", and well, of course, her beauty. But did you guys know that Nikki has a devilishly handsome brother as well? While this celebrity sibling pair isn't exactly identical as well, you can definitely tell that they both have the same face shape.
Nicole Houston "Nikki" Reed is a playwright and actor from the United States. She rose to prominence in 2003, following the release of the film Thirteen, for which she co-wrote the screenplay. Since then, Reed has appeared in a number of films, including Lords of Dogtown and Mini's First Time. She also played Rosalie Hale in the film adaptation of Stephenie Meyer's novel Twilight.
Reed was born in West Los Angeles, California, the daughter of beautician Cheryl Houston and set designer Seth Reed. Nathan is her older brother. Reed's father is Jewish, while her mother is Cherokee and Italian. Reed was raised without religion, despite growing up in a Jewish household (her brother had a Bar Mitzvah).
Reed's family life has been described as "complex." Her parents split when she was two, and she was raised solely by her mother. She described herself as "shy and a bookworm" until becoming rebellious and emotionally turbulent at the age of 12 while attending Palms Middle School.
Reed and director Catherine Hardwicke completed the writing for the semi-autobiographical picture Thirteen in six days, which is unusually quick for a Hollywood script. Reed was approached to take a role in the film because the producers were having difficulty casting it because it was an "uncomfortable" role for most young females.
Reed returned to her Los Angeles high school after Thirteen's success but dropped out after a year. Her departure was motivated by her encounters with "mothers who were slipping into the school at lunchtime to confront and harass her over the video." Reed was home-schooled after that and eventually graduated from high school. Reed lives in both New York City and Los Angeles.
3. Bella, Gigi, and Anwar Hadid: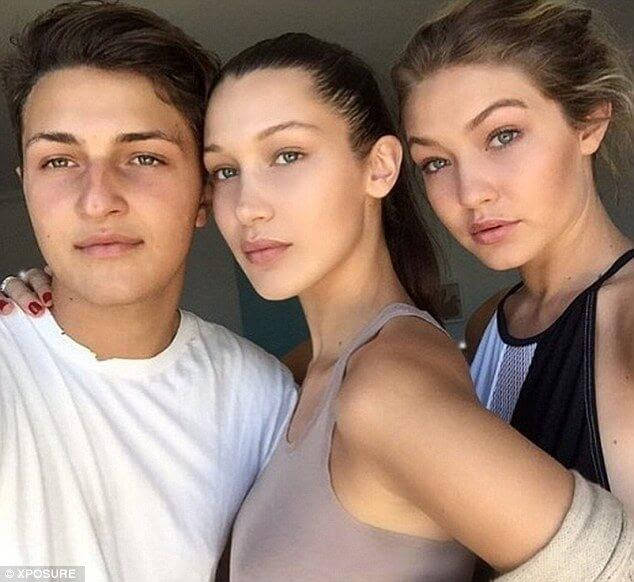 Gigi and Bella Hadid are some of the top models and highest-paid models in the beauty/fashion industry, but what you might have not known is that they also have a younger brother named Anwar Hadid. Bella actually used to look more like Gigi as a baby, but then she decided to dye her hair dark brown and got a noticeable nose job (which we all love by the way). People can easily tell that they are related from their memorizing grey-blue eyes.
4. Dakota Johnson and Stella Banderas: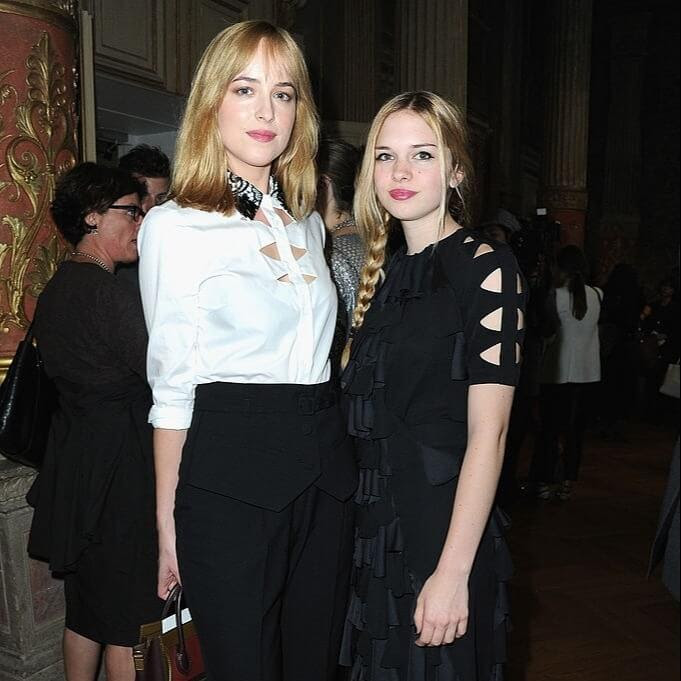 Do you already know about this natural beauty named Dakota Johnson? If yes, then that's probably because you're a Fifty Shades fan like all of us. The original movie is followed by two other sequels that certainly put Dakota into the limelight and the star gained more popularity than she had ever imagined. But did you know that she has a sister just as beautiful as her?
Anwar Hadid is a fashion model and television personality from the United States. Anwar Hadid made his modeling debut in 2015, following in the footsteps of his elder sisters, Gigi and Bella Hadid. Anwar Hadid, the son of TV star and former model Yolanda Hadid and real estate developer Mohamed Hadid has a massive social media following. He has millions of Instagram followers. He is his family's youngest heartthrob, and women all over the world are swooning over his charismatic personality. Despite the fact that he has only recently begun his modeling career, Anwar Hadid has already worked with some of the most prestigious brands and magazines in the United States of America. His gifted height, dapper looks, and chiseled body earned him a place on the IMG list of models. He has appeared on the cover page of Teen Vogue and is set to establish a career in the entertainment industry as well.
Anwar Hadid attended Malibu High School and West-Mark School and was also a part of the school soccer team. During his high school years, he signed his first modeling consignment with the multi-platform Nylon Magazine in October 2015. Shortly afterward, he featured on the Teen Vogue edition of June-July in 2016 along with Cameron Dallas.
In 2016, he was signed by IMG models, the same brand with which both his sisters, Gigi and Bella are working.
Anwar Hadid has also starred in his mother's reality show series The Real Housewives of Beverly Hills. Later in April 2016, he made it to the Paper Magazine, featuring in its YOUth issue.
In 2017, he was announced as the face of Hugo Boss Menswear and walked the ramp at the Zadig & Voltaire New York Fashion Week in February 2017.
In March 2017, Harry and his sister Gigi photographed for British Vogue magazine. He also modeled for Tommy Hilfiger's spring 2017 collection alongside Gigi Hadid.
5. Karlie and Kimberly Kloss: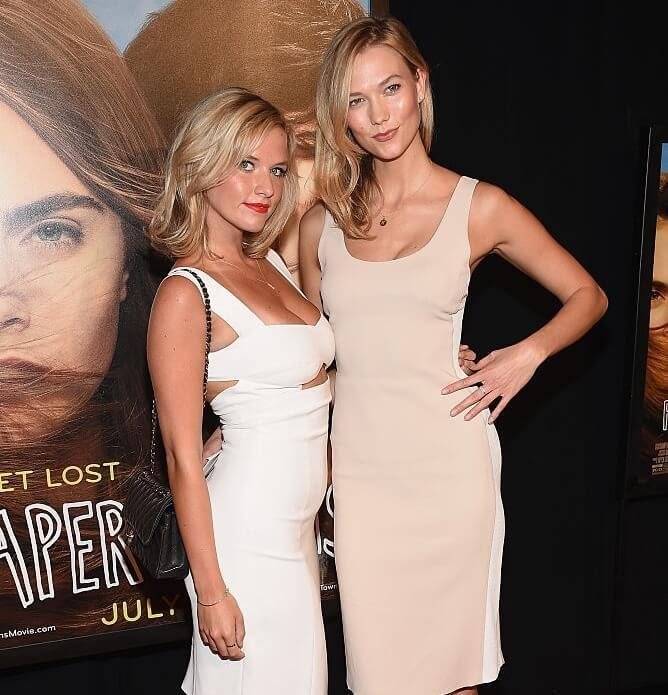 Karlie Kloss and her beautiful sister Kimberly Kloss might not look completely identical, but they sure look like they are ready to hit the runway every time they step out. The height difference and facial traits make people confused as to if they are siblings or not.
Dakota Mayi Johnson is an American model and actress best known for her performance as Anastasia Steele in the erotic-romantic-drama film 'Fifty Shades of Grey and its two sequels. Dakota made her on-screen debut in the 1999 film 'Crazy in Alabama,' directed by her stepfather Antonio Banderas, as the daughter of actors Don Johnson and Melanie Griffith and the granddaughter of actress Tippi Hedren. Her mother appeared in the film, as did her half-sister Stella Banderas. In 2006, she was named Miss Golden Globe. She began her modeling career by signing with IMG Models.
She began her acting career after graduating from high school, signing with the William Morris Agency. Her first box-office success came in 2010 with the American biographical drama picture 'The Social Network,' which was followed by a string of films including 'Beastly' and '21 Jump Street.' Her big break came when she was cast as Anastasia Steele in the film 'Fifty Shades of Grey,' which became a massive worldwide smash and earned her international notoriety. She rose to prominence after reprising her part in the film's successful sequels, 'Fifty Shades Darker' and 'Fifty Shades Freed.' Dakota's other significant works include the films Black Mass' and 'How to Be Single,' as well as the TV series 'Ben and Kate.' She has recently appeared in films.
Karlie Kloss, a tribe member, recently converted to Judaism and married her six-year partner, Josh Kushner (yes, he is the brother of that other Kushner). We decided it was about time to give her the "18 Things" treatment as a high-profile model.
Karlie was born in Chicago, Illinois, but relocated to St. Louis, Missouri, when she was two years old. She used to be a ballerina as a child.
She began modeling at the age of 14 after being found "at a charity fashion show in a mall in St. Louis….for her cat-like stride." "Kloss has now walked for practically every major fashion company, transforming her original gait into one of the circuit's most admired and commented upon." Kloss, who is agile and long-limbed, has gained admirers and accolades from across the industry, including the casting directors of Victoria's Secret, the world's most publicized catwalk."
6. Emma and Alex Watson: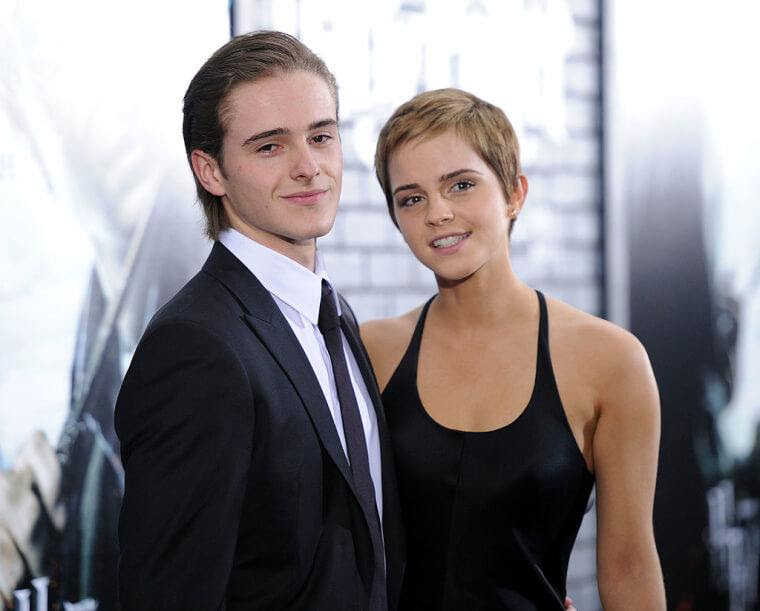 Emma Watson became the crush of many young teenagers ever since she was seen playing the role of "Hermione" in the famous Harry Potter Movies, but did any of you know that she has a brother who looks like he could be her doppelganger? In 2010, Emma cut her hair into a pixie cut, and people couldn't help but notice how massively identical they both looked.
Emma Watson has not established herself as a one-role actor. She did not limit her professional abilities to acting but also flourished as a model. Emma Watson's celebrity and affluence do not preclude her from addressing contemporary societal issues. She is a United Nations Goodwill Ambassador who is against gender injustice. She was voted Campaigner of the Year at the Observer Ethical Awards in 2015. $80 million in net worth. CHILDHOOD Emma Charlotte Duerre Watson was born in Paris on April 15, 1990. Jacqueline Luesby and Chris Watson are her parents. The girl was either named after his father's mother or after a family acquaintance.
7. Ashley, Mary-Kate, and Elizabeth Olsen: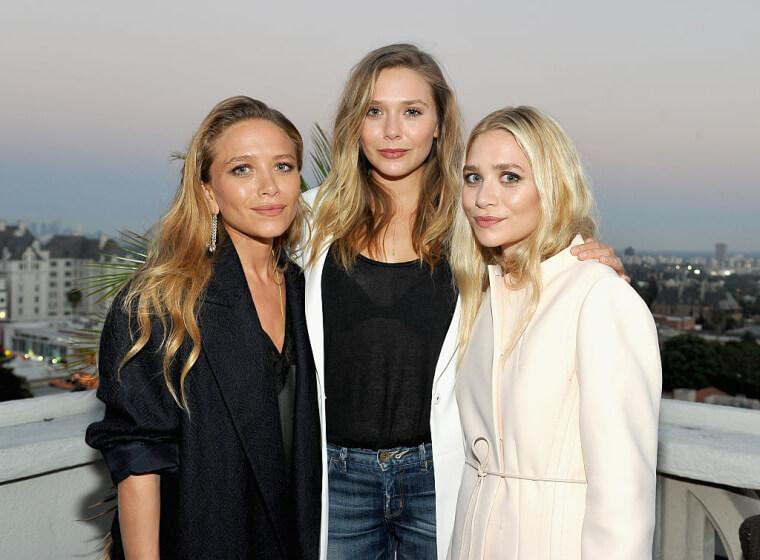 If you hadn't already known that these three are related, would you assume that they are triplets? While Mary-Kate and Ashley look exactly alike, Elizabeth makes a difference with her height. Something might have been in the water at the Olsen's residence because they all are just stunning.
Mary-Kate Olsen (born June 13, 1986) is an actress, fashion designer, producer, author, and businesswoman from the United States. Along with her identical twin sister Ashley Olsen, she co-founded luxury fashion brands The Row, Elizabeth, and James, and the more affordable lines Olsenboye and StyleMint. Olsen pursued acting as a career as an adult until 2012. She is actress Elizabeth Olsen's older sister.
Mary-Kate was born in Sherman Oaks, Los Angeles, California, the daughter of personal manager Jarnette "Jarnie" Olsen and real estate developer and mortgage banker David "Dave" Olsen. She has an elder brother, Trent, a younger sister, Elizabeth Olsen, and two half-siblings from her father's second marriage, in addition to her twin, Ashley. In 1996, Olsen's parents divorced.
In 2007, the sisters stated that if they ever worked together on a film again, it would be as producers. Weeds featured Olsen in a recurring role. She had an appearance in The Wackness in 2008. Her co-star, Academy Award winner Sir Ben Kingsley, lauded her at the Sundance Film Festival. Olsen also appeared as a guest star on the ABC comedy Samantha Who? in 2008 as a self-destructive girl whom Samantha tries to help. Olsen starred in the film adaptation of Alex Flinn's novel Beastly. Mary-final Kate's acting project was Beastly.
Both Mary-Kate and Ashley announced their intention to quit as actresses in order to focus on their design careers in March 2012. Mary-Kate and Ashley believed that their futures lay in fashion rather than performing. They discussed opening a store as one of their future fashion-related ventures.
Noah Cyrus is the fifth child of Billy Ray and Tish Cyrus and the youngest of Trace and Miley Cyrus' siblings. In 2017, she was named one of Time's 30 Most Influential Teens.
8. Miley and Noah Cyrus: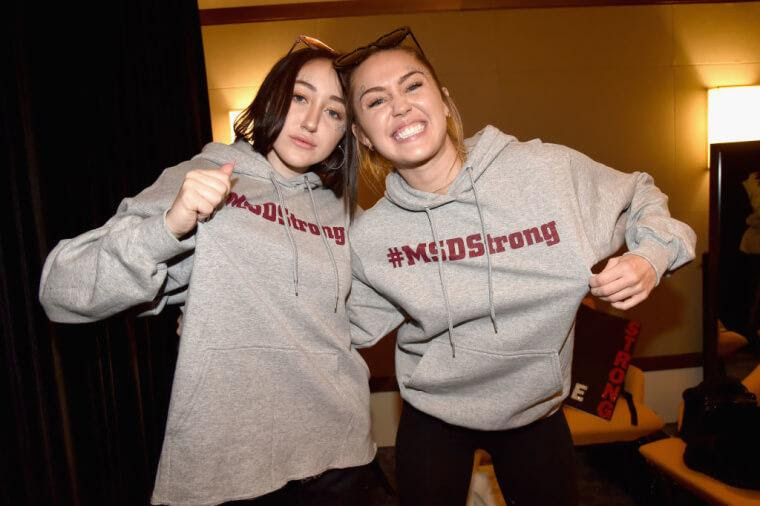 If you were a Hannah Montana fan like us, you probably remember little Noah's appearance in the show every now and then, but now, the young star is all grown up. There is no doubt that she is Miley Cyrus' sister because even though the two aren't identical by features, Noah still picked up some of her sister's behaviors. Both of Billy Ray Cyrus's daughters have a strong passion for singing and have made their own fashion statements over the years. Now, Noah has finally come out of the shadow of her big sister and is sharing her talent with the world on her own.
Noah Cyrus was born in Nashville, Tennessee, on January 8, 2000, to producer and filmmaker Tish Cyrus and country singer Billy Ray Cyrus. Her parents' relationship has been on and off, with the two filing for divorce twice but eventually rekindling it each time. Ronald Ray Cyrus, Noah's paternal grandfather, was a Democratic politician in Kentucky. Miley Cyrus, Trace Cyrus, Braison Cyrus, Brandi Cyrus, and Christopher Cyrus are Noah's siblings.
From July to September 2018, Cyrus dated rapper Lil Xan.
Cyrus began her acting career at the age of two, playing Gracie Hebert in the sixth episode of the television sitcom Doc. She appeared as a background dancer in Hannah Montana: The Movie in 2009 and in six episodes of the Disney Channel Original Series Hannah Montana. She made an appearance as a Trick or Treater in the direct-to-DVD film Mostly Ghostly.