For as long as we can remember, there have been some pretty unrealistic standards of beauty in society, which are nearly impossible to achieve. They are downright ridiculous because every single body type is just as beautiful as the other. And, you'll be quite shocked to see what lengths an average person will go to try to achieve such standards, just so they can match the status quo, or physically look according to what our society wants us to look like.
This unrealistic standard of beauty didn't just come a couple of years ago, it has been here for over 3 centuries. Back in the early 1900s, women literally wore radium on their faces and bodies only to get that luminous effect and wore tight corsets just so they can achieve that "slim and slender" look.
Nowadays, every single thing that models and celebrities do is showcased everywhere on the internet. A grand event takes place in Hollywood, and you'll see thousands of young girls already feeling self-conscious. Everywhere we go, we see giant posters of celebrities promoting and advertising bodysuits, makeup items that'll transform your whole face, and so forth. Be it models, musicians, actors, or actresses, these famous people are everywhere flaunting their "perfect" faces and bodies. But is all of that even real? Absolutely NOT!
Check out these before and after "Celebrities Photoshop" photos that will totally blow your mind and make you question the authenticity of everything around you!
Madonna: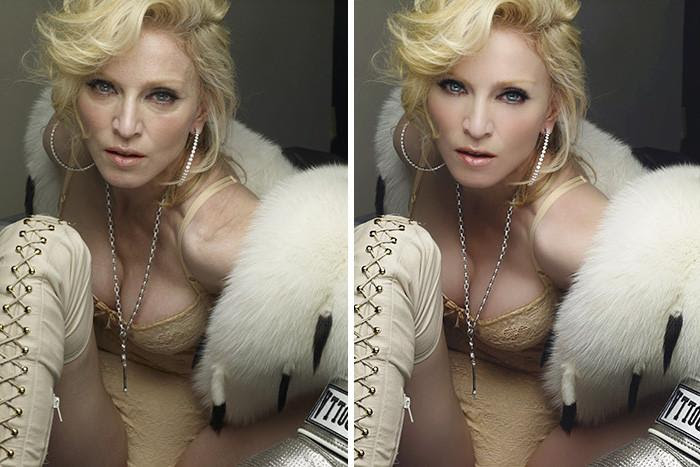 Madonna is definitely one of the most iconic performers out there but we certainly don't expect her to look flawless at 59 years old. Seeing these before and after comparisons of Madonna's photographs will give you major red Photoshop flags. Airbrushing a celebrity's wrinkles and loose skins just leave their fans scoffing at times. 
In some of these photos of Madonna before and after Photoshop retouching went on to make her look more "camera-ready," we can barely even recognize our Diva that we have grown to admire over the years! Clearly, evidence of our eye-opening experience with this transition brings into question what is ethical when it comes to picture editing and airbrushing celebrities so they appear better than they are in person.
Candice Huffine: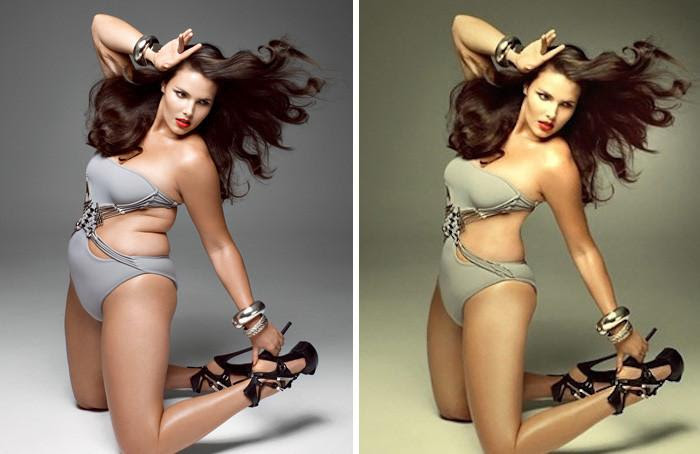 We cannot say we're not disappointed to find out that the left image was photoshopped in an unattractive way. Candice Huffine is a plus sized model and she wants to show women out there that it's okay to love their bodies just the way they are. She is absolutely stunning the way she is, and we can't help but stand behind her fully while offended by this act of disrespect towards her which was clearly done without her consent.
Candice Huffine said herself that she is a proud plus-size model and doesn't want to follow any unrealistic beauty standards the society may try to place on her, and quite frankly, she is stunning just the way she is! The left image was the one that got featured in the magazine and it proves how much of a difference Photoshop can make. 
Angelina Jolie: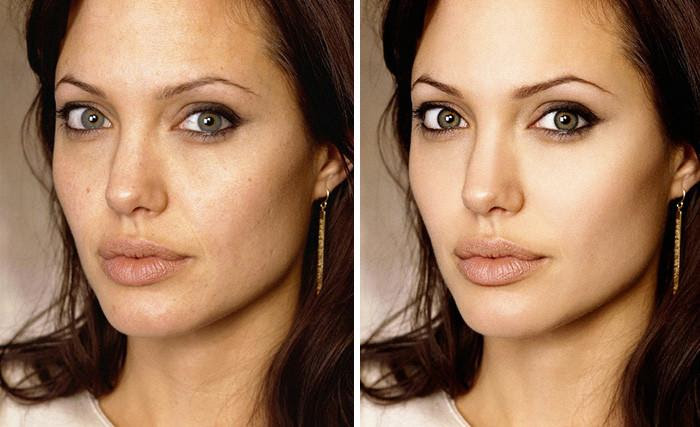 Beauty means different things to different people. While for some it's about having a nice face and perfect body, others find true beauty in helping other people or contributing to society. In any case, we think that Angelina Jolie is one of the most beautiful women in Hollywood.
With her enthralling acting skills and unmatchable facial features, Angelina Jolie has been the queen of Hollywood for as long as we can remember. But even for the most beautiful women in the world, these societal beauty standards can be hard to live up to. Her raw beauty has been airbrushed to deceive young girls into thinking they are not perfect, but the truth is, nobody is perfect and we are all beautiful in our own ways. 
We here are passionate about helping people feel good so we want you to see how beautiful you really are – no matter who you are!!
Justin Bieber: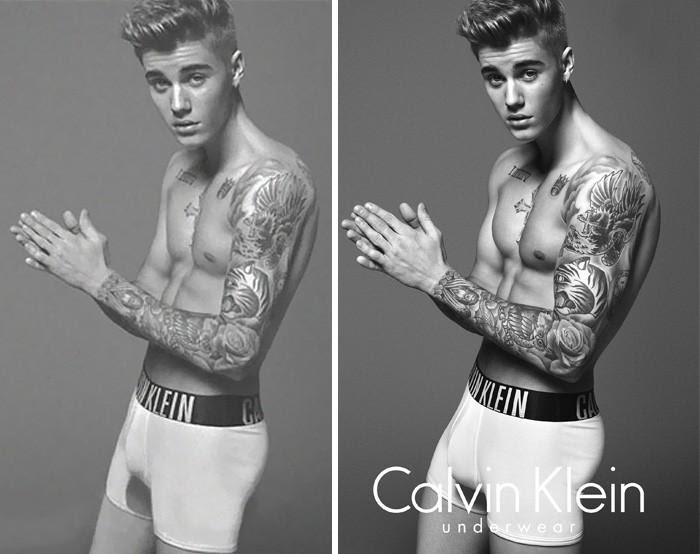 The famous singer/songwriter Justin Bieber did an undergarments campaign for Calvin Klein a couple of years ago, and the photographs from that campaign went viral and were the talk of the town for a long time.  Apparently, the photos used in their campaign advertisements were photoshopped to make him appear leaner than he's naturally. Justin also took notice of the situation and his team threatened the website to take down the Photoshopped images. This led to a lot of media reports about the incident on TV and social media sites for quite a long time afterward.
Britney Spears: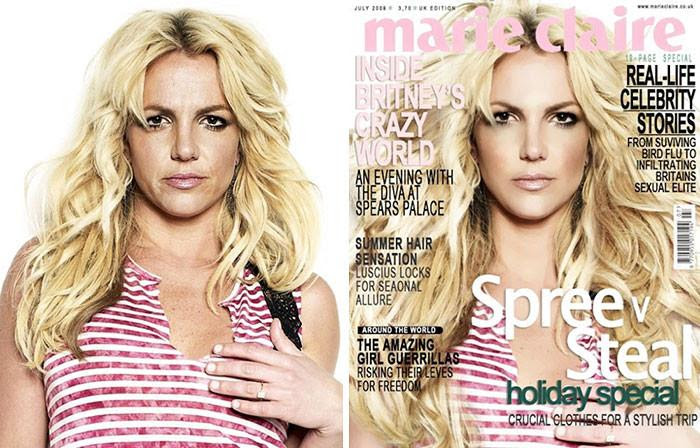 It's Britney b*tch! The 36-year-old star is also no stranger to the unrealistic beauty standards of the industry. In fact, every little thing that this singer used to do in the past years was criticized to the most. One time, Britney herself revealed the before-after shots of the campaign and told her viewers how women in this industry are pressurized to look "perfect", but one time Britney unveiled the "before and after" shot of her disastrous 2007 photoshoot with photographer Lindsay Lohan, 27, and said: "This is my real life; I'm not perfect. For me this isn't vain; it's reality.". She also told her viewers how women in this industry are pressurized to look "perfect". 
Beyonce: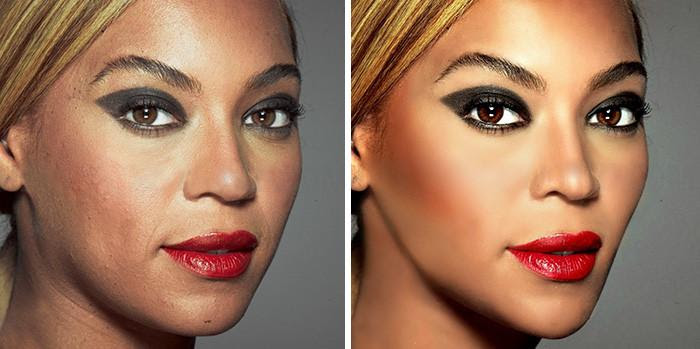 Last year, a website named "The Beyonce World" leaked almost 224 photos of this Hollywood Queen that were untouched and completely raw. This news was truly shocking for her management who later revealed that this online group of hackers has been attacking them with malicious software and highly dangerous viruses for the past few months and now they want to get their hands on more virtual gold by trying to take down Beyonce and Jay-Z's daughter Blue Ivy. 
Even though these images were removed from the websites after Beyonce's "rabid" fans got extremely furious, an administrator from that website told that he just wanted people to know that Beyonce is a natural beauty and doesn't need such fake Photoshop to fit in. 
Penelope Cruz: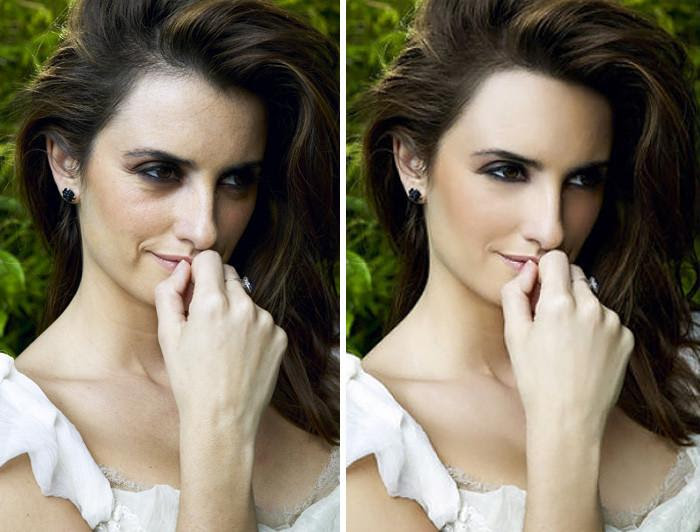 Do you ever open your social media accounts and see female celebrities all dolled-up, with not a single mark on their beautiful faces? Well, remember that pictures can be deceiving and all that might not even be real. The 44-year old Spanish beauty, Penelope Cruz, is also no stranger to the Photoshop feature, and you can see in these images that her fine lines have been erased, skin complexion has been lightened, and dark circles have been airbrushed.
Cindy Crawford:
Any self-respecting model would know the importance of keeping her image flawless but we don't think anyone could have seen this one coming! Imagine one of the most stunning models of the American beauty industry being so fabulously flawed that it thrilled millions of fans when an un-touched photograph of Cindy Crawford went viral back in 2015! However, this time, the un-touched image was the fake one.  This time around, though, it didn't matter because Cindy clearly hadn't had any work done, and she still looks as gorgeous in her forties as she ever did! Cindy told in an interview that she felt manipulated and conflicted about the whole situation. But one thing is for sure, and that is, this Hollywood star is as foxy as ever, even in her 50s! 
Katy Perry: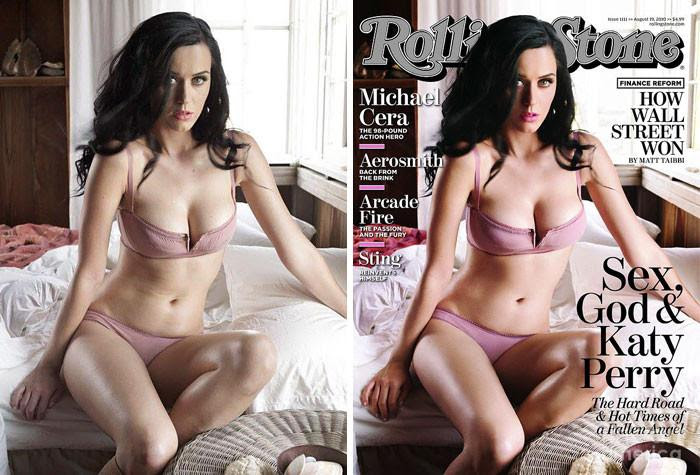 It's so easy to hate a backlash once you get one. Anyone can fall victim to unwarranted hate by an unexpected troll on the internet for no good reason, it happens all too often. But what about before things like that happen? What about when someone is still at their rise to fame? It doesn't matter if you are one of the most successful stars in the modern entertainment world, it still won't save you from the unrealistic beauty standards of Hollywood. All of the success Katy Perry has gotten in her career didn't stop someone from photoshopping her slimmer, with smoother and shiner skin, and thicker breasts. Although it may not seem like it sometimes and despite what some might think, celebs actually don't always know how to handle themselves when they feel pressured in this way, and end up having to face harsh criticism from others even before they're ready or able to do so (Katy Perry is a perfect example of this).