Being a superstar isn't as easy as we think! One has to go through thick and thin to achieve limelight and respect. Viewers usually think that being an actor or actress is all about dressing up well, putting on makeup, and enjoying your shoot.
But that is not the case, some celebrities have to put their life in actual trouble for their project to be successful. For the audience that is just a movie or series. But for celebrities, that is their opportunity for changing their life.
Here is the list of top celebrities who changed themselves completely for their career. 
1. Chris Hemsworth in the movie Thor:
Thor, son of Odin, is back for his fourth movie, which will likely add more characters to the MCU through crossovers. In Thor: Love and Thunder, Chris Hemsworth is back as the name-giving Nordic god. It's an American superhero movie based on the Marvel Comics character Thor.
Marvel Studios made it, and Walt Disney Studios Motion Pictures will be in charge of distributing it. It's supposed to come right after Thor: Ragnarok and be the 29th movie in the Marvel Cinematic Universe
Hemsworth has been a well-known and the most esteemed actor in Hollywood. In his movie, Thor, he was playing the main role. He gained 20 pounds of muscle for his character in Thor. His workout was so tough that a normal man cannot do it.
If one has to be handsome and impress his girlfriend, he must perform that workout as Hemsworth did!
Since the end of the Endgame, Thunder's body has been a topic of conversation. People have different thoughts about bold creative choices. Some said it was okay because they thought his weight gain was caused by PTSD, while others said Marvel Studios did it to get cheap laughs.
Even so, Fat Thor's appearance might be one of the most surprising things about Endgame. Hemsworth was happy to play the Marvel hero in this new way, but the change wasn't easy for the actor.
The behind-the-scenes looks at Endgame showed that Hemsworth didn't have to gain weight for the role of Fat Thor, but he did have to use practical effects to get the look.
The actor said that he wore a fat suit that weighed between 60 and 70 pounds while making the movie. This was before he put on all of the layers of clothing that his character wore, especially during the final battle when he put on his battle armor.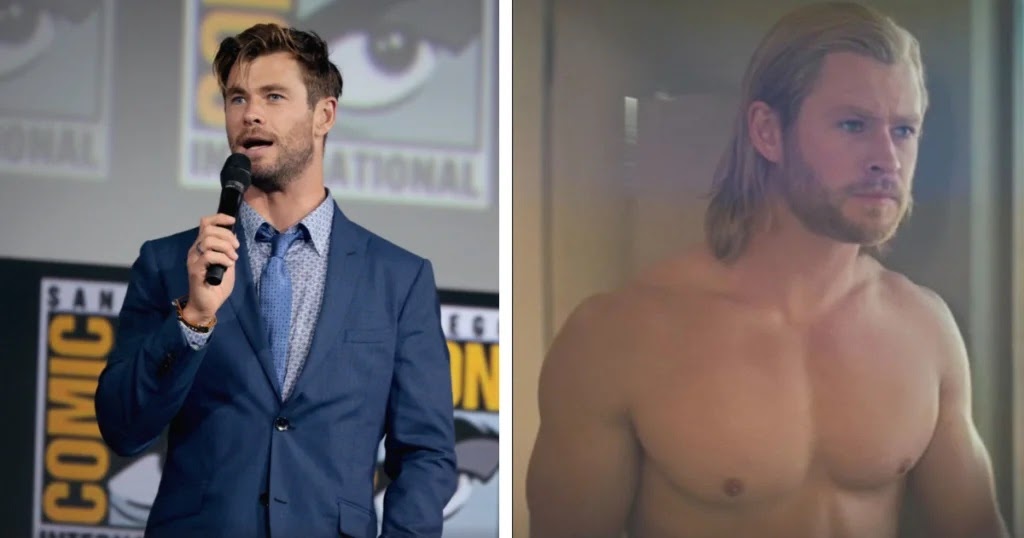 2. Ewan McGregor in the movie Fargo:
McGregor was extremely unrecognizable in his movie Fargo. He shaved half of his head and grew a mustache. Also, he gained a lot of weight to look obscene and bulky. But the only good thing was that he had to eat a bunch of fries as his meal for 3 months regularly!
Ewan McGregor has talked about how much he changed for the upcoming season of Fargo. In the upcoming third season, the actor will play two different roles.
A trailer recently showed the first glimpse of this. McGregor plays Ray Stussy, a parole officer, and Emmit Stussy, who owns a lot of parking lots. To play Ray Stussy, he almost doesn't look like himself. His hair is getting thinner, and he has gained weight.
The latest episode of the Fargo TV show will be shown for the first time in the US on FX on April 19. The UK air date hasn't been set yet, but it will be shown again on Channel 4. In May 2016, FX gave this official description of McGregor's characters:
"Emmit Stussy is the Parking Lot King of Minnesota. Emmit thinks of himself as an American success story because he is handsome, made a lot of money on his own, and has a family. On the other hand, his slightly younger brother Ray Stussy is more of a cautionary tale."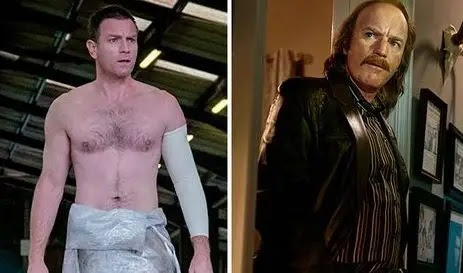 3. Hillary Swank in the movie Million Dollar Baby:
Hillary Swank is very well-known because of her fitness and perfect figure. For her appearance in the movie, she worked out 5 hours a day and took a strong protein diet. Ultimately, she gained 20 pounds of muscle in just 90 days.
Take the movie Million Dollar Baby with Hilary Swank. To play a female boxer, she not only had to learn how to box, but she also had to change her body to look like someone who has probably been training her whole life. Swank had about three months to get it done.
Swank said, "I trained by boxing for two and a half hours and lifting weights for about an hour and a half to two hours every day, six days a week." "The producers told me to get 10 pounds bigger and stronger.
I got 19 pounds stronger. I began at 110 and ended up at 129. And I had to eat 210 grams of protein every day to do it. Now, your body can only take in so much protein, so I had to eat every hour and a half.
So, I would drink my egg whites with my meals because I couldn't eat 8 to 12 egg whites at once. It's the worst thing that could happen. I had to take flax oil by mouth. Flaxseed oil is very important for your brain and for keeping everything moving when you eat so much protein.
This fat is very important. About 15 grams of fat are in one tablespoon of flax oil."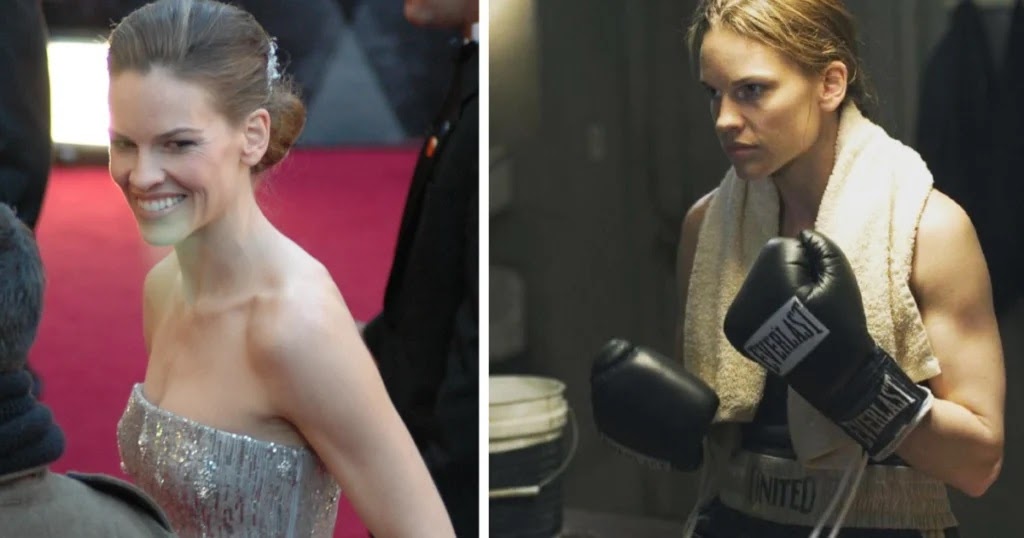 4. Steve Carell in the movie 40 years old virgin:
Steve Carell is a famous Hollywood actor. In 40 Years Old Virgin, he transformed himself completely and got his body waxed painfully. His performance skills are appreciable that make us chortle.
As Carell's career in comedy has grown, his choices have become much less general and more specific. A year after the release of 40-Year-Old Virgin, Carell starred in Valerie Faris and Jonathan Dayton's Little Miss Sunshine, which was a very different kind of comedy.
Instead of dumb, broad jokes about sex, the indie movie was about a loving but very dysfunctional family, including Uncle Frank (Steve Carell), who tried to kill himself.
Little Miss Sunshine is one of the few movies that has become as much of a cultural touchstone as it has. It also seems to have changed Carell's interests.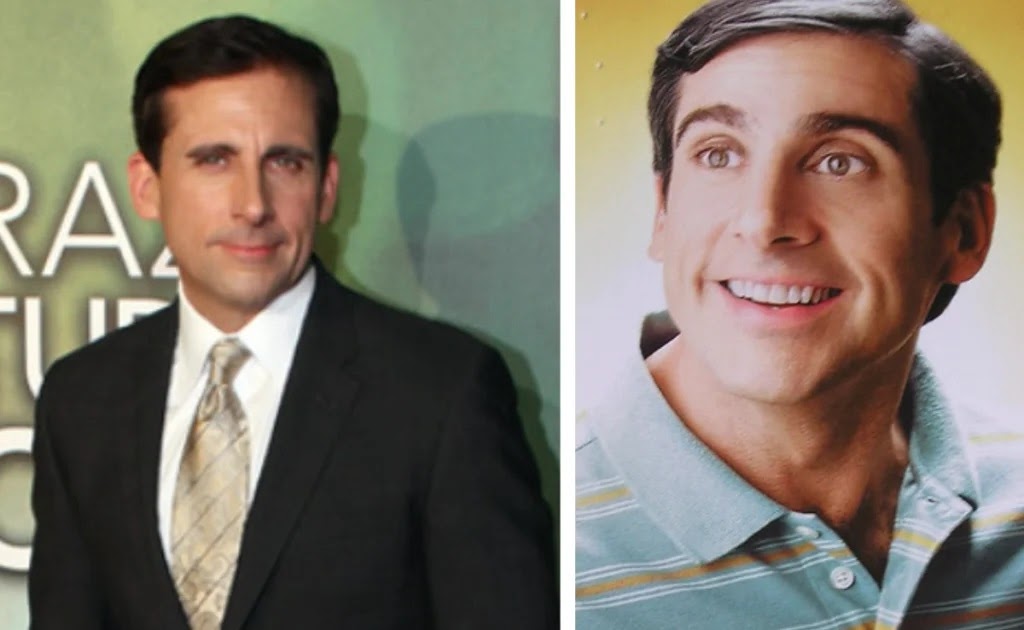 5. Shailene Woodley in the movie Adrift:
For the Hollywood project Adrift, Woodley lessens her diet to 350 calories just for her role in the movie. Indeed, her transformation in The Adrift is mind-boggling. 
Many people think that being an actor is a glamorous job, but sometimes artists have to go to great lengths to lose or gain weight for a leading role.
The 2018 movie Adrift, starring Shailene Woodley, is based on the true story of Tami Oldham and Richard Sharp (played by Sam Claflin), who were stranded at sea for more than 40 days after a hurricane destroyed their yacht while they were sailing on the Pacific Ocean.
When the movie came out in 2018, the now-28-year-old actress talked about how much she had changed. She told The Times that while the movie was being made, she ate only 350 calories a day. In order to keep up with her low-calorie diet, the actress usually skipped dinner and ate less.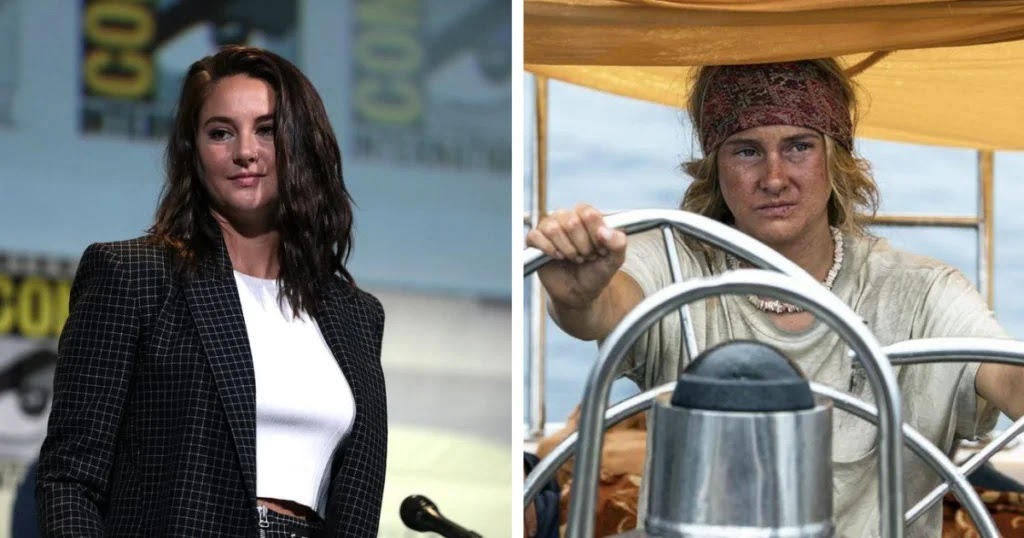 6. Jared Leto in the movie Dallas Buyers Club:
Jared Leto is one of the most entertaining characters in every Hollywood movie he plays. In Dallas Buyers Club, for his character as a transgender woman, he lost 114 pounds and appeared to be a smart lady. Indeed, he deserves an Oscar Award!
Leto's physical change was much more than just new hair and makeup. He lost 30 pounds and got rid of all of his body hair, even his eyebrows. Later, Leto said that he was really worried that his eyebrows wouldn't grow back.
Leto said he was very worried that after waxing his eyebrows a few times for the role, they wouldn't grow back. In 2013, he told Roger Ebert, "I was afraid." Also, "I got my eyebrows waxed off. I waxed them twice while we were filming.
Twice or thrice. And I remember that the second time, I thought, "Man, is this it? Is this the last time I'll ever see them?" We had to wax them again because they were starting to grow back. They did, though." Leto said that Rayon's physical change was a big part of bringing him to life.
He said, "The makeup was just one thing." "I was about 30 pounds lighter. But there are also some other things. You really couldn't get out of the costume. I waxed every part of my body. Then there's everything inside.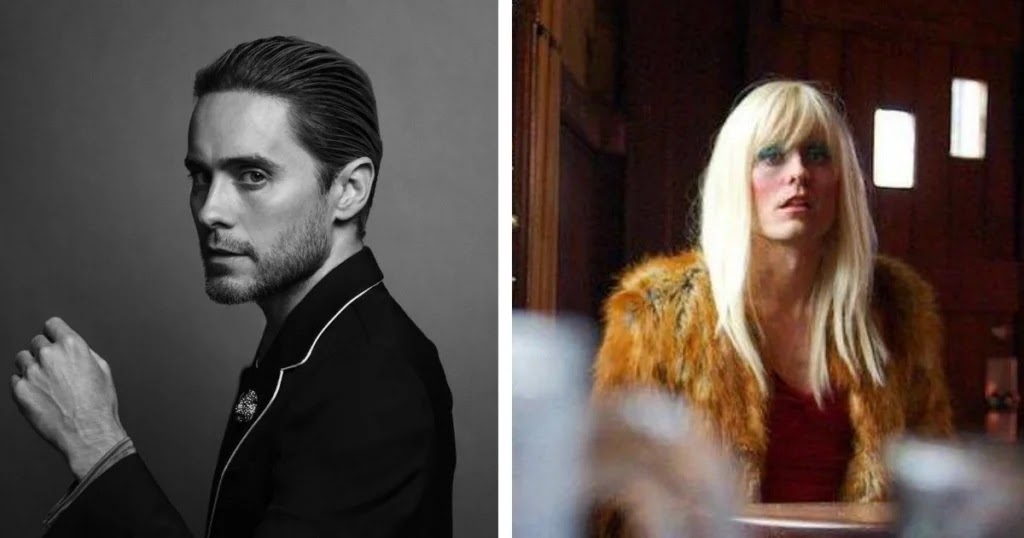 7. Chris Pratt in the movie Guardians of the Galaxy
Some of the roles make you more pretty and handsome than before. Chris Pratt did tough hard work with the Navy Seal trainer and worked 3-4 hours for 6 months. His nutritionist advised him to in-take 4000 calories and a huge amount of water.
Chris Pratt talks about the people who helped him change his body from Andy Dwyer on Parks and Recreation to Star-Lord in Guardians of the Galaxy.
Most fans first saw Pratt as the silly and fun Andy Dwyer, but his career took a turn when he was cast as Peter Quill, also known as Star-Lord, the leader of the cosmic team.
Pratt had to lose 60 pounds in just seven months to get ready for the Marvel movie. This change was talked about a lot before Guardians of the Galaxy came out in 2014.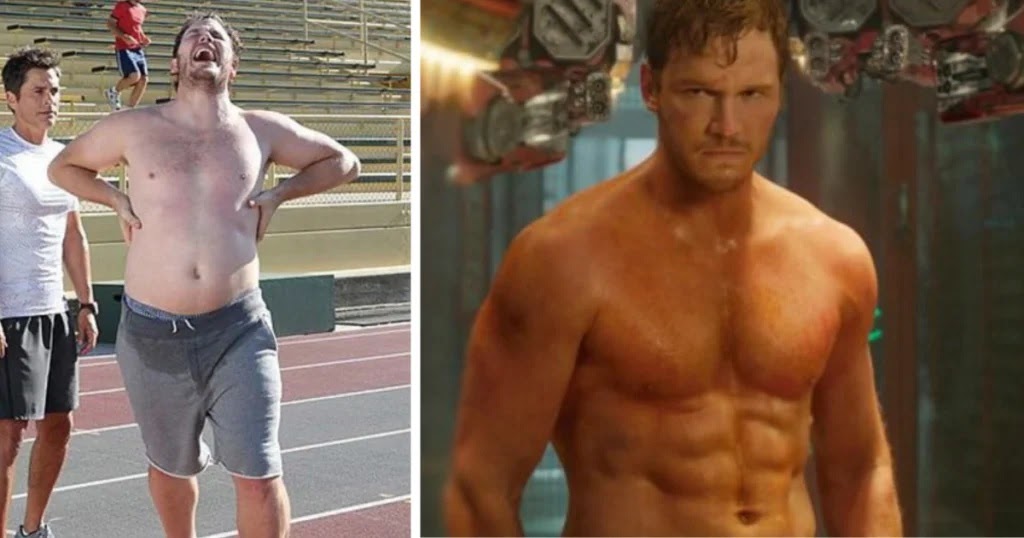 8. Chris Evans in the movie Captain America: The First Avenger:
Chris Evans is a charming and handsome guy and the public adores him to a great extent. He has worked out very hard to again have a superhero body. 
In the Marvel Cinematic Universe, actors have to be in great shape to play heroes, and Evans was up to the challenge of staying in superhero shape while playing Captain America. Captain America:
The First Avenger, which came out in 2011, was the first time people saw Evans as a superhero. Because the movie was about how Steve became the first super-soldier in the MCU, it also had to show what he looked like before he became one.
In the first act of Captain America: The First Avenger, people saw Steve Rogers before he became one of the greatest heroes in the world. Steve was short and skinny when he was a kid in Brooklyn, compared to most other boys his age.
The Captain America exhibit in the MCU says that Steve was only 5'4 and 95 pounds before he took the serum. Even though Steve Rogers was skinny and had a small body, he still had the heart and morals that made him the obvious choice to be Captain America.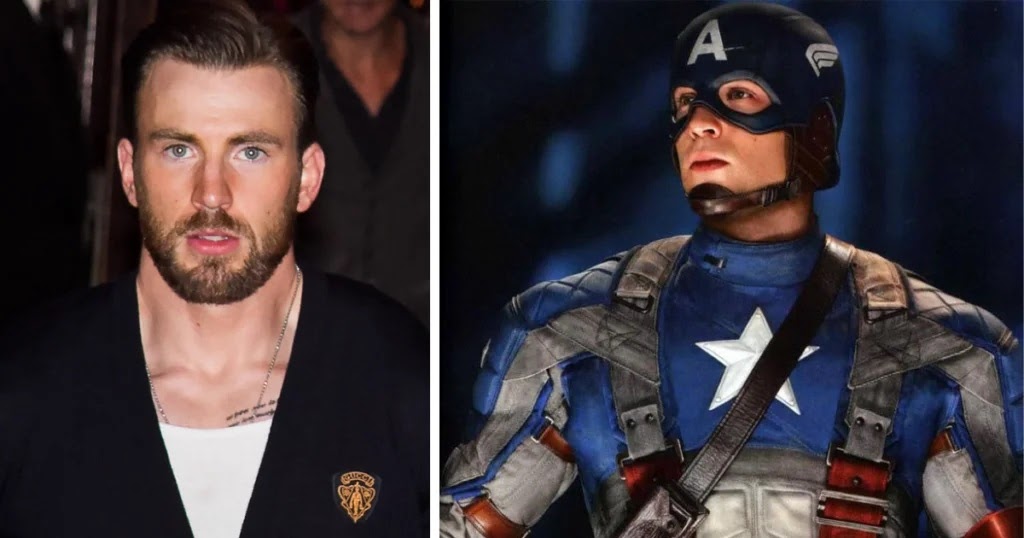 9. Tom Hanks in the movie Castaway:
Tom did a great struggle to lose 55 pounds and grew a disheveled beard for his leading role in Castaway.
The twist came when Tom Hanks began to lose weight to play Chuck Noland, who was stuck in the desert. He lost a lot of weight to make himself look poor. During the making of Cast Away,
Hanks went through a hard physical change. Hanks put on 50 pounds to play a "healthier" version of Chuck. Filming started in 1998. The filming was then put on hold for a whole year while Hanks lost weight to look as skinny as possible.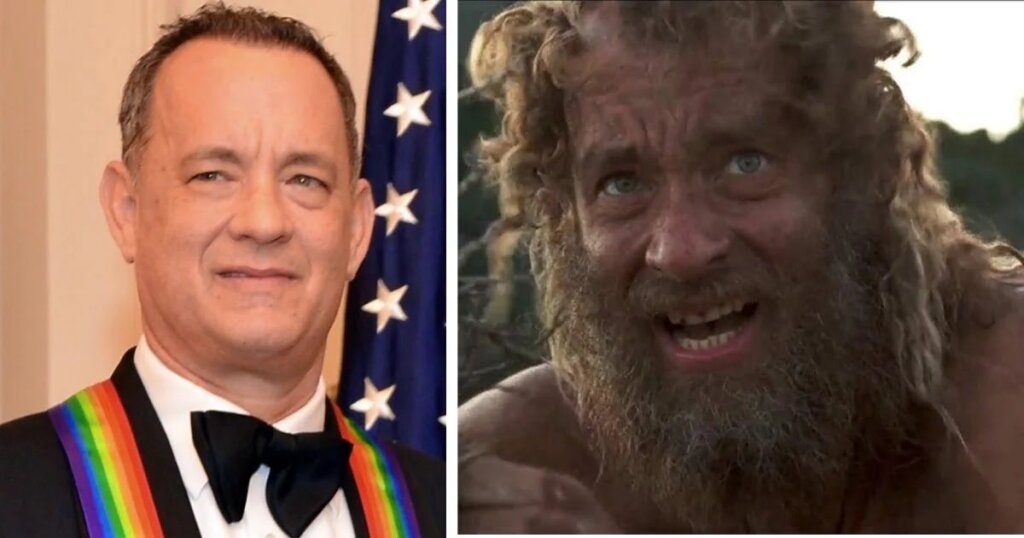 10. Christian Bale in the movie The Machinist:
Bale proved that NO Pain, No Gain! Sometimes, you need to look ugly to gain fame and the audience's attention. The same is the case with Christian Bale.
His diet for 4 months before the shooting was an apple, a cup of black coffee, and a tuna per day. Indeed, a normal human being cannot do this tardily.
The Machinist is one of Christian Bale's most memorable movie roles because Trevor Reznik has a thin, puckered face and a weird, almost distorted skeleton.
It also shows Bale at his most methodical, since he lost more than 25 kg in four months to play the sleepless factory worker.
That works out to about 200 calories a day. And amazingly, the final weight of 54 kg that Bale finally got to wasn't enough for him. Bale wanted to lose weight until he weighed only 45 kg, but the film's producers stopped him because it would be bad for his health.
Bale, who is now a lot older, has said that his days of fasting, eating a lot, and working out hard are pretty much over. This is true even though, in the past couple of years, he had to gain almost 30 kg and then lose it again to play Dick Cheney in Vice and race driver Ken Miles in Ford vs. Ferrari.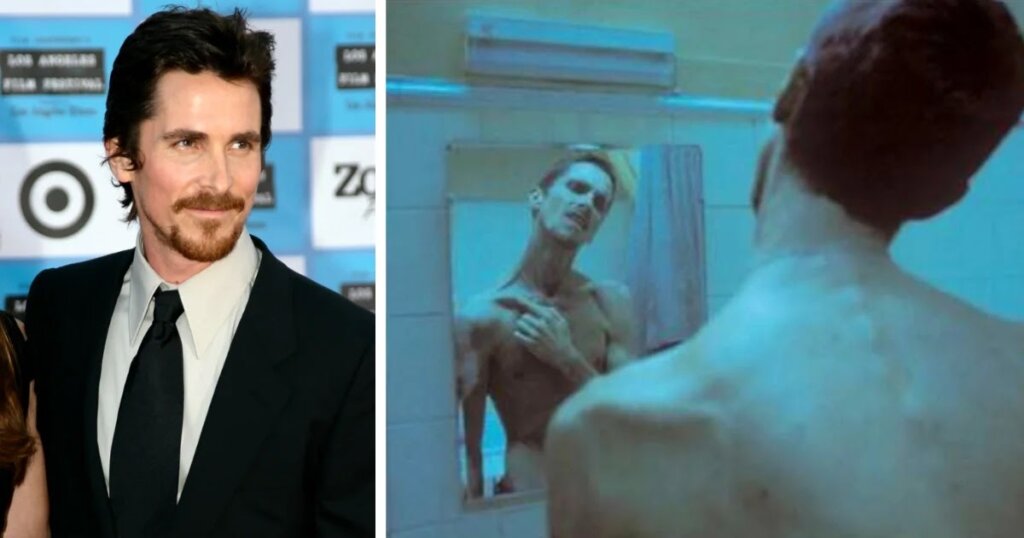 11. Jake Gyllenhaal in the movie Nightcrawler:
Gyllenhaal lost 20 pounds in just a few months and ran 15 miles a day to make himself perfectly fit for the movie.
Jake Gyllenhaal became well-known for the first time in 1991 when City Slickers was the first movie that showed him in a leading role. Jake didn't have the biggest role, but that would soon change after October Sky, which made him a big star and helped him get bigger roles.
Jake has had a lot of acting training, but nothing compares to how he changed for the role of Lou Bloom in Nightcrawler. The actor had to go to great lengths to get into character, and here's what he did!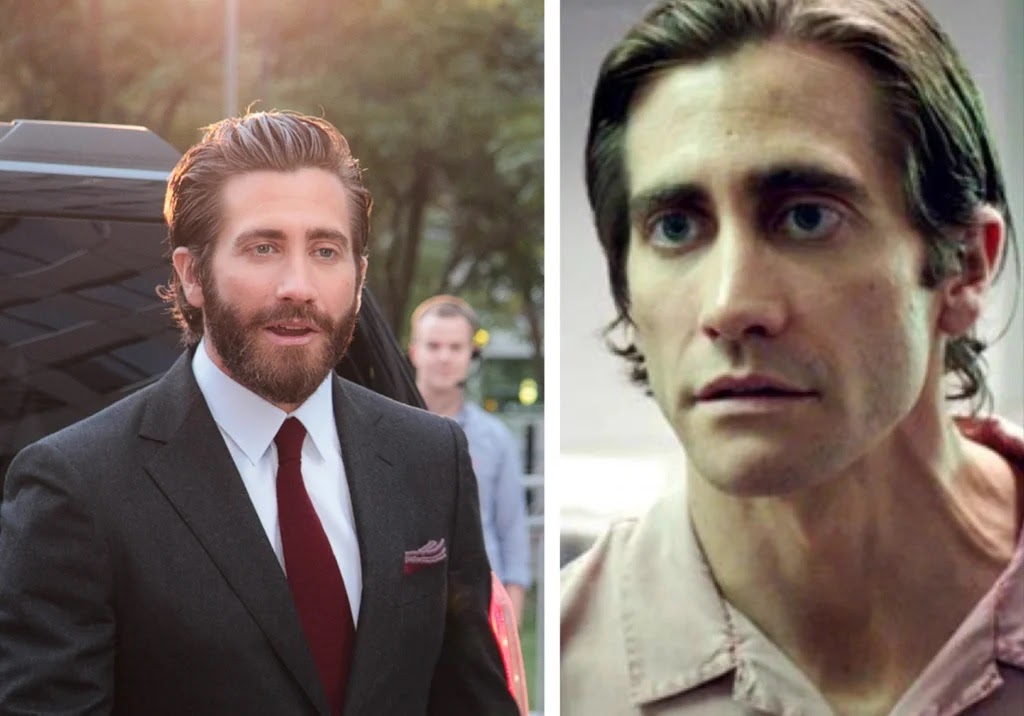 12. Demi Moore in G.I. Jane:
Demi Moore did more than extraordinary acts for her role in the movie. She shaved her head completely and did cardio and muscle training to get the body of a Navy SEAL.
Demi Moore used her workouts and diet to become G.I. Jane. It wasn't easy to turn into Lieutenant Jordan O'Neil, the first woman Navy SEAL. Demi Moore's workout was a mix of real Navy SEAL training, a lot of strength training, cardio, and martial arts.
Gregory Joujon-Roche and Stephen Helvenston were the two trainers Demi Moore used to get in shape for the role. She worked out with celebrity trainer Gregory Joujon-Roche, and Navy SEAL instructor Stephen Helvenston helped her get into the mindset of a Navy SEAL while she was on set.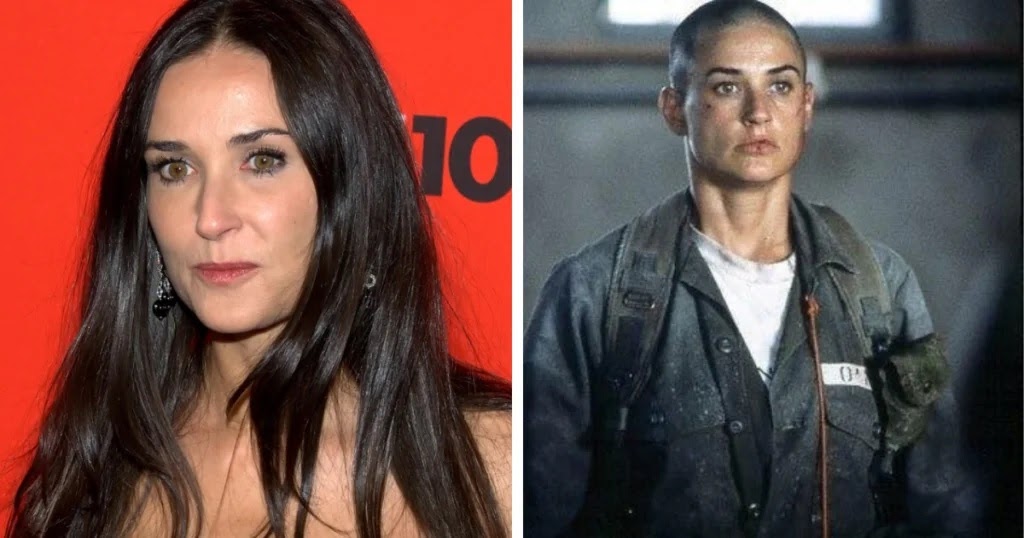 13. Matthew McConaughey in the movie Dallas Buyers Club:
To play the character of a dying man, Matthew lost 47 pounds and burnt 1800 calories. Also, he slept for only a few hours at night.
Matthew McConaughey, who played Ricky in "Dallas Buyers Club," has talked about how he lost 50 pounds for the role. His unusual plan was to eat nothing but fish, egg whites, tapioca pudding, and "as much wine as I wanted to drink." "I didn't beat myself up. I was strong.
The dramatic change Matthew McConaughey went through for Dallas Buyers Club will not be forgotten for a long time. For the role, the actor lost 50 pounds and gave one of the most convincing performances anyone has ever seen.
But he had to pay for the big changes in his body. The actor who won an Oscar recently said that his body is still dealing with the long-term effects of the huge weight change.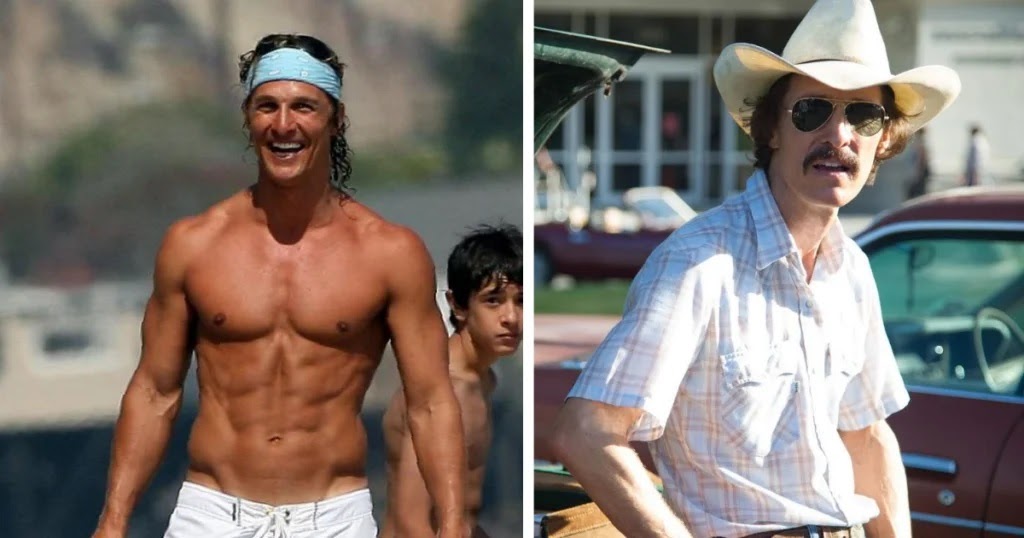 14. Matthew McConaughey in the movie Gold:
In this movie, McConaughey did more than just shave half of his head to look like, an aged-bald man. In contrast to his other roles, it was quite fun for him to gain weight and look bulky.
Matthew McConaughey is a pro when it comes to changing his appearance for a movie role. In his latest movie, "Gold," he looks almost nothing like himself.
At a showing of the movie on Monday night, the actor told the audience that he put on 45 pounds to play Kenny Wells, a businessman who finds gold in Indonesia.
McConaughey said, "I was getting damn fat as Kenny Wells." "I was an all-star in my family. At that time, I was called "Captain Fun" because I always said yes to pizza night and ate cheeseburgers and beer.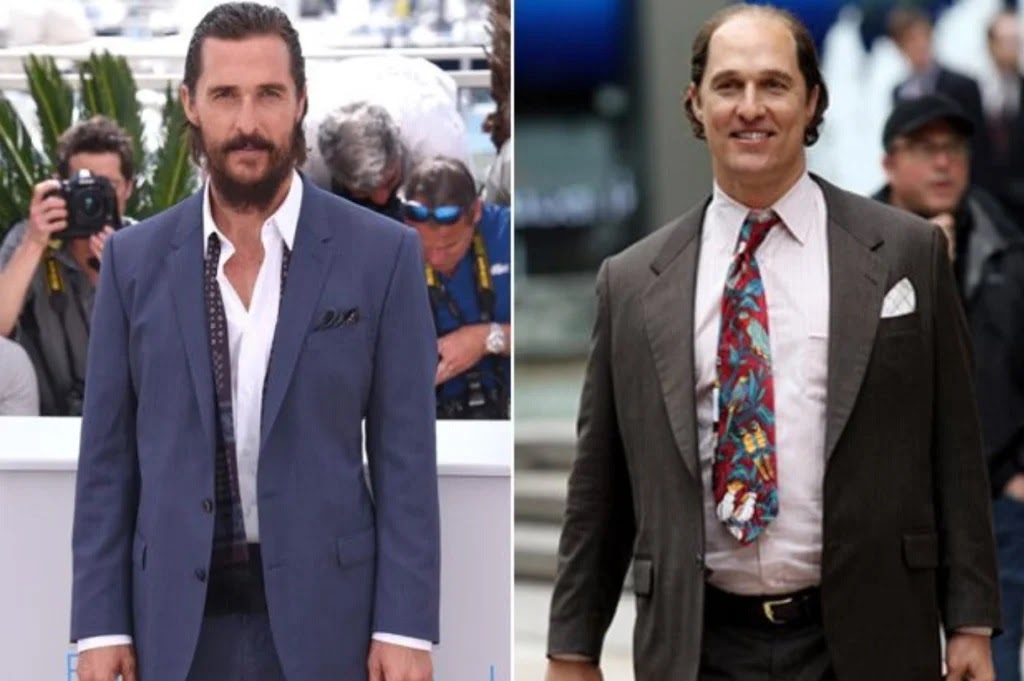 Last but not least, D'Onofrio did something for the film that changed his life. People began to hate his obscene look. He gained 280 pounds and because of a lot of weight, he got a knee injury too. Hard work pays off!
Before he was cast in Stanley Kubrick's "Full Metal Jacket," Vincent D'Onofrio was a fit, good-looking athlete who stood 6 feet 3 inches tall and had a full head of dark, curly hair. He was the type of man who makes women turn their heads.
But after D'Onofrio won the role of Leonard, the fat, clumsy, and increasingly disturbed Marine recruit who is the center of the first half of the movie, he had to gain almost 70 pounds and shave his head, which was a shocking change in his appearance.