BANGS- A POPULAR HAIRCUT FOR DECADES:
Bangs have always been a popular haircut regardless of what decade you are living in. It is a very difficult haircut to pull off and requires proper expertise to get it right. Also, you are taking a very big risk when you choose this hairstyle because it is on chance whether it will look good on your face cut or not. The best you can do is get them done by a proper expert or a hairstylist or you can do it yourself if you are confident enough to do it.
Even though bangs are a difficult hairstyle to pull off and could be risky to get one but we believe that it is a risk worth taking that every girl should take once in their lifetime. It might not suit you but there is a greater possibility of you looking good in it and the best part is that if you don't, then you can easily grow them out again and you will know if you want to get them again or not.
BEFORE-AND-AFTER PICTURES:
We have gathered a hand full of pictures showing before-and-after bangs transformations from the internet to convince you to get them yourself. Below are the pictures of women who never thought bangs are their thing but once they got it to freshen up their looks, they were amazed at how much this hairstyle suited them.
NUMBER ONE:
The first picture is of a woman who went from a long simple hairstyle to a pixie haircut and seems very happy about it.
I Did It. I Chopped Everything Off And Now Rocking A Pixie Cut!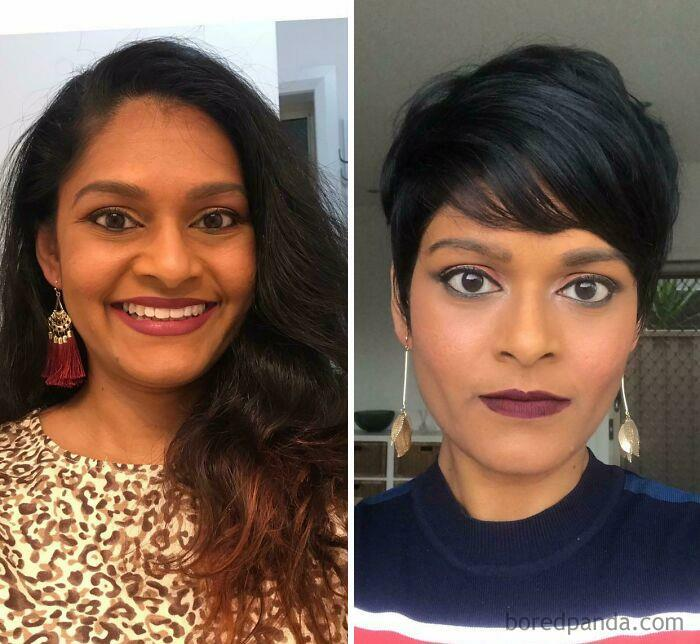 NUMBER TWO:
The next picture represents the before-and-after look of a young beautiful girl who cut her hair herself into bangs and is very satisfied with her new look.
My Cowlick Has Always Been The Bane Of My Existence And Deterred Me From Ever Getting A Fringe. But I Was Feeling Impulsive Yesterday So I Grabbed The Kitchen Scissors And Cut Myself Some Bangs Anyway.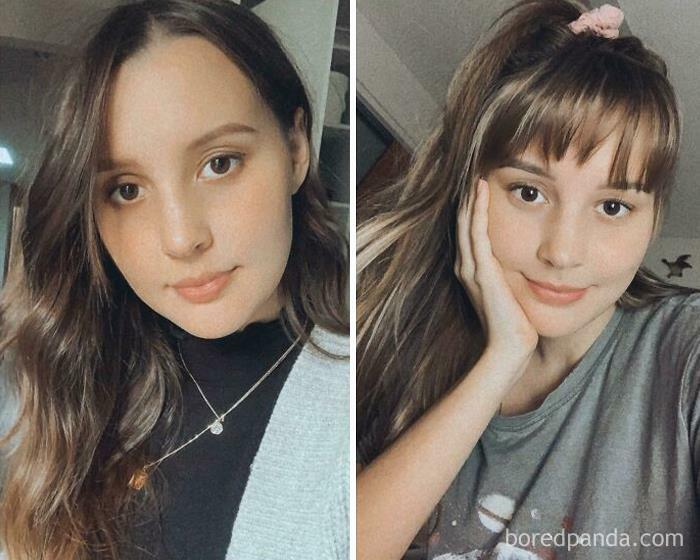 NUMBER THREE:
This picture is of a beautiful woman who had shoulder-length hair before and transformed them completely by switching to a pixie cut.
I Posted A Bit Ago Aout Whether Or Not I Can Pull Off A Pixie – I Think I Can!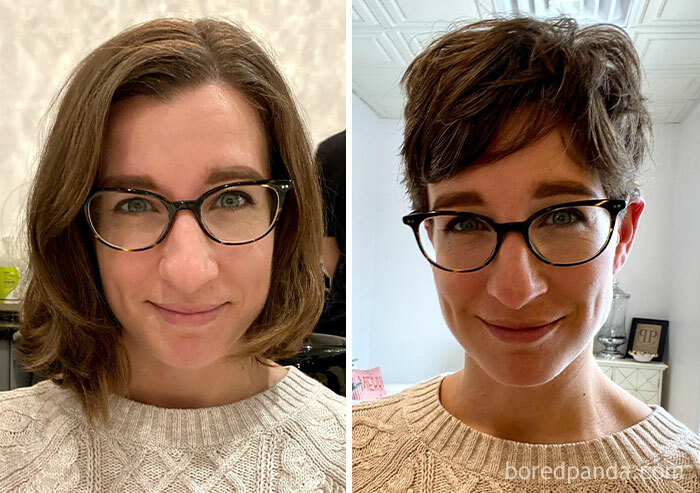 Like mentioned earlier, it is not guaranteed that bangs will suit every other girl. No matter who you are getting it done for, whether it's a top hairstylist or you are doing them yourself. Some people still suit this haircut way better than others and that depends on the face cut you have.
It depends on many important factors whether this haircut will suit you or not and to stay away from confusion you can discuss it with your trusted hairstylist. The factors that influence the haircut are your hair color and texture, face cut, clothing sense, body language, etc.
NUMBER FOUR:
This one is another before-and-after picture of a young woman who cut her hair from shoulder-length to a pixie cut.
I Took The Leap And Got My Hair Cut Off!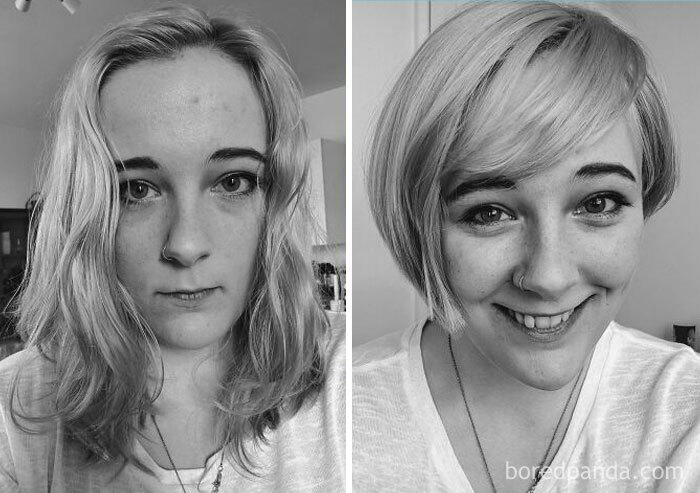 NUMBER FIVE:
The next picture is of a young girl who finally got bangs after years of debate just to look a little fresh and different.
I Finally Got Bangs After Consistently Feeling Bad About Myself For The Past Few Years. I Needed A Change. Here's To 2021 And Finding My Self Confidence!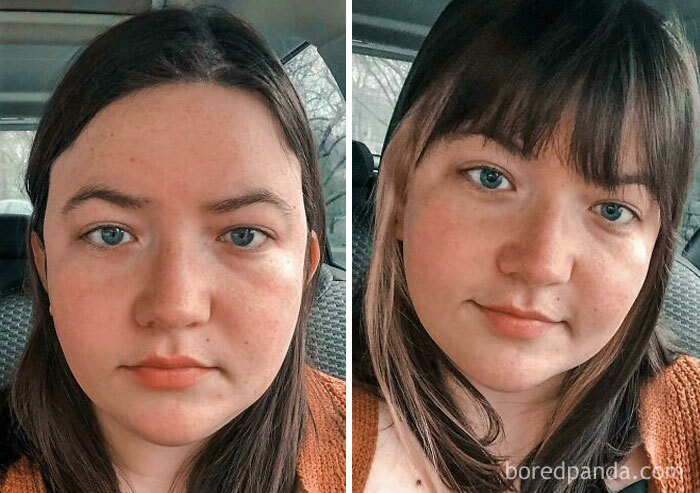 NUMBER SIX:
The next look is of a beautiful girl pulling off front bangs way better than any of the above. She looks chic and classy.
Got Bangs After Thinking About It for Months!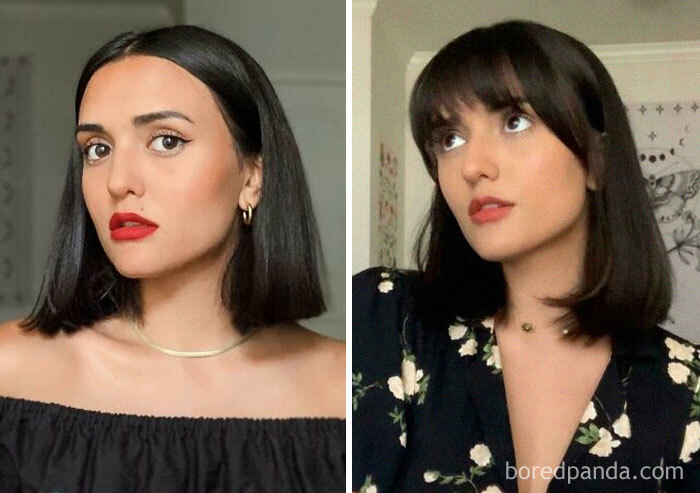 According to Oprah Magazine, before you go for bangs, you should ask yourself why do you exactly want this haircut. You think you should go for bangs because you want them or because you want a change. If it's the second reason of the two, then you should rather go for the haircut you think will suit you the most, and not the bangs.
Bangs are high maintenance. You can just leave them like that and you are good to go but you have to take good care of your hair, like using all the products that can make your hair look good.
NUMBER 7:
This is a picture of a girl who went from long straight hair to short bangs, asking the people whether it looks good on her or not.
How Would You Describe The Haircut On The Right?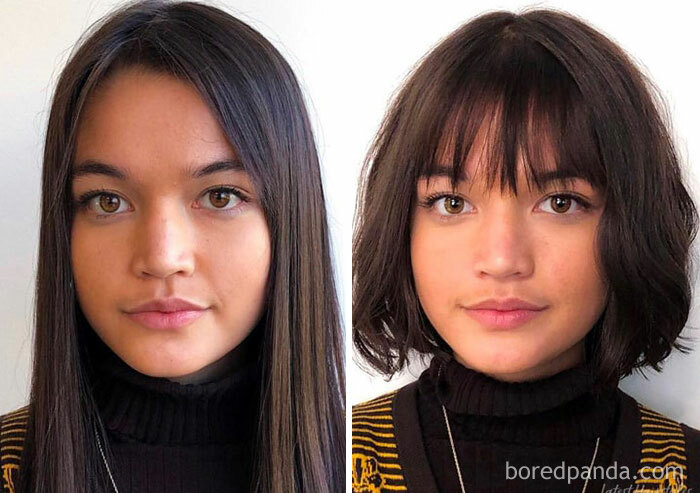 NUMBER EIGHT:
This is the before-and-after look of a curly-haired young girl who transformed her look by cutting her hair into bangs herself.
Took A Few Months To Build Up The Courage And Cut It Myself But I Did Pretty Well I Think!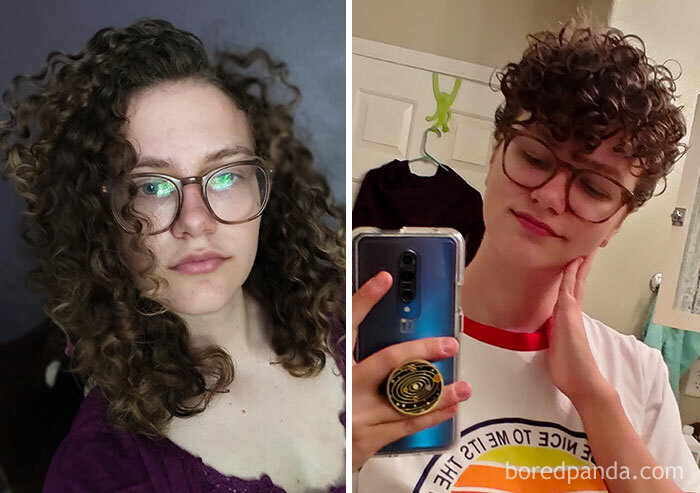 NUMBER NINE:
This girl changed her hair from frizzy below shoulder-length hair to chic-looking bangs.
I Love My New Cut I Just Had To Share!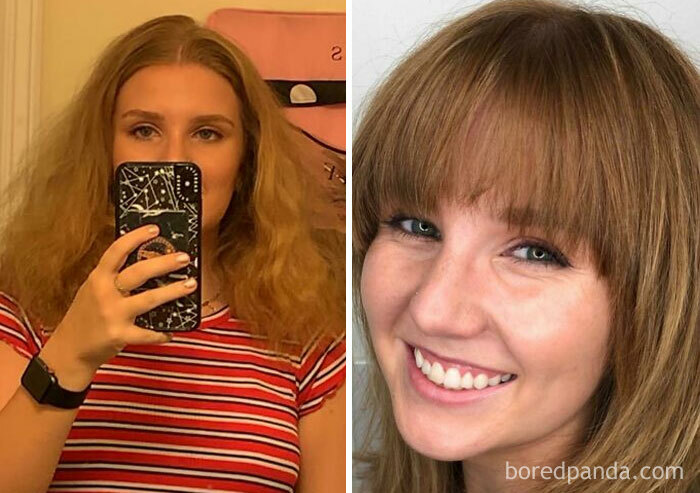 In a way, bangs are a high-maintenance because no matter what length you cut them into, you will hae to trim them after eerie two to three weeks. If that's not done, they all start growing longer and will cover and irritate your eyes. If you don't shape them every three weeks, the bangs will start curling weirdly around the corners, which you don't want to happen.
NUMBER TEN:
This is another picture of a beautiful girl who decided to cut her long straight hair into classy bangs.
Before And After I Cut And Dyed My Hair Last Night; Not Sure If Bangs Suit Me, But That's Ok!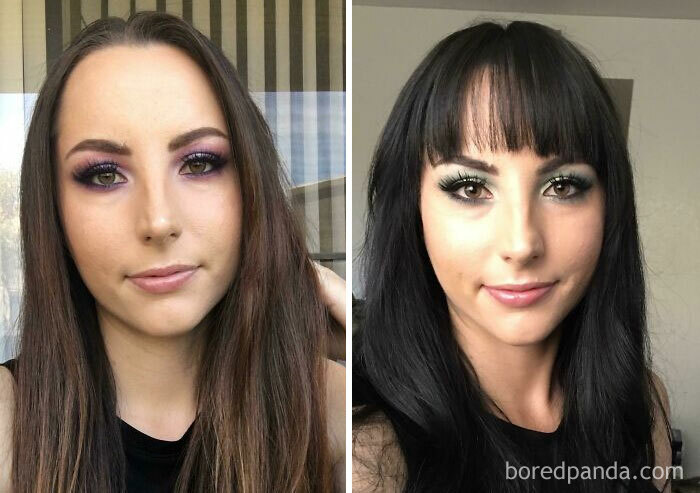 NUMBER ELEVEN:
Before-and-after look of a beautiful girl with bangs.
These Are My Final Bangs!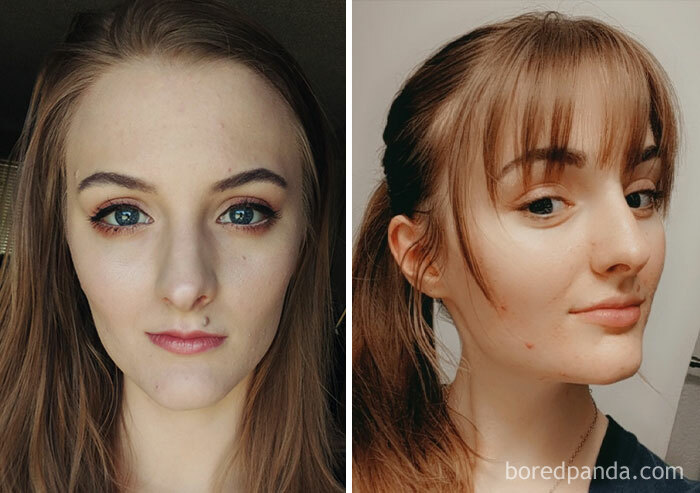 NUMBER TWELVE:
This is the look of a girl who transformed her plain long hair into fresh and classy bangs.
I, Among Many, Have Fallen Victim To The Quarantine Bangs!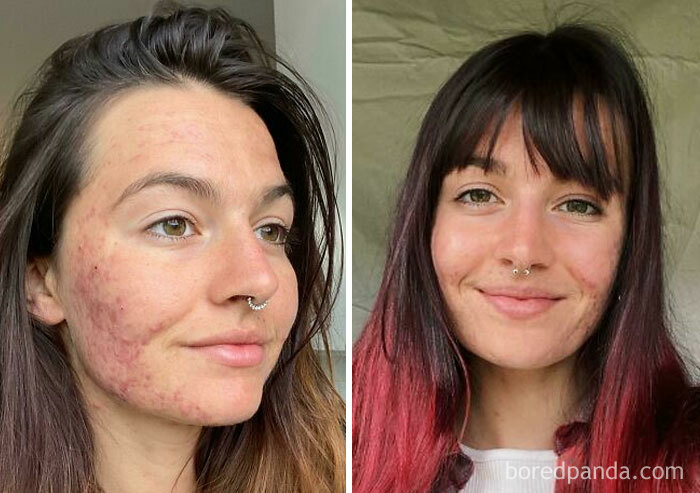 We have all experimented with cutting our hair by ourselves during the pandemic or once in a lifetime. According to Oprah Magazine, it is not a wise decision to cut your hair yourself as you can mess it up in many ways and bangs are pretty easy to mess up. If the bangs are not properly, they look uneven and unattractive.
NUMBER THIRTEEN:
This is a picture of a blonde who changes her hairstyle into bangs and looks pretty satisfied with how they turned out.
I Feel Like It Turned Out So Well!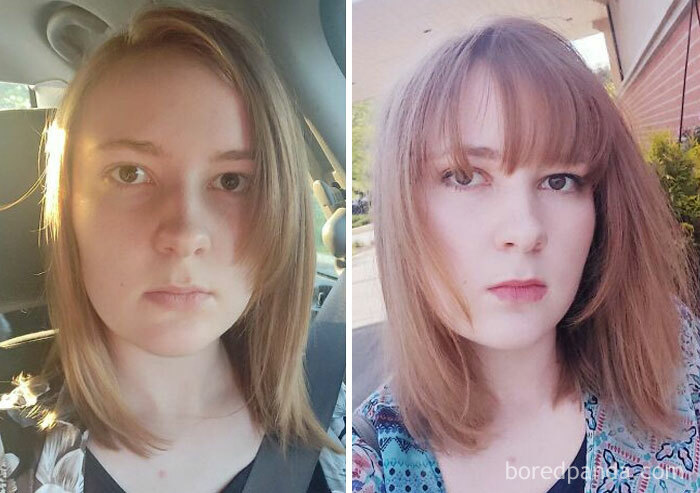 NUMBER FOURTEEN:
A transformation picture of a young pretty girl from long hair into bangs.
Decided To Switch Up My Hair For Fall!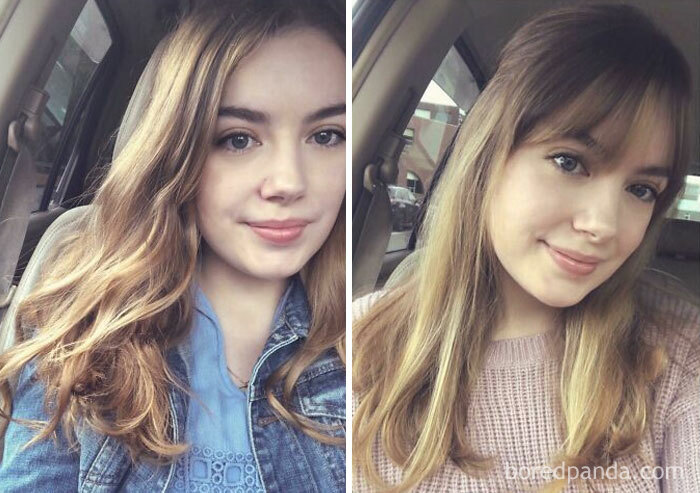 NUMBER FIFTEEN:
The impressive transformation from plain haircut to bangs.
New Hair, Done By Chair In Cork Ireland!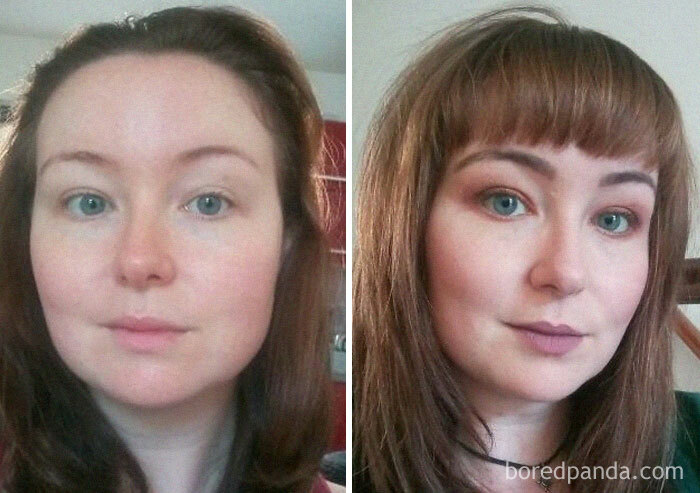 Go for the bangs only if you are not scared of a change and are confident enough to carry them. If you can then go for them and pull them off with your styling and clothing sense. And to cut them, make sure to use quality took to get the best results.
NUMBER SIXTEEN:
The next picture is of a girl who went for complete transformation by dyeing her hair and cutting them in bangs.
I've Pretty Much Had My Hair Like The Picture On The Left My Whole Life, So It's A Huge Change For Me But I Kinda Love It!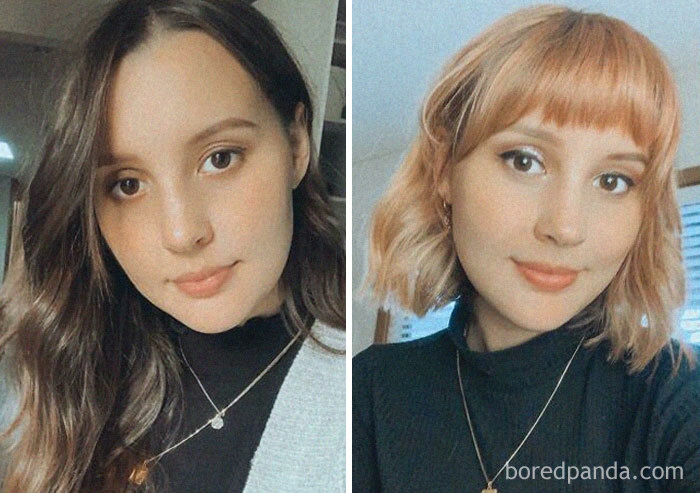 NUMBER SEVENTEEN:
This transformation is the most impressive out of them all. From bald to bangs!
Shy Of 10 Months Of Hair Growth! (And -30lbs)!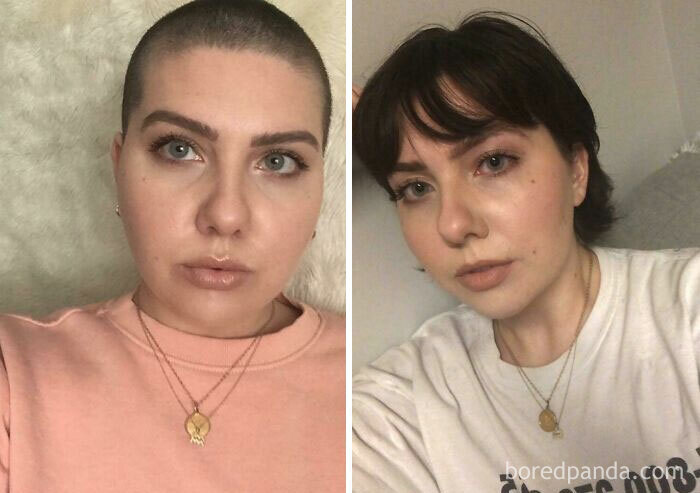 NUMBER EIGHTEEN:
Picture of a girl cutting her plain straight hair into bangs.
Before And After From Today!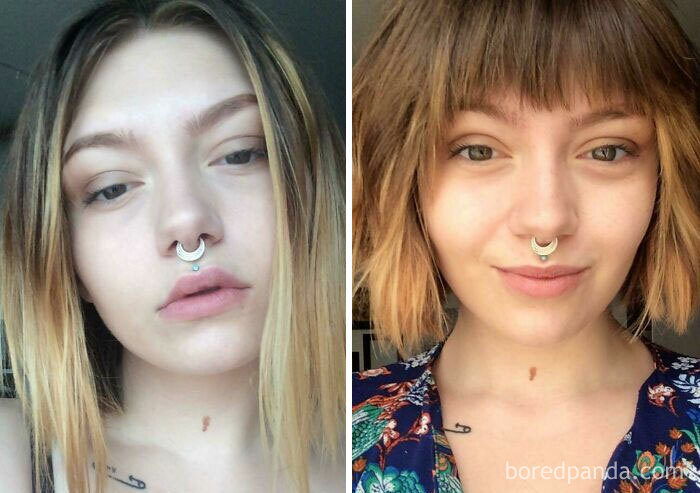 According to Townsend, almost all types of bangs look good on the oval face shape. The A-shaped bangs are perfect for square faces and oblong face shapes. According to the professionals, the one that suits almost every face shape is the choppy bangs.
NUMBER NINETEEN:
This is a bizarre transformation of a girl from long brown hair into short, green bangs.
Took The Plunge And Got The Aquamarine Of My Dreams!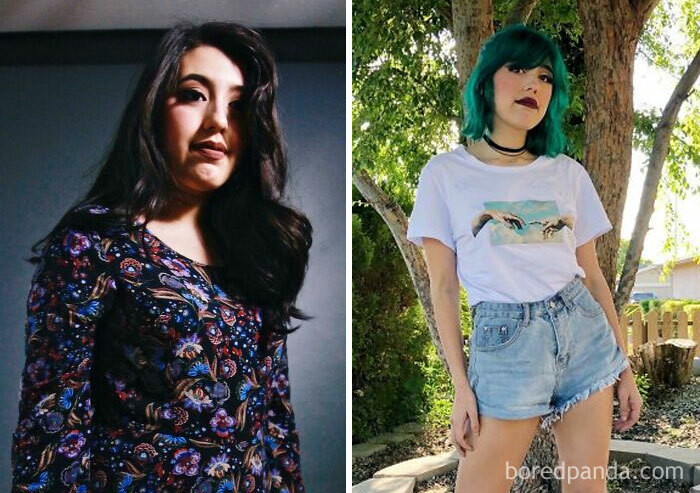 NUMBER TWENTY:
Long blonde hair into black short bangs!
I Did A Big Change Yesterday, I Look Like A New Person, And Feel A Bit Edgy!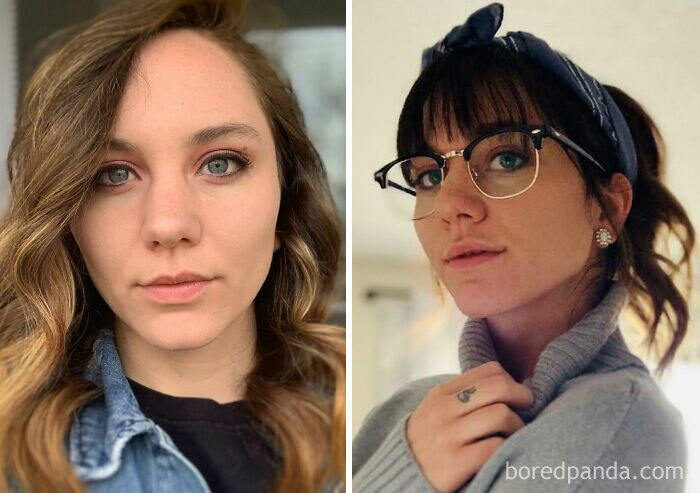 NUMBER TWENTY-ONE:
This picture shows the transformation of a girl from simple long hair into bangs with long hair.
Bangs Or No Bangs? Getting A Cut Soon And I Can't Decide If I Want To Grow Them Out Or Trim Them. Thanks For Your Help!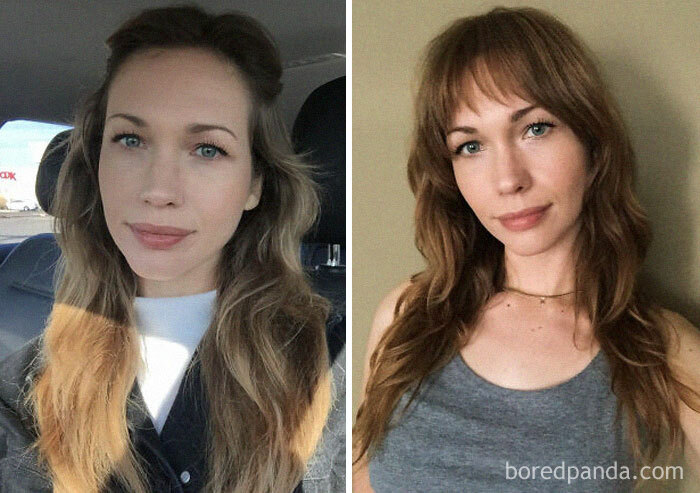 You can get your bangs now if these girls have inspired you by any means. Sometimes change is good so go for it!