Chemistry is the only thing that makes an iconic TV couple iconic. It makes you feel good because the viewer just wants to see all the couple's stories.
#1 David Duchovny And Gillian Anderson (X-Files Mulder & Scully)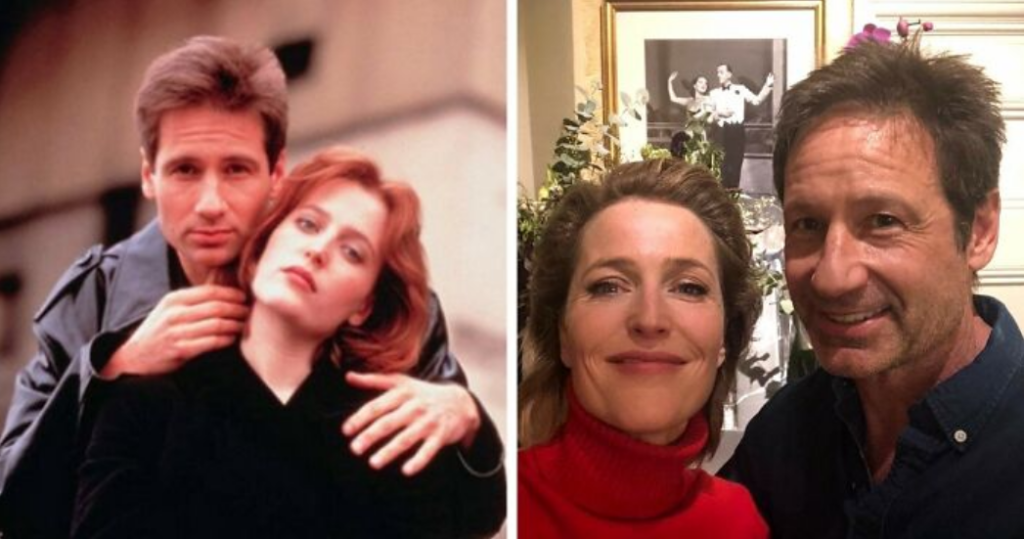 Anderson and Duchovny were emerging stars before landing their X-Files roles in 1993. Anderson had appeared in one feature film, The Turning, and one television drama, Class of '96.
Duchovney appeared in films such as Working Girl and Chaplin. He also had guest appearances on Twin Peaks and Red Shoe Diaries (host).
Anderson and Duchovny initially met when auditioning for the X-Files pilot. Anderson said to Deadline that there was an indescribable connection between them.
"David was cast at the beginning of the casting process when we were at network, and I was one of a handful of actresses being tested alongside him," Anderson recounted. "They were searching for a match in terms of which two looked good together, who worked well together, and so on."
"We didn't know one other at all, but there was something in the room between the two of us that other people didn't have," she added. "You can fake it as an actor, and you have to most of the time, but there was something solid and tactile that existed between us right then."
Duchovny and Anderson admitted that they never had to practice their on-screen chemistry. Duchovny attributed their spark to their enthusiasm for acting and the show's intelligent script in an interview with Deadline.
"That word (chemistry) has always puzzled me because Gillian and I never worked on our chemistry," Duchovny explained.
"We don't come in the morning and say, 'How's the chemistry?' This morning, I definitely need some coffee with my chemistry." It's truly mutual respect and love of acting together."
#2 Courtney Cox And Mathew Perry ( Friends, Monica & Chandler)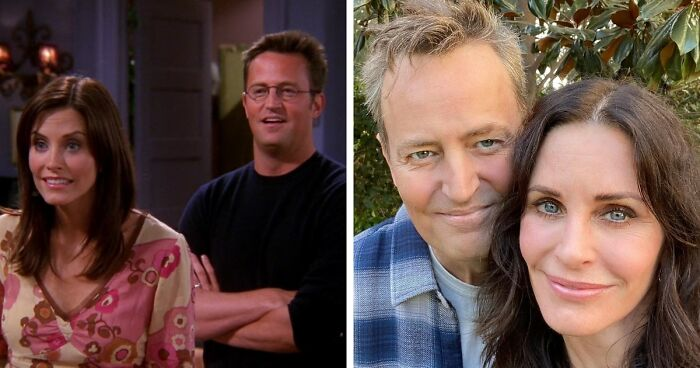 Friends star Matthew Perry has found true love. Perry, who portrayed Chandler Bing on the fan-favorite sitcom, allegedly has never gotten over Courteney Cox, who played Monica Geller.
The two were close during the NBC series' filming, as was the rest of the ensemble, and the cast reunited earlier this year for Friends: The Reunion on HBO Max. Though we didn't notice any flirtation from the couple during the special, there must have been some residual feelings!
Rumors of a romance between the two arose in 2019 after Cox uploaded an Instagram photo of herself with Perry after they had lunch together. The comments were mostly filled with heart emoticons and people crying over Monica and Chandler. It was adorable, and Courteney sounded EXACTLY like Monica in her caption.
"Oh my god!!!" were some of the remarks she received. Chandler and Monica, Chandler and Monica, my eyes, my eyes," as well as "The best couple ever." Hmm. Everyone seems to be in a real-life Monica and Chandler relationship.
However, Cox has been preoccupied with other relationships. She was married to David Arquette from 1999 to 2013, and following their divorce, she began seeing Johnny McDavid, her current boyfriend.
Perry, on the other hand, has had his own streak of relationships, dating Yasmine Bleeth and Julia Roberts in the 1990s. He then dated Lizzy Caplan from 2006 till 2012. More recently, the Chandler Bing actor was engaged to Molly Hurwitz, a talent manager, but the couple divorced in June 2021.
#3 Eric Stonestreet And Jessy Tyler Ferguson ( Modern Family, Cam & Mitch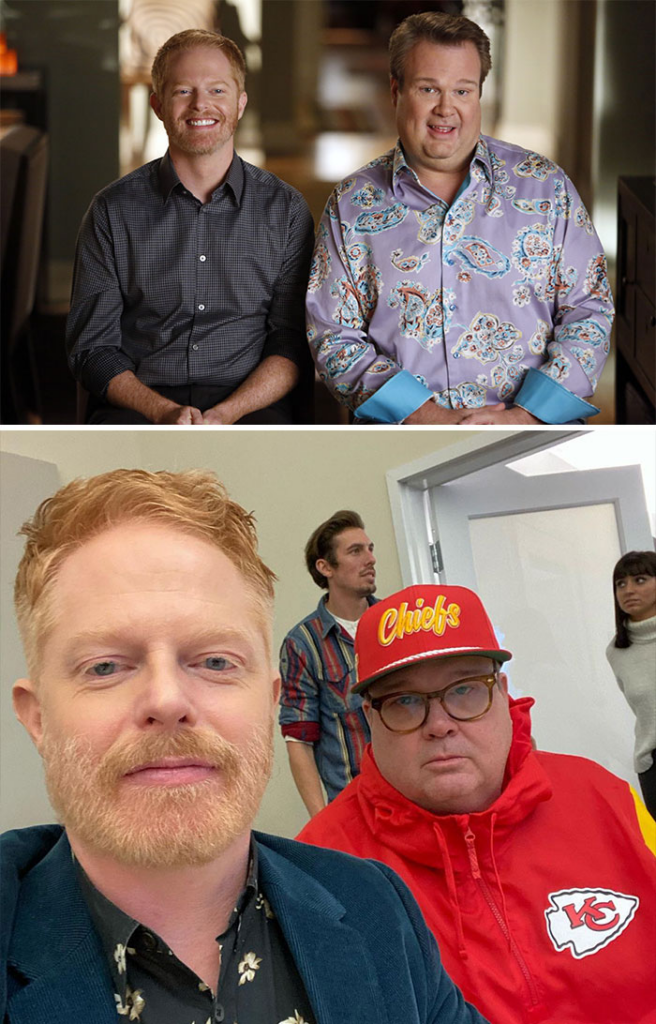 The couple played Cameron Tucker and Mitchell Pritchett on the ABC sitcom for 11 years (2009-2020), and this was the first time they'd reunited since.
Stonestreet's Instagram followers were treated to two videos and four photographs, one of which included him exclaiming "Hey!" "That's the redhead guy from Modern Family!" 
"A two-year-in-the-making meet adorable," the Cam actor captioned the image. "I really missed this person. @jessetyler #nyc I adore you."
Let's just say the comments section was emotional, with three admirers responding: "I love a good cast reunion," "Hard to believe it's been 2 years already," and "Thank you for the chuckle, this made my day." In syndication, your show continues to make me laugh.
What a cast! You all genuinely cared about one another. It was very magical." Despite the lack of specific information, Modern Family viewers might take solace in the knowledge that co-creator Christopher Lloyd has hinted at the possibility of spin-offs.
There have been very preliminary conversations about spinning off some characters," he teased following the series' conclusion.
"That may be a year from now when we hook up with one, two, or three people, and then other characters from the program may appear." It could be anything along those lines. But I don't want to imply that this is a real thing because it isn't. It's something we joke about."
#4 Sarah Michelle Gellar and David Boreanaz (Buffy The Vampire Slayer, Buffy, And Angel)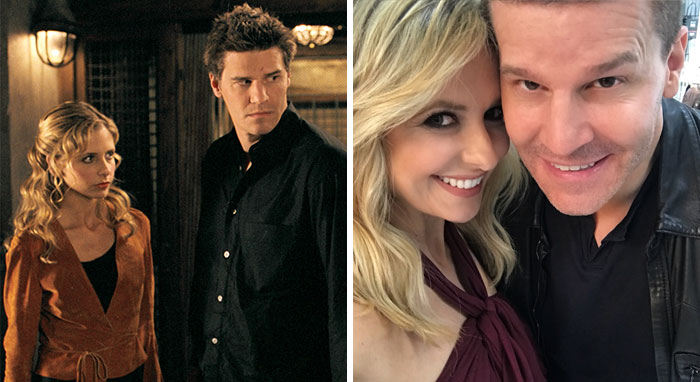 We've been Bangel shippers since Buffy first encountered Angel after she kicked him in the back of the head for pursuing her in a damp alleyway. If you ship as much as we do, you'll be able to attest to the characters' unending love for one another.
But, no matter how hard we pray to D'Hoffryn, the Powers That Be, or even summon a Vengeance Demon that deals with granting fans' wishes of resurrecting their favorite shows, the lovers will not be returning to our televisions anytime soon.
We can't even summon Willow to cast resurrection magic and offer us a Buffy reboot. Fans have done everything they can to convince David Boreanaz that he is too old to play Angel again, and Sarah Michelle Gellar has also expressed her reluctance to repeat the Chosen One.
Unfortunately, the ship has sailed, but it doesn't mean they don't want a reboot because they had a terrible time playing their characters. Although playing Buffy typecast Gellar, she still enjoys playing one of the most powerful female characters on television.
Boreanaz would not have agreed to reprise Angel in the titular spin-off if he didn't enjoy playing him.
Of course, they can't forget that the show helped them form their own bond. They've been close since the dying moments of the Angel series finale, when we exclaimed, "God, there's not enough time." But Gellar and Boreanaz will never forget each other.
#5 Jenna Fischer And John Krasinski (The Office, Pam & Jim)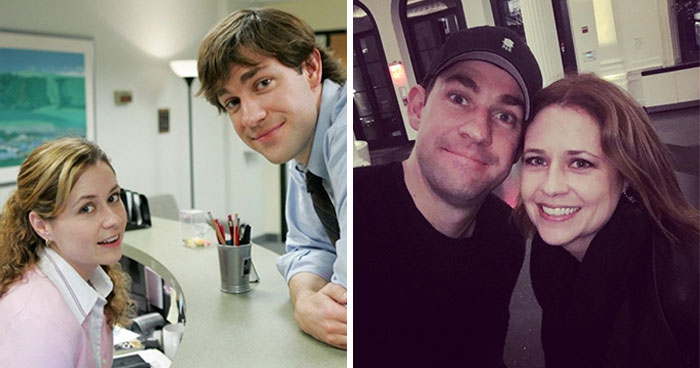 Jenna Fischer and John Krasinski portrayed everyone's favorite couple on The Office, Pam Beesly, and Jim Halpert, for nine seasons. The two protagonists were enamored from the start, but there were several bumps along the road before they found everlasting happiness.
Jenna Fischer and John Krasinski are happily married to separate spouses and have their own families outside of The Office fanbase. They continued their acting careers while also supporting one another.
With the popularity of The Office expanding due to streaming, Fischer and Krasinski continue to laud one other for the job they performed together and will continue to do so with new ventures.
In actual life, his pals aren't dating, but they do like spending time together. When asked how his friendship with Jenna Fischer was now that they weren't on the show, and if he'd ever work with her again, John Krasinski answered, "I would love to work on anything with Jenna."
She is the finest actress ever. More than that, she's the most amazing person… So, if I could, I would spend all of my time with her.
#6 Cybill Shepherd And Bruce Willis (Moonlighting, David & Maddie)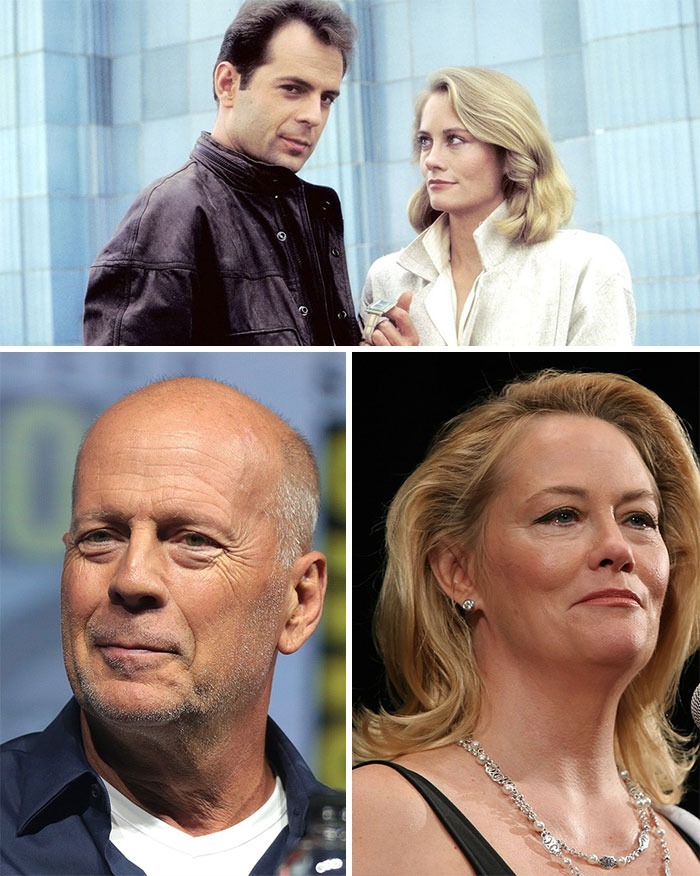 Willis went to Shepherd's residence one night after the two decided to follow their instincts. "It wasn't long before we were passionately sucking face," she told the Scottish Daily Record & Sunday (via The Free Library) in 2000.
They were only willing to go as far as kissing. "We never finished what we started," Shepherd observed. The rivalry between the characters of Shepherd and Willis was not made up. Willis officially admitted in 1990, not long after the series ended, that he had a tough relationship with his former co-star, but refused to trash her.
"I'm not going to play that game," Willis said on "The Arsenio Hall Show." He did admit, however, that "we didn't get along very well on that show." That is something I will say. The "Die Hard" star blamed his strained relationship with Shepherd on his hectic work schedule.
"It's a difficult thing to do, and I have no hard feelings," he said on the late-night show. Years later, in "Moonlighting," the estranged actors were reunited.
#7 Kit Harington And Rose Leslie ( Game Of Thrones, Jon Snow & Ygritte)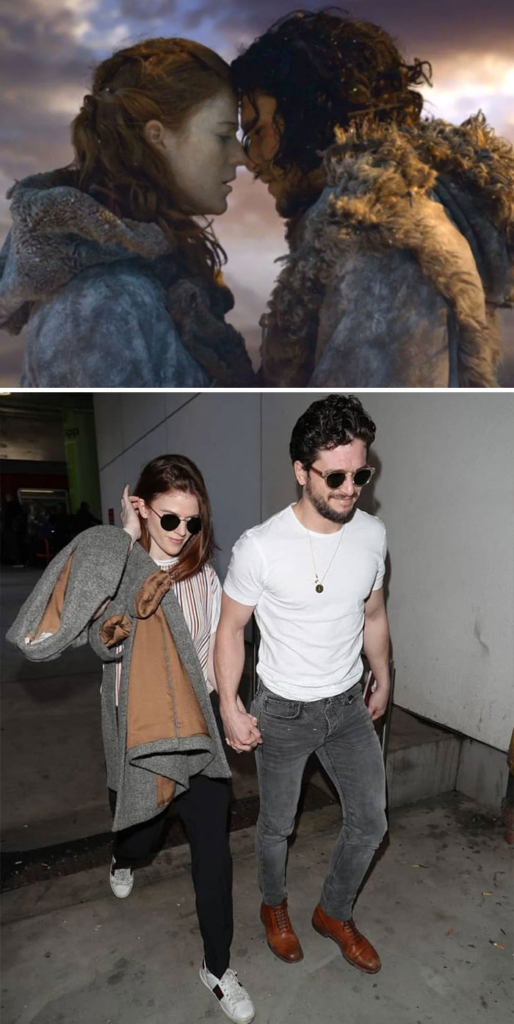 A new theatrical kitchen with a wood-burning stove and a "showpiece central island" is among Harington and Leslie's designs. They are also relocating their current kitchen from the north end of the property to a 1960s expansion. This portion of the improvements is expected to cost around £100,000.
A new boiler, radiators, and pipes are being installed by the Game of Thrones alumni. They also intend to rip up the floorboards in order to install new pipes for their new Victorian-style bath in their master bedroom. The project's total cost is estimated to exceed £500,000.
Harington and Leslie must make adjustments outside in addition to changes inside. The couple thought their farmhouse garden would tumble into the lake after a six-foot moat wall crumbled, according to The Daily Mail.
According to the players, the wall collapse was placing structural pressure on a little footbridge across the moat. They also noticed that areas of the wall had a "significant lean."
#8 Alyson Hannigan And Jason Segel ( How I Met Your Mother, Marshall & Lily)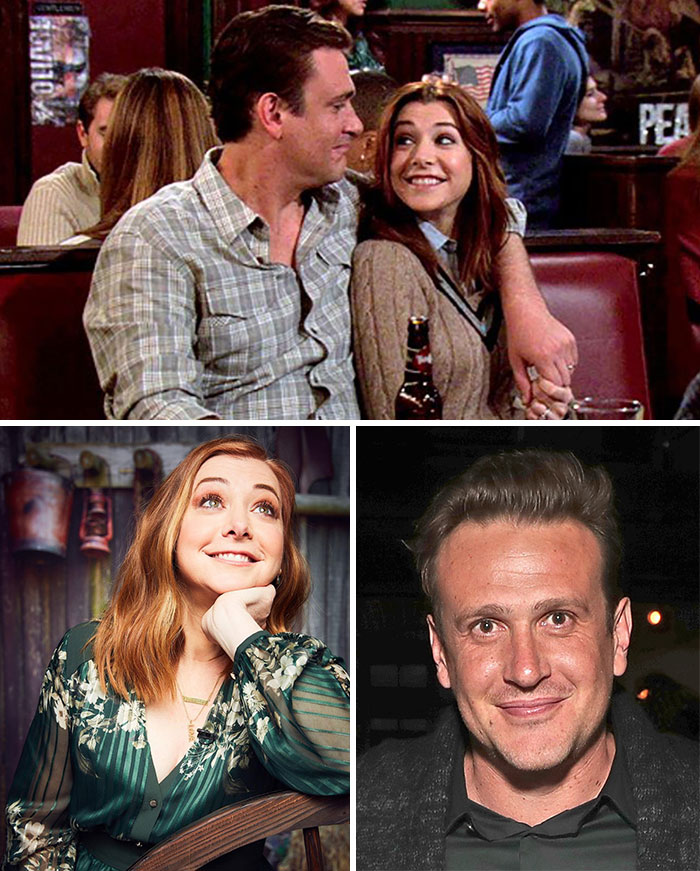 On How I Met Your Mother, Marshall Eriksen, and Lily Aldrin were fan favorites. They were typically relationship goals on the hit TV program that ran from 2005 to 2014. They were played by actors Jason Segel and Buffy the Vampire Slayer veteran Alyson Hannigan.
But because Segel smoked cigarettes, Hannigan never looked forward to her on-screen kisses with him. When Hannigan and Segel started working together on HIMYM, Segel encouraged his co-star to assist him in quitting smoking.
They even devised a system in which Segel owed Hannigan money every time he smoked. That, however, did not work.
"When we were working on the pilot for the show, he was like, 'Get me to quit smoking, and I'll be your best friend.'" So we made a wager that he would owe me $10 for every cigarette he smoked. "He owes me $200 after the first day," Hannigan explained.
#9 Adam Scott And Amy Poehler (Parks and Recreation, Ben & Leslie)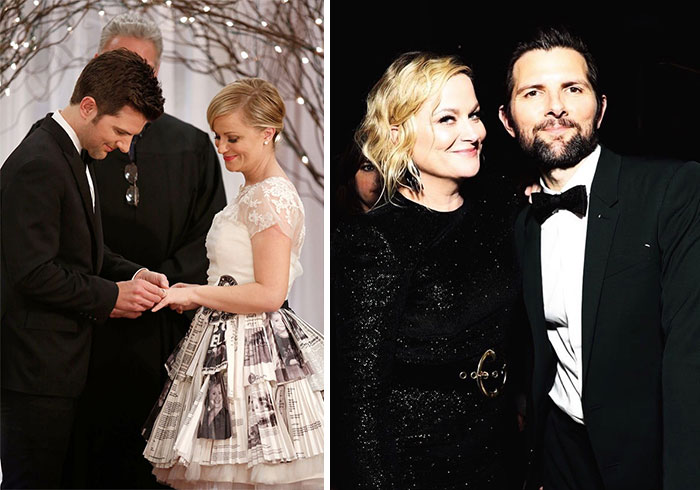 Amy Poehler and Adam Scott are the cutest pair on television, according to Parks and Recreation fans. Their relationship could not be chillier in A.C.O.D., a Sundance film about an Adult Child of Divorce (Scott) who has never fully recovered from the pain of his parent's divorce.
Poehler plays Scott's overbearing stepmother — and the landlord of his business — who isn't afraid to wield power. (Imagine Leslie Knope growing up in Eagleton, and you'll get the idea.)
The film, which aired last night, reunites Scott with his Step Brothers father, Richard Jenkins, and his Party Down pal, Jane Lynch, as well as Catherine O'Hara, Clark Duke from The Office, and Ken Howard from 30 Rock, among others.
Poehler and Scott seem considerably more like their Parks and Recreation characters in person, humorous and friendly, handing a reporter a drink of red wine (that may have been left behind by another journalist.)
Before a Princess Bride-style battle of wits could be fought over the questionable beverage in issue, the two stars were gracious enough to discuss their new film and Parks and Rec.
#10 Ellen Pompeo And Patrick Dempsey ( Grey's Anatomy, Meredith & Derek )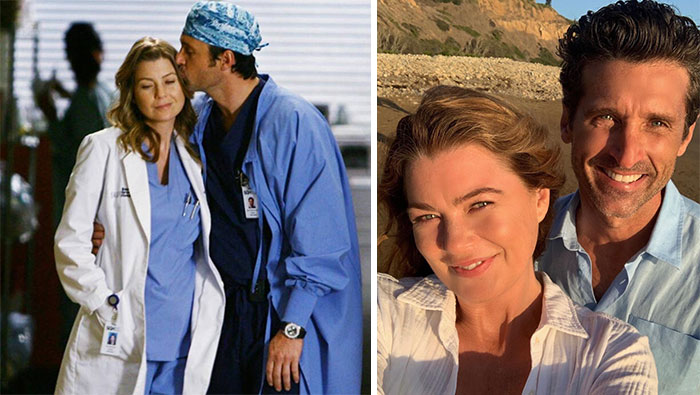 On Grey's Anatomy, their Chemistry with Patrick Dempsey was so strong that even her husband struggled to tell the difference between fiction and reality.
The Grey's Anatomy star revealed her husband Chris Ivery's issues with her more…intimate…scenes with Dempsey at the start of the show, which debuted in 2005 and is still going strong today. According to People, she said on the Ladies First with Laura Brown podcast, "Poor man had no idea what he was getting into."
"I remember it was incredibly difficult for him at first," Pompeo remarked. "He said, 'This isn't what I signed up for.'" You take that to work and make out with it. "I like Patrick and everything, he's a nice guy, but really?"
Ellen Pompeo met the music producer in a supermarket store in Los Angeles in 2003, according to Good Housekeeping. They married in 2007 and have three children: Stella, Sienna, and Eli.
#11 Rainn Wilson And Angela Kinsey ( The Office, Dwight Schrute & Angela Martin)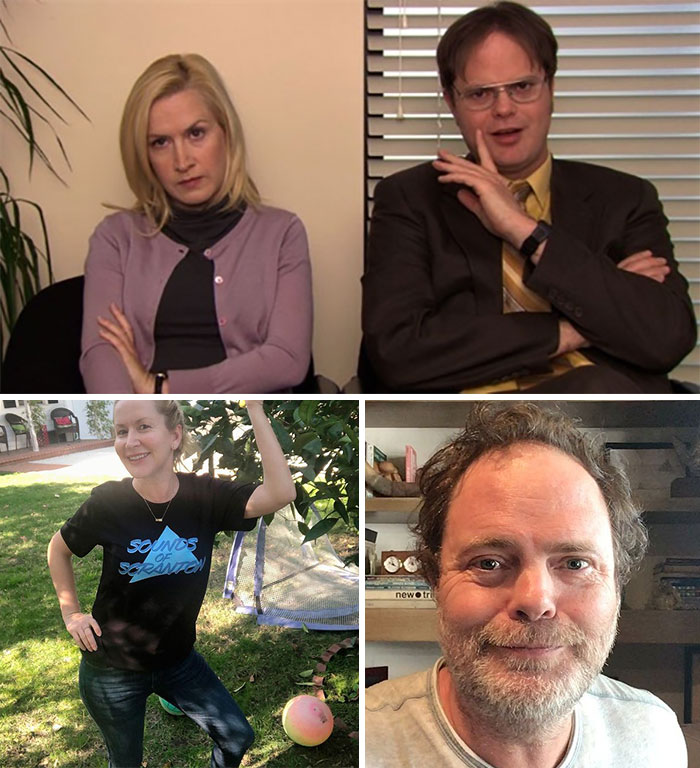 #12 Joshas Radnoras And Cobie Smulders ( How I Met Your Mother, Ted & Robin)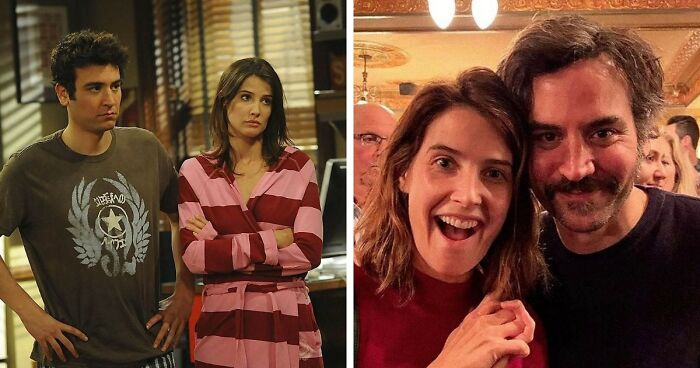 #13 Jennifer Aniston And David Schwimmer (Friends, Rachel & Ross)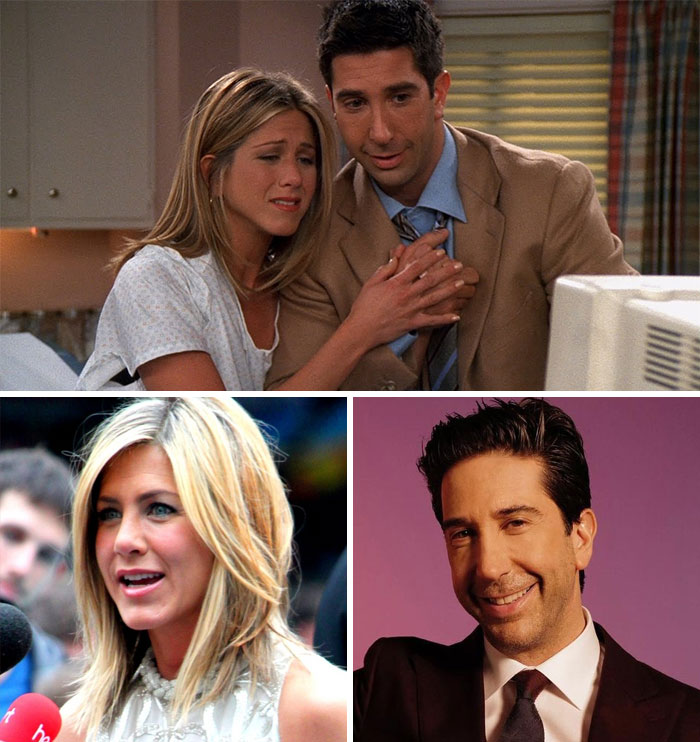 #14 Steve Carell And Amy Ryan ( The Office, Michael Scott & Holly Flax)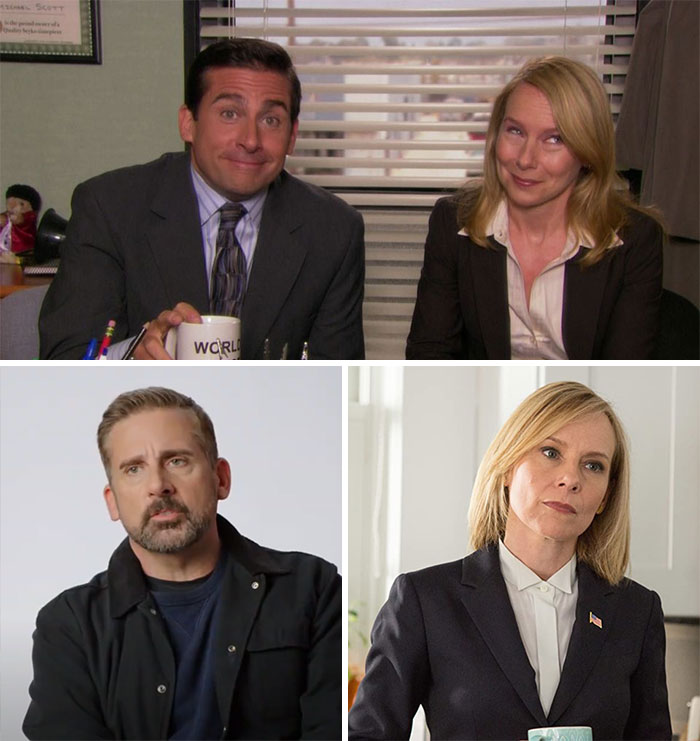 #15 Julianna Margulies And George Clooney ( Er, Doug & Carol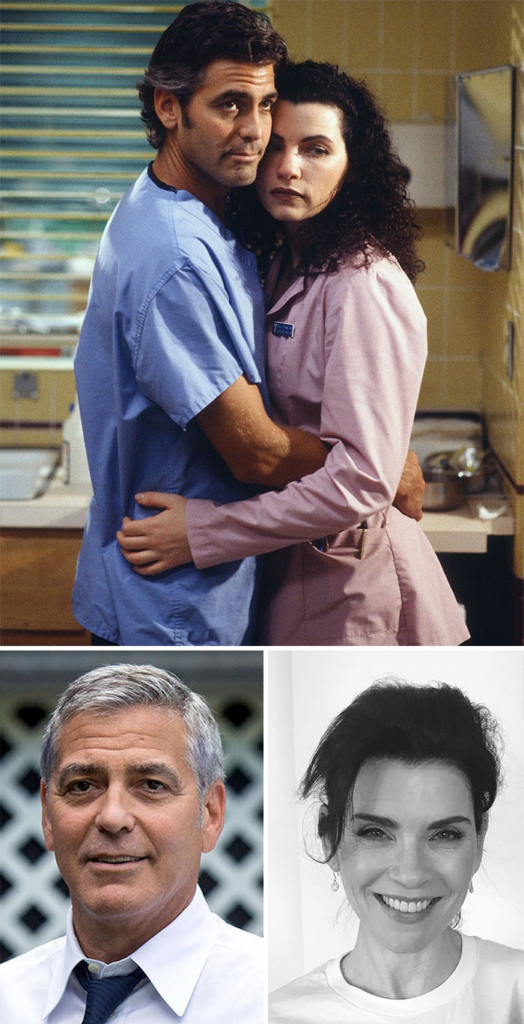 #16 Zach Braff And Sarah Chalke ( Scrubs J.D. & Elliot Reid)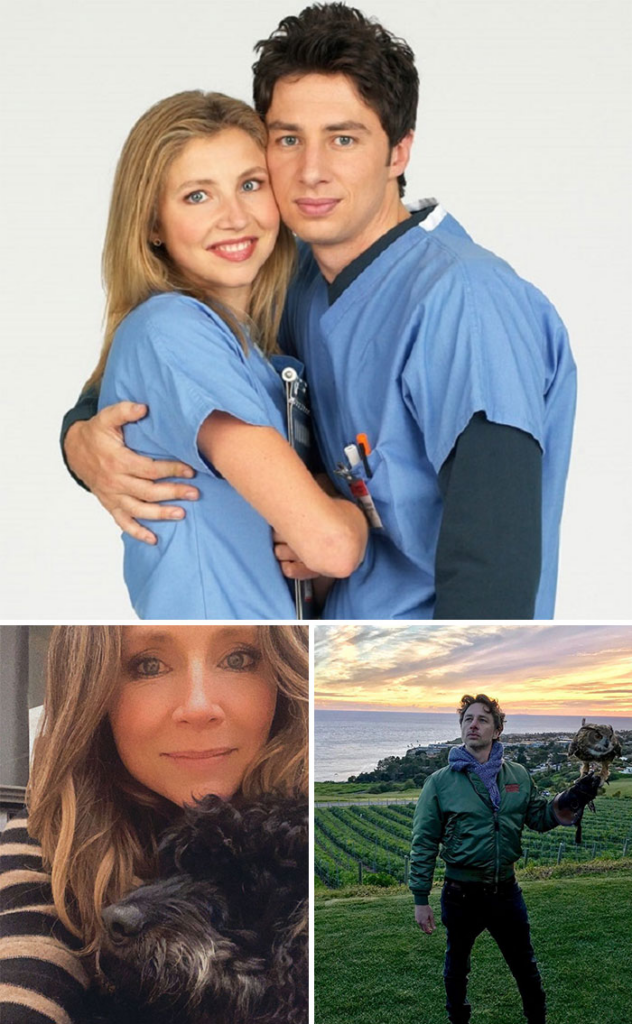 #17 Scott Patterson And Lauren Graham ( Gilmore Girls, Luke & Lorelai)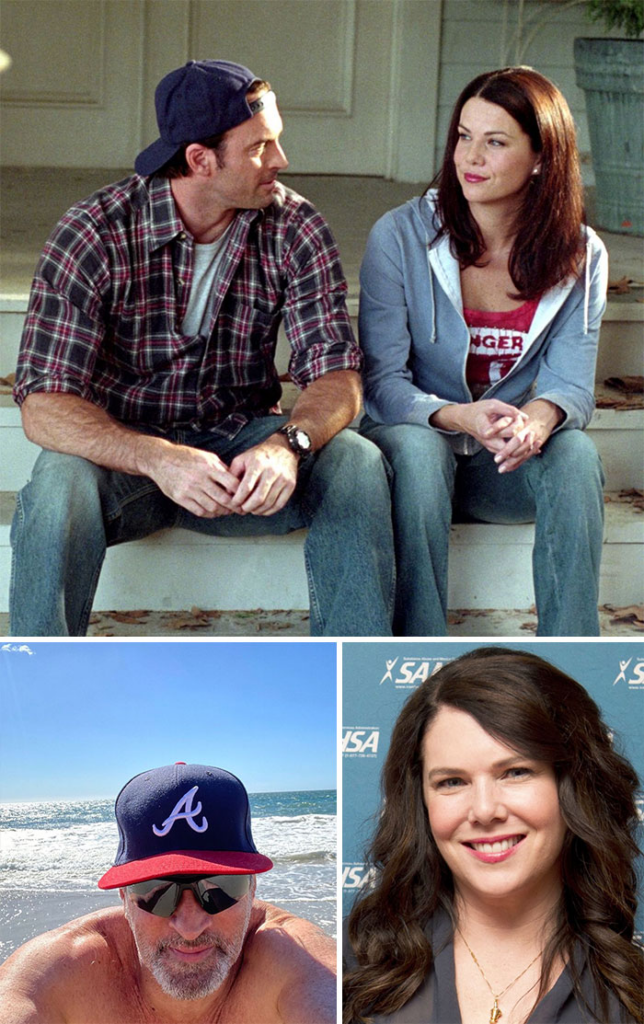 #18 Zachary Levi And Yvonne Strahovski ( Chuck, Chuck Bartowski & Sarah Walker )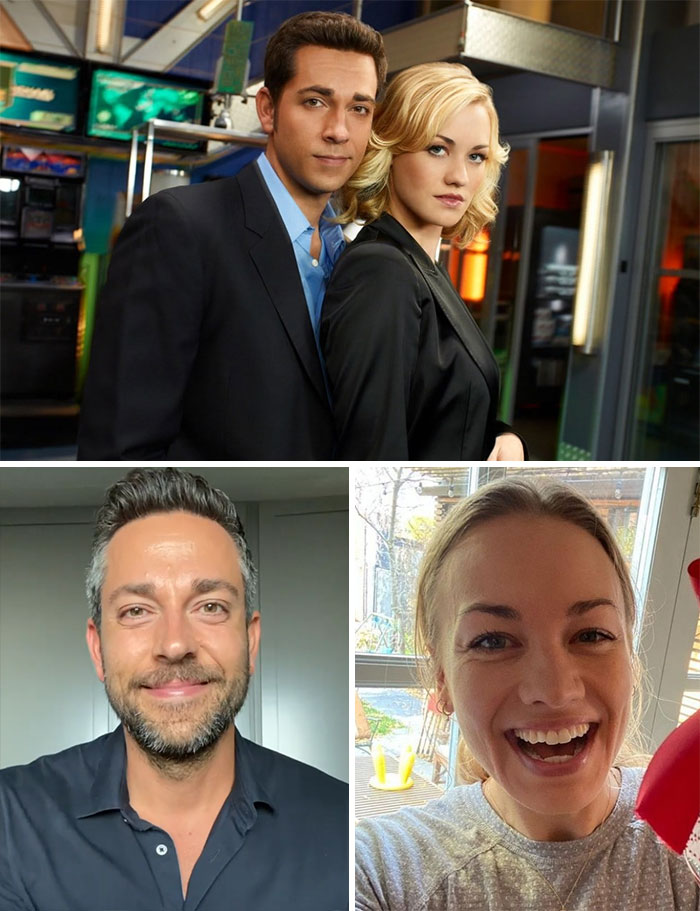 # 19 Darren Criss And Criss Colfer (Glee, Blaine & Kurt)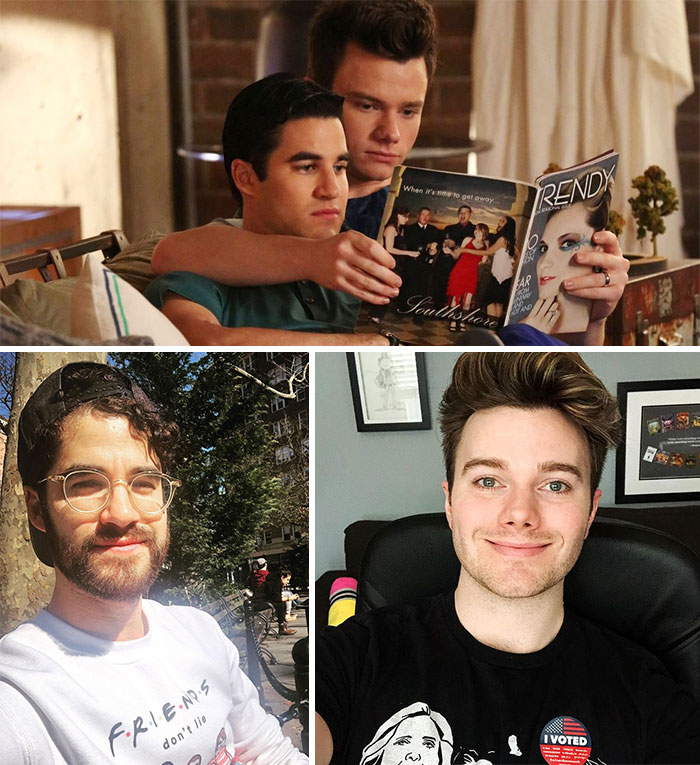 #20 Chris North And Sarah Jessica Parker ( Sex And The City, Carrie & Big)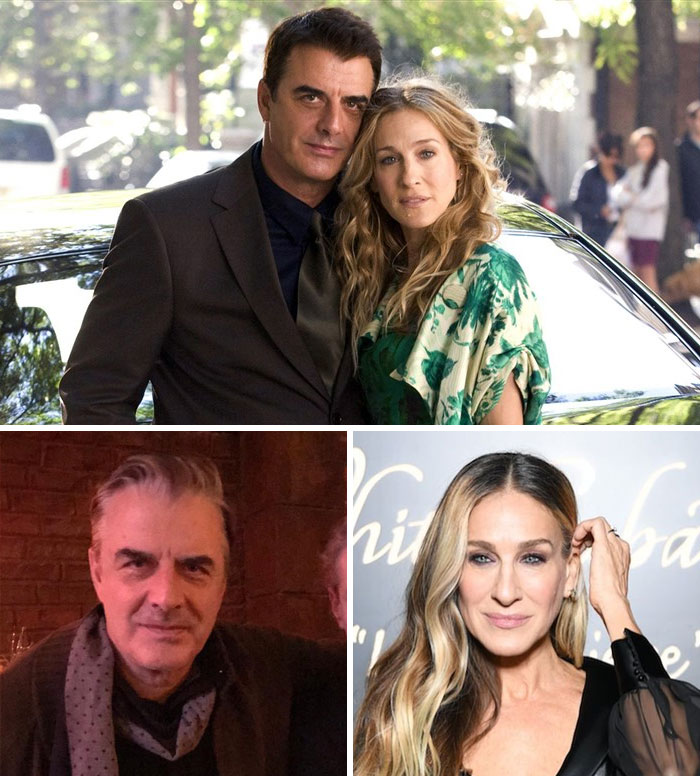 #21 Lori Loughlin And John Stamos (Full House, Jesse Katsopoli & Becky Katsopoli)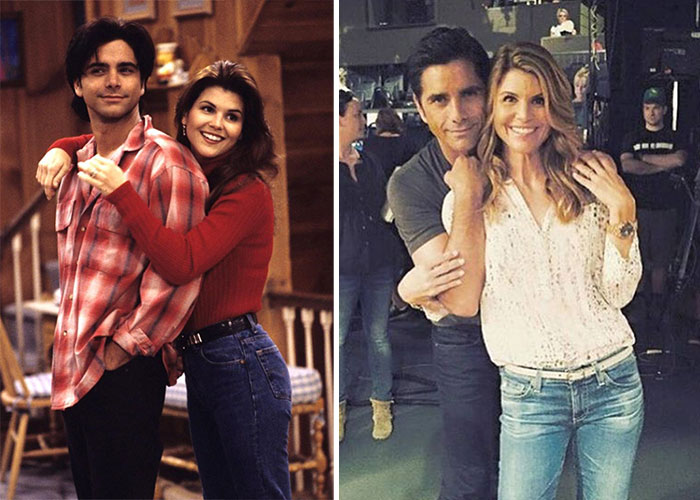 #22 Chriss Pratt And Aubrey Plaza ( Parks And Recreation, Andy & April)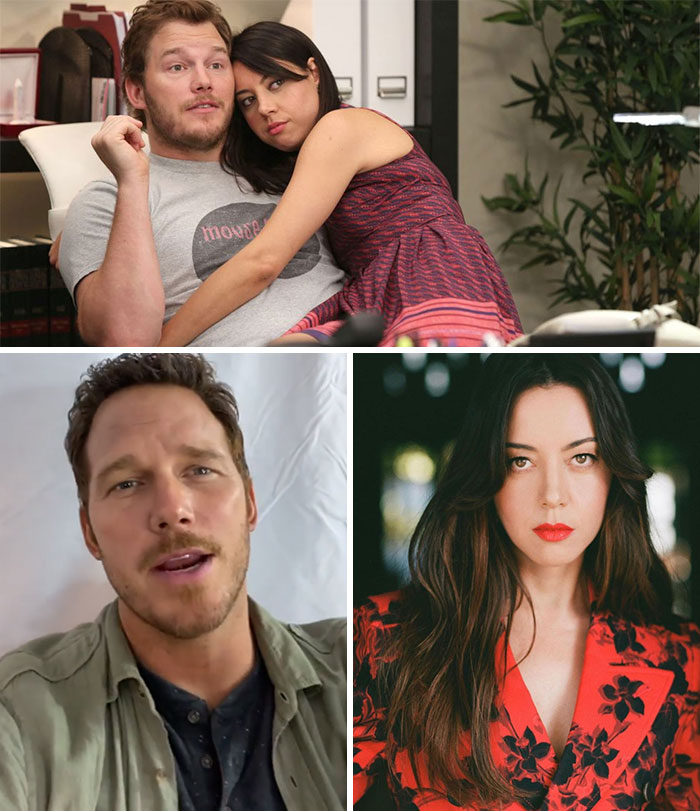 #23 Jared Leto And Claire Danes ( My So-Called Life, Jordan Catalano Angela Chase)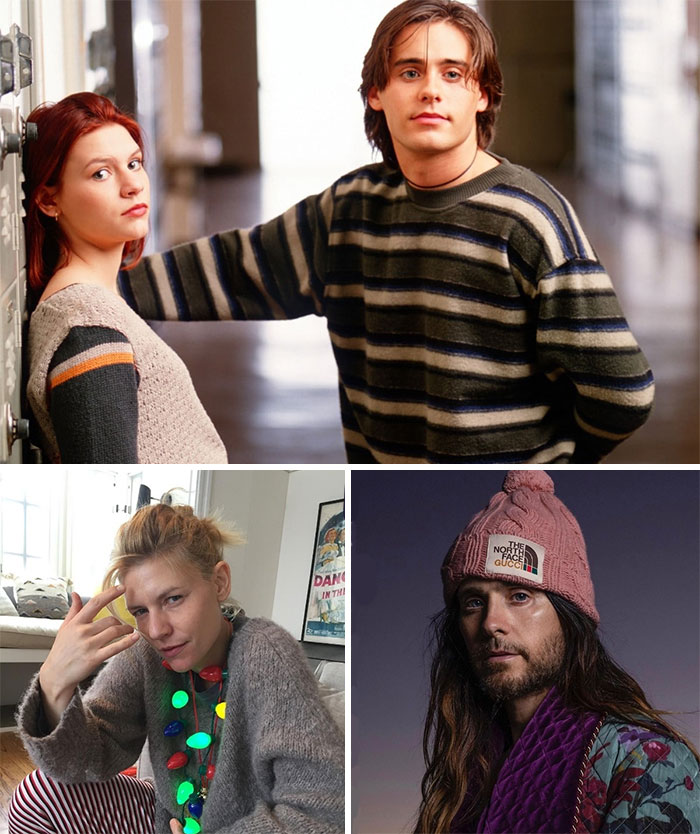 #24 Matthew Fox And Evangeline Lilly (Lost, Jack & Kate)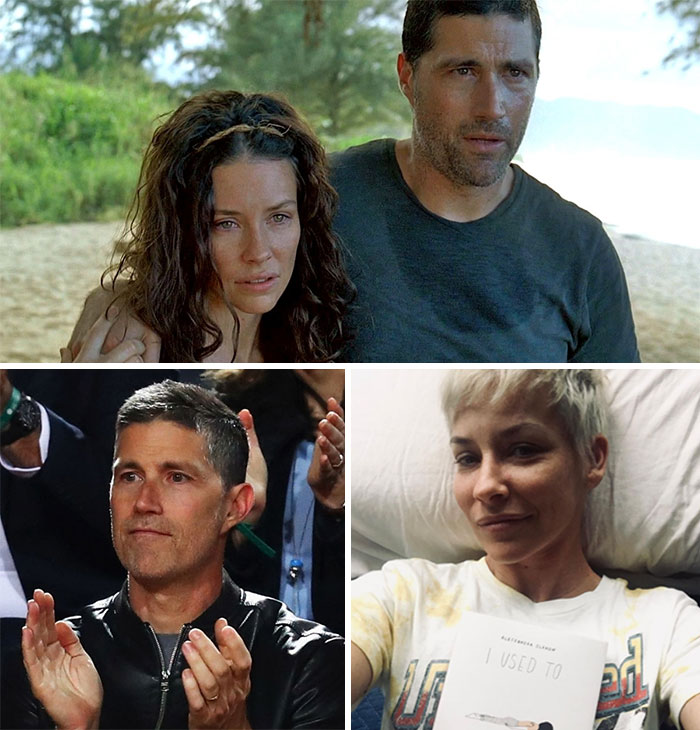 #24 Ian Somerhalder And Nina Dobrev (The Vampire Diaries, Damon Salvatore Elena Gilbert)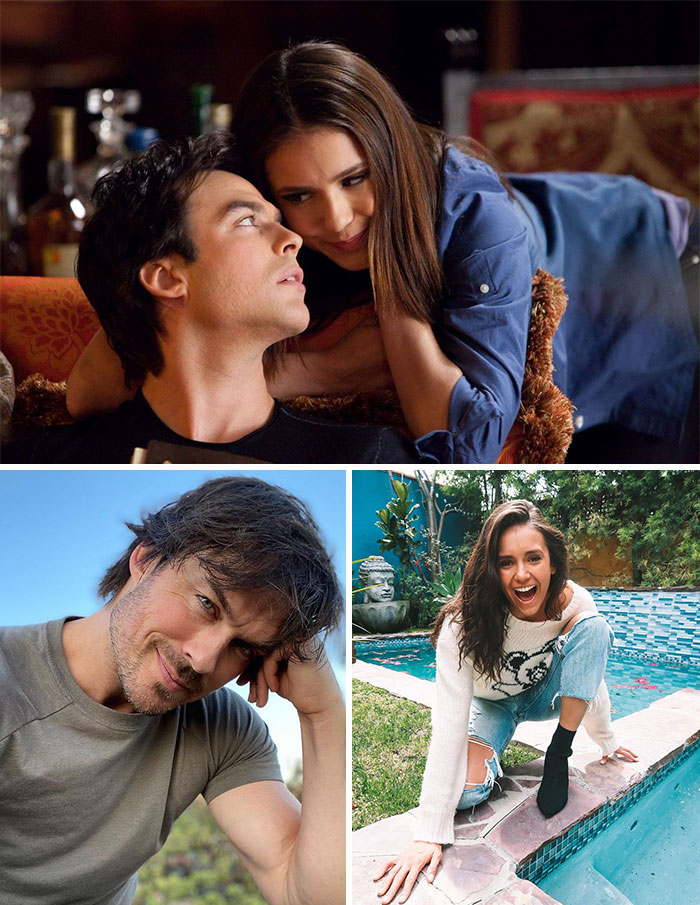 #26 Nathalie Emmanuel And Jacob Anderson ( Game Of Thrones, Grey Worm & Missandei)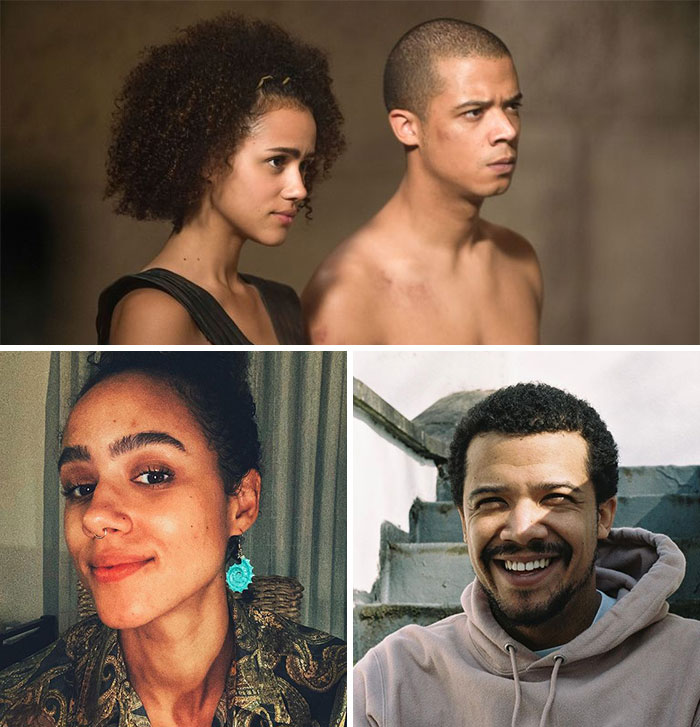 #27 Katie Holmes And Joshua Jackson ( Dawson's Creek, Pacey & Joey)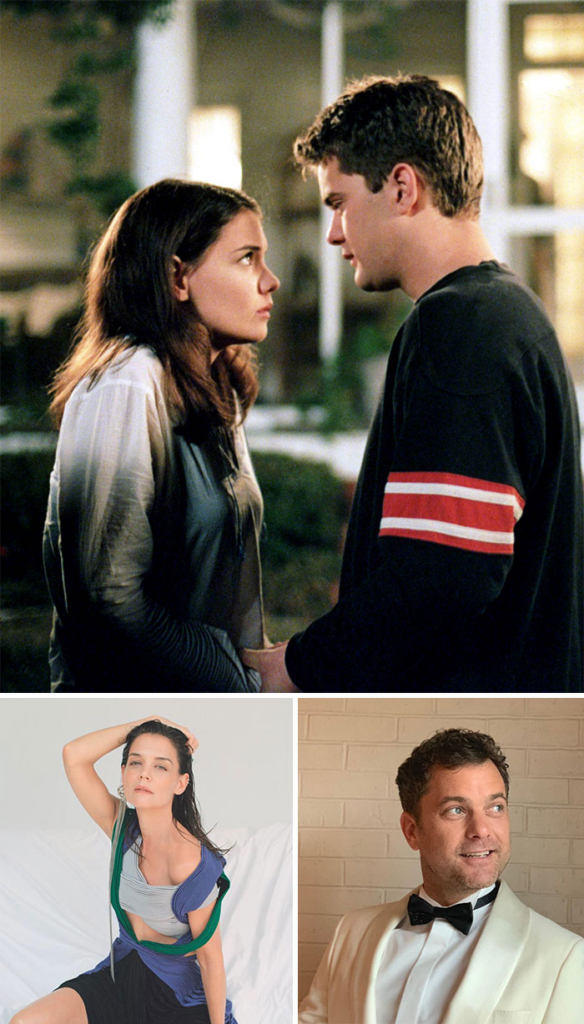 #28 Jennifer Beals And Laurel Holloman ( The L Word, Bette & Tina)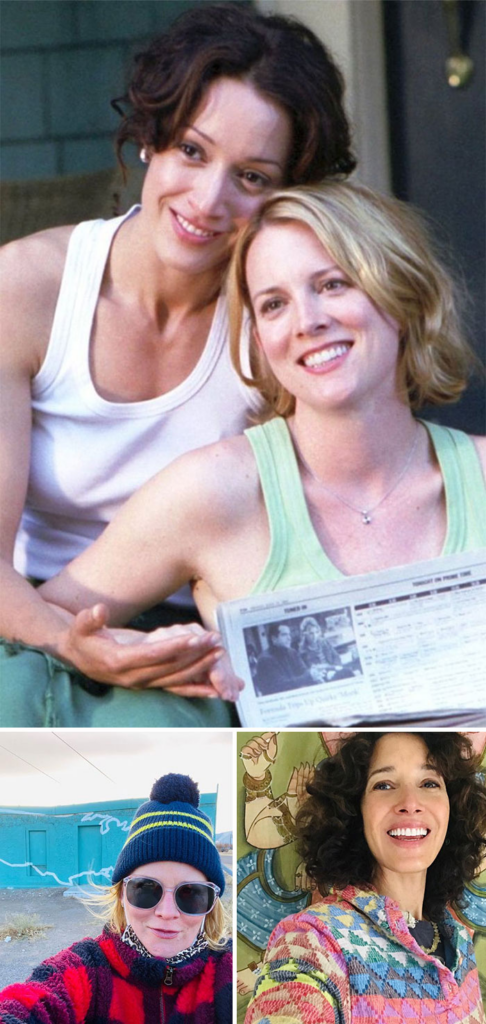 #29 Terrence Dashon Howard And Taraji P Henson (Empire, Cookie & Luscious Lyon)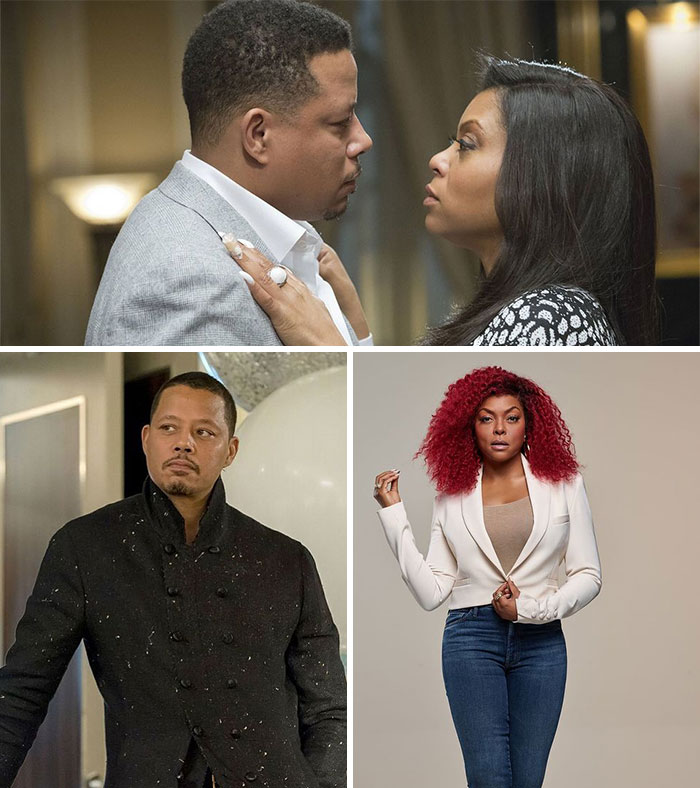 #30 Brian Austin Green And Tori Spelling ( 90210, David & Doma)