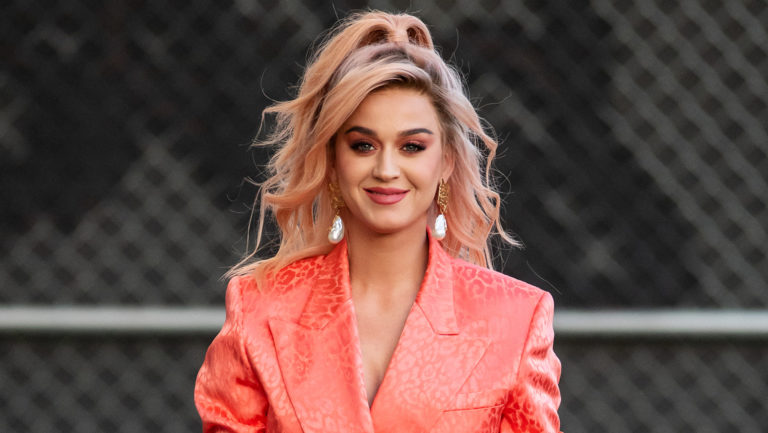 Katy perry
The real name of Katy peery is Katheryn Elizabeth Hudson, who is professionally famous with the name of Katy Perry. She is an amazing singer, songwriter of the American industry. She started singing in the church from her childhood and continue her career in singling from such a young age.
Katy Perry gave birth to a baby girl
The Singer of US Katy Perry has given birth to a baby girl named Daisy Dove Bloom, On Instagram Thursday, her Partner Orlando Bloom confirmed. Orlando Bloom, a 43-year old British actor, shared a post by charity UNICEF, has confirmed the arrival of the baby girl.
They also posted a black and white picture of the baby's hand. In the post they welcomed their daughter by saying "Welcome to the world, Daisy Dove Bloom" Katy and Orlando told us that "We are wondering with fondness and feel lucky welcoming our baby girl from evil free eyes". 
Katy Posted on her Instagram Account
In the post on Instagram which they have posted, the couple also spoke about how lucky they were to have had a "calming" healthy birthing experience of our baby girl, something they said many families do not experience. Katy Perry was expecting her first baby this summer, she was so excited and can't wait to become an ideal mother.
During lockdown she was updating her fans from starting till yet, she also shared her cravings and feelings. At the starting of the year, they found out that they were expecting a baby girl, they also shared a video on Instagram revealing about gender. They also celebrated that news of their baby coming in a garden.
Katy continues to work even during her pregnancy period
Katy Perry is a responsible and hardworking woman, continuously worked in her pregnancy, as she was judging in American Idol and also performed and gave us mind-blowing concerts. The celebrity couple announced the news that they are having a baby in March. They were making a list of names and were immensely waiting for their baby. Perry already revealed in a piece of music that she is pregnant.
Releasing of New album of Katy Perry named smile
Her album is also going to release on 28 August named Smile. she described that being pregnant in this pandemic and lockdown was not easy and somehow mentally disturbing. The singer announced her pregnancy in her video album named "Never Worn White", she shows a baby bump in few minutes of the clip.
He engaged to Orlando on valentine's day last year. She was also married to Russel Brand, she also shot with him in 2008, which hit number one in the UK. And Orlando Bloom was also married to Australian model Miranda Kerr, and they have a 9-year-old son named Flynn.
In the beginning, while doing work when she got pregnant initially, she was terrified to start a family but she is already prepared now.
KETY PERRY'S BEST QUOTES ABOUT PREGNANCY
"I was like, I don't know how to do this. It'll break, "the Singer, 35, told Apple music on Thursday, August 20, I am not very maternal. I am, in a way, but when it comes to crying, sadness, and like that kind of stuff, I am like, I don't know what to do.
Katy with her Partner
Katy Perry and Orlando Bloom started dating each other in 2016 and then broke up 10 months later and then reunited in 2018. And they are so happy now.