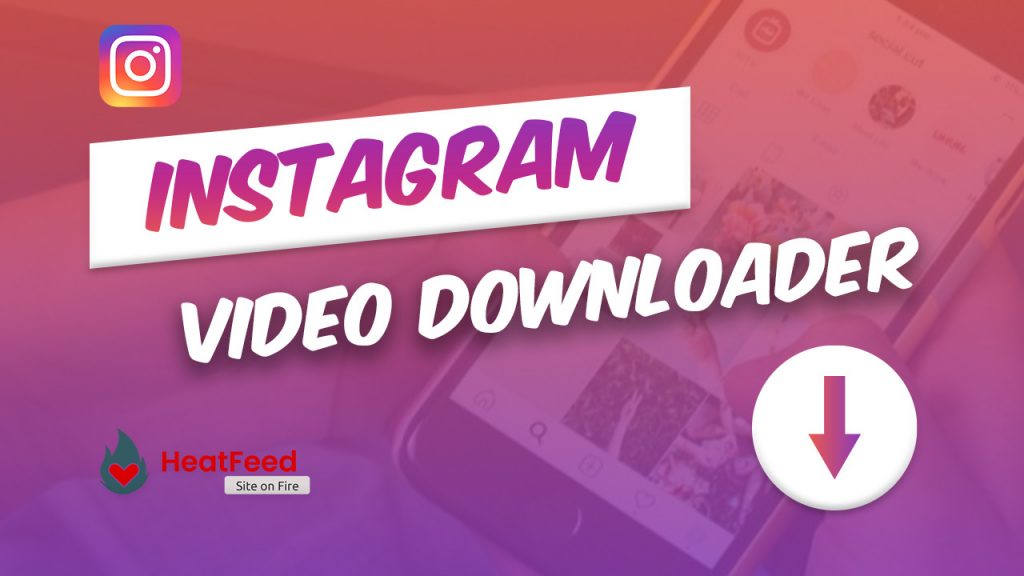 Instagram video downloader is a fast, free, and 100% secure tool for converting and downloading Instagram videos. So, without a second thought, start downloading your favorite Instagram videos with our tool today!
How to Use Our Instagram Downloader
Open the Instagram app or website on your browser.
Go to the video you want to download and copy its link address by pressing on the three dots given there.
Now, open our Instagram video downloader tool and paste the selected URL into the textbox (above). Click the 'Download' button.
Our web-based service will extract HD video links of the inserted file and complete the downloading process in just seconds. Choose your required format, quality, and size and your file will be saved to your device shortly, for FREE!
Download Instagram Videos With Our Advance High-Quality Downloader
Today, Instagram is one of the largest and most widely used social media platforms on the internet that has caught the attention of millions from all across the globe. This multimedia platform is used for uploading and sharing images, videos, and reels, by private and public profiles. Many users are utilizing the service of Instagram for marketing their brands, showcasing their artwork, or growing as an influencer. Currently, Instagram has over 1 billion active users, with an estimated 500 million active users daily.
Do you ever scroll through Instagram and find a video that is way too interesting. You wish to download it onto your device for future offline use. So, many users wish to save their favorite Instagram videos to their gallery so they can watch them later on. However, just like all those other major social media platforms. Instagram's Terms and Guidelines do not permit the direct downloading of the content available on it. So, to solve this perplexing problem, we have designed one of the best online tools you'll find on the internet; Instagram video downloader!
Instagram to mp4 and mp3 downloader is a web-based, free-to-use downloading tool that allows users to convert and download videos from Instagram in HD quality. You will not have any difficulties while using this tool as it is super user-friendly and simple to use. The interface of our Instagram Downloader is very intuitive and sleek. We tried our best to design this mp4 instagram downloader in such a way that it ensures a comfortable downloading experience for each user on heatfeed mp4. Get ready to download videos from Instagram, now without any watermark!
The best part about this well-designed Instagram to mp3 mp4 downloader is that it can convert Instagram to mp4 in two simple steps. This is easy to use mp4 converter Instagram and download videos, without asking users to enter their personal information or IG passwords, nor do you have to create an account to use this website. No need to log in or sign up to utilize the service( Instagram video to mp4 and of this amazing tool. Simply open our tool's extension on your browser and get started!
Features of Our Instagram mp4 downloader
Unlimited Video Downloading:
One of the most prominent features of our Instagram video download mp4 which proficiently attracts users to keep on using this online. Instagram video downloader is that it never imposes any limitations or restrictions on the amount of its use to convert Instagram video to mp4. Get ready to Instagram video download mp4 without worrying about the previous downloads as we do not limit our users. So why not avail this unique opportunity!
Free for All:
Download Instagram videos in HD quality for free! You can use our dedicated Instagram downloader to simply download all your desired videos without having to spend a penny. You won't even need to install any additional application to use our service.
Instantaneous results:
Our Instagram to mp4 downloader provides fast results to all of its users. It's 100% one of the best tools you'll come across on the web today. It comes with the power to convert and download all kinds of Instagram videos from the extracted links in a matter of seconds.
No registration required:
No requirement for any registration or login details to use this incredible Instagram video downloader. We always try to prioritize our customer's valuable time because we understand the busy hectic lives everyone is leading nowadays. That's the main reason why we allow our users to simply open this website anytime. They want and start downloading their favorite content!
Supports all major operating systems:
Are you also tired of having to switch from device to device to simply download Instagram Videos because these online tools don't support every OS? That's when our tool comes into the arena to save the day. It can be used with any major operating system or device. We have created our website in such a way that it can be accessed with all types of devices, including mobile phones, laptops, tablets, PC, iPads, etc. From Our Video Downloader you can easily convert instagram video to mp4.
User-friendly Interface:
Are you hesitant to use this Instagram to mp3/mp4 downloader because you don't get a hold of these online downloading tools? Well, the problem is now solved. Because of the simple and user-friendly interface of our free online Instagram downloader, the process of downloading videos has become a piece of cake! You can convert Instagram videos to mp3 easily.
Insta Video Downloader; Ease Its Users
Clean and smooth Interface:
This web-based tool is perfect for users who are new to downloading games and want to save videos from Instagram. This tool holds a simple 3 step process and is ideal for daily use. We have designed the server of our tool in such a way that it won't confuse you with a lot of difficult steps. Just copy the link to the Instagram video and this video downloader will work its magic to convert insta to mp4. This FREE Instagram mp4 downloader serves in the best way, major thanks to its user-friendly and clean interface.
Downloads videos in different formats:
Using this tool, you can convert and download unlimited videos from Instagram into Mp3 and Mp4 format (or the original file format) for FREE. It's one of the best online tools for downloading videos from different platforms. In a large variety of different formats and qualities according to your requirement. So, enter the link address of the videos and download unlimited videos with this tool daily! 
Compatible with all browsers and devices:
One of the best things about our Instagram video downloader is that you won't need to switch to any special device or browser for utilizing this tool's service. It is fully compatible with all types of devices and web-browsers such as Safari, Firefox, Chrome, etc. It works amazingly well on each one of them and can be used with an iPhone, iPad, Laptop, computer, smartphone, etc.
100% Free:
We all know how hard it is to earn money, so we designed a tool that is free to use for everyone! Do you want to convert and download unlimited Instagram videos with the help of just one tool? Well, we are here to solve that problem with our incredibly fast Instagram Downloader. This tool is light on the pocket but best when it comes to delivering the required results. Don't forget to recommend this website to your fellow Instagrammers!
Single downloader for multiple platforms:
Many users find it frustrating having to switch from tool to tool every time. They wish to download videos from different social media apps. Well, our smart Video Downloading service is finally here to give ease to all those users. Allowing them to just paste the link of the video they want to download. And get immediate results. It lets you convert videos from all major social media platforms like Instagram, Facebook, Vimeo, etc. without any trouble.
No download limit:
This tool never restricts its users by telling them how many videos and images they can download with the help of our Instagram video downloader. Rather, it enables them to download unlimited Instagram videos without any limitations for FREE. You won't find a more simple and user-friendly interface for downloading videos from different social media sites for sure!
Frequently Asked Questions- FAQs:
Does this tool let you convert videos in more than one format?
Yes, this Instagram Downloader is ideal for downloading videos in a variety of formats according to your file needs. When we designed this tool, we made sure that it provides all the latest functions and can easily convert Instagram videos in many different formats, such as MP4, M4A, MP3, 3GP, WEBM, and JPG. After pasting the URL address of your desired Instagram videos and reels, our tool will immediately give you a set of available options of formats for each video.
You should also use our StoryIG: Instagram Story Viewer and Downloader to save all your favorite stories and highlights directly to your phone's gallery. If you want to download stories without letting the other person know use our tool, Instagram Stalker.
Is this Instagram Video Downloader compatible with all kinds of devices? 
Yes, 100%! Our all-rounder Instagram Video downloading tool can be used easily with all kinds of devices and browsers you may have. It is best known for being compatible with every device and operating system, being used all across the world. Your files will get downloaded within a couple of seconds. Our web-based tool can be used with all IOS, Android, Mac and, PC devices, etc.
What are the steps to download Instagram videos?
Follow these few easy steps to download any Instagram video:
Go to Instagram.com and search for the video you want to download.
Copy the link address (URL) of the video and paste it into our tool
Hit the "Download" button and select the format, size, and resolution of our demand.
Is this Instagram Downloader website free? 
Our Instagram to mp4 and mp3 downloader website is completely free to use and will always remain the same no matter how many videos you choose to download with them. With our advanced tool, you can now avail all the latest features and download tons of Instagram videos by just copying/pasting the video's URL address on our site.
Is it possible to download Instagram videos without the watermark?
Yes! you can convert and download Instagram videos or reel videos with the help of our web-based service without the presence of a watermark.
Can I download instagram video mp3?
Yes, this tool can easily convert any Instagram video into Mp3 format with just one click. The process for converting those Instagram to mp3 format is basically the same as for any format. Just copy and paste the link of the video you wish to convert Instagram video to mp3 and press the download option given just on the side of the textbox. After that, just choose the format required by you from the list (in your case, Mp3). If you want, you can even choose other formats and file quality from the wide list of options like Mp4, Mp3, 3GP, WMV, FLV, MO, and more.
Do I need to sign-up for an account to use this website? 
Absolutely not! Our Instagram downloader mp4 is one of the very few good tools that work for FREE. This means that you won't have to waste your time and money by signing up for an account or logging in every time you wish to use this. There is no need to fill out any forms or pay any subscription charges we provide service for free. Your converted files will immediately get saved into your computer and smartphones, for you to view them anytime you want; anywhere you want without an internet connection.
Can I download bulk videos with this tool? 
Currently, our tool is not supporting batch-downloading or downloading multiple videos at once. However, as this tool is free and doesn't impose unnecessary limits, you can download unlimited videos only once at a time. Want to save some time? Here's a quick tip to make the work easier for you; make a small document containing all the Instagram video links that you want to convert to Instagram video to mp4 and paste them into our Instagram video mp3 downloader. This method has proven to be much quicker and easier, so do give it a try and let us know your thoughts in the comment section down below!
Why do people use Instagram To Mp4 downloaders?
Instagram Downloaders are literally lifesavers for all those people who enjoy watching Instagram videos and Instagram reels all day long. It's a great tool that is going to help you pick any IG video of your choice and download it to your device directly, for FREE. You can use our incredibly swift and efficient Instagram to mp4 downloader to do the same. It can be used for both personal and professional video downloading needs.
Can't I just screen-record my favorite Instagram Videos? 
Screen-recording Instagram Videos from your phone is surely one way to save those videos but what about the storage? Converting Instagram Videos into Mp4 files and downloading them with our Instagram video downloader. It will help you a lot of storage in contrary to screen-recording. Downloading videos with such online tools is a very safe and quick alternative to screen capturing your favorite Instagram Videos.